During OTA's, safety Matt Johnson was dealing with injuries yet again. Second-year safety
Jakar Hamilton
filled in for him with the second-team defense and was impressive doing so as he tries to build on a come-from-nowhere start to his
Dallas Cowboys
career that included being thrown into the Lions den. (Get it?)
Hamilton was an undrafted rookie free agent in 2013. While the casual fan may not know who he is, some will remember him from those Lions den moments against Detroit last year. You know, the game where Calvin Johnson had 329 receiving yards (just seven yards shy of the single game record)?
Hamilton recorded his only two tackles on Detroit's game-winning drive, but the kid was clearly uncomfortable and nervous. After all, his first regular-season action happened to be against the best wide receiver in the NFL and one of the league's most efficient offensive units. While that was undoubtedly a tough game not only for Hamilton, but the entire defense, Jakar says he looks at it as a learning experience.
"It taught me to be disciplined and to believe in myself." Hamilton tells CowboysHQ. "Don't over-think things. Just do your job the best you can. At one point I made a tackle on Calvin Johnson, but if I had done one little thing differently, I could have intercepted it. It's a game of inches. That's what I'm working on this year - knowing what to do and making it second nature."
Jakar knows that he probably wasn't ready to step in and play at a high level in that game, but he also understands how valuable that experience was. Now, with one season under his belt, he knows what to expect and what he needs to do to take that next step.
"Last year I didn't prepare or do what I was supposed to do,'' he says frankly. "Now I want to make a turn-around and show Jerry Jones, Jason Garrett, Coach Marinelli, Coach Henderson, and my teammates that I belong here and that I can play on this level."
One thing that Hamilton has done this offseason in an attempt to improve: seeking a mentor. That mentor is none other than Deion Sanders. Jakar reached out to Sanders on Twitter and has been spending some time with him at Prime Prep Academy to learn from the Hall-of-Fame defensive back. While their friendship is still fairly new, Hamilton says that Sanders has already taught him a lot.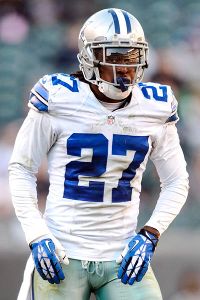 "We're still building that relationship," Hamilton said. "I reached out to him to see if he could be a mentor to me and he said yes. He was a big role model of mine growing up. We've talked about different things you deal with when they come into the NFL, like not having family around you and so forth. He's helping me with the business side of things and showing me how to handle it as a man and as football player."
Hamilton is certainly taking the necessary steps to take his game to the next level. Still, he understands his role on this team working behind starting safeties Barry Church and JJ Wilcox.
"My goal is to be able to dominate on special teams," said Hamilton, "and when they need me to play defense, just go in, relax and make plays like I've been doing. When they call No. 23 and say 'Jakar, get in there and give Church a break!', I don't want any mishaps. When Seattle lost a player, they didn't miss any beats. I want to do the same thing when I come in for Barry or JJ. I just want to contribute however I can and help my team win."