Where's Romo' replacement? :
The last time the Dallas Cowboys had a 34-year-old franchise quarterback entering the season was 2000 with Troy Aikman. Cowboys fans know what happened that year.
After a painful drumming by the Eagles in Week 1 in Texas Stadium, the Cowboys began their first of three consecutive 5-11 seasons under Dave Campo. On Opening Day, Jim Johnson's Eagles defense concussed Aikman and knocked him out of the next two games. When Aikman did return, Dallas posted 4-7 record and the one-time Super Bowl MVP threw for 7 touchdowns and 13 interceptions, including three games where he had interceptions on his ledger but zero touchdowns. Also toss in the infamous October 15, 2000 game in New York where Aikman lobbed up five interceptions in a 14-19 loss to the eventual NFC Champions.
The eventual Hall-of-Famers' replacements were hardly any better. Yes, Cowboys fans booed Aikman as a sign of favor for backup Randall Cunningham, but his win-loss record was 1-2. When Aikman sustained his 10th concussion in December at home against Washington, the coaching staff inserted young Anthony Wright into the lineup to take beatings against the Giants and Titans before hobbling into the off-season.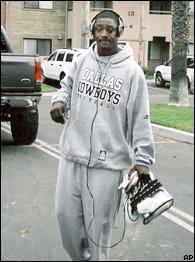 The new millennium wasn't any kinder to the Cowboys quarterback situation. The franchise followed up its three-quarterback season with a year where fans witnessed four different signal-callers line up under center, the most ignominious of them all being 1998 draft bust Ryan Leaf, who posted an 0-3 record and 57.7 passer rating.
Surprisingly, that wasn't the lowest of the quad of QBs. Clint Stoerner owned the 53.8 rating, while Anthony Wright had a 61.1 rating and rookie Quincy Carter led all starting QB's with a 63.0 rating and 3-5 record.
In 2002 we saw only half as many quarterbacks, though Carter lost his job midway through the year to Chad Hutchinson, who pitched a 2-7 record and helped Jerry Jones make the decision to hire Bill Parcells to clean up the mess. (And help sell a stadium idea.) Although Parcells rode Quincy (and a top five defense) to a 10-6 record and wildcard spot, in his time, the Big Tuna played four other quarterbacks in his four years in Dallas. Two of them were "pet cats'' in Vinny Testaverde and Drew Bledsoe. One of them was Jerry's "pet pitcher'' in Drew Henson. The other one was "passing game coordinator" Sean Payton's pet cat in some undrafted camp body named Antonio Ramiro Romo.
It's 14 years later, and here we are again: the Cowboys are entering the year relying on a 34-year-old to be their franchise quarterback. Does Jerry Jones need George Santayana's quote about history repeating itself to permeate his 40-year-old brain?
My thesis is that the Cowboys front office has learned from the end of the Aikman era. Let me connect the dots for you.
In the year 2000, the only other unit as aged as the remaining Triplets was the offensive line. Yes, Larry Allen was a monster. However, right tackle Erik Williams was playing in his penultimate season in the NFL, as was center Mark Stepnoski. Young left tackle Flozell Adams wasn't producing just yet, and sophomore right guard Solomon Page never produced at all. Don't even get started on the receiver situation when Joey Galloway, the wideout for whom you gave a king's ransom of two first-round picks, blew out his ACL on Opening Day. For the rest of the year, Aikman had Raghib Ismail and James McKnight to throw to, a far descent from Michael Irvin and Alvin Harper.
Let's fast-forward to 2014. For the next decade, Dallas seems set at left tackle, center, and whichever offensive line position the coaches park Zack Martin in. There's going to be a day in the mid to late 2010's when these three offensive linemen hit their prime together. Not only that, but receivers Dez Bryant and Terrance Williams will also be hitting their primes just as the offensive line gels as a hopefully-impenetrable force.
Stoerner and Hutchinson were below average quarterbacks, no question, but I'm willing to wager if they had the line to protect them and the receivers to target that Romo's eventual successor will have, those guys might've survived as Quincy did for a moment there.
If that doesn't assuage any angst about the future at quarterback, then this should. Since 2002, the Cowboys have had the same number of draft picks as the years gone by. In other words, 13 drafts have gone by since 2002, and Dallas has had 13 first-round picks. Yes, Parcells passed on Steven Jackson in 2004 for Julius Jones, but the 2005 had Dallas picking twice in the first round. Same goes for 2008 when the Cowboys had two first-rounders, though they cost themselves a chance to be in the black by trading their first-rounder (and third- and seventh-) for receiver Roy Williams. Still, soon Dallas will have a first-rounder to spend on Romo's successor, should they be unable to find a talented passer from their undrafted and castoff ranks.
Along with first-rounders, the Cowboys will also have cap space, something else they didn't have when Aikman was 34.
Don't fret if Dallas doesn't have Romo's successor on the squad right now. The search for the next guy is coming. And whoever the lucky man is, he will have won the offensive jackpot with the coming maturity of the Dallas line and its receiving corps.
Welome to 'The Ride:
If you are a The
Dallas Cowboys
fan and are new to CowboysHQ, welcome!
Best way to get acquainted? Come ride shotgun with Troy Aikman and me for "The Ride'' ...
Odds on Cowboys as MVPs:
Bovada recently released their MVP odds, and three Cowboys make the list of candidates: quarterback Tony Romo, wide receiver Dez Bryant, and running back DeMarco Murray. The online gambling group announced their MVP list with Romo having 50/1 odds, Bryant with 66/1 odds, and Murray with a 200/1 shot.
The
Cowboys not winning league MVPs? As Mark Lane shows us, that's simply part of Cowboys lore.
.
The "It'' Guy:
"Upside.'' It was the 'it' word in scouting circles just a few years ago and made it's way through all of the professional leagues. Potential. Just another way to say 'hasn't done it yet.'
Terrance Williams looks to capitalize on his rookie campaign and leave those two words in his dust.
Our man KD Drummond examines T-Will as a potential "It'' Guy.
Jakar Jump-Out:
Jakar Hamilton's jump-out moment from his 2013 rookie season?
"At one point I made a tackle on Calvin Johnson,'' the Cowboys safety says. "But if I had done one little thing differently, I could have intercepted it. It's a game of inches. That's what I'm working on this year - knowing what to do and making it second nature.''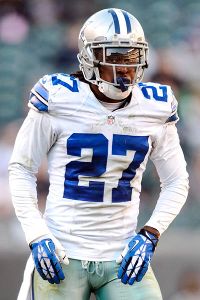 Our 1-on-1 with
Jakar as he tries to make more jump-out moments.
... which includes a budding friendship with Deion Sanders.
One click. All Cowboys:
Details from practice, from the locker room and from the front office. 1-on-1's with Romo and Dez and everyone in between. Videos and photos from the field. It's all
here in the must-read All-Access Practice Reports from Minicamp Days 1, 2 and 3!
Just the beginning of our coverage?
Yup. Keep it here on CowboysHQ during what some might foolishly call "the off-time'' as we will keep you posted in a variety of ways from inside your team ... Here on the HOME page,
here on CowboysHQ Discussion Boards
, and on Twitter, where we encourage you to follow
Mike Fisher
,
KD Drummond
,
Mark Lane
and
Jordan Ross
along with our 105.3 The Fan colleague
Bryan Broaddus
. ... we are just days away from packing for Oxnard and hope you'll join us!
Onside kicks:
KD Drummond on how the Cowboys
defense has changed over the years - and where it needs to change back.
... Dallas thinks
Lance is ready to be a weapon
... We've known Michael Irvin for 24 years.
And yeah, it seems unwise to try to step between Michael and Sandy.
... The votes are in.
And America's favorite sports team is ...
The Final Word:
We said it on the day before the Fourth of July and here we go: Johnny Manziel was 24 hours away from doing something stupid in front of a camera, 48 hours away from his stupidity being posted, and 72 hours away from bitching
because you're looking at it.
The "bitching'' part hasn't come true yet, maybe because Johnny is too busy with apologists, spin doctors, advisors, lawyers and, ideally, intervention experts. But this is a problem now, and it goes way beyond Johnny defiantly insisting, "I get to do whatever I want on my days off.''
Because, no you don't. None of us do.