THE LEAD STORY:
It was inevitable.
The Cowboys' joint practices with the Oakland Raiders were guaranteed to produce a brawl or two. Too much adrenaline, too much testosterone, too many jobs and paychecks at stake.
And then there is the audience, the passionate Cowboys lovers and the violently passionate Raiders Nation, 8,326 folks total, spurning it all on ...
And reaching across the barricade that separates the dangerous players from the even more dangerous fans, enraged Raiders fans swinging actual helmets at the heads of Mo Claiborne and B.W. Webb.
(Above photo courtesy of Desmond Purnell. See the video here on the team website.)
"That passion, that's mostly what I'd hoped what we would get out of getting these teams together," said Jones.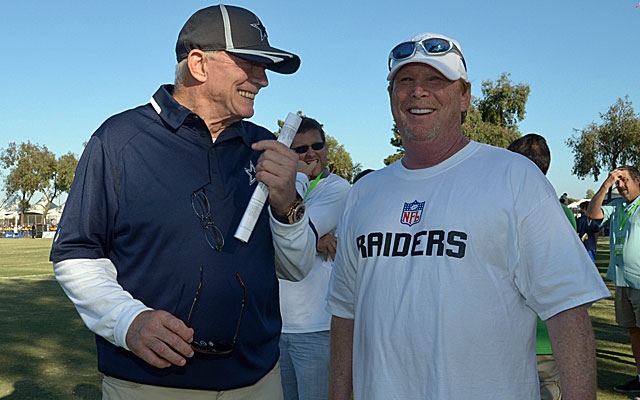 Added Mark Davis, son of the late Al Davis and now owner of the Raiders: "That was fun. Nothing better than Raiders fans.''
The first fight was triggered when Claiborne executed a form tackle of Raiders tight end Mychal Rivera - and was too physical in slamming Rivera to the ground.
Said Claiborne: "I just went for the tackle because he dropped his shoulder on me and it turned out a brawl."
It was good to see Claiborne playing on that edge as he's battled tendinitis in his knee and sat out about a week. It was also good to see Webb leading the charge of Cowboys who rushed to Mo's defense.
"I just ran over making sure all my brothers are good," Webb said. "I've got all my brothers' back. ... Two teams going after it and happened to be some fans, too. Hey man, it happened. I wasn't expecting that. But whoever jumped on my back, I had to get them off. Hey, you got to let them know, man, the only thing protecting you is this fence."
Cowboys offensive players on the adjoining field saw the melee and also hurried to the side of Claiborne and Webb ... but later the Cowboys offense involved itself in another team-wide fight and that ended the practice.
Said Jerry of the Tuesday practice with Raiders: "This was great, the enthusiasm, the atmosphere. It's hard to believe this was a practice."
In other words, it was "a happening.''
ROMO TO DEBUT SATURDAY:
Quarterback Tony Romo confirmed the word from Jones that he'll make his debut Tuesday Saturday against the visiting Ravens.
I'm excited about Baltimore on Saturday,'' Romo said. "Just kind of go out there and play some football.''
"Now, we just need to be smart about it, let him get a good feel for it out there," Jones told 105.3 The Fan. "I don't see him in there for a half or anything like that. But I do think he can take a couple of series."
Romo, who is eight months removed from back surgery, has clearly been "cutting it loose'' in recent practices and has participated in four straight workouts.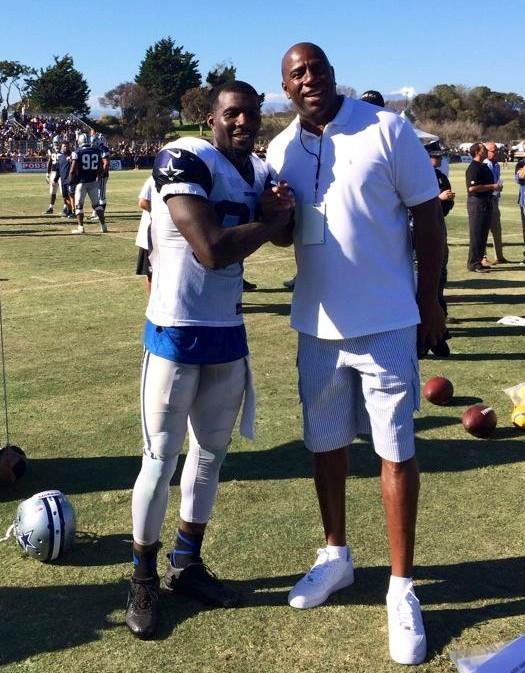 HOLLYWOOD SQUARES:
Magic Johnson and Tommy Lasorda were special guests on Tuesday. Both spoke to the team, posed for photos with players (Magic and Dez might be a keeper) and had guys like Romo giving their full attention.
Romo on MLB Hall-of-Famer Lasorda: "He just has a way to connect with people. Any time someone like that speaks, you're going to hang on every word, so it was really special.''
Romo on Magic: "You can tell he's got that passion, that emotion that you hear about. He kind of showed that off a little bit. He got into it, and I think that struck a chord with the guys."
Jones and Lasorda had apparently never met before, but they did so at the end of the day. I watched them at they shook hands and bid farewell ... and then started talking again. They did it time and time again, neither man really gifted at stopping visiting.
SIDELINE NOTEBOOK:
Jordan Ross' Quickie Notebook:
*The Cowboys certainly have plenty of issues at the CB position, but one thing that group doesn't lack is fire. In addition to Claiborne, another CB who had no problem with the heightened level of intensity is Terrance Mitchell. The rookie CB had a couple of bad plays early on which led to Raiders fans chanting "30 sucks!" Apparently, their jabs toward Mitchell had the opposite effect, seemingly motivating him since he had several PBU's afterwards. Mitchell made sure the fans saw, too, raising his arms at them every time he made a play.
*That second brawl that occurred happened after J.C. Copeland had his helmet ripped off. The the increased amount of police officers and security that was present at practice was allegedly due to gang-related concerns. But it was all about rowdy football concerns in the end.
*Rookie WR Devin Street had a nice practice today. He did a really nice job in 1-on-1 drills against the Raiders DB's, catching the ball each time it was his turn. His route running is really impressive for a rookie.
In fact, as
Devin tells CowboysHQ in this exclusive visit, he wants to be "The Perfectionist.''
*Over the weekend, Romo had some of his best practices of this year's training camp. On Tuesday, Romo didn't seem as sharp. He still had a nice practice, but he overthrew a couple of guys on some of his deep throws. On a positive note, the fact that he's overthrowing guys as opposed to under-throwing them is further proof that his back isn't affecting his deep passes.
And again, we'll get to judge even more on Saturday night.
*A couple of Cowboys LB's made some nice plays. Bruce Carter nearly picked off Matt Schaub but dropped the ball. Still a nice play in coverage, which is an area that he's struggled in. Rolando McClain also made some nice plays. McClain laid the wood on a Raiders RB for a big stop during team drills. I guess that's his way of welcoming his former team to Oxnard.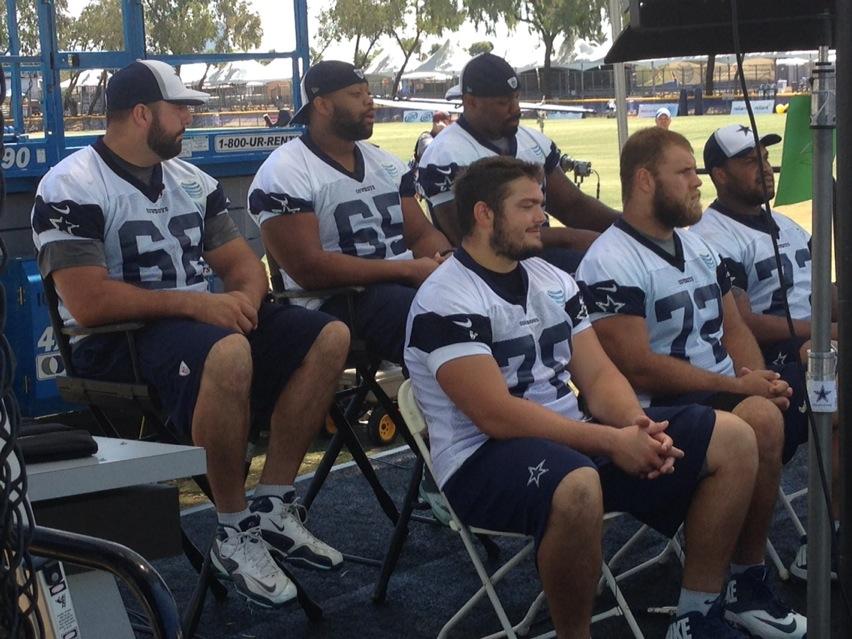 *As usual, the Cowboys offensive line was dominant. They opened up some nice holes in the running game, leading to big gains by Ryan Williams and Lance Dunbar. They were also impressive in 1-on-1's. Zack Martin pancaked his guy at one point, which got a big reaction from the crowd. One of the only negative moments for the O-line was when Khalil Mack used a nice spin move to get around Tyron Smith, which doesn't happen very often.
Oh, and how about Dunbar lined up in the slot as a receiver running a crossing route underneath the linebackers? Nice.
FISH ON THE FAN:
Hear "Fish on The Fan'' with
live updates throughout the day from Oxnard The Cowboys Station, 105.3 The Fan.
SCANDRICK SORRY:
Orlando Scandrick did not handle that fateful April day of partying in Mexico very professionally. But he did handle himself well on Tuesday while meeting the media and taking "full responsibility and accountability'' for the recreational-drug use that led to a four-game suspension.
"I made a bad decision,'' Scandrick said. "I'm responsible for what goes in my body. ... I'm very sorry. I apologize to the Jones family. I'm very sorry to my teammates. I'm very sorry to the fans of Cowboys Nation and I'm very sorry to my family.''
Scandrick said he took an amphetamine while vacationing in Mexico in April. While the test came back showing PEDs, he stressed he didn't take the drug -- reportedly "Molly,'' an Ecstasy-like pill -- to gain an competitive advantage.
"I ingested something in my body while vacationing and partying and doing things on a recreational use,'' Scandrick said. "In no way, form or shape was this trying to gain a competitive edge. ... I simply made a mistake. It was a dumb mistake.''
Scandrick will continue to practice and play with the Cowboys throughout the summer but will miss the first four games of the regular season. He acknowledged, "This is a terrible thing and I'm hurting this team.
"I love this game,'' Scandrick said. "I respect this game. Obviously on that moment in April, I was very disrespectful to this game. I was very disrespectful to this team, to this organization, to the National Football League. I have to face the consequences for what I ingested.''
WELCOME TO 'THE RIDE':
If you are a
Dallas Cowboys
fan and are new to CowboysHQ, welcome!
Best way to get acquainted? Come ride shotgun with Aikman and me for "The Ride'' ...
MOLLY AND FOLLY: "Molly'' isn't this franchise's first training-camp folly.
Mark Lane has a top-10 list.
COWBOYS TRADE FOR CORNER: Defensive tackle Ben Bass is a local kid, well liked inside Valley Ranch, who never quite stayed healthy here after coming to the Cowboys as a UDFA.
The Patriots also found cornerback Justin Green as a UDFA, last season, and he spent most of the year on the practice squad.
The teams made a trade Tuesday featuring players who are expendable where they were might might help their new clubs.
Green (5'11" 195 lbs) is 23, can press-cover, and ran a 4.32 40 at his Illinois pro day. With Scandrick out, Green gets a chance in Oxnard as early as Wednesday.
Bass (6-4 and 288 pounds) wasn't a starter at Texas A&M but worked his way into prospect status for the Cowboys. He's been sidelined with a hamstring injury during this training camp -- injuries have limited his career game participation to two games -- but was preparing to participate on some level Tuesday in the Cowboys-Raiders combined workout when he was pulled back due to the trade.
Maybe he can help the Patriots, but here Bass was going to struggle to make the team as youngsters like Davon Coleman and Dartwan Bush have come on.
CowboysHQ has
exclusive insight from personnel boss Will McClay regarding Green and his "Belichick influence.'' Check that out here on CowboysHQ Premium Boards.
ONE CLICK, ALL COWBOYS:
Details from practice, from the locker room and from the front office. 1-on-1's with Romo and Dez and everyone in between. Videos and photos from the field. It's all here and we'd love for you to take
our free 7-day trial
and then for 10 cents a day you get inside the Cowboys ... and hundreds of your other favorite teams, like the Mavs and the Longhorns!
And what you see here is just the beginning of our coverage? Yup. Keep it here on CowboysHQ as we will keep you posted in a variety of ways from inside your team ... Here on the HOME page,
here on CowboysHQ Discussion Boards
, and on Twitter, where we encourage you to follow
Mike Fisher
,
KD Drummond
,
Mark Lane
and
Jordan Ross
along with our 105.3 The Fan colleague
Bryan Broaddus
. ... Thanks for joining us!
ONSIDE KICKS:
Dez says he's putting in the time to become a better blocker. "That's one of my focus points coming into this training camp, getting there, blocking, finding that guy on the backside," Bryant said. "Playing with DeMarco, the ball is supposed to be going left and he'll end up coming back right. So you got to be aware. I think I've (taken) a step forward." ... Is O-lineman John Wetzel a candidate to make this team out of nowhere? ... The votes are in.
And America's favorite sports team is ...
Dallas added guard Stephen Goodin and waived guard Andre Cureton and also added Australian Rules Football player Tom Hornsey as a punter. Hornsey struggled greatly with consistency on Tuesday ... Henry Melton "tweaked'' his groin on Sunday (Garrett's word) and didn't work on Tuesday. (Seventh-round rookie Ken Bishop is getting work in Melton's stead.) Another defensive starter, Brandon Carr, did light work but neither is expected to play this weekend at AT&T Stadium in preseason Game 2 against the Ravens ... Garrett said their are no plans to lessen Scandrick's reps given the circumstance, telling me his September absence means he needs all the work he can get while he can get it. ... CB Sterling Moore and DE George Selvie (groin) returned to practice ... Cowboys-Raiders practice No. 2 starts at 10:30 a.m. Pacific time on Wednesday and we'll have live coverage of it on 105.3 The Fan. ... Carr stayed on the field for more than an hour signing autographs for every fan.
SAN ANTONIO RAIDERS?:
As I've said all along, Mark Davis's Oakland Raiders don't really want to be the San Antonio Raiders. They want to be the Oakland Raiders with a new stadium there or ... be the team that benefits from the oddest vacancy in sports.
Which would make them the Los Angeles Raiders. Again.
And there on Tuesday was Jones and Davis, and Jerry coaxing Hollywood mogul Michael Ovitz into saying a few words.
Why?
Ovitz can make things happen in LA. He's behind an L.A. stadium model that Jones lauded. So he stood alongside the two owners in an impromptu presser.
Somebody asked Jerry about the "San Antonio Raiders'' concept. "We'll work that relocation fee out here in a minute," he joked.
But all of this effort -- including this on-field stage show -- wasn't about San Antonio. It's about L.A.
SPENCER'S PROGRESS:
Jerry Jones tells G-Bag Nation on 105.3 The Fan that defensive end Anthony Spencer is progressing so well that it's likely he'll start the season on the active roster rather than on PUP.
"He's getting there," Jones said of Spencer, who has missed a year after microfracture knee surgery. "He's getting there at a faster pace than we thought. We're hoping that when we get to our 53-man cut down that we'll be dealing with that problem. The problem is: Do we keep him on the roster because he's going to be ready to go in a game, or do we PUP him, which would mean we couldn't use him for six games?
"It's looking like we'll keep him on the roster."
THE FINAL WORD:
Again, if you enjoy this level of coverage, we invite you to check out our 10-cents-a-day
Cowboys Premium Subscription
, which gives you a chance to get as close to the front office, the locker room and the field as it gets.
And close to the outdoor basketball court, where late last night, after the Raiders had left campus, some of the Cowboys receivers and DBs somehow had enough energy to hoop.