The
Dallas Cowboys
and star wide receiver
Dez Bryant
played "Beat The Clock'' and won, getting a five-year, $70-million agreement in before the 3 p.m. Wednesday deadline to move from a one-year franchise-tag deal to the "Cowboys For Life'' agreement long desired by both sides.
We're Super Bowl-ready,'' Dez tells DallasCowboys.com.
July 15, 2015
Bryant is on-record as desiring long-term financial "security for his family'' and Cowboys owner Jerry Jones has echoed that wish. But that was the easy part.
Working out not only years, and annual wage, but most importantly the form and definition of "guaranteed money'' was the issue that caused the two sides -- "comfortable'' as they were 15 days ago with the direction of these talks -- to finally inch to the finish line. That part of the deal totals $45 million, with what sources say includes $20 mil upfront and the rest paid later. (All of this can mean a cap savings that loosens up room for an extension for Tyrone Crawford, among others; CHQ has long predicted Dez' cap number for 2015 would be sliced in half, nearing $6-7 mil in extra room this year. And indeed, an NFL source tells CowboysHQ.com that Dez'a cap number for 2015 is $7 million. Additionally, FOX Sports reports, Dez gets $6.5 mil of his $20-mil signing bonus within 15 days. Another $6.5 mil comes with his '15 game checks. the final $7 mil is deferred to March 15, 2016).
It was made possible by Jerry and Stephen Jones zipping to New York to meet with Dez' reps into the wee hours last night/this morning. It came together just before 2:09 p.m. ...
Text from source from directly in VRanch #Cowboys negotiation in the room right now: 'CLOSE ENOUGH TO CHEER' @1053thefan #DezBryant

— mike fisher (@fishsports) July 15, 2015
Bryant, 26, as as good a receiver as there is in the NFL (back-to-back 1,000-yard seasons and 25 TDs in the last two years). His side leaned to the idea of a Calvin Johnson-type deal (which is $16 mil a year and $48 mil guaranteed). The Cowboys wanted to feature a Tyron Smith-type deal (which is structured to pay the player guaranteed money along with some "if's.'') and got their wish there to some degree with the delays over three years. There will be more details to come that we'll update as we go, for instance:
In the #DezBryant end, Roc Nation may have throw in its 2 cents. And #Cowboys owner Jerry Jones may have thrown in his. ... $70M.

— mike fisher (@fishsports) July 15, 2015
Bryant told CHQ a month ago that he was willing to boycott games in protest should this deal not get done. And on Monday, Bryant tweeted, "As much as I love football ...on my beautiful babies.. I apologize Cowboy Nation but I will not be there if no deal.''
It may have taken a nudge from Roc Nation (in addition to agent Tom Condon). It seems Jerry Jones got involved way beyond a nudge. And then, Dez himself arrived at Valley Ranch ...
Amid many "Dez Walmart Video Unicorn'' tales, to many inside Valley Ranch, Bryant has established himself as a passionate (
and even hyperactive)
team leader, a positive role model for younger teammates, and a father of three who continues to learn the value of handling his business in an appropriate manner.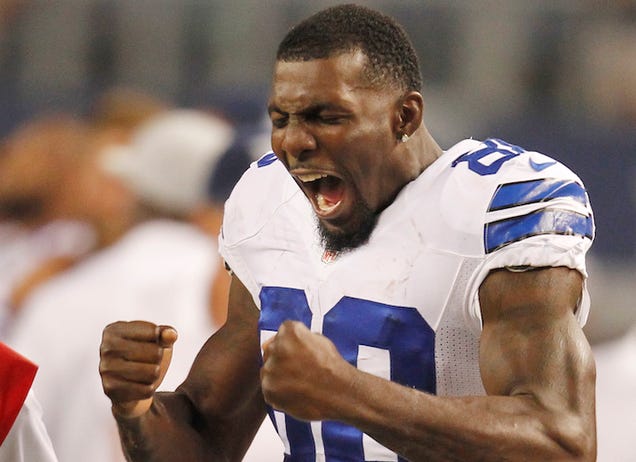 This deal is "appropriate.'' The aforementioned potential football disaster has been avoided. Dez gets what he wants. The Cowboys get what they want. They've both 'Thrown Up The X' on the dotted line.
Yes,'' Jerry responded this afternoon when asked if he just signed up the best receiver in the NFL. "I'm gonna say yes.''