Romo's sharp:
Dallas Cowboys
QB Tony Romo on Saturday took part in his first contact practice since undergoing back surgery seven months ago.
"I thought Tony threw it well," said owner Jerry Jones. "He's got a plan. ... I'm glad he's mature enough, experienced enough – and he should be – to understand his body enough to make those kinds of decisions.''
Romo did not go through individual drills early in the session and when he did throw on one-on-one work putting receivers against cornerbacks, his turns came only when throwing to starters Dez Bryant and Terrance Williams. But when it was time for seven-on-seven drills, Romo was particularly sharp and on-point.
Jones said Romo's limired work is to "just not overdo it. We need to have him ready to go (in Week 1 of the regular season) against San Francisco."
Word is Romo plans to participate again in the Sunday afternoon session.
Cocky Mo:
Mo Claiborne appears to be brimming with confidence -- and talent -- on this first day of offense vs. defense, so much so that after some drills in which he battled fiercely with Terrance Williams, Mo demanded that the offense provide him a greater challenge.
"Bring Dez over here!" he hooted.
Claiborne was the focal point of a 2012 draft-day trade as the Cowboys packaged their first two picks to get him No. 6 overall - a deal that has yet to pay off. Not only has Claiborne not shown himself to be the "best defensive player in that draft,'' as the Cowboys believed, he's not presently a full-time starter. Injuries and shaken confidence opened the door for Orlando Scandrick to steal snaps from him last year.
The other corner, Brandon Carr, is absent from camp while caring for his ailing mother. So Claiborne gets a first-rate chance ... and on Saturday did a first-rate job.
Williams was his victim on this day, Claiborne gluing himself to the second-year receiver, roughing him up, and then trying to talk his way into his psyche.
"It just got a little bit competitive – he didn't like the way I was touching him," Claiborne said. "I don't know what else I was supposed to do except let him run his route. It gets like that sometimes out here, but we're still teammates, we're still buddies."
Claiborne went so hard during the workout that coach Jason Garrett urged him to calm himself a bit ... and by the end, Mo was cramping up. (He's presently listed as day-to-day with those leg cramps).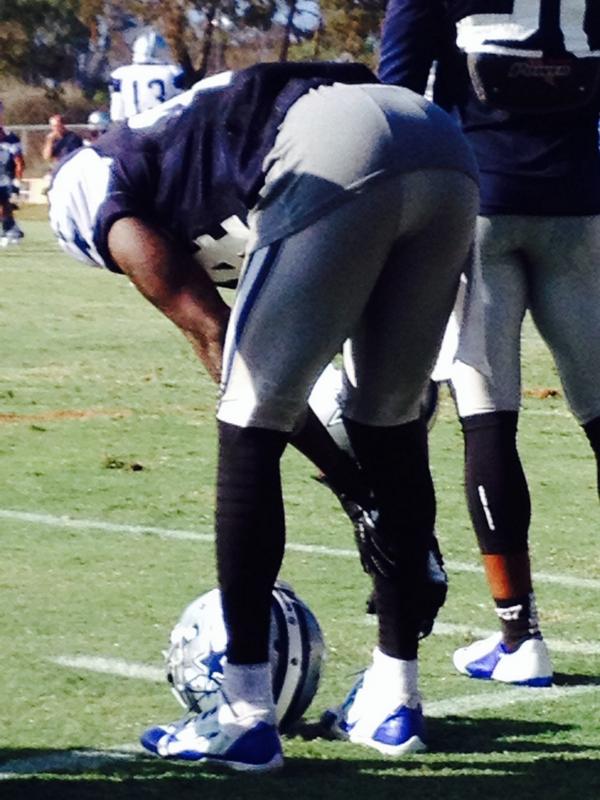 But this was a breakout workout for the LSU product, who is physically capable of being s difference-maker.
"That's what this is about for him,'' Jones said "is keeping his confidence at a high level.''
So far there, mission accomplished.
Onside kicks:
Hall-of-Famer Larry Allen, a Southern California resident, watched practice alongside Jones ... Tyron Smith used his athleticism to dive to the ground to recover a fumble and as impressive at it was, Garrett instructed him to avoid that practice in the future ... Tyron was dominant in every single way on Saturday. ... Ryan Williams and Joseph Randle are going to struggle to steal any of DeMarco's snaps until they become better at blitz pickup ... Cole Beasley turns difficult catches into his own brand of reliability; there is no way the QBs want him anywhere but on the field ... Tyrone Crawford looked powerful in one-on-one rushing drills and Henry Melton showed no ill effects of that old knee problem with his quick first step agsinst Zack Martin held his own in 1-on-1 drills against DT Henry Melton, though Melton beat him once. ... Oxnard mayor Tim Flynn said he anticipates the Cowboys to return to here in 2015 for another training camp ... A breath-taking sight: When Dez Bryant uses his almost not-human leaping ability to snare a high pass. He did it twice in the afternoon and it is a stunning thing to watch in person ... Rookie defensive end Ben Gardner (shoulder) had to leave practice.
Quotable:
Meet Rolando McClain:
He met the media in the morning
(see that story here)
and was on the field for his first full practice with the Cowboys. ... and everyone came away impressed. Originally the plan was to ease him into the workout, but eventually there he was, taking snaps and making calls as a second-team linebacker.
"This was an excellent deal for us,'' Jones said. "I think the stars might be aligned here ... I have a known a lot of people, a lot of successful people, that quit and then got it together and turned it around and came back and really made something of what they quit. I have a little empathy."
"This is America, and it's all about second chances.''
The Final Word:
In the middle of our visit with Jerry Jones, his phone rang.
"Hey baby, happy birthday!'' Jerry said to his daughter.
Did Jerry -- who'd spent half the day with her already -- forget to congratulate Charlotte on her birthday? Molly Ringwald in "Sixteen Candles''-style?
"I wanted to give her a birthday hug but I got all caught up in the drills,'' said Jerry, who then explained why his phone is a rather archaic flip-phone.
"Hey,'' he chuckled. "No butt-dialin'.''