ROMO'S BEST:
The
Dallas Cowboys
Romo skeptics will remain skeptical. And the haters will hate. But this is a fact: Tony Romo experienced his best and most functional weekend of camp over the last two days.
"He looked like himself,'' coach Jason Garrett said. "Our thing all along with him has been monitor the work, communicate, get great feedback and then make our next best decision. I think we've done that up to this point.''
As he returns from back surgery, Romo has neither been "full-go'' or "100 percent,'' as the club promised. But following four consecutive days off before Saturday's practice, he did "cut it loose'' with frequency. He did the same thing at practice again Sunday, showing a command of the offense and making all the throws. "He just looked like himself more to me, the expressions on his face,'' Garrett said. "He didn't look quite like he was working through something.''
Now, let's not go there again. Romo IS still "working through something.'' But with a week left of camp, the ramp-up is accelerating.
MY 1-ON-1 WITH ROLANDO:
On Saturday I visited 1-on-1 with Rolando McClain to ask him about his injury. In his usual pleasant manner, he chose mystery.
"It's just muscle-memory stuff, you got to get used to it,'' McClain. "You don't want to go on the field and not be ready.''
COWBOYSHQ: "Is the injury mostly hamstring-related?''
McCLAIN: "No.''
COWBOYSHQ: "Is it the knee?''
McCLAIN: "No comment. But it's not the hamstring. If coach wants to tell, he can tell.''
COWBOYSHQ: "Is there a sort of mental/emotional wrestling match involved in all of this?''
McCLAIN: "No, for the most part, you just want to practice. Then a game came, you want to be able to play but just can't do it. So you get ready for the next practice.''
Then on Sunday, he was really and truly a different guy. He seemed to be completely joining in on the edginess that defensive backs Orlando Scandrick, J.J. Wilcox and Barry Church successfully brought to the practice. He showed phenomenal range working as the second-team middle linebacker and getting some snaps with th first team, too.
I don't think everyone on this staff quite knows what to make of him yet.
Our questioning of his want-to is not a cheap shot; it's a legit concern, as we detail here.
But he is a compelling player. ... and a compelling character.
See more on McClain's terrific practice work below.
GEEIN' AND HAWIN' WITH JERRY:
I once wrote of Jerry Jones: 'Does he have an eye for the ladies? Yes. Especially the former Miss Arkansas beauty queen who's stayed married to him all these years.'
Mr. Jones told me he found the line 'clever.' Mrs. Jones told me she found it 'charming.' I find it pertinent today as Jerry is at the fore of TMZ-style news ... but somewhere a bit different on his own organizational chart.
A Premium
look inside the way Jerry Jones is conducting his business
... On and off the field.
Now, that story is the behind-the-scenes stuff ...
THE JERRY PRESSER:
Jerry Jones on Sunday night broke his weeklong silence regarding a pair of salacious off-the-field stories involving Dallas Cowboys ownership.
On an alleged extortion plot centering around photos of the Cowboys owner with women in a nightspot, Jones said, "Someone has misrepresented photos taken at a restaurant five years ago for their own purposes. I'm just not going to comment on it."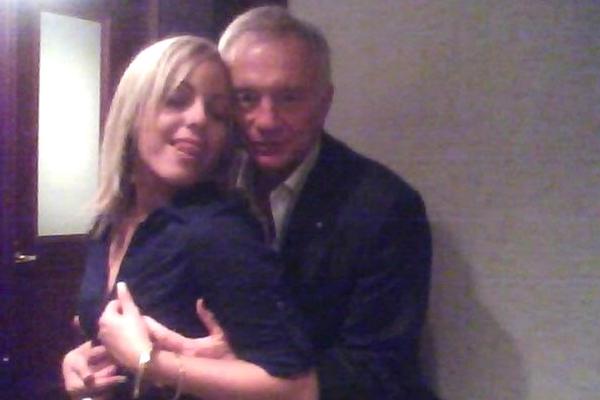 On the team's "party bus" serving as the site of a Sunset Strip get-together including Dean Blandino, the NFL's vice president of officiating, Jones said, "I don't deem it inappropriate at all. Part of Blandino's job during the offseason is to network with the clubs. That's a good thing. ... As you know, our bus, we entertain, that's what we do. ... That's why we have our buses. We have two buses. Those are a big part of what we do, make available for sponsors for trips, make available for own special occasions. ... One of the great things about having our camp out here is that it's an area that has a lot of entertaining things to do.''
Jones said he's been aware of the titillating photos for five years, and said he is unaware of any protests from inside the NFL regarding Blandino's presence on the team bus.
Are you buying any of that? Bothered by it? Consider it a non-issue?
Cowboys fans are discussing it all here on CowboysHQ Boards!
WELCOME TO COWBOYSHQ:
We're proud to be able to bring to you our 32 years of experience covering the NFL and 24 years covering the Cowboys in Dallas via CowboysHQ.com. Please enjoy our wall-to-wall coverage however you wish, while considering taking our free 7-day trial to sign up for Premium Cowboys Coverage at a cost of just 10 cents a day. We bring you every practice, every game, every move -- from Oxnard to Miami to Seattle to London and everywhere in between -- and we do so 24 hours a day.
Hang out with us here on the HOME page,
here on CowboysHQ Discussion Boards
, and on Twitter, where we encourage you to follow
Mike Fisher
,
KD Drummond
,
Mark Lane
and
Jordan Ross
along with our 105.3 The Fan colleague
Bryan Broaddus
.
Also, hear "Fish on The Fan'' with
live updates from inside camp and then Valley Ranch throughout the day - including 11:30 a.m. from the practice field and 8:30 nightly - on THE Cowboys Station, 105.3 The Fan.
Thanks for taking "The Ride'' with us!
GETTING SCHOOLED:
The Cowboys like rookie corner Terrence Mitchell, though the biggest challenge here seems to be to get him to understand the importance of technique (where he struggles) combined with confidence (where he does not struggle.)
Meanwhile, second-year corner once again was victimized in red-zone work, with receivers consistently beating him inside or drawing flags.
"You're about to set a f---- record out here!" chided Dez.
SIDELINE NOTEBOOK:
Jordan Ross with his quickie sideline observations:
*Orlando Scandrick has had a great camp this year but on Sunday he arguably had his best practice. During 1-on-1 red-zone drills Scandrick broke up passes to Dez and Beasley. Later, during team drills, he sniffed out a reverse to Harris and gave Dwayne a nice pop. No. 32 was at his best. He definitely has the look of a man on a mission.
*While Scandrick stole the show, that's not to say that the rest of the defense wasn't impressive. Orlando's play seemed to energize the rest of the defenders. Guys were hitting hard and playing physical. Throughout training camp the offense has gotten the best of the defense, but on Sunday, the tables were turned. Dez Bryant even went on record afterwards, saying that this was the defense's best practice of training camp.
*One defender in particular who stood out was Rolando McClain. Some have questioned McClain's desire to play, but I don't think anyone was asking that during Sunday's practice. McClain showed glimpses of his enormous potential during team drills when he read a run by Murray perfectly and gave him a nice hit to stop him in his tracks, preventing what would have been a long touchdown. He was also solid during 1-on-1's vs the tight ends, showing good reactions and awareness. And his backside chase-down of a sweep going away from him was freaky.
If his head is truly in the right spot, the Cowboys may have gotten themselves a steal.
*For the second consecutive practice, Tyron Smith dominated DE Martez Wilson, throwing him on the ground yet again.
*Gavin Escobar is starting to turn into quite a weapon for this offense. He has gotten stronger than last year and looks much more comfortable and confident. In back-to-back practices Escobar has had deep receptions in team drills. Because of his size and athleticism, he is a matchup nightmare for linebackers and safeties. ... and he seems to be surviving as a blocker, too.
GETTING MASTERPIECED:
My guys "K&C Masterpiece" of 105.3 The Fan involved me in their "Wheel Of Misfortune" and put me on the business end of a bottle of Bud Light:
ONSIDE KICKS:
Tyrone Crawford is experiencing tightness in his calf and didn't finish practice. The injury is not Achilles-related ... Parnell and Weems aren't doing well enough in this camp. A mild sore spot here ... Dustin Vaughan is showing enough to merit a spot on the practice squad - at least ... Henry Melton injured his groin in Sunday's practice. Two bits of good news here: 1) It's not his knee. 2) Amid reports that he "walked off the field in anger'' or whatever, by the time he actually exited the field he bumped into fellow former Longhorn Matt Nordgren, and the two exchanged pleasantries ... For all the media hand-wringing and teeth-gnashing about partying on the party bus, many members of the DFW media will do exactly that tonight at the annual media party hosted by Jones ... Brandon Carr is in camp for the first time following the passing of his mother.
On Saturday he spoke on returning to his "safe haven'' of football.
He did mental reps out of pads on Sunday and was joined by Mo Claiborne (knee), who did some light work in pads ... When Dez and Scandrick got locked up in a near-fight, guess who served as the break-it-up peacemaker? Tony Romo!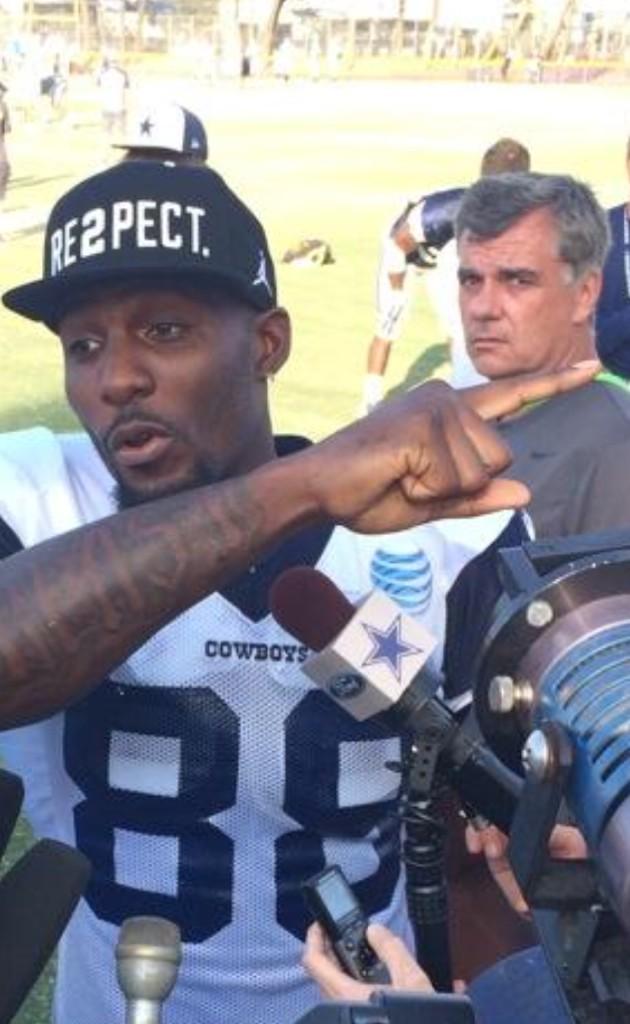 DID GAME 1 MATTER?:
In the wake of the Cowboys' preseason loss at San Diego, Adam Schein of NFL.com woke up the next morning and wrote: 'Never, ever overreact to the NFL preseason. Having said that, the Cowboys are the worst team in the NFC.' Is this hi-larious or what!
Let's
cut back on the snark and upgrade the studying to examine what that loss really means.
THE FINAL WORD:
No, I don't know why it appears Dez Bryant is making a throat-slash move at me. But I do know that besides this accidental gesture, he continues to exhibit clarity when it comes to "getting it.''
"I'm learning how to channel my emotion in a positive way,'' Dez said, adding that when he expresses his emotions between the lines, "I know exactly what I'm doing when I'm on the field.''