Leaders on leaders:
On a day when Sean Lee walked onto the practice field to meet the media for the first time since his ... season-ending knee injury (more on that below) this seems a good time to reflect on leadership.
The who's who of it.
Jason Witten, the
Dallas Cowboys
stage is yours.
"The way we run, the way we practrice, the way we do things, that's the only way you're going to have success,'' Witten said. "I think these young guys are really falling in line and understanding what's expected of them so they can contribute on this team.
"No question we lost two leaders in DeMarcus Ware and Sean Lee. But I think Brandon Carr is a guy who (leads on defense). I also think Henry Melton, the job he does inside and the way he carries himself, leads. And George Selvie. Orlando Scandrick carries a chip on his shoulder that helps the defense. It's good to see.''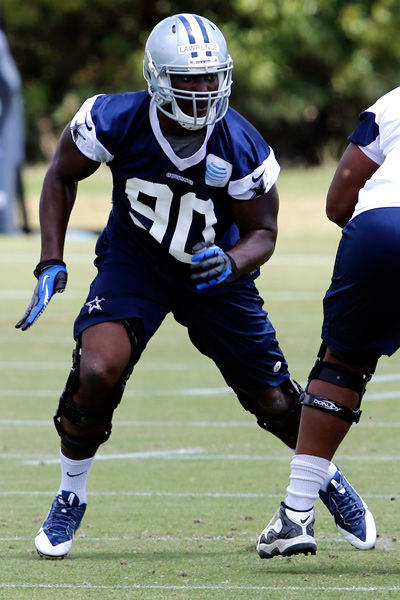 Jason Witten, as you can see by my photo above, is such a leader that Cowboys fans even want to dress like him.
DeMarcus Lawrence out:
Rookie defensive end DeMarcus Lawrence - labeled a "quarterback hunter" by the Cowboys when they traded up for him in the second round of this spring's NFL Draft - is expected to miss at least two months with what sources confirm is a fractured right foot.
Lawrence, the Boise State product who'd set a lofty personal goal of 10 sacks this season, sustained the injury in a one-on-drill against Pro Bowl left tackle Tyron Smith in individual drills. Lawrence, despite his promise, was working as the second-team right defensive end. Veteran newcomer Jeremy Mincey may have secured that job now, with versatile swing man Tyrone Crawford also in the mix.
Sean Lee Day:
He wants to be one of the guys. So even though Sean Lee is still five weeks away from running, he remains a daily camp fixture.
"When you disconnect, it's hard to stay positive," Lee said Tuesday in a presser to discuss the aftermath of his offseason knee injury and season-ending surgery. "Just staying around the guys and going through the process not only is going to give me another year of football mentally, it's also helping me stay positive."
Lee was on the team flight to Oxnard, has been at team meetings and as served as an assistant linebackers coach for the youngsters, said he's reluctant to be on the field during practice because he's concerned he can't get out of the way of trouble. But, the 28-year-old said, "From a rehab standpoint, I'm feeling great. My knee is responding really well."
Lee doesn't shy away from admitting an injury cloud hangs over his career. "It's been the story of my career, having to deal with injuries,'' he said.
Yet this media session was a positive one for a man that so regularly handles his business with the ideal attitude.
"I think I'll come back completely healthy,'' Lee said. "Now, the question is: Can I stay out there? That's obviously something that I'm hopeful for and I'm going to do everything I can to do that."
But surely Lee has asked himself, "Why me?'' Right?
"I don't like that question," Lee said. "The main reason, from an adversity standpoint in the real world, I'm not dealing with much. So for me to sit and pout when there's other people dealing with adversity that's a lot worse, what I call 'real-world adversity,' there's no room for that. It only makes you worse. It only makes your rehab slower. ... So ... I can't even go there. 'Why me?' Because there's a lot worse (circumstances) out there.''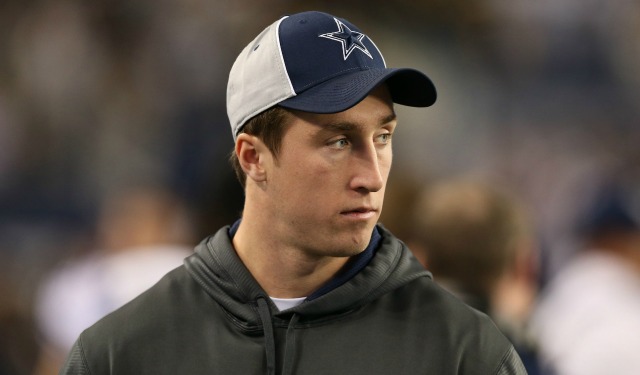 Harsh or fair?:
Jordan Ross sat down with former Cowboys wide receiver Jesse Holley, now my 105.3 The Fan broadcasting colleague, a thoughtful and worldly fellow who tells Jordan that thinks success from the start for the Cowboys is very possible, but ...
"No matter what you put on paper or what you did last year, the game still has to be played on Sunday," Holley said. "When you look at the 49ers, who have been on the doorstep of greatness over the last few years and compare that to the Cowboys, who have gone 8-8 for three consecutive seasons, it looks like a big mismatch. But when we beat San Fran in 2011, that was the year they went from being a laughing stock around the league to being the team we know today.
"In Week 1 teams are still working kinks out. If the Cowboys can be 2 or 3 plays better, they can pull out the victory, especially at home. If this was week 7 or 8 I'd pick the 49ers, hands down - a blowout. But since it's Week 1, if they come out and do the right things - They have the DeMarco Murray's, the Tony Romo's, the Dez Bryant's who can make those 2 or 3 plays to win the game."
Holley agrees with the views recently expressed at CowboysHQ by another Cowboy-turned-Patriot receiver that there is a priority problem in Big D.
"I read
that interview (with Isaiah Stanback) and was nodding my head at all the things he was saying,"
said Holley. "Dallas is a lot more Hollywood than New England, where it's all about football. Bill Belichick told us, 'When September gets here, unless it's authorized by me or someone on this staff, there will be no autograph sessions in the mall or radio shows. If there are and we haven't approved them, there will be consequences.'
"I was really surprised by that because in Dallas, everyone does that stuff. Linemen have radio shows, defensive backs have radio shows, wide receivers have radio shows. Guys were hosting parties and events, doing autograph sessions. People may say, 'that has nothing to do with football', but it takes time away from it. Even if it's an extra hour or two of studying, it's all time that could be spent on football. "
Bill Belichick and Jason Garrett certainly have a different way of doing things, but that doesn't mean that Holley thinks Garrett is a bad coach.
Holley on Garrett: "I like Jason as a person and as an X's & O's guy. I just think he's better suited to be offensive coordinator than he is a head coach."
Holley on Romo: "Tony's an extremely competitive player. But when you look at the Peyton's and the Brees' and the Brady's, they have that 'it' factor. ... Tony has the 'it' factor, but it's just not as big as those guys."
Holley on Dez: "During his rookie season, he was my roommate. Jerry (Jones) told me to show Dez how to be a professional, how to be on time, how to dress and present yourself, how to prepare yourself. He was very green at first, very young, very immature. He was suddenly thrust into the spotlight and things would get blown out of proportion. It was a lot for him. But seeing how he was then and looking at the leader he is now, it's amazing. Not just off the field, but on the field too. There are a lot of things that he's doing better that most fans don't see, but I see because I know him and I know the offense. He's become a leader and doing things that he wanted no part of that in his rookie season."
"I think Dez is one of the top three most talented athletes in the entire NFL. I think Dez is right behind Megatron."
The pecking order:
The
Dallas Cowboys
have a contract extension pecking order topped by Dez Bryant and Tyron Smith (of whom sources tell me there is presently "zero'' progress on this front.)
The regular-season pecking order does not include DeMarco Murray.
"I don't think so,'' Stephen said. "I think we'll see kind of how his year goes, and we'll go from there. He's the type of player we want on our team. He's young and he had a good year last year, but I think he's betting that he's going to have a great year, too, and I hope he does."
That's not an expression of dissatisfaction with Murray, who last year gave Dallas a 1,121-yard, nine-touchdown campaign good enough for his first trip to the Pro Bowl. And it might not be an expression of concern over fragility, though Murray missed three games as a rookie, six in 2012 and two last year.
No, this is about the changing landscape of offenses, the shadow of the salary cap and the recognition that even the finest running backs can break down prematurely.
"That's kind of evolved in this league, and it's tough for running backs to have a lot of longevity," Jones said. "But there are ones that do, and DeMarco is a leader, he takes good care of himself and I think his best football is ahead of him."
Murray is playing on the last year of his rookie contract and making about $700,000 in salary. A fiscally responsible thing to do would be to avoid paying him five times that -- which would've been justifiable a few years ago -- and instead supplant him with young, affordable kids like Lance Dunbar, Joseph Randle and Ryan Williams, all of whom are behind Murray on the depth chart.
And then when there time comes and their contract is up, as cool or even as ruthless as it sounds .. you don't pay them, either.
"We'll continue to monitor DeMarco's situation," Jones said. "I think he's a winner, I think he's a competitor, I think he's a hell of a football player."
Which Brings Us To Dez I:
This isn't really a story about how Dez and the Joneses work, though in its origin it purports to be. No,
this is the Anatomy of a Non-Dez Story. ...
and we've got the exclusive visit with Bryant himself to straighten it out.
Which Brings Us To Dez II:
Could the Cowboys Give Dez Bryant $100 Million?
That's the headline
on KD Drummond's brilliant breakdown on what the Dez deal might look like.
Cowboys fans who want to get smarter about the way this team and this league work need to read this.
The pity party:
It is now a sad annual tradition at Cowboys training camp: Matt Johnson is out due to a hamstring injury.
"You hate it for Matt," COO Stephen Jones said. "He's done everything right. ... I'm sure no one is more frustrated than him."
Johnson, a 2012 fourth-round safety, hasn't played in an organized game since college. He's been plagued by hamstring problems and now figures to be out for at least a week.
I asked him if he, being human and all, engaged in an at-least brief "pity party.''
"Oh, I had a pity party,'' Johnson admitted, saying his brother coaxed him out of it. "But you can't do that. It's not going to solve anything.
"But,'' he added, "I don't know. I've done everything I could. Stayed late, get here early, rehab it. I've done more in the month off that we had than I ever had in my life. ... Anyone can pull a hamstring and I'm the only one who's really pulling them. That's why I'm taking it so hard.
"I don't know that anybody has any more suggestions on what I can do, but I've tried everything.
Onside kicks:
Tight ends coach Mike Pope had his fellas catching balls while shirtless while being drenched in water. "There's a method to his madness,'' Witten pledged. ... Dez and Dwayne Harris engaged in a fun argument over which of them has the better arm: "I can throw it 70 yards! I got proof!'' Dez yelled. "Nobody believes that,'' responded Harris, who then calmly turned to the media to explain. "Dez has no idea what he's doing. It's all over the place. He can throw it far. But I can throw it 80. And more accurate.'' ... A week after saying his hamstring problem was minor and that today would likely mark his return, guard Ron Leary remains on PUP and may stay there for a week. ... I'm hearing some positive things about Anthony Spencer's progress. But I still wouldn't hold your breath ... Cowboys fan Chris Harrison of "The Bachelor'' was in attendance ... Rolando McClain left practice due to what the team called a stomach virus ... We had a great visit with Larry Allen, the HOF'er who is so proud that his son -- all 6-3, 300 pounds of him, Larry Allen Jr. - could've played at most any football school in the country and has chosen Harvard!
Quotable:
Why does Rod Marinelli think his defense is being trained to be better? "We're playing against a heck of an offensive line,'' he said. "Probably one of the top two lines in the league."
Beer talk with Tony:
Tony Romo engaged in the Tuesday morning walkthrough, visited with me about beer sponsorships and goofy signal calls and involved himself in a decision to sit out this
Dallas Cowboys
afternoon practice as he ramps his way up to "full-go" coming off back surgery.
"Tony is not going to do anything this afternoon,'' coach Jason Garrett said. "He got his work in this morning in some of the walk thru sessions.''
The Cowboys continue to assert that Romo has not experienced any setbacks. In fact, Jerry went so far as to say Romo is "100 percent'' ... even as he missed the second of five full-speed workouts.
For Romo's part, he was in good mid-day spirits as I asked him about making playcalls during the morning session that included him barking, "Miller Lite! Miller Lite!" and "Shanahan off!"
"What you find is Miller Lite is the official beer of the Cowboys, so they pay a lot of money to get their name on some of this stuff,'' Romo told me. "But a lot of it is just junk. A lot of it is just stuff you're saying that (everybody) knows by signalling or by footwork or different things. So it can just be junk words.''
I asked Romo if he'd ever gotten a little too clever, a little too humorous, and gotten eyerolls or chuckles back from his teammates.
"Oh yeah, sometimes,'' he said. "Sometimes there's no rhyme or reason to it.''
Romo's mood is good. Hopefully he back will be, too. And ideally, there is a preventative rhyme and reason for him missing some early work in this camp.
The San Antonio Raiders?:
Neither Jerry or Stephen Jones had heard about the Oakland Raiders meeting with San Antonio city officials in regarding a potential move.
"What I will say,'' Jerry said, "is San Antonio is very important to the Dallas Cowboys. We have the exact, same percentage of fans in San Antonio that we do in Plano, Texas, about 98 percent.''
In other words, the Cowboys are territorial here. Yet while the NFL owners generally like to work together in this matters, the Raiders have twice worked unilaterally in moving their franchise.
"And we sued them,'' Jerry said. "And we lost.''
The Final Word:
"We're a downfield team. That doesn't mean we're not going to checkdown any. Got to go underneath to keep drives alive. We've got to be better at that we didn't do a very good job this year. But (under Scott Linehan), it's a vertical passing game.''