The
Dallas Cowboys
established at training camp in Oxnard that they have the higher-octane look of a top-five offense, the same-old/same-old look of a bottom-of-the-barrel defense, and the overall aura of a "Hard Knocks'' edition that has now run for 25 Jerry Jones-led seasons.
It all gets labeled by naysayers as "dysfunction'' when in fact it is simply how the Cowboys have always done their football business and their business-business … and while the reality-show nature of this franchise might in theory be part of its regular-season downfall, it's actually an entertaining atmosphere that doesn't get in the way of training-camp progress.
So, was there training-camp progress?
As close as we were to Hollywood — and as show-bizzy as Jerry always is — it's appropriate to review this year's Oxnard stay in Academy Award style. …
I therefore present "The Oxcars'':
THE GRADUATE: Zack Martin is just a kid.
But from the very first day of camp, he's owned the right guard position and fit in as an elite-caliber linemen right alongside fellow 23-year-olds Tyron Smith and Travis Frederick.
"We made a decision he was going to be a Minute One starter for us," coach Jason Garrett said. "We were going to stick him in there at that right guard spot and see how he responds. Guys who are smart at any position, particularly the offensive line, tend to get better. They tend to improve quickly. And we've certainly seen that with him."
The Martin-vs.-Manziel draft-day argument might never go away. But here's betting it will never be because Martin underperforms ... and almost certainly will never be because Martin takes a drunken ride aboard a gigantic plastic swan.
IT'S A WONDERFUL LIFE: I don't consider Tony Romo's summer a "success'' because he was billed as being "full-go'' and "100 percent'' despite recovering from back surgery and he certainly wasn't that. And he surely wasn't
"the best version of me,'' as Tony predicted
, though there is time for that.
But his attitude is full-go and 100 percent.
"You're not guaranteed anything, so it's special just to play football," Romo said. "It's special to play for the team I get to play for, and it's special to get out there and put the helmet on. For me, I don't take that for granted. I know that it's a great feeling when you do get out there."
And then he "went out there'' on Saturday. And in the exhibition against Baltimore, threw deep, threw with touch, spun out of trouble, and even attempted to make a tackle.
"Full-go'' for San Francisco suddenly seems possible.
SOME LIKE IT HOT: Every single national media outlet, when writing its "Coaches On The Hotseat'' story, puts Jason Garrett there. That's been the case during most of his tenure. Unless Dallas breaks from the 8-8 treadmill, it will always be so.
STAR WARS:
The proximity of Oxnard to LA means celebrities are going to roll into camp. The Cowboys enjoyed a same-day visit from sports luminaries Tommy Lasorda and Magic Johnson, who spoke to the team and then took time to defend Romo.
"What happens is he gets grief because everybody loves the Cowboys or you hate them, but you still watch them," Magic said. "One thing about Tony I love is he's a competitor, and he's smart. The dude is smart. And so he's an all-around athlete. I hope that people understand that he puts up 400 yards and then they give him all the grief. I mean he can't play defense, you know?''
DR. STRANGELOVE:
An odd-but-uplifting story: Defensive tackle Amobi Okoye, a terrific football prospect as a teen and a former No. 1 pick, was at the end of camp cleared by doctors for full football activities 13 months after being placed in a medically-induced coma.
Okoye suffers from anti-NMDA receptor encephalitis,
a potentially lethal brain injury, and is the first football player to attempt to come back from the disease.
Okoye is far from football-ready. But this is bigger and better than just football.
APOCALYPSE NOW:
Demarcus Lawrence? Broken foot. Terrell McClain? High ankle sprain. Henry Melton? Groin. Anthony Spencer? Recovering — suddenly quickly — from microfracture knee surgery.
In a perfectly healthy world, that might be your starting D-line. And it might not be bad. But as is? Well, cling to optimism like that expressed by Jones, who said Spencer might not be stuck on the PUP list to start the season.
"We're hoping that when we get to our 53-man cutdown that we'll be dealing with that problem'' Jones said. "The problem is, do we keep him on the roster because he's going to be ready to go in a game, or do we PUP him, which would mean we couldn't use him for six games?
"It's looking like we'll keep him on the roster."
Nevertheless, the problems are such that when we hear
rumors about a Suh-to-Dallas trade, we investigate. In-depth. As you'll see here if you take our free 7-day trial to Go Premium with the Cowboys for just 10 cents a day.
MR. SMITH GOES TO WASHINGTON:
Actually, Mr. Smith is going to the bank
by virtue of his Cowboys-For-Life $109-million contract.
So, T, what's going to be your first big purchase?
"Nothing really,'' Smith said. "I've pretty much got everything I need already.''
A STAR IS BORN:
Dez Bryant gets it.
Camp did not produce the contract extension that is almost certainly coming. But it was productive in every other way for Dez, who was not just dominant physically but also served as a camp leader between the ears.
After he took a jab at the Raiders secondary by saying, "I don't even know your name, but you know mine!'' I asked him about the value of trash talk.
"All that is is competitive talk," Bryant said, grinning. "It's just a little tactic I use to get those guys out of their game and we go at it. They started it anyways, so if you're going to start it, I hope you can finish it."
This is Dez Emotion properly funneled, properly channeled, designed to win games, not debates. ...
Dez as a "Hyperactive Kid'' grown up.
"I know how to handle myself," said Bryant, using those same words — "funnel'' and "channel'' we've written so much about. "A little stuff that I've been working on, me getting under their skin instead of them getting underneath mine. It's all about fun and competing."
But again: Not competing to win an argument. Competing to win a play, a series, a quarter, a game. ... for a young man who is about to become among a handful of best-weapons-in-the-sport receiver.
IT HAPPENED ONE NIGHT:
Rookie safety Ahmad Dixon can't do what he does in practices. He needs games, like the Week 1 preseason 27-7 loss at San Diego in which had 12 tackles, to do that.
Which is?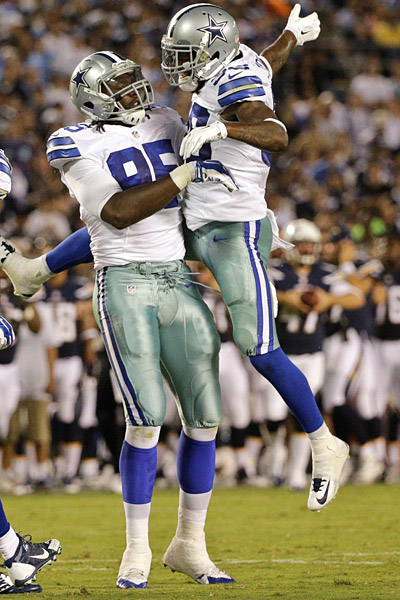 "He is a run-and-hit guy,'' said Garrett of the seventh-rounder out of Baylor, who hit with such ferocity in that game that he sustained a concussion … but may have locked himself up a job.
Preseason scores really don't matter, despite what NFL.com trolls want to tell you.
But again, these games matter to individuals. Like Ahmad Dixon.
But wait. Dixon didn't play in Week 2 because he was late to a pregame walkthrough. I bet it won't happen again, as the Cowboys emphasize to the prospect that preseason walkthroughs matter, too.
MIDNIGHT COWBOY: Sean Lee can't play this year after blowing out his knee. But he remains a positive influence here by flying out with the team and serving as an assistant linebackers coach, doing everything except actually appearing on the practice field because his temporary lack of mobility means he wouldn't be able to elude sideline collisions and such.
"When you disconnect, it's hard to stay positive," Lee said. "Just staying around the guys and going through the process not only is going to give me another year of football mentally, it's also helping me stay positive."
DOUBLE INDEMNITY:
Kyle Orton, sourpuss, was replaced by Brandon Weeden, a Happy-To-Be-Here guy who so far looks like a bargain -- and not too far off Orton's ability to contribute behind Romo.
"It feels good to come out here with a star on your helmet," Weeden said. "It's a dream come true for a kid from Oklahoma City."
WEST SIDE STORY:
Oxnard police were out in force during the Dallas-Oakland workouts, with more than 60 officers, military K-9 bomb units, bulletproof vests, and an armored vehicle. Overkill? I suppose not, as what was labeled as being "two of Ventura County's most violent street gangs'' have long worn Cowboys and Raiders apparel as their "uniforms.''
All I ever saw was thousands of "violent street gang members'' dressed as football fans, but everything I know about this stuff was taught to me by the Sharks and the Jets.
REAR WINDOW:
Unfortunate sight: injured Matt Johnson's hotel room in Oxnard was on the second floor and overlooked the field. He was too rarely able to participate, and on some days was supposed to do nothing but rest. But I would see him emerge from his room and perch himself on his balcony, looking mournfully out at the practice field he just can't see to quite earn a place on.
"I had a pity party for myself,'' Johnson told me. "But you can't do that. It's not going to solve anything.''
So he nurses his hammies, sees a specialist hoping there is an answer in his back ... and watches from his balcony.
A STREETCAR NAMED DESIRE:
Brandon Carr will be ready for the start of the season but missed camp due to the passing of his mother Kathy after a long fight against cancer.
Carr called football his "safe haven'' and was truly touching in discussing the strength and inspiration of his mother.
THE SOUND OF MUSIC: Tony
Romo singing Metallica.
REBEL WITHOUT A CAUSE:
The Cowboys want to hand the keys of this defense over to linebacker Rolando McClain, a gifted reclamation project who was the eighth overall pick in the 2010 draft but then retired twice from the game even though he's just 25.
But there are
questions about Reclamation Rolando's want-to that won't go away
, especially when he's asked what should not be a loaded question:
That would require McClain, a 25-year-old who has retired from the game twice, to have some semblance of passion for the sport.
Do you love football again?
"I love life," said McClain, who I think should probably get more busy showing up for work every day and less time talking as if he's too cool for school.
RAIDERS OF THE LOST ARK:
Several fights broke out during the two days of intra-squad practices with the Raiders, but the most notable scuffle involved
a Raiders fan who reached over the retaining fence to strike B.W. Webb in the head with a helmet.
"Fantastic," Garrett said, not endorsing the violence but rather the atmosphere. "I really did. It was as electric an atmosphere as I've been around on a practice field, really in my life.''
CLOSE ENCOUNTERS OF THE THIRD KIND:
Dallas has a rich group of receivers to line up in the slot. Bryant and Terrance Williams are the starters, and Dez can sometimes be in the slot, too. But the "third receiver'' is a fascinating combination of the smallish Cole Beasley and the 6-6 Gavin Escobar. And by the time Scott Linehan pulls Lance Dunbar out of the backfield to line him up as a "third receiver'' ...
A rich group, I tell you.
THE FRENCH CONNECTION:
Mackenzy Bernadeau continues to express amazement that even as he enters his seventh year in the NFL and fights with Ron Leary to start at left guard for what promises to be a dominant O-line, nobody knows how to pronounce his last name.
So here's what you do: Pronounce "Bernadeau'' as if you have a French accent. And if you don't know how to do that, y'all need to get out more.
DUCK SOUP:
Oregon rookie cornerback Terrance Mitchell is as goofy as a Marx Brothers character and maybe as talented, too. When Raiders fans serenaded him with chants of "30 sucks! 30 sucks!" he egged it on.
The Cowboys would like him to focus more on technique than theater, but coaches think they have something in the seventh-round Duck.
Of course, what they'd really prefer is that the constantly nicked-up Mo Claiborne so own the cornerback spot that a Duck doesn't have to play there instead of an LSU blue-chipper who was the sixth overall pick in his draft.
FRANKENSTEIN:
Terrell Owens showed up to watch the final day of practice, some Cowboys fans and media members responding with lit torches for the approaching monster.
But really, the only thing freakish about the involuntarily-retired T.O., age 40, is a physique that makes you wonder if he could still play. "Absolutely," said Owens, "What kind of question is that? I worked out this morning. Looking good. Always looking to do something. You know, it's all in God's hands.''
Well, it's also in the hands of GMs and coaches who want nothing to with the downside of dealing on a daily basis with a Frankenstein.
MY FAIR LADY:
They were not what your mother would call "ladies'' and maybe it wasn't "fair.'' But there they were, in 2011 pictures that surfaced courtesy of a person calling himself "The Son of God'' who was involved in some sketchy extortion plot against Jones, featured in the titillating photos.
"Someone has misrepresented photos taken at a restaurant five years ago for their own purposes," Jones said after a few days of uncharacteristic silence. "I'm just not going to comment on it."
To some of us,
the "geein' and hawin' of Jerry is nothing new, as I write about here.
MILLION-DOLLAR BABY:
Orlando Scandrick, the Cowboys' best corner in camp, was suspended for the first four games of the season for testing positive for an amphetamine — a violation of the performance enhancing drug policy — after he ingested the recreational drug "Molly.''
It counts as a "performance-enhancing drug'' even though all Scandrick was really trying to do was "enhance'' his experience with celeb girlfriend Draya while on an April vacation in Mexico.
"In no way, form or shape was this trying to gain a competitive edge," Scandrick said. "I simply made a mistake. It was a dumb mistake."
Because of the games and game checks missed, it was in fact a million-dollar Molly.
BUS STOP:
The original featured Marilyn Monroe. This one featured … Dean Blandino?!
Blandino is the NFL's VP of officiating, who took a ride on the franchise's entertainment bus known as the "Elegant Lady" along with Cowboys COO Stephen Jones … and a few more gals who also aren't Marilyn Monroe.
There is nothing especially illicit about any of this; Blandino is permitted to socialize and network with club officials, whether it's in a hotel lobby or what amounts to a hotel lobby on wheels. But there is a perception about the Cowboys that makes this "news'' … representing both the upside and the downside of the way the Cowboys have always done their football business and their business-business.
FOR WHOM THE BELL TOLLS:
Is running back DeMarco Murray a "bellcow''?
"I see him as the leader of a committee, but boy, he's got bellcow traits," Garrett said. "We have no issue handing the ball to that guy, throwing it to him and giving him as much touches as possible. He's one of those guys that good things happen when he has the ball in his hand.''
Murray was a Pro Bowler last year after setting career-highs in carries (217), rushing yards (1,121), rushing touchdowns (nine), receptions (53) and receiving yards (350).
As
DeMarco goes into a contract year
, more carries would equal more rushing yards, and more ball control, and fewer opportunities for foes to line up against this defense.
That will be the test of Dallas' true "bellcow'' thoughts here.
UNFORGIVEN:
There is virtually no such thing in Dallas, where Jerry has a soft spot for second chances ... and the Cowboys have a soft spot alone the inside of their defensive line.
Josh Brent is coming back. Some day. Morality police be damned.
DOUBLE INDEMNITY:
The Cowboys plan to return to Oxnard next summer and for the foreseeable future, even when the Frisco facility is ready in 2016. tradition of holding training camp in Southern California will continue for years to come. The plan at that time will call for the Cowboys to split camp time between the two sites.
"We'll be able to get both in," Jones said. "There's real good time in a camp to have time here and to have time there. So we can make that work. As a matter of fact it fits real good if you noodle it just right."
They will "noodle'' it just right because this team loves Hollywood. Heck, under Jerry Jones for his 24-year reign, this IS Hollywood.