Blue-White Review:
The
Dallas Cowboys
have constructed an offensive line hell bent on stealing their opponents' manhood. They also serve as the bodyguards for quarterback Tony Romo, so even as Sunday in the Blue-White Scrimmage he engaged in his greatest workload of the summer, he is not scheduled to play in Thursday's preseason opener at San Diego.
"We're talking about it, but most likely I'll probably sit out the San Diego game and play in Game 2 and go from there," Romo said after Sunday's scrimmage.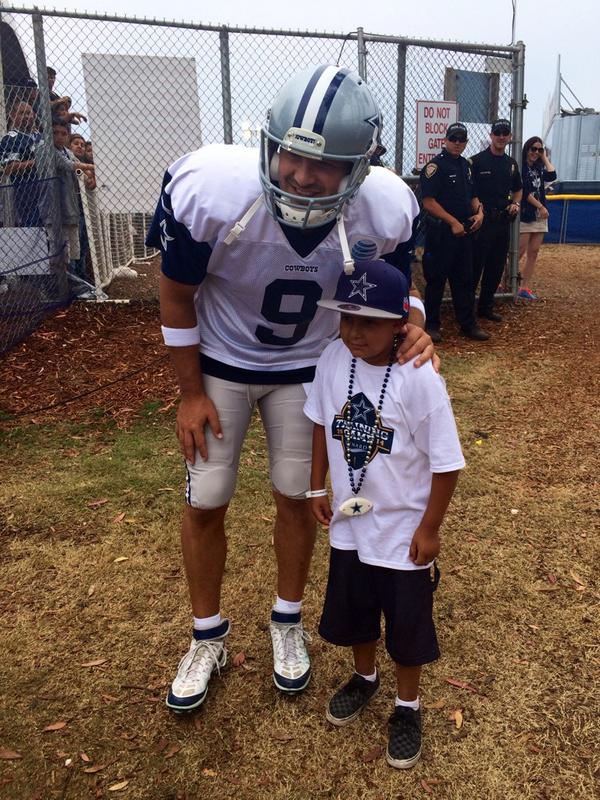 The Cowboys play the Ravens on Aug. 16 at AT&T Stadium and the dress rehearsal preseason game is Aug. 23 at Miami. The Cowboys close the preseason on Aug. 28 against the Broncos and the starters - led by Romo, who is ramping up after back surgery - will likely not play.
Romo engaged in his most extensive practice so far on Sunday, taking most of the first-team work.
Romo threw touchdown passes to Dez Bryant and Gavin Escobar in the scrimmage as the Cowboys continue to focus on his readiness for the Sept. 7 regular-season opener against the San Francisco 49ers.
"I think you saw his command of this offense throughout a lot of that stuff," coach Jason Garrett said in review of the scrimmage. "He's looking more and more comfortable and getting better every day."
Romo has the weapons and he has the bodyguards. Maybe now he simply needs his health.
The Grouch excels:
Orlando Scandrick continues to show that he's more than just a slot cornerback. He gave up a few plays to Dez Bryant, but he also won his share of the battles, too.
Scandrick's most impressive play (maybe one of his most impressive plays ever) was a leaping, one-handed pivk against Romo during two-minute drills. Romo said that the pass was meant to be a throwaway, which made Scandrick's athletic catch even more impressive.
Said Romo: "That's why it was a hell of a play. I mean, he jumps up skyhigh. I just need to throw it another five yards, really. But hitting a kid on the sideline isn't the best feeling, either."
He punctuated the pick with an animated tossing of the ball to the sideline ... all part of what he says is a chip on his shoulder, especially as he competes with Dez.
"You're not supposed to like each other in camp,'' Orlando said. "The best teams I've been on we practiced so hard we wanted to kill each other."
Unstoppable:
While Scandrick made some nice plays against him, Dez Bryant was by far the star of the Cowboys scrimmage. Bryant hauled in 2 TD's on Sunday. One was off the back-shoulder fade that he and Romo have mastered, and the other was a quick slant where No. 88 broke away and galloped 60+ yards for the TD.
More WRs:
Another WR that was impressive was rookie Devin Street. At one point during the scrimmage, Street took a quick bubble screen 25+ yards to the house. Street continues to show off his smooth route-running and his surprising speed. The rookie ran a 4.55 at the combine, but seems to play even faster than that.
We should throw Boyd into this group as well. Both Garrett and Dez took time to mention him as a true prospect.
LB help:
DeVonte Holloman has been quietly having a nice camp, which has earned him some reps with the first-team defense. On Sunday, Holloman showed how athletic he is. Brandon Weeden threw a bomb to an open Tim Benford 50 yards down the field, but the 2nd year LB was able to speed up, stretch out, and break up the pass.
Holloman might end up being used as a Nickel guy with some safety-like skills.
D-Line jumpups:
While the offensive line came out on top time and time again, there were still a couple of defensive linemen who had a productive practice.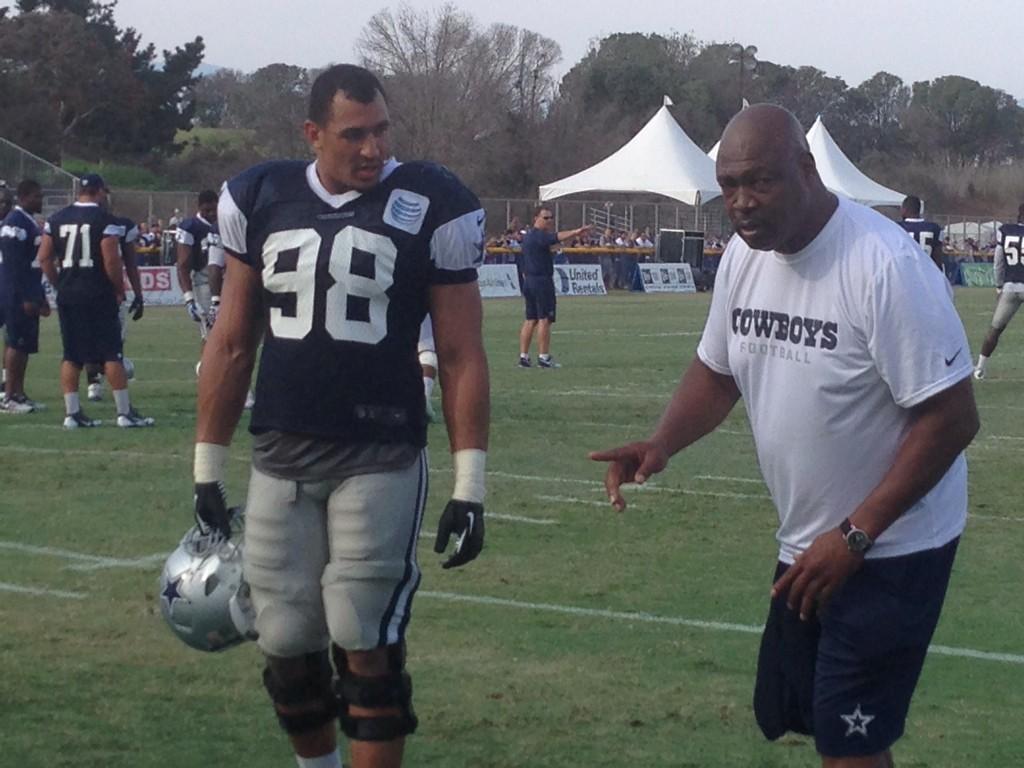 Tyrone Crawford did a solid job while working at LE with the 1's. Rookie DT Davon Coleman also continued to make plays, earning more reps against the starters. DE Martez Wilson probably made the best play by a D-lineman of the day when he sacked and stripped Brandon Weeden, recovered the ball, and then returned it for a TD. Wilson also picked off a Hanie pass during team-drills, which he also returned to the house. With Lawrence out, it's nice to see another young DE stepping up.
Atta Boyd:
We've said for a while that if the Cowboys go with 6 WR's, that they will have an extremely difficult time figuring out who that will be. Briscoe, Byrd, Newsome and Boyd have all consistently made plays. However, it was Chris Boyd that stuck out on Sunday. Boyd made several impressive plays during Sunday's scrimmage and has shown that he can make just about any catch. Very athletic guy with great hands and body control.
Injury update:
The injury bug took a few bites again (of course). However, none of the injuries seem to be serious. Hamilton and Briscoe left practice after taking some knocks to the head, Barry Church left to get his ankle taped and Rolando McClain suffered a tight hamstring.
McClain's circumstance seems a bit odd. Teammates were urging him to enter the game and he kept begging out. Again, we hope it's just a hammy.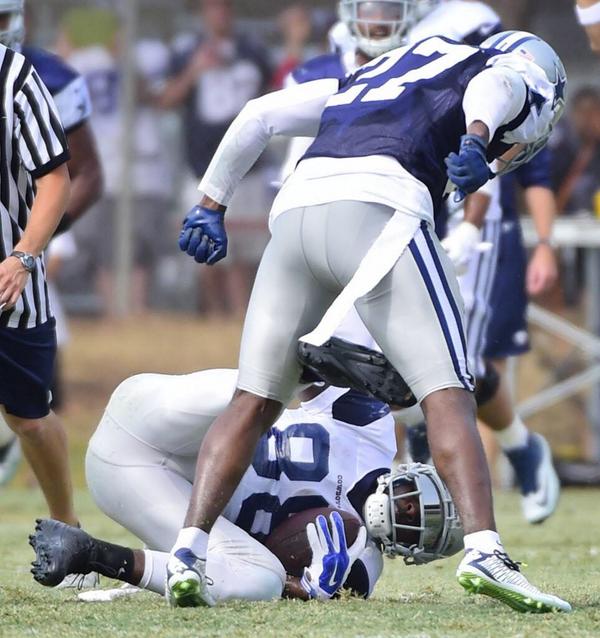 The Fight:
The edge-setter? A J.J. Wilcox cheap shot on Dez.
"J.J. put a nice hit on me," said Bryant, who was blasted by Wilcox following a catch, a collision that instigated a brawl. "He pissed me off, but at the end of the day, I loved it. I told him, 'Keep it coming.' Hopefully the rest of the guys on that defense – not only the defense, but the offense and the whole team – feed off of that. That's what it takes to win. That's what we need to win. You've got to have that passion and that love for the game."
The two friends later found one another and slapped hands.
Our video conversation with Dez:
Said Wilcox: "Sometimes you have to bite the bullet and take the bullet. I took the bullet today. It was a great play and he congratulated me. We're still brothers. We're going to fight to get this thing turned around."
On the record, the head coach didn't like the brutality. But ...
"You're not out here making friends, we're trying to build a football team," Garrett said in review of the scrimmage. "One of the ways we believe that happens is creating competitive situations where these guys fight hard against each other, and I think we saw some of that today and it's really been evident throughout training camp.
"We're not encouraging these guys taking these huge hits in practices. That's not what we want to do. Having said that, when you get into some competitive situations, sometimes those guys are right up against the edge. And that's not a bad thing for your team, either."
And we remind you of days long ago in Austin, when Jimmy Johnson would strategically tell Michael Irvin to start a fight with safety James Washington, simply because camp needed a pick-me-up.
Onside Kicks:
McClain on the hammy: "It's frustrating not being out there with the rest of the guys. It's not really an injury; it was more precautionary. My left hamstring was tightening and cramping, and it was just precaution." ... Jerry Jones says Dartwan Bush and Davon Coleman have impressed him and are in the top 10 D-Linemen at this point in camp ... Dez on trash talk: "If I say something, I WANT to hear you. Talk shit back. Talk back. You have to.' ... Dez on Scandrick: "Scandrick is a dog. A lot of those corners are feeding off of him. They love him. I love him. He's an animal.'' ... Speaking of trash talk: You shoulda heard Jason Witten riding poor Jakar Hamilton. "Get 23 off the ---ing field!" Witten yelled, insinuating that Hamilton isn't good enough to cover him.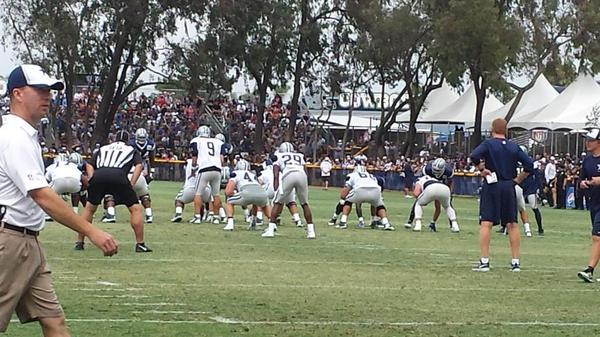 The Final Word:
"Coach Garrett and the rest of the coaches are doing a tremendous job with us. Man, we're just loving it and we're out here having fun." - Dez.