The Lead Story ...
Dallas Cowboys
coach Jason Garrett and his staff are letting the performance of the defense in Thursday's 27-7 preseason loss at San Diego stick in their craw a bit.
It's an unusual violation of the "24-Hour Rule.'' And Garrett was unusually detailed in his criticism.
"Let's start from top to bottom: The discipline wasn't very good, the gap control wasn't very good, it wasn't very physical, we didn't tackle very well, we didn't run to the ball well enough, we didn't make enough plays," Garrett said, ticking off the problems. "We made one play on the ball that was significant, but we didn't make any plays that made a difference in the game. ... For the most part, across the board, it wasn't what it needed to be."
It bears repeating: That defense wasn't the Cowboys defense that we'll see in Week 1 of the regular season, certainly not personnel-wise. At least seven key guys -- Rolando McClain, George Selvie, Henry Melton, Mo Claiborne, Barry Church, Brandon Carr and Orlando Scandrick – did not play against the Chargers.
But the staff's unhappiness is very real ... and lingers unusually long ... maybe because the performance was unusually bad.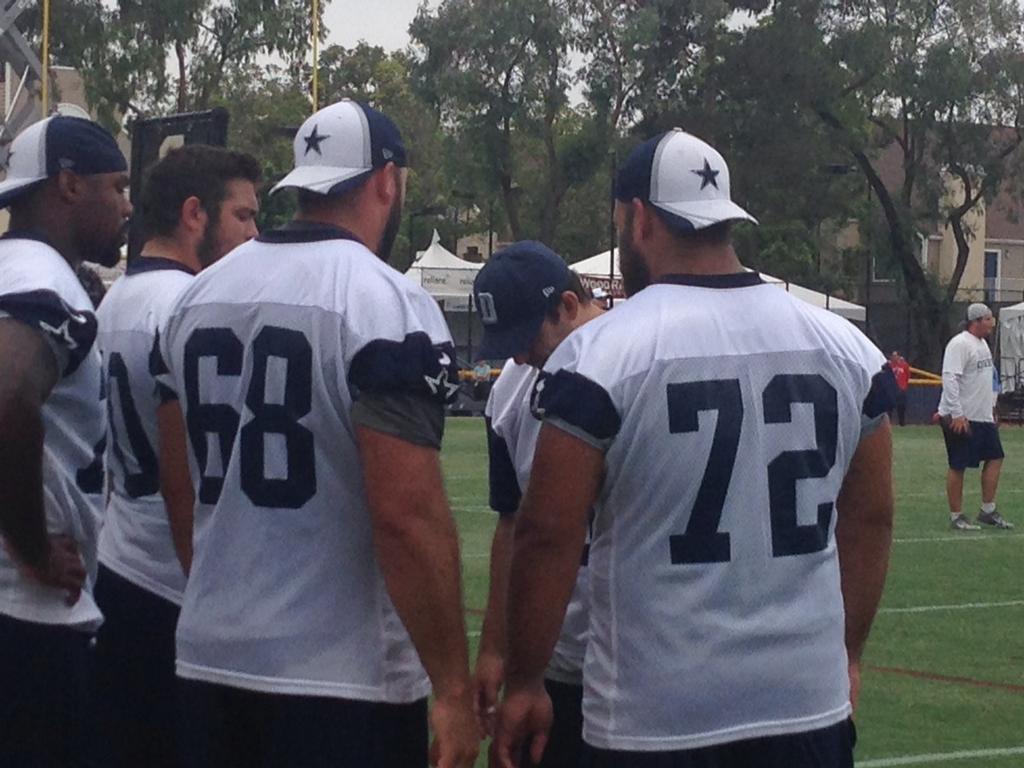 Romo deep ...
A big topic of discussion making the rounds this week was that Tony Romo's deep ball has been a bit wobbly. Fans and media began blowing up the internet with speculation that Romo's back is preventing him from throwing downfield with the same sort of velocity and accuracy that we're used to seeing. (The speculation was fueled by interpreting only part of a Wade Wilson interview in which the QB coach said Tony had yet to "cut it loose'' on throws.)
Well, it appeared Saturday that Romo caught wind of those discussions and decided to put an end to them.
Romo made several deep throws that were as sharp as they've ever been. His first was a deep pass to Dez with Scandrick all over him. Romo had to put it a very precise spot, which he did, and Dez was able to make the catch. Tony's second deep ball was a rainbow pass to Williams, who made a beautiful diving catch. He also completed a couple of bombs to Jason Witten and Gavin Escobar.
Wade Wilson said after practice that this was "by far" Romo's best practice of training camp. ... and it's worth noting that Romo participated in both the morning walkthrough and the evening session.
This remains a "ramp-up'' process. But it looks like the "cut-it-loose'' is coming.
Big T ...
Tyron Smith continues to show why the Cowboys are paying him the big bucks. He was dominant (as usual). During 1-on-1's none of the D-linemen could cause Smith budge. On one play he completely owned Martez Wilson, throwing him down on his back.
This man is a freak of nature. And his devotion to his craft -- something that goes beyond being big, strong and athletic -- is freaky, too.
Boyd's drops ...
After a really nice training camp, Chris Boyd struggled in the Cowboys preseason opener against San Diego. A loss of some confidence? His struggles carried over into Saturday's practice as well. During 1-on-1's, Boyd dropped two passes that he should've easily caught.
With guys like Jamar Newsome and LaRon Byrd continuously making plays, Boyd can't afford to make mistakes like that if he wants to keep up in the battle for the sixth WR spot.
While Boyd was a bit off today, Terrance Williams was on fire. We mentioned the amazing diving catch he made earlier, but that was just one of many big plays from No. 83 on Saturday. When we talk to coaches we hear the idea expressed that Williams isn't just a guy who can take some pressure off of Dez; rather, he's starting to look like a standout as a second wide receiver, worthy of attention from defenses.
Man of Mystery ...
We spoke 1-on-1 with Rolando McClain to ask him about his injury. In his usual pleasant manner, he chose mystery.
"It's just muscle-memory stuff, you got to get used to it,'' McClain. "You don't want to go on the field and not be ready.
COWBOYSHQ: "Is the injury mostly hamstring-related?''
McCLAIN: "No.''
COWBOYSHQ: "Is it the knee?''
McCLAIN: "No comment. But it's not the hamstring. If coach wants to tell, he can tell.''
COWBOYSHQ: "Is there a sort of mental/emotional wrestling match involved in all of this?
McCLAIN: "No, for the most part, you just want to practice. Then a game came, you want to be able to play but just can't do it. So you get ready for the next practice.''
Randle progress ...
In addition to running successfully on Thursday, Joseph Randle also showed up on special teams. His job, repeated again Saturday? Backup protector on the punt team. That's an intellectual job and a leadership job.
It can be taken as a sign.
Dixon's debut ...
College coaches who played against Ahmad Dixon told CowboysHQ this was going to happen.
Garrett and defensive coordinator Rod Marinelli are holding Dixon up as an example for the rest of the team because of his commitment to physical play.
"He really tackled," Marinelli said of the seventh-round pick from Baylor. "He was extremely physical. He was all over the field. He hustled and went for strips. Everything we wanted he attempted to do."
He therefore climbed up the depth chart on Saturday, earning a few first-team snaps.
None of this surprises people who knew Dixon in college. A "cover safety''? Well, not exactly. A fearsome hitter? Exactly.
Carr's safe haven ...
Brandon Carr has returned to his "safe haven."
The Cowboys cornerback has missed the entirety of training camp to be with his mother Kathy, who on July 30 died after a long battle with cancer.
"This is my safe haven out here on the field," said Carr, who joined the team on Saturday for the first time following funeral services in Michigan. "When I get out here, there aren't as many distractions. I'm in my comfort zone. It's so good to finally get back on the field with these guys and get back to a normal routine."
Carr expressed appreciation for the support from the Cowboys organization and from secondary mates Mo Claiborne and J.J. Wilcox, who both recently lost parents.
"Guys that have been through similar situations, those are the guys I kind of leaned on to help me get through this new process," Carr said. "But guys pretty much every day, a teammate text me asking how I'm doing or just crack a joke whatever the case may be or whatever was needed for the day."
Coach Jason Garrett said Carr will be eased back into his usual role with the Cowboys.
"Any time anyone has lost a loved one in their life, they understand what he's been going through, particularly someone who he is as close to as his mom," Garrett said. "So it was the right thing for him to be there and to be with his family during this tough time and now somehow, some way he has to get his mind right to be able to come back and be a player for our football team, and he'll be able to do that."
Carr will do that in part due to being inspired by his mother's strength.
The fight his mother showed inspired Carr. It will drive him during the season, especially early in training camp.
"I told my daughter and the women around me to see the fight a woman should have, the true strength of woman you can't measure," he said. "You kind of take it for granted at times, but in that situation it showed.
"At the end of the day, you only get one mother."
Slow Mo ...
Cornerback Morris Claiborne keeps saying all the right things about the CB competition as he works his way through tendinitis in his knee.
"I'm going out and playing football," Claiborne said. "Football is my main focus. I don't care who is on the depth chart, where they're at, where I am right now. I'm happy with where I'm at. I'm happy with my work ethic.''
Two of Claiborne's best friends on the team are Carr and Scandrick. The competition can be a fun one ... as soon as Mo gets healthy enough to get in on the fun.
Onside Kicks ...
The Cowboys signed running back D. J. Adams to replace Ben Malena (quad). Malena was placed on the no-recall waivers with the waived/injured designation. ... They also cut punter Cody Mandell with plans to bring in another leg ... Gavin Escobar is impressing coaches with his improvement as a blocker ... Our man Broaddus says neither Tyler Clutts or J.C. Copeland have been impressive at fullback, and that it's possible Dallas keeps an extra running back or third QB instead ... The families of Dez, DeMarco and Jason Witten were on the field after pracrtice. (They weren't hard to spot; the No. 88 "DEZ JR'' jersey was a giveaway, as were the No. 82 "DADDY'' jerseys. ...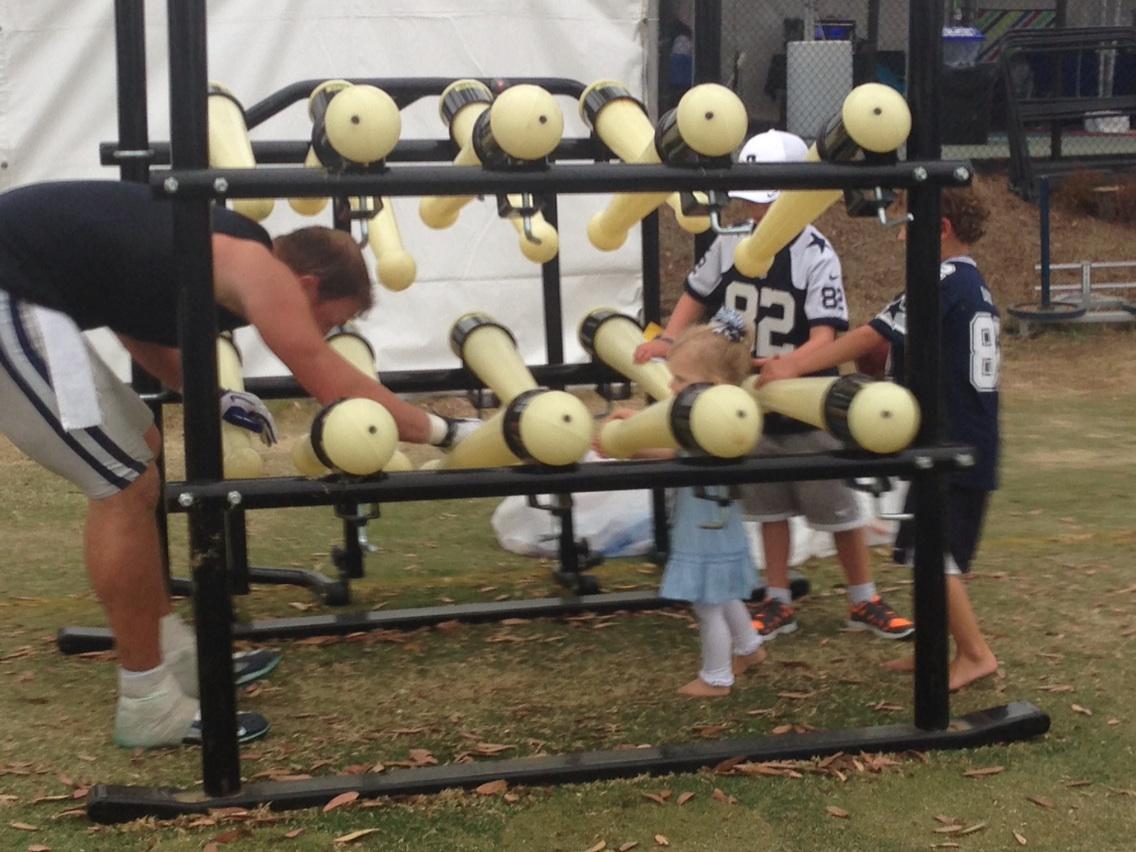 The Final Word ...
"He was coming downhill like a rocket! He reminded me of myself." - Barry Church on Ahmad Dixon.