Tony Romo will make his first game appearance since undergoing a season-ending discectomy following Week 16 of last season as the
Dallas Cowboys
play host to the Ravens tonight. (It's a 6 p.m. kickoff; I'll be part of
the pregame coverage beginning at 3 on 105.3 The Fan.)
Cowboys owner Jerry Jones is excited about the Romo-Scott Linehan pairing, as he notes on 105.3 The Fan:
Jerry on Romo here.
But Romo won't be in this alone. Fellow first-team weapons Dez Bryant, DeMarco Murray, Jason Witten and Lance Dunbar will all make their preseason debut tonight as well. "Let me tell you right now," Bryant said, "I can't wait." What Dez is waiting on, of course, is that contract extension, right, Jerry?
Jerry on Dez here.
Dallas' first-team offensive line (featuring a continuing contest for the left guard job between Ron Leary and Mackenzy Bernadeau) will bodyguard Romo and the rest early in the game before giving way to backup battles including Joseph Randle vs. Ryan Williams as the third running back. They'll do so against a Baltimore team that might play its starters for as much as a half and against a traditionally strong Ravens defense.
As for Dallas' defense? "Strength" is not quite the right word. The Cowboys emerge from three weeks of training camp in Oxnard with solutions at safety (Barry Church and J.J. Wilcox) but less solid answers most everywhere else.
Defensive line? They are still hoping for eventual full health from ex-Pro Bowlers Henry Melton and Anthony Spencer along with rookie end DeMarcus Lawrence (out for three months) and tackle Terrell McClain (high ankle sprain) but none of them will play tonight. So players like Tyrone Crawford need to step up soon for a line that in the preseason-opening loss at San Diego couldn't get off blocks and in two days of camp workouts against the Raiders couldn't rush the passer.
All of this is reason enough for us
to explore seriously the concept of a Suh trade, and the rumors about it, which we do here.)
Linebackers? They think they have something in reclamation project Rolando McClain, but just as he flashes up, the coaching staff voices some displeasure with Bruce Carter trending down.
The secondary? Dallas might be fine at safety but cornerback is in a state of flux as Brandon Carr (coming off bereavement leave) and Mo Claiborne (shoulder) won't play. Orlando Scandrick, a standout at camp, will start ... but it'll be a short ride for him as once the regular season starts he begins a four-game suspension for his "Million-Dollar Molly."
Jerry Jones' outlook on trying to win with this defense?
Jerry on his struggling defense here.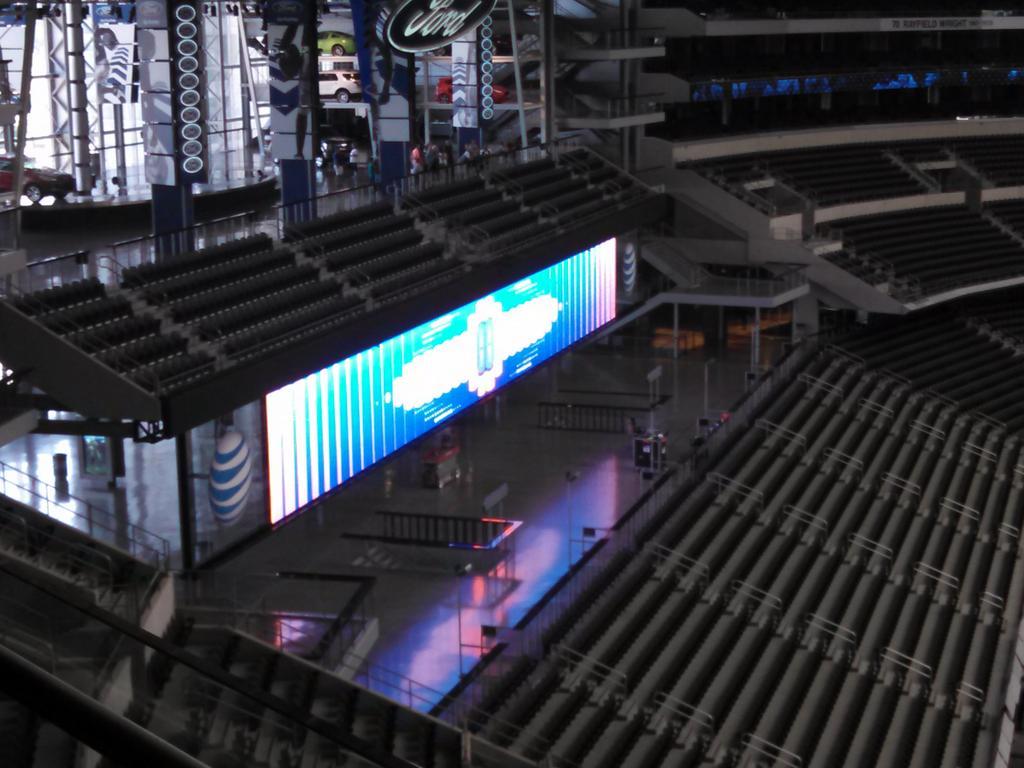 Nevertheless, the party is on. Inside the stadium there are added video screens and an AT&T Stadium app that will add some "flash" to the scene, and on the West Plaza a Miller Lite Corral has been erected. ... a place to toast the promise of this offense and maybe to drown your sorrows in the woes of this defense as well.