The
Dallas Cowboys
made their decision on Draft Day 2013 when they selected running back
Joseph Randle
in the fifth round, knowing full-well that they'd need to be right in their determination that he's more "knucklehead'' than "troublemaker.''
On Monday night, inside a Dillard's store in Frisco's Stonebriar Mall, Joseph Randle tested their judgment ... and failed in his.
Randle, as the world now knows -- because this is "America's Team'' (silly surveys aside) and because Dallas' profile is even higher at the moment for having vaulted to 5-1 with a shock-and-rock win at Seattle -- was arrested Monday and charged with Class B Misdemeanor Theft $50-$500 for stealing a tester bottle of cologne and a pack of underwear.
The Polo underwear is valued at $39.50 and the Gucci guilty Black cologne is valued at $84.00 but before you ask why a man making $500,000 a year would risk that job by shoplifting 123 dollars and 50 cents worth of nothing, understand most shoplifters don't shoplift because they are poor.
They shoplift because they are addicted to the thrill, because they are knuckleheads or because they are troublemakers.
Team sources indicate to me that Randle, the
Oklahoma State
product who serves as a backup to rushing leader DeMarco Murray and is a valued special-teamer, will be likely slapped with a fine that could near his weekly paycheck of $30,000, and that there won't be a suspension to go along with that. As Dallas weighs that decision, Randle will be made to understand the difficult circumstance he has created a) for his employers and b) for himself.
For the organization, this crime -- petty as it is -- comes at a time when the NFL can ill-afford yet another "the-players-are-thugs'' flood. Owner Jerry Jones said on Tuesday that his so-far successful team deserves to stop and "smell the roses'' ... but that doesn't mean Jones' bunch gets to steal the scents, too. The Cowboys are already on the moral high wire with with Josh Brent, returning to the team now after being at the wheel in the tragic death of teammate Jerry Brown, and now with safety C.J. Spillman, who has continued to play despite an ongoing sexual assault investigation in Grapevine.
Brent has paid for his crime. The Cowboys tell me they privately believe Spillman is innocent. Nevertheless, coach Jason Garrett has in recent weeks been forced to conduct press conferences filled with crime-and-punishment questions and has frequently said in regard to Spillman that no action will be taken against a player unless and until he is arrested or charged with a crime.
And son of a gun, on the heels of that publicly and privately issued warning, Joseph Randle went ahead and stole him some worthless junk. A surveillance camera shot Randle allegedly committing the crime and then as the police report has the arresting officer saying Randle stated that when he saw the security officer approach him in the parking lot, he thought, "Alright, y'all got me."
On Tuesday, a few of Randle's teammates essentially rolled their eyes when asked questions about the incident; they didn't seem surprised.
But that doesn't mean they shouldn't be bothered, or even outraged, by the kid's foolishness. This is hardly domestic violence, the crime that is central to the NFL's present troubles. Some likely view it as the equivalent of a traffic ticket. But there will be a well-deserved stigma attached to Randle now, and it won't just be mean-spirited memes on Twitter. It'll also be pranks in the locker room featuring his dressing area being filled with underwear and cologne bottles. ... and I would predict in addition to the fine, some harsh directives from two team captains who locker very near Randle, Jason Witten and Justin Durant.
It's probably instructive to flash back to the summer of 2013, when the Cowboys took a "beach day'' off from training camp in Oxnard, allowing the then-rookie his first visit to the Pacific Ocean. Garrett relayed the story shortly thereafter: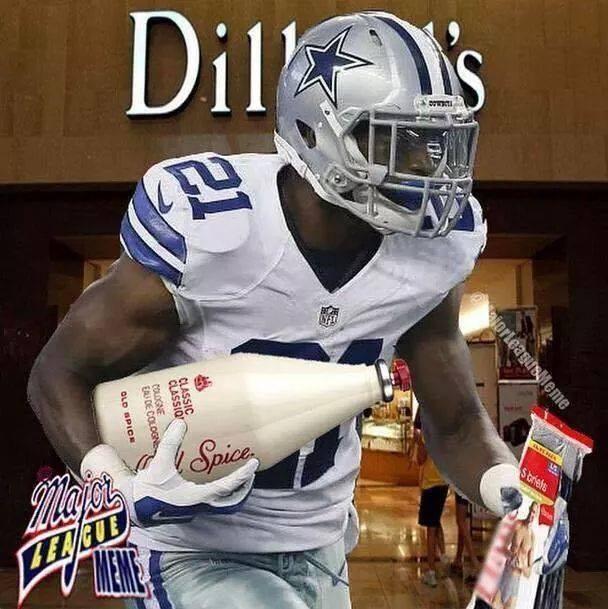 "He goes running in and I swear to God he thought it was a swimming pool,'' Garrett said, "because he got about three steps in the water — it could not have been more than 12 inches deep — and he jumps up and goes 'bang!' It's rocks. It's sand. It ain't deep. He kind of played it off and got going again but I am not so sure he knew what he was getting into.
"Typical Randle,'' Garrett said, chuckling. "I say that with affection."
The Cowboys made their decision on Draft Day. They saw their decision in action on the beach that day. They see their decision in action now.
They've made their determination about whether Joseph Randle is a knucklehead or a troublemaker. ... and hope this dope is done diving headfirst into shallow water.
And I say that with no affection.
See what Cowboys fans are saying here!
Related Story: A Rock & Shock In Seattle: Cowboys-Seahawks game story

Related Story: The Cowboys Cap in 2015: A detailed study

Related Story: Fish's Premium Column from Seattle: 'We Dem Boyz'