The errant assumptions about the relationship between franchise-tagged star receiver
Dez Bryant
and the
Dallas Cowboys
(and owner Jerry Jones) are many. But as I've reported many times, there is actually a familial closeness between the two men ... a fact demonstrated last week after
Jones closed the unorthodox deal
with rookie offensive lineman
La'el Collins
.
"When we were in (Jerry's) office,''
agent Deryk Gilmore tells SiriusXM
, "Dez Bryant called La'el and said, 'This man (Jones) is going to have your back.'"
That would seem a highly unusual stance for someone to take while
entangled in negotiations away from the one-year franchise tag (worth $12.823 million) and a hoped-for "Cowboys-For-Life'' contract, with all the baloney that can come in this offseason of change for Dez.
But it speaks to Bryant's position that he supports this franchise, this team, these teammates.
And he's not alone.
At a Wednesday night dinner the night before at Jones' mansion (photo via Clarence Hill), Collins received the same pitch from quarterback Tony Romo.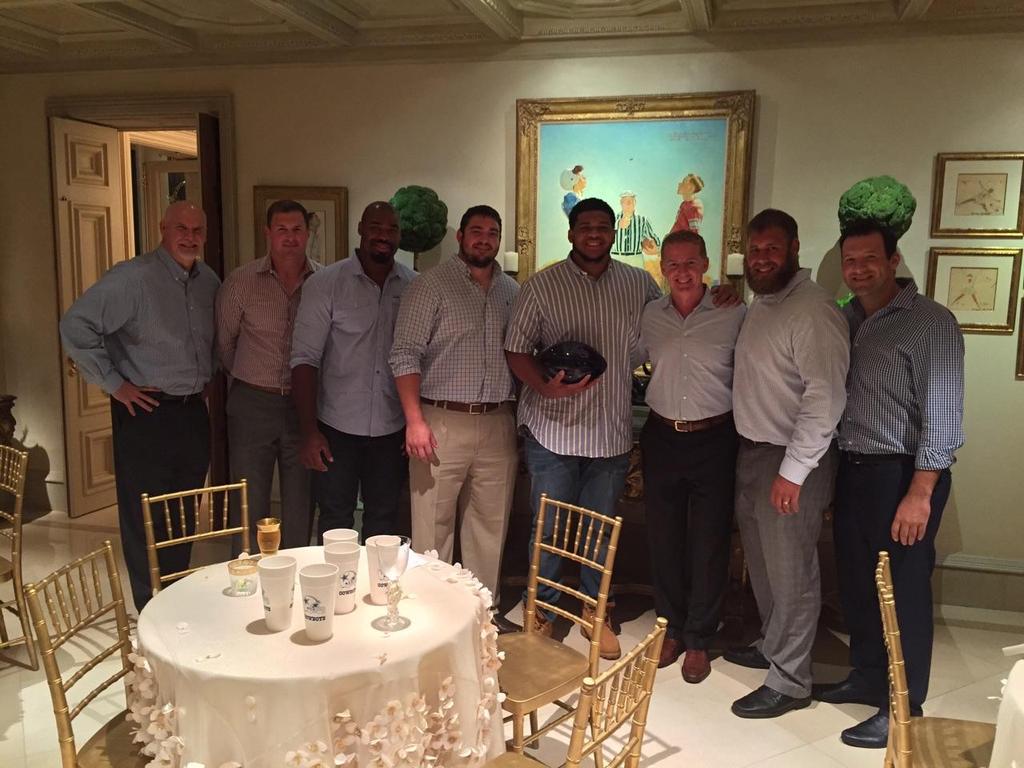 "Tony Romo talked about ... how he's had hardships and how Jerry Jones has his back,'' Gilmore said. "It was a common theme: (Jones) is a man you can trust, this is a man of his word, this is a man who's gonna have your back.''
Those remarks
echo what Romo tells us about his impression of this team's front-office work
and they fit right into what the Cowboys habitually do and do not promise.
Collins' scouting report from LSU shows him to be a blue-chip talent.
Yet the only promise Dallas made to him in negotiations was the chance to be part of "the best offensive line in football.'' There are no contractual promises made to Dez yet, and no Super Bowl promises can be made to Romo.
All that is promised is Jones' support of his players ... and in the obvious cases of Bryant and Romo, an implied mutual "have-your-back'' promise in return.
See what Cowboys fans are saying here!
Related Story: Truths and Fibs about the Cowboys' RB Situation

Related Story: The Full Story on Brent's Retirement
Related Story: Cowboys Among 14 'Pay-For-Patriotism' Teams
Related Story: We Eavesdrop on Stephen's 'State of the Cowboys' Address
Related Story: Cowboys' Byron Jones Video Look Inside Minicamp
Check out Scout's Video of the Week: