Maybe we should simply be basking joyfully in the Valley Ranch sunshine, because
Dallas Cowboys
football is back in the form of OTAs and on Wednesday, there popped to the surface so many reasons for optimism for this club coming off a 12-4 success story.
"This is as good a locker room as I've ever been a part of,'' team captain Jason Witten said, and that is as positively powerful as anything negative Dallas is dealing with.
And on Wednesday there there a handful of those.
Rolando McClain, marching to the beat of his own drummer, is working on his own rather than taking part in voluntary work at Valley Ranch. The Cowboys aren't surprised here (he is coming off a recent scope on his knee so he wouldn't be practicing anyway) but that doesn't mean they aren't disappointed.
Greg Hardy was ill and is expected back on Thursday ... the pass-rushing star's absence apparently having nothing to do with him awaiting the results of his appeal of the NFL's 10-game suspension due to his involvement in a domestic-violence case.
But none of that is as pivotal to Dallas' hopes for the 2015 season (not to mention its day-to-day business of getting high-energy work done on the practice field, in the meeting rooms and in the locker room) as the contractual circumstances of
Dez Bryant
.
"This is the tough part of our business,'' Cowboys COO Stephen Jones said following the Wednesday workout that, of course, did not include Dez. "We'll continue to make progress on (a long-term deal rather than just the franchise-tag one-year deal) and know that at some point Dez will join us and be ready to go. … It's just a process.''
That sounds promising. Jones conceded that July 15 (when a long-term deal must be done or else Dez plays under the one-year tag guarantee of $12.83 million) could be a "deadlines-make-deals'' circumstance.
"You can't push something that's really not there yet,'' Jones said. "Gotta keep our eyes open and look for the right opportunities. I'm sure he's thinking of these type of things as well. If anybody wants to be out here it's him. He really enjoys the game, and loves the game.''
But, Jones added, "Sometimes guys are at peace in playing out the year and do what they do in terms of the what the franchise tag represents ... (but) I'm sure we'll try to make some progress on that.''
This isn't about "maturity'' or "behavior'' (anymore than with any other long-term deal with any other player). It's about years and guaranteed money. Period. Dez has worked to funnel his passion, to make his own decisions (including working out with the team last Thursday at OTAs) and to become a fully mature adult worthy of one of the largest contracts in sports history.
How large? We say the exact "big'' number can be $100,245,000. In reality, there would be a $22.5 mil signing bonus and $37.245 mil guaranteed. When last we drew this up, we proposed a seven-year deal, but however Dallas does this, the concept includes some level of "escape-ability'' about midway through the deal.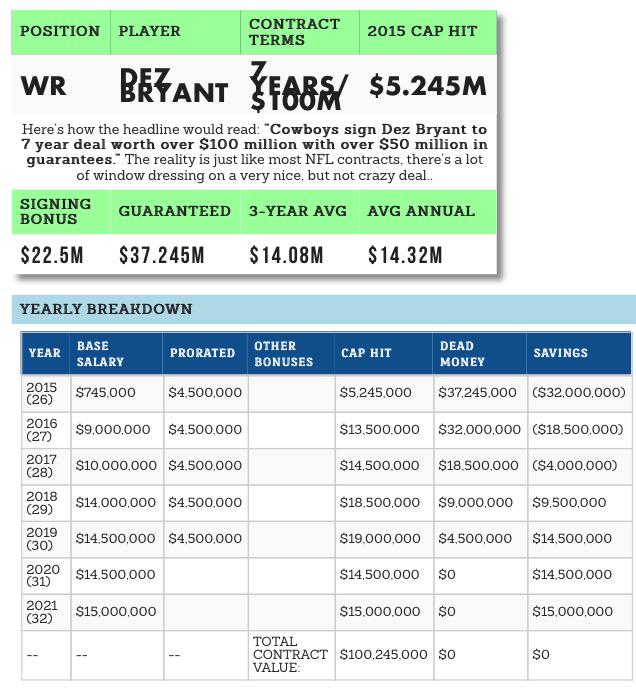 The "escape-ability'' is not an insult; it's a normal tool. (Expecting Dez or anybody else to still be playing at this level at age 33 is not realistic.) The true guarantee is around $35 mil, with some extra amounts being guaranteed for injury that morph into a full guarantee at the start of the corresponding league years. The five-year average is $13.7 mil, putting him above everyone except for Calvin Johnson. ... and of course, is moves Dez' cap number down $5 million, helping the Cowboys to add talent to a team build in large part around the talents of the 26-year-old receiver.
When CHQ talks to Dez about his future, he speaks very powerfully and optimistically about being a "Cowboy For Life.'' He's not just talking about the contract; he's talking about his heart. Stephen Jones isn't giving up on that optimism, either. But while they don't have to "push something that's not really there yet'' yet ... the eventual push needs to be to seven years and $100,245,000.