- CONTENDING CB?: Terrance Mitchell has been one of the most impressive/consistent players of camp. That didn't change on Thursday. With Carr, Claiborne and Moore all missing from practice, Mitchell got some quality work against the starters. During 1-on-1 WR vs DB red zone drills, Mitchell broke up passes to Dez Bryant and Terrance Williams, and the few catches that WR's did make against him, Mitchell was still in great position. He doesn't give any space to opposing WR's.
But, there's a "but."
Usually you praise a player for their physicality, but on Thursday it bit Mitchell in the butt. On a rep against Dwayne Harris, Mitchell dove to knock the ball away. An impressive play, but one that resulted in Harris injuring his ankle and limping off the field with trainers. The rookie got an earful from Dez afterwards. Love the competitiveness, but you've gotta know when to turn it down a notch.
CowboysHQ talked to Dez about the play and the player.
"We've got to get him to not do that," Dez said. "But he'll learn. I really like him as a player. Mitchell can play."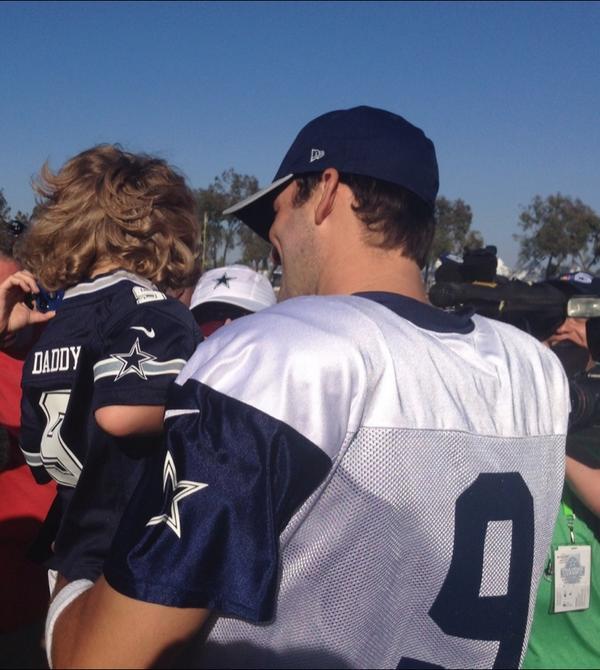 - ROMO FAMILY: Tony Romo worked again for the second consecutive day - and for the second time in the day. He threw the ball sharply in the morning, but in the full work he had a few too many incompletions for his own taste and overthrew a wide open Terrance Williams deep downfield in 7-on-7's.
However, there were some positives.
Again, Romo showed good depth and velocity on his deep throws and had a nice zip. He also showed some of his mobility, which was encouraging. George Selvie got into the backfield and forced Romo to spin out to his left, a move he is known for. He searched for a target, but no one was open so he ran for a couple of yards before being the play ended.
Coach Jason Garrett's overall eval? "I think he's sharp. ... I think he's throwing the ball well with command and decisiveness," he said.
We didn't see anything unnerving or worrisome by the way he was moving. ... and after the workout he played on the field with his young son Hawkins. ... And agreed with us when we noted that Hawkins was copying Cole Beasley's hairstyle.
"Exactly!" Tony laughed.
- QUOTABLE: Mo Claiborne sat with a knee problem. But, he said, 'Its just tendinitis. I've had it since I've been in league. I just need to manage it. I made it a little mad yesterday."
- DE WATCH: Defensive end is one of the most watched positions now that DeMarcus Lawrence is out. The Cowboys desperately need some guys to step up. Today, Martez Wilson answered the call. Wilson did a good job of pushing his guy back with his strength, but he also utilized a couple moves to get by the linemen. In fact, Wilson got low during 1-on-1's to beat the Cowboys franchise left tackle, Tyron Smith. A guy to keep an eye on.
- TAKING YOUR MANHOOD: Rookie guard Zack Martin was dominant today. Together, he and Travis Frederick created big holes for Murray during team drills. During 1-on-1's Martin was able to contain his guy, stopping them in their tracks. Especially when he goes against Henry Melton. Seems like Martin is at his best when facing No. 69.
Martin wasn't the only offensive lineman who was awesome today, the entire first-team line was notable across the board. When we talk to Tyron and others, we get the sense that they take pride in mauling the guys across from them.
This offensive line is the star of camp. They wish to steal your manhood.
-YOUNG FORCE: We're really liking what we're seeing from Davon Coleman. The big rookie DT can be a force in the middle. During team drills, Coleman arguably made the best play by a D-lineman all day when he burst through the line for a would-be sack on Romo. We also know from 105.3 The Fan that he's a pretty good free-style rapper.
- PHYSICAL HEATH: A guy that surprised all today was Jeff Heath. Heath was all over the place, playing with some physicality. We watched him get low before the snap to hide himself from the QB, then he'd make a read and run to his target to make the stop. At one point, Heath gave Witten a nice little pop, knocking him to the ground. He immediately realized what he did -- that level of contact is verboten here -- and helped Jason back to his feet and received a butt tap from No. 82.
- CROWD OUT WIDE: These WR's who are buried on the depth chart keep stepping up. Newsome continues to turn heads. Boyd had some awesome catches today, including a one-handed TD grab with a DB all over him. The Cowboys will have their work cut out for them in trying to figure the last one or two WR spots.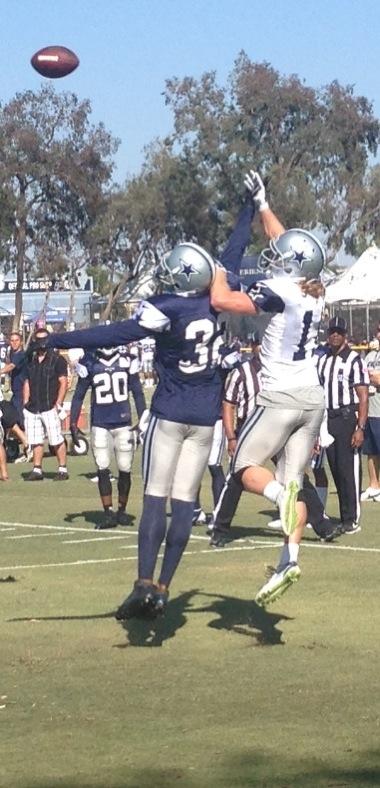 -THE GROUCH: Orlando Scandrick was the only one of the team's top three CB's on the field today. In 1-on-1's, he gave up two TD's to Dez, but was in good position both times. After the first one, Garrett even said, "Great job on both sides of the ball." Scandrick also picked off Weeden on a pass intended for Williams in red zone drills.
- INJURY UPDATE: The injury bug continues to bite the Cowboys. Dwayne Harris left with an sprained ankle, Ben Bass left with a hamstring injury, and Darrion Weems left with a shoulder injury. We'll keep you posted on the extent of all the injuries.
- ONSIDE KICKS: Tyrone Crawford was wearing a helmet cam today. Be sure to check DallasCowboys.com later for the video. ... Ryan Williams showed some breakaway speed on a toss. Can he block? ... Dez' hustle to break up a likely Bruce Carter pick was an athletic highlight ... The Cowboys are thin enough along the defensive line to be eyeballing some help off the street .... Cornerback Sterling Moore (groin) did not work .. The
Dallas Cowboys
are off on Friday and will return to practice on Saturday. ... DeMarco tells CowboysHQ his silent auction doubled last year's funds for charity to $200,000. ... Kathy Robinson Carr, the mother of cornerback Brandon Carr passed away Wednesday after a bout with cancer. Carr plans to join the team within a few days. ... Guard Ron Leary jumped off the PUP list and back into a full load ... B.W. Webb is struggling.
- CRUNCHTIME: A fan favorite ... the Cowboys Crunchtime Podcast with KD Drummond! Tune in and get yourself up to speed on all things happening in Oxnard!