When news broke that Morris Claiborne would be out for the season with a patellar injury, there weren't too many
Dallas Cowboys
fans who were overly upset. Most fans feel bad for Claiborne and hope he has a quick and full recovery, but his play over the last few years has been well below the expectations of being the sixth overall pick in his 2011 draft class.
Sterling Moore, who has been very impressive during his limited playing time (he's Pro Football Focus's third-ranked corner so far this year) will get more opportunities than ever before. This has many fans excited, and rightfully so. Moore, an undrafted rookie in 2011 out of SMU, has as many career INT's (three) as Claiborne. What makes that even more impressive is the fact that Moore has seen far fewer snaps than Claiborne and has only started three games, compared to Claiborne's 25. Let's take a more in depth look at how these two DB's compare.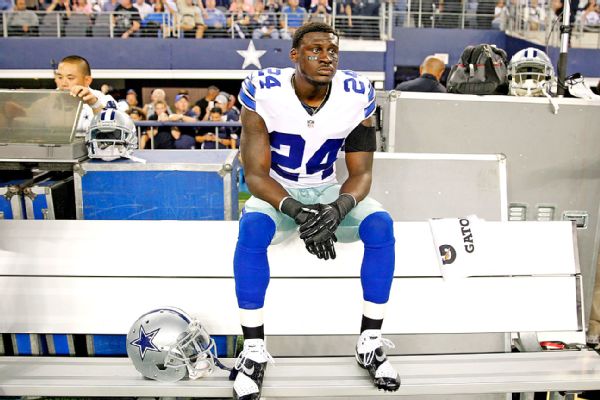 MORRIS CLAIBORNE
2012 6th overall pick Games Played: 29 Games Started: 25 Snaps Played: 1,582 Touchdowns Given Up: 8 Interceptions: 3 (Average of 1 every 527 snaps) Passes Defended: 15 (Average of 1 every 105 snaps) Opposing Quarterback's Completion %: 65.9 Opposing Quarterback's QB Rating: 107.8
STERLING MOORE
2011 undrafted rookie free agent
Games Played: 28
Games Started: 3
Snaps Played: 921
Touchdowns Given Up: 4
Interceptions: 3 (Average of 1 every 307 snaps)
Passes Defended: 11 (Average of 1 every 84 snaps)
Opposing Quarterback's Completion %: 60.4
Opposing Quarterback's QB Rating: 85.2
In one fewer game, 23 less starts and 661 less snaps, Moore has the same number of interceptions as Claiborne and just 4 fewer defended passes. He's also given up half as many TD's and holds opposing QB's to a much lower QB rating and completion percentage. Even last week against the Saints, Moore had a better game than Claiborne has had all season. Drew Brees threw at Moore five times and only completed two passes for 20 yards (a completion percentage of 40.0 and a QB rating of 52.1). Moore also had two pass breakups (one that was very close to being an interception) and a fumble recovery.
If Moore has been able to perform at that level in limited reps, imagine the kind of numbers he could potentially put up if given the same number of snaps as Claiborne?
"It really doesn't matter where guys come from," Jason Garrett says of comparing players' background and pedigrees. "We'll evaluate them and see who can play best."
We're now beyond evaluating Claiborne vs. Moore.
It'll be Carr and Scandrick as the starting corners, then Moore to the corner with Scandrick to the slot when Dallas goes to the Nickel ... so those Moore reps are exactly what will happen starting this week vs. the Texans. While losing any player for the season definitely hurts, this loss may actually end up working in the Cowboys' favor.
See what Cowboys fans are saying here!
Related Story: "Cowboys Huddle-Up: News inside Valley Ranch

Related Story: Dez tells CowboysHQ why he 'went to the prom'

Related Story: NFC East Confidence Rankings: Where are your Cowboys?