THE LEAD STORY:
The
Dallas Cowboys
are in a win-win situation with the competition for third running back between second-year man Joseph Randle and young veteran Ryan Williams. Both have delivered positive preseason performances for the Cowboys as they battle for what was thought to be, entering camp, one third-string job behind starter DeMarco Murray and key reserve Lance Dunbar.
Through three preseason games, Williams has 112 yards and a touchdown on 25 carries with a yards-per-carry of 4.5. Meanwhile, Randle has 4.6 yards per carry after rushing 20 times for 91 yards.
Each player has his own skills that help them serve as viable candidates for a single job ... and maybe skills that justify Dallas keeping four. For Randle, his quality special-teams play both in the return game and on coverage units gives him added value. On the other hand, Williams is competent enough to keep in on passing downs as a pass catcher and shows improvement in his pass protection.
Though certainly Dallas will work the phones seeking a trade of the "loser'' of this intriguing battle, the odd-man out will more than likely be cut ... and then still find a great opportunity with another team with a dearth of quality in their running back corps.
Said Williams:
But does the battle for third-string running back have to end with the loser leaving Valley Ranch? What if the second-place finisher performed so well that he convinced head coach Jason Garrett and his staff to create a whole new position: fourth-string running back?
The competition between Randle and Williams is interesting to watch because both guys aren't simply battling each other for a roster spot, but also other positions for a place on the final 53. Keeping more than three running backs on the roster seems to be an oddity to some, but the fact is Garrett has kept four running backs on the final 53 two out of his three full seasons with the club.
*In 2011, when they had four RB's, they kept three QB's, five WR's, four TE's, and 10 OL (26 offensive players)
*In 2012, when they had three RB's, they kept three QB's, six WR's, three TE's, and nine OL (25 offensive players)
*In 2013, when they had four RB's, they kept two QB's, five WR's, five TE's, and 10 OL (26 offensive players)
If Randle's oblique injury and Williams' groin strain don't prevent them from being solid this Thursday night against the Broncos, what's to say that Garrett won't carry Williams and Randle along with Dunbar and Murray come Week 1 against San Francisco?
Our reading of the tea leaves is that Dallas keeps three and the third might be Randle. But again, it's worth checking precedent here ...
New passing game coordinator Scott Linehan, who was offensive coordinator for the Lions last season, convinced then-head coach Jim Schwartz to keep five running backs on the roster. Just an FYI as we dig for win-wins in the Cowboys backfield.
1-on-1 with Holloman:
Our man Jordan Ross broke the story last night of DeVonte Holloman's plan to return to South Carolina to become a GA while getting his Masters.
(Read all about that here.) Jordan has more with Holloman below ...
Over the past couple of weeks, DeVonte Holloman has gone through a professional athlete's worst nightmare: a career-ending injury. Such a situation would be difficult for any player, but Holloman says his teammates have helped ease the pain, specifically his fellow linebackers.
"All of the linebackers," Holloman said when I asked who has been there for him the most through this entire process. "When I was out at practice they didn't treat me like anything was wrong. Some people treated me like I had died or something. "
One player has been there for DeVonte more than most, a player who definitely knows a thing or two about injuries. That player is Sean Lee.
"Sean is always talking to me," DeVonte said in an exclusive interview with CowboysHQ at the Inside the Huddle VIP Kickoff Party at the House of Blues in Dallas. "Last time I saw him he had some great words of encouragement for me. He told me to call him if I ever need anything."
Holloman's teammates aren't the only people who have offered help to the injured linebacker. The higher-ups within the Cowboys organization have extended their helping hand as well.
"Whatever I need, the Joneses are there for me," says Holloman. "They're willing to help me transition into my new career any way they can."
The new career that Holloman speaks of is a coaching job at his alma mater, the University of South Carolina, where Holloman will also work towards his Masters Degree. DeVonte says he's not sure what degree he wants to pursue but he wants to remain involved with football regardless. In fact, Holloman hopes to one day return to Dallas to work from the sidelines.
"It's something that I'm hoping works out," said Holloman. "I want to stick around football as long as I can. I'd love to come back here."
The possibility of Holloman coaching in Dallas is likely a long way off but we still may see Holloman on the sideline in the meantime.
"Of course," Holloman replied when asked if he will attend any Cowboys games this season. "Once the college season is over. Coach Garrett has already said he wants me to come back for the games."
Now that Holloman will be watching as a fan and not a member of the team, DeVonte says that there are some guys who he'll be keeping an eye on.
"I'm excited about Mo' Claiborne. He worked really hard this offseason and it showed in training camp," said Holloman. " I love watching Nick Hayden play, he's just fun to watch. I'm always watching Dez and Terrance Williams. I'm looking forward to see how Terrance progresses this year."
While DeVonte will be extremely busy with school and his new job in South Carolina over the next few months, Texas will remain an important place for Holloman and his family. As DeVonte left Monday's event with his 2-year old daughter (Brooklyn), his girlfriend (Angie) told me, "Don't worry, we'll be back. Dallas hasn't seen the last of us."
DEZ' DOLLARS:
Dez Bryant tells reporters that he believes that as contract negotiations continue, there's a "big chance'' a deal will get done before the start of the regular season.
"I honestly feel like what I do, sooner or later, I'm going to get what I deserve," Bryant said. "I believe it. That's why I don't stress about it. There's no need to stress about it. It's coming. I know it's coming, so no need to worry about it."
Bryant also said that if a deal is not done by Sept. 7, he'd prefer to table talks.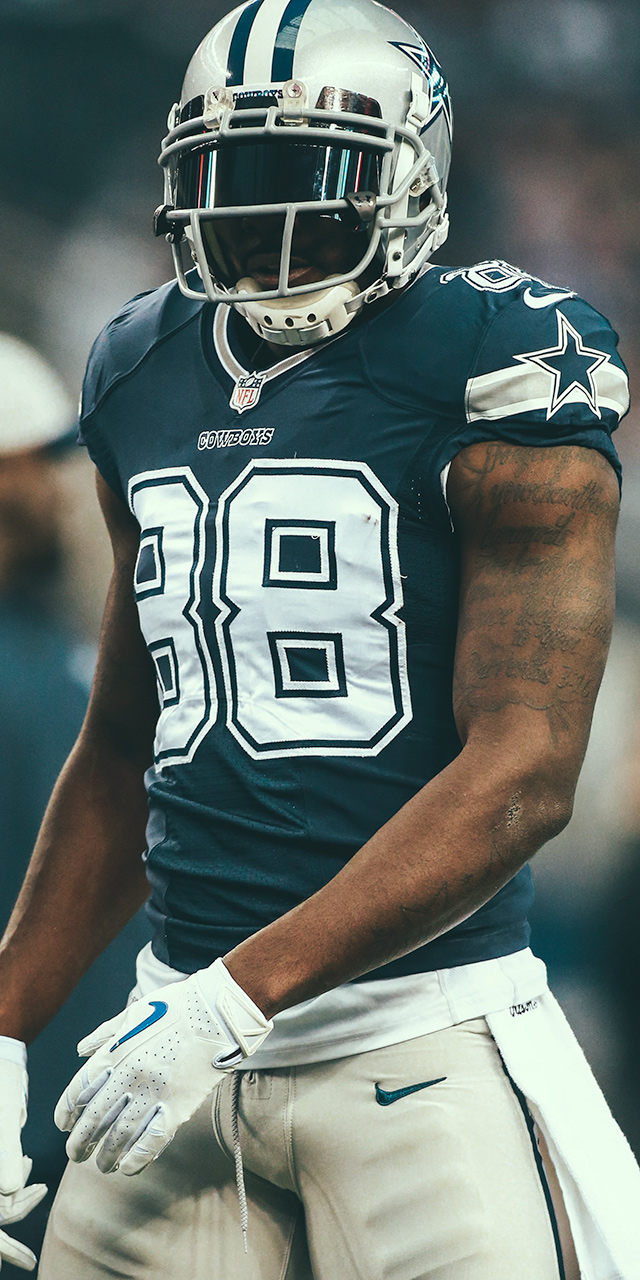 "I don't want to talk about it any more [once the season starts],'' he said. "Put it behind me. I love this game. Either way, I feel like I can't be distracted once I'm on the football field."
That's a fine position to take. But a word to the wise here: Bryant -- who added, "The No. 1 goal for me is me out here with my teammates, going to war with them ... That's exactly what I'm focused on'' -- will almost certainly allow the phone to be picked up by agent Eugene Parker if Jerry Jones calls on Sept. 8, right? Or October 1? Or November 19?
ONSIDE KICKS:
Hear "Fish on The Fan'' with
live updates from inside Valley Ranch throughout the day on The Cowboys Station, 105.3 The Fan.
... "No issue with his back at all," Jerry Jones said of Tony Romo, who sat out Monday's no-pads practice after being sacked three times in a half in Miami. "As a matter of fact, we all were pleased that he got the kind of test he got, and he is too.'' ... Rookie Ahmad Dixon recognizes that his violent hit on Miami receiver Matt Hazel in the closing moments of Saturday's exhibition "cost us the game.'' Dixon was chastised by the coach and will be fined by the league and promises to learn to overcome instincts. "It was just the heat of the moment, my instincts just kicked in," Dixon said, "and I just did what I normally do and that's just blow a guy up."
THE FINAL WORD:
With the Cowboys and Hublot partnership, a Hublot clock will appear above the jumbotrons during pregame at AT&T Stadium. Let your "time management'' jokes commence.