When, over the course of my 25 years covering the
Dallas Cowboys
, I've dared accused you of being a "spoiled fan,'' you have almost without exception taken exception, whining that you are underfed by the hand of sports success, tortured by the brain of Jerry Jones, maimed by the "curse'' of Tony Romo.
And now you are doing it again. After
an impressive victory
.
If you, Dear Reader in particular, are not cut from this filthy cloth, you are excused to count Cowboys Super Bowl rings. But the "Romo Sucks'' angle never goes away for some, who are actually using
Week 2's 26-10 win at Tennessee
as their latest misguided Exhibit A.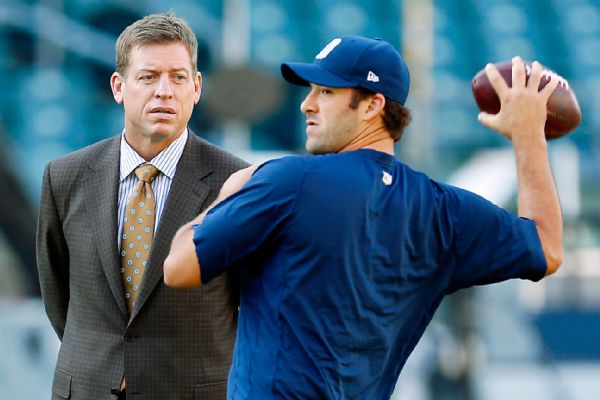 You are permitted, if you have such ample time to waste, to attempt to do the impossible with "retro-math'ing'' Romo's monster contract, billed as a $108-million contract extension (but $55 million "real'' dollars in guarantees).
"How many dollars is that per each of the paltry 176 yards he threw for against the Titans is that?''
ask the doltish.
You are permitted, too, to drive yourself nuts by wanting your "Romo Sucks!'' chants to apply conveniently whether he tries to do to much in
a loss (as we detailed here, harshly, fairly and accurately in our Week 1 review of the San Francisco failure)
or whether he does too little, as numbskulls suggest of his work in Nashville. It is, really, your Constitutional right to be ignorant. (Indeed, it's even your Constitutional right to be ignorant of what the U.S. Constitution even is, as 70 percent of Americans actually are.)
And you are permitted to let your Spoiled Cowboys Fan freak flag fly, in which case by all means focus your takeaway from Dallas' muscular win at Tennessee on all the money being "wasted'' so Tony Romo could drive that run-first bus.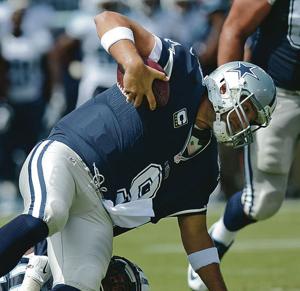 "The way that we (used) Romo the other day fits me just fine and fits him just fine,'' Cowboys owner Jones tells 105.3 The Fan's "Shan & RJ.'' "It's called 'winning,' and that's what we're here for."
Romo is in possession of the ability to, when necessary, do much more than compete 19 of 27 passes for 176 yards, as was the case in Nashville. History says that is so.
But in Week 2? It wasn't necessary. So why aren't you -- a Cowboys universe of yous -- savoring that?
Romo's performance is worthy of continued examination. Was Romo's relative ineffectiveness due to carryover from back surgery? From rust, intellectual or otherwise? From the possibility that he was dinged early in the game in some fashion but played through it? All of those theories are denied by Romo himself, but if he's fibbing a bit ... well, those mark different concerns.
But for years, Dallas has asked Romo to be the franchise's Elway/Staubach/Young/Aikman/Houdini ... and the franchise has asked too much. So the personnel department has handed the coaching staff a possibly more reliable way for this offense to come out ahead on the scoreboard.
What's the downside here?
As Jason Witten says, "It's a compliment to your football team when your star quarterback can be a secondary option.''
Indeed,
in Tennessee, the running game was the "star of the game.'' It was DeMarco Murray, of course,
with the stellar numbers, the centerpiece of a ground game that gobbled up 220 rushing yards. But the run-first strategy best plays into the strength of the club, the trio of 23-year-old first-round draftees that anchor the line, Tyron Smith, Travis Frederick and Zach Martin.
If all those people -- who also earn relatively healthy paychecks -- can carry the team ... it isn't a problem. It's a solution.
"I'm probably the one that's standing right behind Tony and saying, 'Yes, we like seeing that,'" Jones says. "When you can have that balance ... we'll take it. That offensive line played lights-out for us. When you can have more of a balance ... then I think we're seeing you have a better chance for your defense to be more effective, play less plays, better field position. All of it works together.''
There will be other days when Romo will be asked to be more than an NFL "bus driver.'' And if you lean toward the "spoiled'' over even the "cynical,'' you might anticipate those other days with trepidation. But today? Cowboys fans should be basking in this franchise's movement towards Dallas winning without Tony Romo not having to be more than Tony Romo needed to be.