This CowboysHQ.com Huddle-Up is brought to you by
"The Ultimate Tailgate Bash'' in Arlington
... the pregame party that last week featured YOU and Larry Allen, Drew Pearson, Jay Novacek and Charles Haley! Click that link and when the Cowboys come home, join this party!
THE BIG LEAD:
J.J. Wilcox quietly had a strong offseason in which his ownership of a starting safety spot became a foregone conclusion. After a tough rookie year (in which he had to deal with his mother's death) Wilcox is more prepared and confident than ever.
"I'm excited to get back out there and play with my teammates," said Wilcox, working, like the rest of his
Dallas Cowboys
guys, on rebounding from a Week 1 loss to San Francisco. This week it's the Titans and their three-WR offense, which Wilcox tells CowboysHQ puts a special sort of pressure on the secondary.
"They do a lot of stuff, with great athletes and a smart first-round quarterback, plus the three-receiver thing,'' Wilcox said. "But lots of stuff we can do ... including just to improve.''
One teammate in particular who Wilcox is excited about playing with is fellow safety Barry Church.
"I love playing next to Church," said Wilcox, who pals around with his safety-mate when the Cowboys are off the field, too. "He brings the best out of me."
While Wilcox maintains excitement about this season's potential, the same can't be said for many fans when it comes to the defense that was ranked 32nd in 2013. However, past failures and fan criticism doesn't phase Wilcox's optimism.
"The defense gets a lot of criticism but we come to work everyday," says Wilcox. "It's us against the world. We're going to keep working and we're only going to get better. ... We've got to bring our A-game. Our margin for error is going to be really small. We know that going in. We just need to eliminate the small mistakes and play football.'' VIDEO VISITS:
Want to hear
Dez Bryant
defend
Tony Romo
? DeMarco Murray talk about why he's not "butt-hurt''? Witten speaking boldly about the NFL and domestic violence?
Click here for an example of the best Cowboys coverage in the land!
CowboysHQ Premium offers you the chance to come inside the locker room ... to hear from the players in their own words ... to get all the insights from the team, the practice field and the front office. Take our 7-day free trial and then for 10 cents a day
you are a Cowboys Insider with Premium coverage!
SCANDRICK PREP:
The Cowboys remain prepared for a quick return of Orlando Scandrick - yes, in time to play this weekend against Tennessee -- assuming the four-game suspension for a violation of the league's substance abuse policy is lifted.
Union reps vote today. If the change in the drug policy passes and are retroactively implemented, Scandrick could step back in and play the slot corner this weekend.
"I think we will look at all options,'' Garrett said. "Certainly, Orlando being a veteran player who knows our system, has played a lot of football in this league, you will try to give him as much consideration as possible. ... We'll wait and see what happens as this day unfolds. Obviously, we have everyone else prepared and ready to play in this game. We'll try to make our best decision.''
Garrett isn't revealing much, and Dallas is prepared to stick with Sterling Moore as the slot guy in what will essentially be the Cowboys' base D in Tennessee.
(Read more on those X's and O's here).
But CowboysHQ has been told that the team is hopeful Scandrick would be instantly ready to step in and help.
ONSIDE KICKS:
As a coach, at any level of a pro staff, Tennessee head coach Ken Whisenhunt is 5-0 against Dallas. Two of those came as a coordinator, three of them as the head coach of the Cardinals. ... "We are certainly concentrating on several other things,'' Jerry Jones tells 105.3 The Fan of Dez contract talks. "I really don't think it's a daily priority" ... Special-teams ace C.J. Spillman (groin) worked for the first time this week ... Dallas got its practice in during a rainstorm at Valley Ranch ... Since Week 16 of last season, Dallas is minus-7 in the turnover differential, while the Titans are plus-6. ... The importance of targeting Dez Bryant? When he gets six or fewer targets in a game, Dallas is a mediocre 14-12.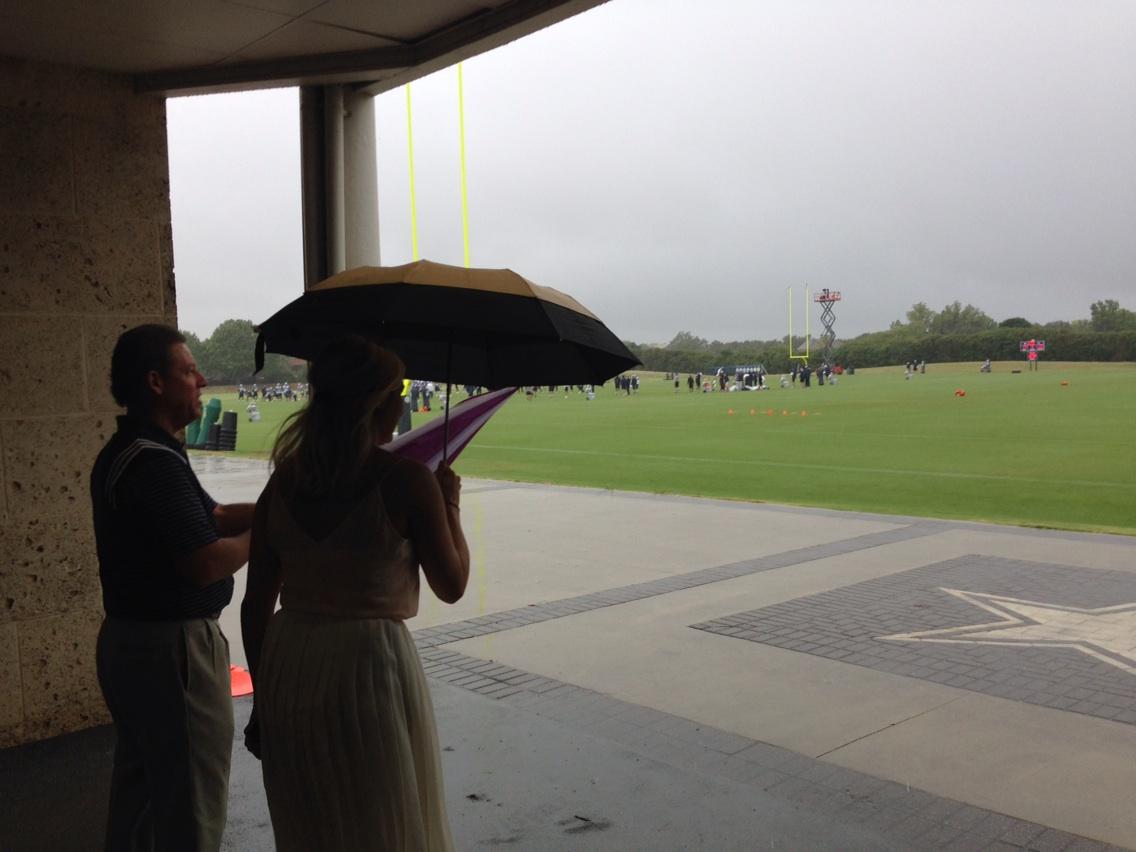 ALL ABOARD!
Keep it here on CowboysHQ and we will keep you posted in a variety of ways from inside your team ... Here on the HOME page,
here on CowboysHQ Discussion Boards
, and on Twitter, where we encourage you to follow
Mike Fisher
,
KD Drummond
,
Mark Lane
and
Jordan Ross
along with our 105.3 The Fan colleague
Bryan Broaddus
. ... we are about to get on the team plane to Nashville and hope you'll join us!
THE FINAL WORD:
Since 2011, Tony Romo's had seven multi-interception games after which he's played a follow-up game. In that following week he's thrown 13 TDs and three interceptions while averaging of 276 yards and 66.4 completions with 105.8 QB rating.
Hear "Fish on The Fan'' with
live updates throughout the day from inside the team on The Cowboys Station, 105.3 The Fan.