With Sunday's 34-31 win at St. Louis secured, the 2-1 Cowboys have won back-to-back road games for the first time since 2009 ... which also happens to be the last time Dallas made the playoffs. That's not a prediction, just a fact that turns on its head so many theories a cynical Cowboys watcher might justifiably harbor.
Let me count the cynicism-charged charges:
*
Tony Romo
is a physically hobbled late-game choker? No, actually his engineering of a fourth-quarter TD pass to Terrence Williams - a drive featuring a third-and-13 Romo dash for a conversion and then a third-and-long Romo blue dart for another - conversion put him in elite Comeback Company: He's now Staubachesque in terms of fourth-quarter TD passes and late-game rescues.
"I saw the same things you saw," owner Jerry Jones said of Romo and his recovering back. "His quickness, his ability to escape, his ability to whip around and change directions. ... a marked difference."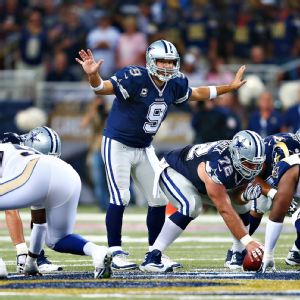 *This coaching staff won't stick with the run? Well, actually it did so with such determination despite an early 21-0 deficit that NFL leading rusher DeMarco Murray totaled 100 yards (becoming the first player in a decade to rush for at least 100 and a TD in three straight games to start a season) and balanced Dallas ended with 29 rushing attempts to 23 pass attempts.
"It's trust," said Murray. "(The coaches) trust the offensive line, they trust myself to give us a few yards and get stuff going. That's what it's all about."
*This offensive line, great as it is, fails at pass-rushing? Um, actually left tackle Tyron Smith took on the challenge of blocking premier end Robert Quinn and stonewalled him, Quinn ending with zero sacks and zero hurries.
"I think all the guys handled the environment well," said Romo. "(St. Louis) threw a lot of stuff at us, and we were able to execute under duress, pressure... whatever you want to call it."
*This defense can't make plays? Well, actually it ended up contributing some monsters, including two takeaways in the fourth quarter alone: Bruce Carter's pick-six and Mo Claiborne's win-cementing interception to close it out.
*OK, but Claiborne stinks, right?
"Well," said the cornerback, torched all day by Rams third-string QB Austin Davis, "I stunk it up out there."
Claiborne is flawed and he's not alone. Said Orlando Scandrick: "I've told you guys all the time and I'll tell you guys for real: we've got to play better. We can't expect to give up 350, 400 yards and be a great defense or be a good defense or even be a good football team. Thirty-four points from your offense, that's not normal in this league."
But Dallas is playing hard (as any team must to overcome a three-touchdown road ditch). And the
Dallas Cowboys
played smart (the Williams TD was an artful design, Jason Witten and Cole Beasley running routes that cleared Williams beneath them;
Dez Bryant
's 68-yard TD bomb from Romo came with some double-move improv). And they played cool, leaving the Rams sideline owning the angry dysfunction so often assigned to the supposed Dallas "circus."
"It's a sign of maturity in a team," Garrett said. "That's what you have to do. You have to execute and fight. I thought our guys were able to do that."
Only three-ring ringleader Jerry Jones engaged in any shenanigans, gathering the media around him in the winning locker room to answer a question about whether the 21-0 start drove him toward drowning in-game sorrows, maybe with some of that infamous Johnny Walker Blue. "No," the owner said with that familiar side-tilt grin and scrunched-up wink. "I can't do that. I couldn't call the plays then. Somebody has to fly this thing."
Ah, yes.
"Coach Jerry runs everything.''
With a grin and a wink, we can leave that one intact for now. Hey, a team can only turn upside down so many cynical theories at a time.
See what Cowboys fans are saying here!
Related Story: Cowboys Mo + Bruce Steal In St. Louis