THE BIG LEAD:
Fans rarely get to see this, but when you enter the
Dallas Cowboys
Valley Ranch headquarters, you are surrounded by history -- a football museum, really. Among the many artifacts encased in glass are the jerseys and helmets of Hall-of-Famers Emmitt Smith and Tony Dorsett.
The aura is tangible and the message is clear: In Dallas, if you rush to 18,000 yards or rush to Super Bowls, you are immortalized in a glass case.
DeMarco Murray
, the NFL's leading rusher entering Sunday's Week 3 visit to St. Louis? No, he isn't ready for the glass case. But a showcase? Yes. This was that time.
The formula is not a difficult one. And you could get to the formula that lead to a Dallas win here without even having to note that entering Sunday when DeMarco gets 20 or more carries for the Cowboys, Dallas was 12-1. I've never liked that stat because it's chicken-or-egg; how many of those carries were feeds to the running back in order to protect a lead rather than lead to one?
So let's do it better:
DeMarco entered Sunday averaging 25.5 carries a game through the first two games, and was the NFL rushing leader. Meanwhile, St. Louis gave up 185 yards rushing to the Vikings in Week 1 and then followed that up by giving up 157 yards to the Buccaneers. ... making the Rams the 30th-ranked run defense in the NFL.
The seesaw of this game was there and it tilted heavily toward Dallas. And when it comes to DeMarco against this team, it always has. In 2011, Murray rushed for a franchise-record 253 yards in a Cowboys blowout over the Rams. Last season, Murray did it again as he ran for 175 yards. Logic dictated that if this game stayed close, DeMarco and his O-line would get a chance to control it ... and maybe, with typical control, it wouldn't stay close long.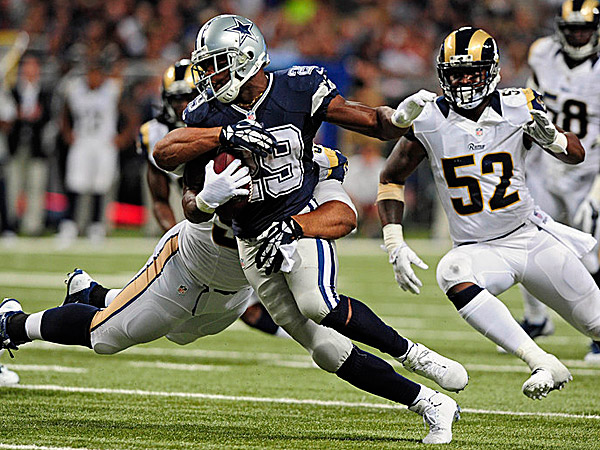 And then Dallas cornerbacks got roasted for easy TDs delivered by Rams third-string QB Austin Davis, with Murray's third fumble in as many weeks sandwiched in between. And then
Tony Romo
got guessed-on for a pick-six to make it 21-0.
And then ...
The Cowboys kept running. And won, 34-31.
"We didn't blink," said receiver
Dez Bryant
. "I can honestly say, we didn't blink."
"We're committed to running the football, and everybody's waiting for that to break — and it's not," tight end Jason Witten. "There's a complete commitment to run the football and continue to run the football."
Added Murray: "I think (coaches) trust the line and they trust (me). We can't get off-schedule, no matter what the score is. If we're up 30 or down 30, we've got to continue to stick to the game plan and give guys opportunities to make plays."
Murray is the first NFL player in the last 10 years to rush for 100 and a TD in each of a season's first three games, dating all the way back to Thanksgiving, he's now pieced together an eight-game span during which he has rushed for 102 yards and a TD per game.
That, even with a solid 2-1 start, doesn't put this year's edition of the Cowboys in the glass case. But they've convinced themselves and maybe convinced you, too: Murray and the running game belong in the showcase.
WHY'S ORLANDO 'PISSED'?:
This has become a national story, and a controversial one, because Orlando Scandrick followed up the win in St. Louis by telling me:
"I was pissed, man. I was pissed. I felt like, when I came back, I was prepared to play every down. I felt like I did everything in my power to play every single down."
"This game has some meaning behind it from me. It has a lot of meaning. I worked my ass off throughout this whole process, and when I came back, I wanted to show them that I was ready to play. I wanted to show them that I take it serious — that I prepared over those two weeks that I was off."
Ah, but more context is required. We provide that
here, along with the exclusive audio of my postgame conversation with Scandrick.
TRANSACTIONS COMING:
As CowboysHQ reported yesterday, Dallas is releasing linebacker Keith Smith, mostly because Justin Durant seems healthy enough to go this week. The same probably cannot be said for Rolando McClain (groin) though we will monitor.
Meanwhile, Lavar Edwards passed through waivers yesterday, we're told, and the Cowboys plan on bringing him back. If Edwards is on the Cowboys roster for 10 games this year, Dallas owes the Titans a 2015 seventh-round pick to complete that trade.
When is it Michael Sam's turn? Not yet ... but he truly has been impressive as a speed-rusher for scout team. The practice-squad defensive end really might get a chance at a call-up this year. For football reasons.
Much more importantly, for the moment, though, is the improved health of end Anthony Spencer. This is a big week for him; the Cowboys feel with a good couple of practice sessions he might be able to contribute some snaps Sunday night against the visiting Saints.
ONSIDE KICKS:
Romo quote: "I felt stronger, felt as if everything was firing, activation sequence, blah-blah-blah, stuff like that." Ignore the "blah-blah" part and value the "everything firing'' part. ... Jason Witten isn't piling up numbers. He has just 10 receptions for 95 yards and no TDs through the first three games this season. Yet his head coach is extremely pleased with the nine-time Pro Bowler. "He's the most complete tight end in football and has been for the last 10 years," Jason Garrett said. "He's willing to block from the line of scrimmage, in the backfield, run any kind of route you ask him to run, do anything you ask him to do. It's all for the team, all as well as he can do it. He's a great example for the rest of us." ... The Cowboys will certainly examine a secondary shuffle this week, with Scandrick jumping ahead of Mo Claiborne ... The Cowboys have now won the third game of the season for 12 straight years. ... Want to be
a Cowboys Insider with Premium coverage? Click here
to take our free 7-day trial and then for 10 cents a day, you are among the most informed Cowboys followers on the planet! ... Henry Melton will be trying to fight through a hamstring injury this week. ... Of Romo's third-and-long scramble to keep a drive alive in St. Louis, DeMarco Murray, working at as a waiter for his charity last night, tells CowboysHQ: "He took a page out of my book on that one. I like to think that I taught him that move."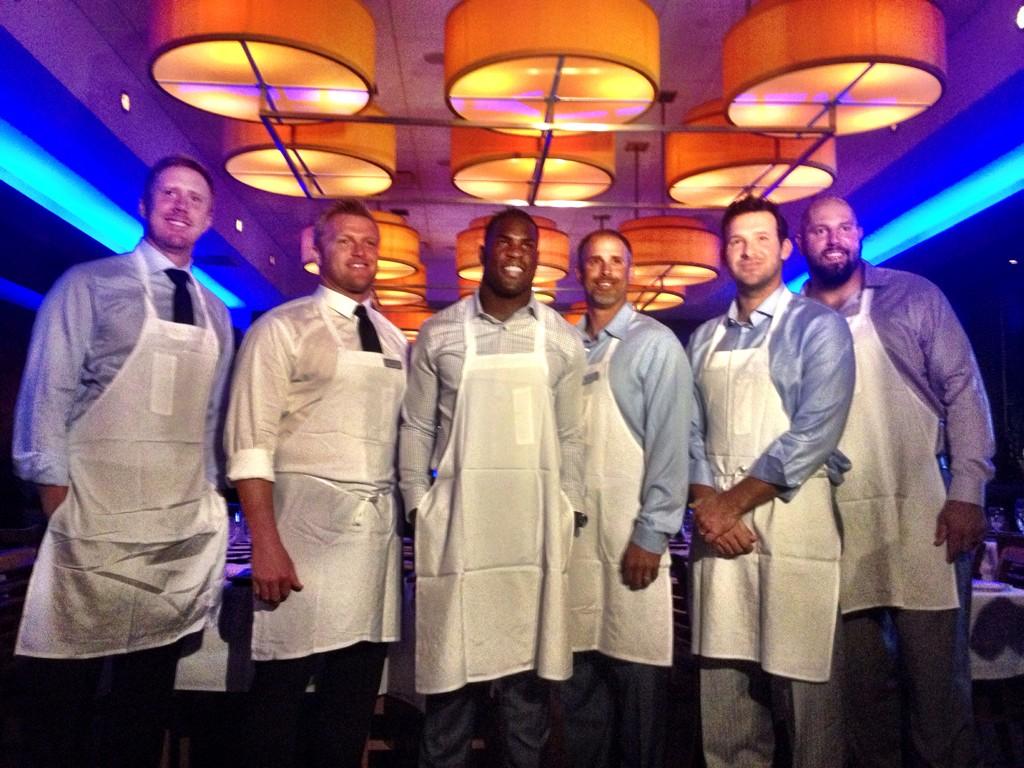 FISH ON COWBOYS:
With Sunday's win at St. Louis secured, the 2-1 Cowboys have won back-to-back road games for the first time since 2009 ... which also happens to be the last time Dallas made the playoffs. That's not a prediction,
just a fact that turns on its head so many theories a cynical Cowboys watcher might justifiably harbor ... and I write in my premium column here.
THE FINAL WORD:
"Was he worth what we gave up to get him? No. .. But he's a good player.'' -- Jerry Jones on Mo Claiborne.