This CowboysHQ.com Huddle-Up is brought to you by
"The Ultimate Tailgate Bash'' in Arlington
... the pregame party that recently featured YOU and Larry Allen, Drew Pearson, Jay Novacek and Charles Haley! Click that link and join this
Dallas Cowboys
party!
The Big Lead
As we ready for the noon kickoff (with
Fish joining Brad Sham and Babe Laufenberg on the pregame, which starts at 9 a.m., on 105.3 The Fan)
, we focus on Cowboys-Rams history -- and the recent history of the Dallas running game.
The Cowboys (1-1) and Rams (1-1) will meet for the 32nd time today. The Cowboys currently lead the series, 16-15.
The Cowboys have won the last two meetings by a combined score of 65-14. Much of the Cowboys' recent success vs. Rams is about DeMarco Murray, who is undeniably at his best while playing St. Louis. Murray has burned the Rams defense for 428 rushing yards and two TD's in two games so we think it's safe to say that St. Louis' top priority will be to contain the Cowboys workhorse running back ... which won't be an easy task with DeMarco Murray arguably playing at the highest level of his entire career.
Check out the Murray Milestones: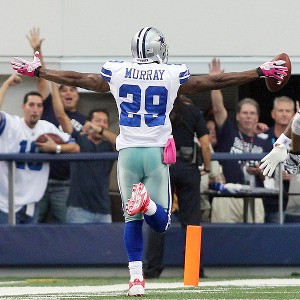 *Murray averages 8.4 yards per carry vs St. Louis. In just twi games against the Rams, Murray has more rushing yards (428) than he has against any other opponent, including division rivals.
*Murray has an opportunity on Sunday to rush for 100+ yards in three consecutive games, which would be a first in his career.
*Murray needs four receptions on Sunday to pass Robert Newhouse for the 39th most catches in franchise history, giving him 121.
*Murray needs 12 rushing attempts to pass Ron Springs for the 10th most in franchise history, giving him 605.
*With one rushing TD, DeMarco will tie Julius Jones for 14th in franchise history, giving him 18. With three rushing TD's, Murray would tie Roger Staubach for 11th in franchise history.
Now back to this week's challenge: The Rams also gave up 144 yards to Tampa's Bobby Rainey last week, who isn't anywhere near the talent level of DeMarco. While we expect the Cowboys to continue to feed the ball to No. 29, we'll also be monitoring the passing game with this offense.
Tony Romo
has been rusty early on -- intellectual rust in the Week 1 loss to the Niners and mechanical rust in last week's win at Tennessee -- and took Wednesday off from practice due to tightness in his back.
Is it all about just correcting his footwork? Maybe. But ultimately, it may be more important for Dallas to correct its view of what this team's offensive foundation can be.
Said Romo: "That's what a really good team is; everyone is complementary of each other. I'm all for going out and (being a 'bus driver') and playing the way Seattle has the last few years and just having those style of games. It makes everyone's job easier. If we continue to do that I think we'll have a great chance to be where we want to be at the end of the year."
With the Rams focusing in on stopping the run game, this should open things up for in passing game. ... a match that may be just what Romo needs to get back in his groove. It used to be that teams were afraid of the Cowboys' aerial attack, partly because the team lacked a consistent run game. However, the run game is clearly this team's strength at the moment. Romo should see some favorable matchups in the passing game which should give him some opportunities to hit Dez and the other receivers in 1-on-1 coverage. If Romo is able to regain his confidence and find a little more success throwing the ball, this offense has the potential to be one of the most dangerous in the NFL. ... especially so against a Rams squad that is talented upfront with Quinn and company ... but vulnerable.
The Nightmare That Isn't
There sees to be some misunderstanding about what Robert Quinn does and who he does it against.
In 2013, Rams standout Quinn pass-rushed on 478 snaps. For 473 of them, he was lined up at right defensive end. Only three times did he line up on the left side, and only once in the middle. This year, he has pass-rushed 36 times; all 36 times have come from right end.
How
the Rams really use Quinn - and how this is mostly Tyron's problem, not Free's - is detailed here.
Throwing Up The X
In two career games vs the St. Louis Rams, Dez Bryant has nine catches for 128 yards and two TD's and Bryant now needs 220 receiving yards to pass Miles Austin for seventh in franchise history. Oh, and Bryant needs one TD to move into sole possession of seventh place in franchise history, giving him 42 and moving ahead of Billy Joe DuPree.
All those numbers can start rolling in for Dez assuming his sore right shoulder is OK.
Said Dez: "I'm not going to adjust the way that I play. I'm going to go out there and have fun. ... It's a little bit sore, but nothing that's going to keep me out. I'm going to be ready to roll on Sunday."
Dez' "big brother'' Jason Witten is also milestone-heavy this week. In five games vs the Rams, Witten has caught 26 passes for 267 yards (10.3 avg.) and three TD's. And he needs just 155 yards in the next four games to be the second fastest TE in NFL history to reach the 10,000-yard mark. The only other TE's to reach 10,000 yards are Tony Gonzales and Shannon Sharpe.
And yet Witten seems focused on the shift in Dallas' offensive centerpiece under playcaller Scott Linehan (who by the way was 11-25 during his stint as the Rams head coach).
Said Witten: "We say it a lot, but we really are committed to running the football. It's about the demeanor of our football team.''
What about the D?
The Cowboys defense has been a pleasant surprise thus far. The overachieving defensive unit has allowed an average of 15.5 points per game, which is good for seventh in the NFL. Meanwhile, the Rams offense has scored a mere 25 points this season. All of that points towards more success for the Cowboys defense, especially when you consider the fact that they'll be getting one of their best defensive players from 2013 back in Orlando Scandrick.

However, while they're getting their best defender from last year back, they could be without their best defender from this year with Rolando McClain nursing a groin injury. McClain currently leads the team in tackles (12), has a sack, an INT and a tackle for a loss. Losing McClain would definitely hurt but it wouldn't necessarily spell doom either. If they're going to lose McClain for a game, it might as well be against the team that only scores an average of 12.5 points per game.

Look for rookie Anthony Hitchens to start in the middle, flanked by Bruce Carter (off to a dynamic start) and Kyle Wilber (who might get a chance to show his pass-rush skills).

Said DC Rod Marinelli: "They have been working hard. They had really good couple days of practice. The key thing is they have all been with us since the offseason, so it's not like somebody coming in new. I trust that."


'Split 'Em' Bailey
*Dan Bailey has made 26 consecutive field goals, which ties his career-high. He needs just two more to break Chris Boniol's franchise record of 27.

Bailey needs five extra points to move ahead of Nick Folk for the 3rd most in franchise history, giving him 132.

*Bailey needs to attempt two more 50+-yard field goals to tie Rafael Septien for the most in franchise history, giving him 19.

*Dan Bailey needs to attempt four more field goals to tie Toni Fritsch for the third most in franchise history.

By The Numbers
Series Record: 16-15, Cowboys

Points Scored (Cowboys): 688

Points Scored (Rams): 613

Current Winning Streak: Cowboys, 2 games

Cowboys Largest Margin of Victory: 30 points, 01/04/1976 NFC Championship Game at L.A. Memorial Coliseum with a final score of 37-7

Cowboys Largest Margin of Defeat: 24 points, 12/15/1980 at Anaheim Stadium with a final score of 38-14


The Cowboys have gone 2-1 in each of the last three seasons, and four out of the last five years.

A win for the Cowboys would tie them with the Miami Dolphins for the second most road victories since the AFC/NFC merger in 1970, giving them 173.

The Cowboys have won their last nine Week 3 games with a combined score of 229-128. The Cowboys offense scored 27+ points in five of those games, while their defense held their opponents to 18 points or less in all but one game.

As good as the Cowboys have been in Week 3, the Rams have been equally bad. In their last seven Week 3 games, the Rams are 1-6, with a combined score of 83-204. In those games, the Rams defense allowed 31+ points four times and held an opponent to less than 23 points just once. Meanwhile, their offense was held to seven points or less four times and scored more than 17 points just once.


Mark Lane's Ref Report
Four key tidbits from our Mark Lane, part of his indispensable weekly "Cowboys 100'' series:

1) Today's referee is Clete Blakeman, who first became a ref in 2010. This is his first Cowboys game to officiate while Dallas is on the road. Since 2010, the Cowboys are 1-1 when he referees their games.

2) Blakeman has refereed five St. Louis Rams games since 2010. The Rams are 3-1-1 in those games.

3) When Blakeman refs, the home team wins at a .688 clip. That's tied for third-highest in the NFL. Tony Corrente is at .813 and Jerome Boger at .733

4) Blakeman is an attorney, specializing in personal injury for Carlson & Burnett in Omaha, Nebraska.


One click, all Cowboys!
Keep it here on CowboysHQ as we will keep you posted in a variety of ways from inside your team ... Here on the HOME page, here on CowboysHQ Discussion Boards, and on Twitter, where we encourage you to follow Mike Fisher, KD Drummond, Mark Lane and Jordan Ross along with our 105.3 The Fan colleague Bryan Broaddus. ... Thanks for joining us!


Onside Kicks
Sources tell CowboysHQ that Anthony Spencer worked with the scout team this week. His return is near ... Want to be a Cowboys Insider with Premium coverage? Click here to take our free 7-day trial and then for 10 cents a day, you are among the most informed Cowboys followers on the planet! ... Please don't tell us you're one of them spoiled Cowboys fans!? Orlando Scandrick did most of his practice work in the slot this week, with Mo Claiborne hanging onto the cornerback job ... DeMarco is fighting against being a fumbler and says both giveaways are the result of carrying the ball in his left hand - the correct thing to do when running left, but not in Murray's comfort zone. "You definitely make more plays when the ball is in your outside hand," Murray said, "(but) just got to be smart about it and see what happens. You can't overthink it. I'm not worried about it."


Romo's rehab

Get caught up on "Romo On Romo'' as he talks here about his day of rest ... and below on some important milestones and stats:

*Tony Romo is 3-0 vs the Rams with eight touchdowns, one interception, 715 yards, 64.2 completion percentage and a 120.0 passer rating.

*Tony Romo can extend his streak of consecutive games with a TD pass to 31, passing Ben Roethlisberger and Dan Marino for fifth place all-time. Romo currently has the second longest active streak in the NFL, behind Peyton Manning (41).

*Romo can extend his NFL record of consecutive road games with a TD pass to 35. The next closest player (and only other QB with 30+) is Brett Favre with 32. The only other QB's with active streaks over 20 are Peyton Manning and Matt Ryan, both of whom have 24.

*Romo has only thrown two TD's so far this season but he has never thrown fewer than four TD's through the first three games of a season, which would lead you to believe that he should throw at least two TD's vs the Rams this Sunday. However, Romo has been held to zero TD's on three separate occasions in Week 3, more than any other week in Romo's career. Surprisingly, the Cowboys won all three of those games.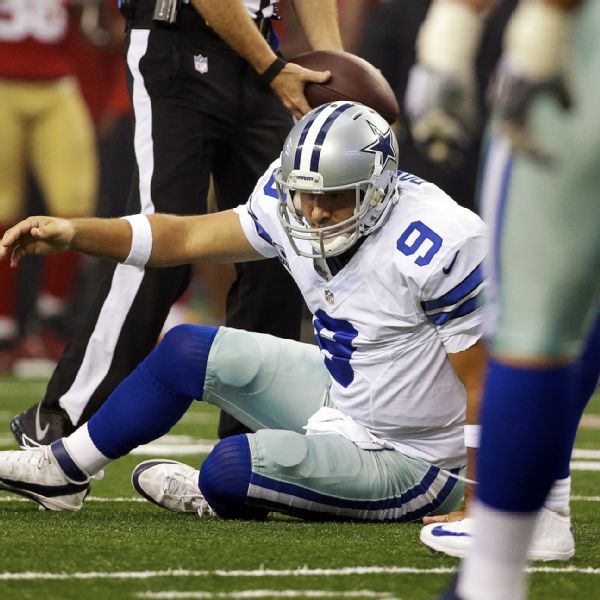 *If Tony Romo throws three TD's against the Rams today, he will have the same number of career TD's against St. Louis as he does against Tampa Bay (11). That also happens to be the highest number of TD's against any non-NFC East team in Romo's career.

*If the Cowboys come away with a win, the Rams will become the third team that Romo has played four+ times while remaining undefeated against them. The other two are the Tampa Bay Buccaneers (5-0) and the Carolina Panthers (4-O).

*Romo has been sacked seven times already this season. If he is sacked just once on Sunday, he will have been sacked more times in the first three weeks of a season than any other time in his career.

*Romo need three passing TD's to pass Terry Bradshaw for the 29th most in NFL history.

Said Romo of his plan for today: "It's about winning. We've done the 'stat thing' plenty of times. It's about winning and if our football team can continue to run the ball like we can, I'm all for these types of games (like the win at Tennessee) and that's exciting when you have the opportunity to have a team that can do that."


The Final Word

"It's good to be out here. It's good to get my feet underneath me. I feel like I picked up right where I left off. I feel good, I'm excited, I'm relieved, I'm thankful. I can't even put into words how I feel." - Orlando Scandrick.

Related Story: Cowboys + Rams Memory Lane: 75 NFC Title Game