THE BIG LEAD
After missing the 53-yard field goal that would have given the
Dallas Cowboys
the win and extended the franchise streak for consecutive made field goals to 31, kicker
Dan Bailey
got that "start-again'' shot to kick a 49-yarder in overtime to give Dallas a 20-17 win over visiting Houston and a shared portion of first place in the NFC East.
Were the Cowboys at all worried?
"Have you seen our football team for the past years?'' coach Jason Garrett said. "The guy is pretty damn good."
Perhaps an equally clutch play occurred on the game-winning OT drive. With third-and-8 from the Dallas 32, Tony Romo threw a chuck-and-dunk deep ball down the left sideline intended for
Dez Bryant
, who helicoptered over corner Jonathan Joseph for a 37-yard catch to move the chains.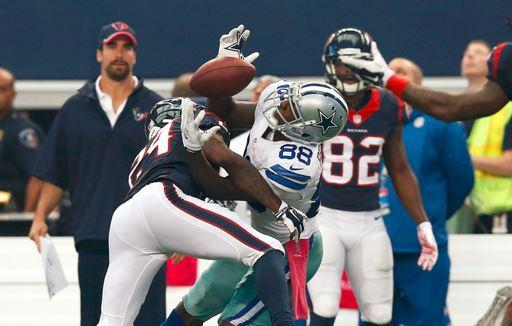 Added Garrett: "It was obviously the play of the game.''
Actually, there were lots of those. And lots of "Decisions of the Game,'' too. The Cowboys wanted to get closer for Bailey's final chance, but chose to kick on third down in case there was a mishap on the field goal try.
"Dan Bailey's a great kicker,'' Garrett said, "and we wanted to give him a chance to win the game. ... He's as locked-in and focused an individual as I've ever been around."
Predicted to manhandle the Texans (Dallas was a six-point favorite despite both clubs coming into the game with a 3-1 record) the Cowboys struggled with turnovers in the first half. Heading into halftime, Dallas led only 3-0, an oddity not seen since 2002 against the Lions. ... but a compliment to a Cowboys defense that this season has been surprisingly stout.
After falling down 7-3 midway through the third, Dallas mounted a four-play drive to go up 10-7.
Tony Romo
magically spun out of J.J. Watt's dead-to-rights sack and found Terrance Williams for a 43-yard score.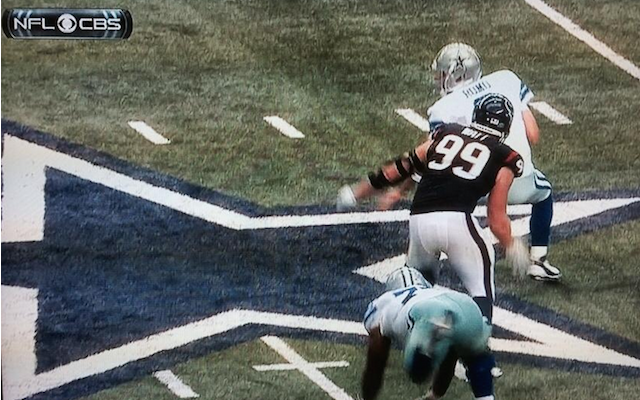 Romo threw an interception in the red zone looking for Bryant two plays into the fourth quarter, but the Dallas defense stiffened. Dwayne Harris' 38-yard punt return gave the Cowboys another shot at the Texans 30. Romo hit Dez this time for a two-yard touchdown on a patented back-shoulder throw.
The Texans scored 10 points in a 1:45 span with a Randy Bullock 29-yard field goal and a one-yard Arian Foster touchdown to tie the game, some botched clock management by Dallas contributing to the aforementioned "Decisions of the Game.''
Dallas now heads to Seattle to face a Seahawks club that has won their past six home games at loud-and-proud CenturyLink Field, where the Cowboys are a paltry 1-3 in the building. Next week's game will be another barometer of where the Cowboys rank in the conference.
ONSIDE KICKS
* DeMarco Murray rushed 31 times for 136 yards. He now stands with Jim Brown and O.J. Simpson as the only players in NFL history to start their first five games with 100 yards rushing, his only blemish being yet another fumble.
* The past three times the Cowboys have had a 100-yard rusher and a 300-yard passer, they've lost. This is their first win (with Romo under center) since the Kansas City overtime game in 2009.
* Middle linebacker Rolando McClain was unable to play late, likely an aggravation of his groin problem -- and there was a noticeable different in Dallas' level of defensive play.
* Both teams wore pink as part of their uniforms as part of the NFL's Breast Cancer Awareness Month.
* The only two times in Cowboys history the team failed to make the playoffs after a 4-1 start were 1984 and 2008.
* According to Cowboys Radio Network stat maven Bob Thomas, Dallas is an all-time 468-349-6. It's their first time to be 119 over .500 since 11/24/11. All-time best is 120 over in 2010.
* Dez Bryant and Terrance Williams own all of the Cowboys' receiving touchdowns through five games. Last time this happened was 1998 with Ernie Mills and Billy Davis owning all of the Cowboys' receiving touchdowns.
* Garrett joins former coach Jimmy Johnson as being the only other Cowboys head coach to achieve a 4-1 record in his fourth season.
* Hear "Fish on The Fan'' with
live updates throughout the day from inside the team on The Cowboys Station, 105.3 The Fan.
* Dan Bailey extended the franchise's record for game-winning field goals to nine.
THE FINAL WORD
"We played on the road today in this football game. We need to tighten up selling our tickets. ... We need to do a better job as a fan base.'' -- Tony Romo, on the "home disadvantage'' created by visiting Texans fans at AT&T Stadium.