THE BIG LEAD:
The
Dallas Cowboys
always viewed
Rolando McClain
as a low-risk experiment, a gifted player who might, at worst, eventually take his ball and go home, or, at best, take the middle-linebacker's job and maybe never give it back.
After two games? All reward. No risk.
"I was on a bad path," McClain said after starring in Dallas' 26-10 win Sunday at Tennessee. "I didn't deserve to play football, so to (speak). I wasn't all the way there in the game. So you ain't going to be the best if you ain't focused on the job, so I needed to take time to do what was important, get myself right, and I got that right.''
"Now I'm in a great organization, got some great teammates and just happy to play football again."
Cowboys sources say what McClain "got right'' -- what troubled the 2010 No. 8 overall draft pick from Alabama -- into a pair of NFL retirements -- was concern about the care of his two young sons when Dad was away from home doing his job. Maybe freed from those woes, McClain is on a "good path'' that is making him a centerpiece of a seemingly much-improved Dallas defense that will spend the year without injured erstwhile star Sean Lee.
In a Week 1 loss to the Niners, McClain recorded 12 tackles. In Week 2, the 6-4, 260-pounder was again a sideline-to-sideline defender, stayed on the field for 48 of 49 snaps (including in Dallas' Nickel-heavy alignment) and also contributed a tipping-point play with a momentarily-controversial but for-the-ages gymnastic interception.
"I knew it was an interception,''
said McClain, as you can hear in this audio visit in the postgame locker room in Nashville ...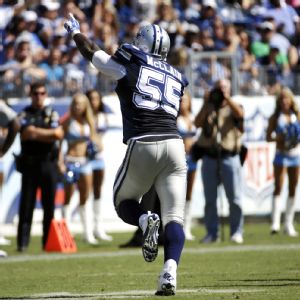 Walt Coleman's crew wasn't so sure. After defensive tackle Henry Melton deflected a pass at the line of scrimmage, McClain stopped on a dime, tipped the ball up to keep it from hitting the ground, completed a diving, juggling catch ... and then climbed to his feet for what could've been a 68-yard return for a TD.
Instead, officials not only blew the play dead, but ruled it a non-catch before coach Jason Garrett's challenge forced an obvious overturn. Dallas didn't get the score, but McClain got the pick.
"I wanted to get in the end zone just in case," McClain said of his sprint, adding that his teenage experience as a tight end paid off.
Said teammate Dez Bryant: "Man, he brought that passion, that excitement. He wants to execute. He wants to dominate. That's exactly what we need. As long as he keeps bringing that, them guys are going to fall in behind him. You're going to continue to keep seeing that kind of performance from that defense."
Added Cowboys boss Jerry Jones, the driving force behind the recruitment of McClain out of retirement (during a phone call while Jones was on a yacht in Turkey) and the trade with Baltimore that amounts to a swap of end-of-draft picks."He's a natural football player. He's mean, in a good way, on the football field.''
Some might characterize McClain as "mean, in a not-so-good way,'' with reporters. McClain does not enjoy visiting with the media. He and I had a not-unpleasant exchange last week during which he stated his non-cooperative wishes. I asked him why. He told me that it would help if media guys like me had ever done his job as a football player. I responded that it would help if football players like him had ever done my job as a sportswriter.
Mutual understanding, you know?
But on Sunday, McClain begrudgingly talked with us for almost nine minutes and was frank about the motivation behind his cooperation.
"I'm just trying not to get fined," McClain said, grinning again, his game and his shirt collar both neatly in order.
THE TRUTH ABOUT DUMPING AD:
Adrian Peterson trade/cut ideas are everywhere ... and most of them, frankly, are way off. CowboysHQ
breaks down the realities of the Vikings' situation with AD ... and the realities of him ending up in Dallas any time soon.
1-ON-1 WITH BRANDON CARR:
Listen
here as CowboysHQ visits with Brandon Carr on the defensive turnaround.
DEZ ON ICE:
Dez Bryant is sporting an ice pack on his shoulder, a grin on his face, and an iPad in his hand. And he would like to show you a photograph.
We've got the exclusive Dez story here in Premium.
DEMARCO ON THE GROUND:
Our detailed
Look at the work of Murray and the O-line as we report live from Nashville.
COWBOYS COMPREHENSIVE:
The best X-and-O's analysis in the business
as our KD Drummond reviews the Nashville Thrashing.
.
1-ON-1 WITH DAN BAILEY:
Listen
here for CowboysHQ's exclusive visit with Dallas kicker Dan Bailey, a huge part of the offense with four field goals.
THE FINAL WORD:
"Heaven Can Wait'? That's one of the three best movies of all time!'' -- Jason Garrett.
Hear "Fish on The Fan'' with
live updates throughout the day from inside the team on The Cowboys Station, 105.3 The Fan.