The Big Lead: The Hub And The Spokes
The
Dallas Cowboys
' offensive wheel keeps rolling along, with the hub of that wheel DeMarco Murray and his record-threatening rushing pace. But the individual spokes of the wheel are spinning along nicely, too.
Murray, running behind an offensive line featuring three blue-chip talents in left tackle Tyron Smith, center Travis Frederick and right guard Zack Martin, has 670 rushing yards and 124 receiving yards. That puts him on pace for 2,541 total yards, whih would surpass Chris Johnson's 2009 yards-from-scrimmage record of ... And Murray's rushing pace alone would put him at 2,144 yards. The NFL single-season record is 2,105 by Eric Dickerson in 1984. The franchise record is Emmitt Smith's 1,773 yards in 1995.
Already, Murray is one of just three backs in NFL history to rush for at least 100 yards in the first five games of a season. The others are Hall-of-Famers: Jim Brown (1958) and O.J. Simpson (1973, 1975).
"Those are pioneers at the running back position," Murray says. "They did a lot of great things for the position and the NFL. A lot of respect for those guys. ... "I'm just trying to come out here and play and get wins."
The 4-1 Cowboys have their wins in large part because of the success of the hub. But again ... to the spokes:
*
Tony Romo
, despite a slow start coming off back surgery, is on pace for 4,032 yards, 29 TD's and 16 interceptions. For now, he has the second-highest completion percentage (69.2) and QB rating (98.5) of his career.
*
Dez Bryant
, coming off his first Pro Bowl, is on pace for 102 catches, 1,203 yards and 13 TD's.
*Terrance Williams, the "other receiver,'' is on pace for 51 catches, 800 yards and 16 TDs this yr. All of those marks would be career-highs for the second-year player and the 16 TDs would be most in team history.
*Jason Witten is on pace for 61 catches and 688 yards. That's a solid season for most tight ends but those represent sub-par numbers for the future Hall-of-Famer, as both would be Witten's lowest totals since his rookie season in 2003.
But what really makes this wheel roll? Witten's attitude about becoming more of a blocker in this offense, Dez' willingness to play decoy for a time, Romo's approach to being "supplementary'' when necessary, and the shared sacrifice of the people around him.
"Every quarterback wants to throw the ball and have the gaudy numbers," playcaller Scott Linehan says, "but Tony understands how easy the running game makes his job. Everything isn't on his shoulders and it opens up the running game. We're all about winning. (Prioritizing the running game) will help us win."
The wheel keeps rolling. And so does the hub. And so do the spokes. Today, they all roll into Seattle ... and you get ready for the 3:25 kickoff (with
me joining Brad Sham and Babe Laufenberg on the pregame, which starts at 12:30, on 105.3 The Fan)
... with CowboysHQ GameDay Huddle-Up ...
The 10 Steps to the Playoffs
"We're going to run the football,'' coach Jason Garrett pledged. "We're going to run it early. We're going to run it in the middle. And we're going to run run it late.'' The stated philosophy was met with skepticism given the DNA of the decision-makers, including Garrett and QB Tony Romo. But new playcaller Scott Linehan (with his own rep as a throw-first coordinator) has been steadfast about relying on this team's "best player'' - an offensive line led by a trio of first-round 23-year-olds, left tackle Tyron Smith, center Travis Frederick and right guard Zack Martin.
The Cowboys have been relegated to being non-postseason participants since 2009. Garrett staying true to the above philosophy is a start to altering that. The rest?
Here's my "10 Steps To The Playoffs that will fuel the change.
Ex-Players Sound Off
It's Herschel Week! The prime piece of the Great Trade Robbery
took some time with our pals in the G-Bag Nation
to talk about the 25th Anniversary of his being dealt to Minnesota, but he also had some remarks about today's Cowboys. Here's the highlights:
Take Care of Murray
Well, what they got to do is they got to take care of him. That's what Jason [Garrett] has to do right now. They all working it.
Murray's Yards Give O-Line Confidence:
I'll tell you one thing that you can see that has happened: it has built confidence in that offensive line. One thing you want to do is if you can control the line of scrimmage, those guys down front get confidence. And I think what Jason has to do now is a little bit more play-action passing. Do a little bit more play-action passing where you're out of the I-backfield. I know people love the shotgun, but do a little play-action passing and give them a little rest.
LaDainian Tomlinson
talked to our friends in the G-Bag Nation
about all things football. Here were the former NFL MVP's comments on the Cowboys:
On Monitoring Murray's Carries:
DeMarco Murray is a horse. And, you know, if he's feeling good and, you know, he's still able to practice and not beat up through out the week, you continue to let him roll. But I do think you start to monitor his carries a little bit. Because if the Cowboys are going to make their run into the playoffs, you need him to be running ,
like this
in the playoffs.
On the O-Line:
But this team -- it's all about that offensive line. If those guys stay healthy, DeMarco Murray will be okay. Because, if you notice, he doesn't get hit until he's in the second level of the defense. And that's a good thing for a running back.
Can Dallas Upset Seattle?
I think they absolutely can [upset the Seahawks]. The reason why they can is one thing you have to have when you play the Seattle Seahawks, you have to be able to match their physicality. With that offensive line that Dallas has, they can match their physicality on offense. No question about it. But can that defensive line match the physicality of Seattle's offensive line? That's the question. That's where it's going to come down to.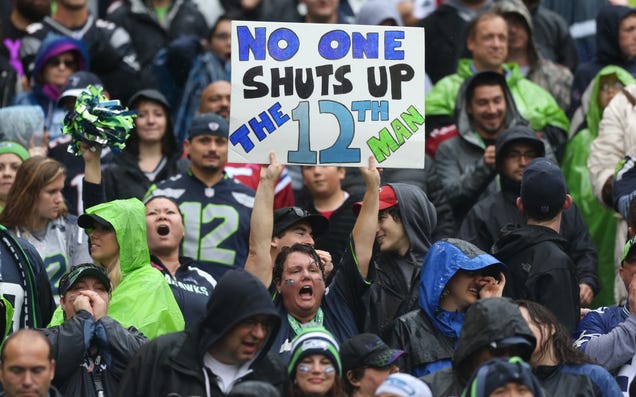 On How Deafening CenturyLink Field Is:
One little small note would be: hey, can those young players in Dallas handle what they're going to see in Seattle -- the crowd noise. Because, I'm just telling you guys, I have experienced playing there. And until you've been there and experienced it, you have no idea what you're about to go into.
Would Dallas be #1 Rushing without Murray?
I don't think they would be number one [if you took out Murray], but I do think they would be a Top 3-5 rushing team, because the holes are there. Those guys move people off the ball! DeMarco breaks a lot of tackles. If you look at the stats, I would say he's probably, you know, the leading running back in yards after contact. That's what he does well.
On Lance Dunbar:
Now, we know with Dunbar, he's more a scat back; very quick, love to watch him run. But, you know, he's not what DeMarco is in terms of being able to break tackles. You know, and so, I think the combination of both of those guys, him and Randle, I think they can get by -- no question.
On Joseph Randle:
Randle, he's still a young player finding his way. But I see some toughness in him. I just don't know how much he can take at this point.
WARREN MOON
Warren Moon Recants 'Blackmon is Dez with brain cells' Comments:
"I definitely was wrong with the way things have turned out for Dez Bryant the way it turned out for Justin Blackmon," the Hall-of-Fame QB
told our friends Shan and R.J.
"Dez has really turned into one of the best receivers in the league. So, there's no question I was wrong and and out of touch with those guys and their personal side of their lives. And hopefully one day Justin can get back out on the field -- good football player, but has got a lot of personal problems."
Cowboys Crunchtime Podcast
Is five in a row possible? KD and Fish
break it down in the "Cowboys Crunchtime Podcast'' here.
Mark Lane's 'Cowboys 100'
Hot off the presses, it's 'Cowboys 100'! Who's better on third down: Legion of Boom or the Cowboys' no-name defense? Ever wondered how good Romo is on the road? How does Garrett fare against Super Bowl-winning head coaches?
In "Cowboys 100,''
we've got that and more, so read up!
One click, all Cowboys!
Keep it here on CowboysHQ as we will keep you posted in a variety of ways from inside your team ... Here on the HOME page, and here on CowboysHQ Discussion Boards ... Thanks for joining us!


Onside Kicks
Look for Kyle Wilber to play a big role as a strongside linebacker, even as Rolando McClain fights his way back into the starting role in the middle despite his groin problem ... Want to be
a Cowboys Insider with Premium coverage? Click here
to take our free 7-day trial and then for 10 cents a day, you are among the most informed Cowboys followers on the planet! Take our 7-day free trial and come inside! ... Lance Dunbar is in the gameplan today, especially as a red-zone running back in the passing game. ... Cowboys fans don't want to hear this, but regarding talks with DeMarco Murray, there is zero traction right now - and next to zero reasons for their to ever be real traction ... DeMarcus Lawrence worked on the sideline last week and I'm betting he practices next Wednesday on the way to the rookie debuting after Week 8. ... Seattle has allowed six TD passes to tight ends this year. Romo and buddy Jason Witten are, ahem, aware of this.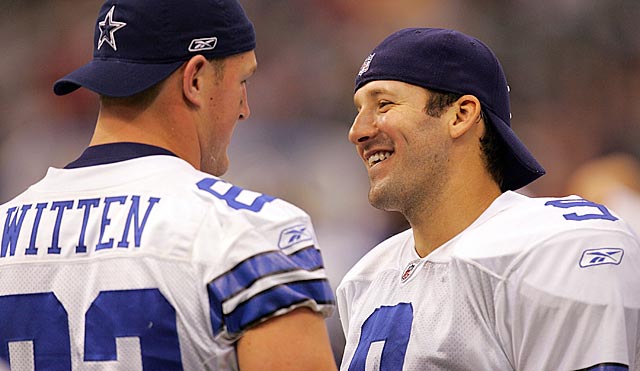 DeMarco's run
DeMarco Murray can become one of two players in NFL history to rush for 100+ yards in six straight games to start a season. The other player was Browns RB Jim Brown, who did so in 1958. However, that won't be an easy task against Seattle. The most yards the Seahawks have given up to a RB this season is 38 to Denver's Montee Ball. The most rushing yards they've given up to an entire team this year is 101 to the San Diego Chargers. To make matters worse, the Seahawks have been even better against the run at home. In their last 16 home games, they've only allowed one RB to gain 100+ rushing yards.
What Are The Odds?
The Cowboys are currently 4-1 for the first time since 2008. On Sunday they take on the defending Super Bowl champs, the Seattle Seahawks, in arguably the most difficult stadium to play in in the NFL. Barring a tie, this team will fly home with either a 5-1 or 4-2 record. Let's take a look at how Cowboys teams in the past have fared with either of those records.
The Cowboys have started with a 5-1 record 13 times in franchise history.
1966 - Lost the NFL championship game
1967 - Lost the NFL championship game
1975 - Lost the Super Bowl
1976 - Lost in the divisional round
1979 - Lost in the divisional round
1980 - Lost the NFC championship game
1982 - Lost the NFC championship game
1985 - Lost in the divisional round
1992 - Won the Super Bowl
1994 - Lost the NFC championship game
1995 - Won the Super Bowl
2003 - Lost in the wildcard round
2007 - Lost in the divisional round
When starting 5-1, the Cowboys have made the playoffs 100% of the time, winning at least one playoff game on 8 of those occasions, reaching the Super Bowl/NFL Championship game 6 times and winning the Super Bowl twice.
The Cowboys have started with a 4-2 record 15 times in franchise history.
1970 - Lost the Super Bowl
1971 - Won the Super Bowl
1972 - Lost the NFC Championship game
1973 - Lost the NFC Championship game
1978 - Lost the Super Bowl
1981 - Lost NFC Championship game
1984 - Did not make the playoffs
1986 - Did not make the playoffs
1991 - Lost in the divisional round
1993 - Won the Super Bowl
1998 - Lost in the wildcard round
1999 - Lost in the wildcard round
2005 - Did not make the playoffs
2008 - Did not make the playoffs
2009 - Lost in the divisional round
When starting 4-2, the Cowboys have made the playoffs all but 4 times, winning at least one playoff game on 9 occasions, reaching the NFC championship game 7 times, reaching the Super Bowl 4 times and winning the Super Bowl once.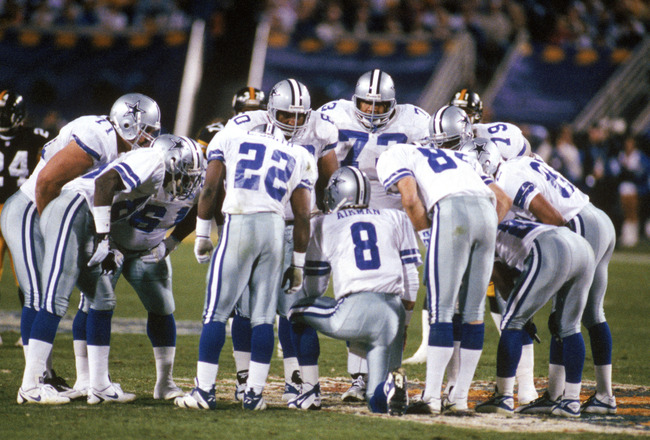 As it stands now, the Cowboys have about an 86 percent chance of reaching the playoffs, based on their history. Losing to the Seahawks would decrease their odds to 73 percent, which are still pretty good odds. However, you can't get any better odds than the 100-percent success rate of Cowboys teams who start out 5-1.
Cowboys Keys
We begin with yours truly and Annabel Stephan previewing the game between the Cowboys and Seahawks, and then get some help from Broaddus, Frederick and Church, as we include some intangibles in their discussion of the keys for a Dallas win ...
COWBOYS OFFENSIVE KEYS
Fish: I buy Tony Romo's suggestion where maybe this is one of those games where it's 150 yards passing and maybe 15 attempts and you grind it out that way. And I think this isn't about "
Dez Bryant
versus Richard Sherman." I know everyone wants it to be, but if you actually the way Seattle plays their defense, Richard Sherman stays at left cornerback. He just stays there. He's not Deion Sanders where he moves all over the field. He's not that caliber of player, though still a terrific player. So, the Cowboys simply need to line up Dez on the offense's left side and go against Byron Maxwell and let Terrance Williams go earn a draw against Sherman on the other side of the field.
Broaddus
(on 105.3 The Fan):
Yeah, and on DallasCowboys.com,
we put up a little video last night of three plays of what we thought were maybe a direction the Cowboys might go.
It really came down to how well they played offensively and defensively on third down. The Chargers were 10/17 on third downs, and they didn't have a bunch of chunk plays in that game. It was pretty steady in the way they tried to piece together a running game. Four different guys had over 35 yards rushing. I think they're going to have to, when you look at the way Seattle plays run defense, you want explosive guys quick to get to the hole. And I think that you're going to see that Randle and Dunbar and those guys are going to get opportunities in this game, just by the way Seattle plays their front.
Fish: Look at what tight ends have done against Seattle with five touchdowns total this year. Witten talked about that this week. When he studies film, he's studying Kam Chancellor, not just of who he's going to block in the run game. He's studying film of who he's going to run routes against, and you can't double team everybody.
Travis Frederick
(on 105.3 The Fan):
It's definitely going to be a hard task for us to play and be able to communicate. So, as we've done for most away games, or all away games, we've practiced with crowd noise which makes it a little harder to communicate at practice. We've almost gone to the point where you try to get the communication done without saying anything, even though you could hear each other and you could say it, knowing that we're going into a place where you're not able to hear.
COWBOYS DEFENSIVE KEYS
Though most of the media and fans are focusing on the Cowboys offense versus the Legion of Boom, Cowboys insiders and players realize how potent Seattle's offense is. In fact, it is the one unit Broaddus worries about more.
Broaddus: They feel like they need to get Marshawn Lynch going. It's not the same rushing attack they've had before. They have a little issue right now at center with Max Unger. He hurt his foot in the Monday night game; hasn't practiced. I'm sure he'll play, but how will he be?
Barry Church realizes Seattle loves to run the football, especially out of multiple formations, and will need to pack the box because of Marshawn Lynch.
Said Church
(to CowboysHQ):
Our defensive ends are going to have play with a lot of discipline because Russell Wilson likes to do a lot of ball fakes and he'll pull that thing out and run with out. So, our defensive ends are going to have to have a lot of discipline.
Fish: The front four focuses on contain instead of trying to beat their man -- just contain. Because playing a 4-3 that contains means you can handle the read-option a little bit. And the 4-3 can handle it better than a 3-4, which is where Seattle has had a lot of success.
Broaddus: San Diego did a good job playing the front. I think with these guys you have to play them square. You can't turned, and you can't allow those gaps and stuff. Because you're not only dealing with Lynch, but you're dealing with Wilson running the football. It's a difficult offense to have to defend when they are running that ball.
Broaddus: I think Tyrone Crawford playing that under tackle, 3-technique is really good for him. Again, on the outside, he didn't seem to have the pass rush moves that he's able to show inside. Those guards aren't used to playing with guys who use that quickness and arm-overs and stuff like that. They're used to guys who have a little bit of power. And I think when you look at Crawford's skill set, he's more able to play that way, not have to be explosive to the edge, sharp to the corner, and all of that. Inside, he's more on a direct path to the quarterback. It also puts him closer to the ball. If the ball happens to come backside or front side to him, he can be square and make the play. Yeah, to me, it looks like they've found a spot for him at that under tackle.
Church: If you just go in there with reckless abandon, I mean, [Wilson] is just going to make you miss and look like a fool. Just got to go out there and have discipline, especially our defensive ends, and keep him in the pocket.
Broaddus: The fact that [Rolando] McClain will play in this game for the Cowboys I think is a huge help because of how physical he is at the point of attack. But Seattle running the football -- they want to get it going. They want to come downhill at you. They just haven't been able to get it going like they have been in the past. I think that kind of goes back to what we talked about in the San Diego game.
Church: It brings a different type of level to this defense. He did a lot for our run game, as well as our pass game. So, we're definitely going to need him out there on the field. So, we're glad he's been practicing.
The Final Word
"This (Metroplex) has the highest per capita interest-in-sports in the United States ... And I've always appreciated it; known it's special. ... Yes, when you see it going good, it really does go good. It's like a room full of lighter fluid and you put a match to it." - Jerry Jones, on winning for Cowboys Nation.