The Cornerstones
Cowboys owner Jerry Jones concedes with a crooked smile and a wink that his Executive of the Year award is actually a team award, a franchise award, built, as he says, on the "shoulders'' of the people he's put in place all along the organizational chart.
Important in that is his coaching staff, Jerry and Stephen Jones (the point man here) having arranged for Jason Garrett (five years, $30 mil) and coordinators Scott Linehan and Rod Marinelli (three years each) to remain in place to lead the team in 2015 and beyond.
"Just as we have drafted and have some cornerstones to this team,'' Jerry said, "I think we've put in place the cornerstones with our staff," Jones said with glee.''
There is now much talk of Jerry being "different'' than he used to be, as if 12-4 vs. 8-8 is directly related to some sea change in the way this man -- in the 50th year of his being in the business of becoming worth three billion dollars -- "just got smart.''
It is true that he's starting to listen to advisers inside the building rather than outside, and that these newer voices are in their 40's and early 50's (Garrett, Will McClay, Stephen) rather than in their 70's and older (Larry Lacewell, Barry Switzer, Joe Gibbs, Bill Parcells, John Madden and an assortment of other old reliables).
But Jones has always been at the top of the organizational chart, and will always be - until, as Stephen and Jerry like to joke, "Dad goes ten-toes-up.'' What's really changed is that chart itself. It's more organized and more sensible than ever, and yes, 12-4 is a result, in part, of that.
"Having those overarching principles and philosophies in place I think are important as we strive to do everything better," Garrett said. "I think as an organization we worked through that and worked our way to a point that we got a staff that we're really comfortable with."
This idea that Garrett was a dumb coach then but is a smart coach now ... or that Jerry was a dumb GM then but is a smart GM now ... well, it's the sort of empty, linear thinking wise Cowboys followers avoid. Fact is, as we re-learned against Detroit and then in Green Bay in the playoffs, the ball bounces a certain way and you win a game this year that you might have lost before, or the other way around.
But it's true Jones has better advisers and is getting better advice.
"We're set up so that I can be a very good listener," Jerry said. "If someone has done the work and done their homework, I can respect their opinion and actually listen to them.''
He did so in the most written-about decision/non-decision of 2014, when those who understand the facts of the NFL Draft know that the
Dallas Cowboys
were never thisclose-drafting to selecting
Johnny Manziel
with their first pick.
But wait, you say - you thought Jerry being talked out of Manziel is WHY he deserves to be Exec of the Year? Read on.
First off, when a team wins twice as many games as most predicted, 1,000 links in the chain must stay linked and must go right. Look at 'em all (all the organizational "go-rights'' under the supervision of this GM): Romo's health handling. The signing of Mincey. The cheap trade for McClain. The selection of Hitchens. The guidance of Dez. The coach-'em-up of Wilcox, Crawford, Tyron, Terrance, Beasley, Frederick ... and on and on.
But outsiders keep coming back to one crazy link: Manziel.
The Cowboys certainly considered the
Texas A&M
sensation at some point before their turn came around to the No. 16 overall pick in last spring's NFL Draft. ... but the consideration never made it to Draft Day, never made it to the war room, never made it to New York.
Not even close.
Manziel was not a on-the-clock consideration for Dallas, which thanks to personnel boss McClay's stewardship worked to avoid the confusion of the spring before, when Jones' Cowboys clearly allowed themselves to be embarrassed by indecision regarding highly-ranked (but oddly passed-over) first-round defensive tackle Shariff Floyd.
But according to myth, there was so much drama beyond the simple decisions I lay out above that it took team COO Stephen Jones to physically accost his father, Jerry, to prevent the owner from "scribbling the name of Johnny Manziel on the draft card.''
Typical reaction in the aftermath,
from Deadspin:
"It appears that Jerry Jones is still operating the Dallas Cowboys by following the "Drunk Uncle" school of management. Which is to say, his own children still need to physically prevent him from making franchise-altering decisions on the fly. ... Jerry Jones is just too old and too rich to really give a shit about anything anymore.''
I fear it is too late -- even now that it's all worked, Zack Martin is an All-Pro, Jerry is the Exec of the Year and Dallas is 12-4 -- to point out to the uninitiated that ...
*There are no "draft cards'' in the Valley Ranch war room where Jerry and Stephen oversee the selection process along with McClay and Garrett. There are computers, notepads and magnetized nametags. There are no "draft cards.''
*The "draft card'' is actually in New York, where each of the 32 teams have representatives who carry their card with their selected player's name on it up to the commissioner for him to announce. The Cowboys' rep is Robert Blackwell, a long-time Cowboys employee who is not in possession of a "Beam Me Up, Scotty'' transporter that would present him with a card delivered straight from Jerry's outstretched arm.
*There was no wrasslin' match. By virtue of our live coverage on the draft on the official station of the Cowboys, 105.3 The Fan, I am able to watch the WarRoomCam at times even when the telecast is not being shared with ESPN and NFL Network.
I watched -- along with Bryan Broaddus, Shan Shariff and others -- as Jerry and Stephen and others talked through the process of the No. 16 pick. There seemed to be some disappointment over Ryan Shazier going off the board, for sure. And then we are quite sure we saw Jerry mouth the words, "So it's Martin.''
And then it was. The cogs churned into motion. Jerry relaying the decision to scouting staffer Chris Hall in a Valley Ranch office adjacent to the war room. Hall immediately barking "Zack Martin'' to Blackwell in New York. And as it was explained to me long ago, Blackwell having two cards in front of him. The first, suddenly worthless one, read, "Ryan Shazier.'' The second one said "Zack Martin.''
Blackwell handed the card to the front of the room.
End of story, except for story-teller Jerry, who I think enjoys connecting the Cowboys brand to the what-if of Manziel, even as the controversial toils for the team that eventually did pick him, the
Cleveland Browns
.
Oh. Meaning it really goes back to Jerry having told the media that he was "thisclose'' to picking Manziel ... which, except for the fact that the Cowboys had Shazier and Martin ranked as superior choices, might have some nugget of truth to it.
Depending how close "thisclose'' is supposed to mean.
One retelling of the tale reads, using imaginary prose, "I could just see Jones grabbing Manziel with the 16th choice of the first round. ... I knew that Jones' hands were shaking when the Cowboys went on the clock with Manziel still on the board. I could envision Jones scribbling the name of Johnny Manziel on the draft card.''
And that's what's actually happened here. Somebody listened to Jerry's figurative "card talk'' and "envisioned'' a tall tale. ... and the tale caught fire because it fits the meme of Idiot Jerry Who Must Be Beated With A Pillowcase Full of Oranges To Get Him To Listen.
Jerry, back in the fall, added another level of clarification to the bogus angle on 105.3 The Fan with "Shan & RJ.''
"Figuratively speaking, it got close to that," said Jones. "It certainly was a big debate going on, if no place else other than my mind."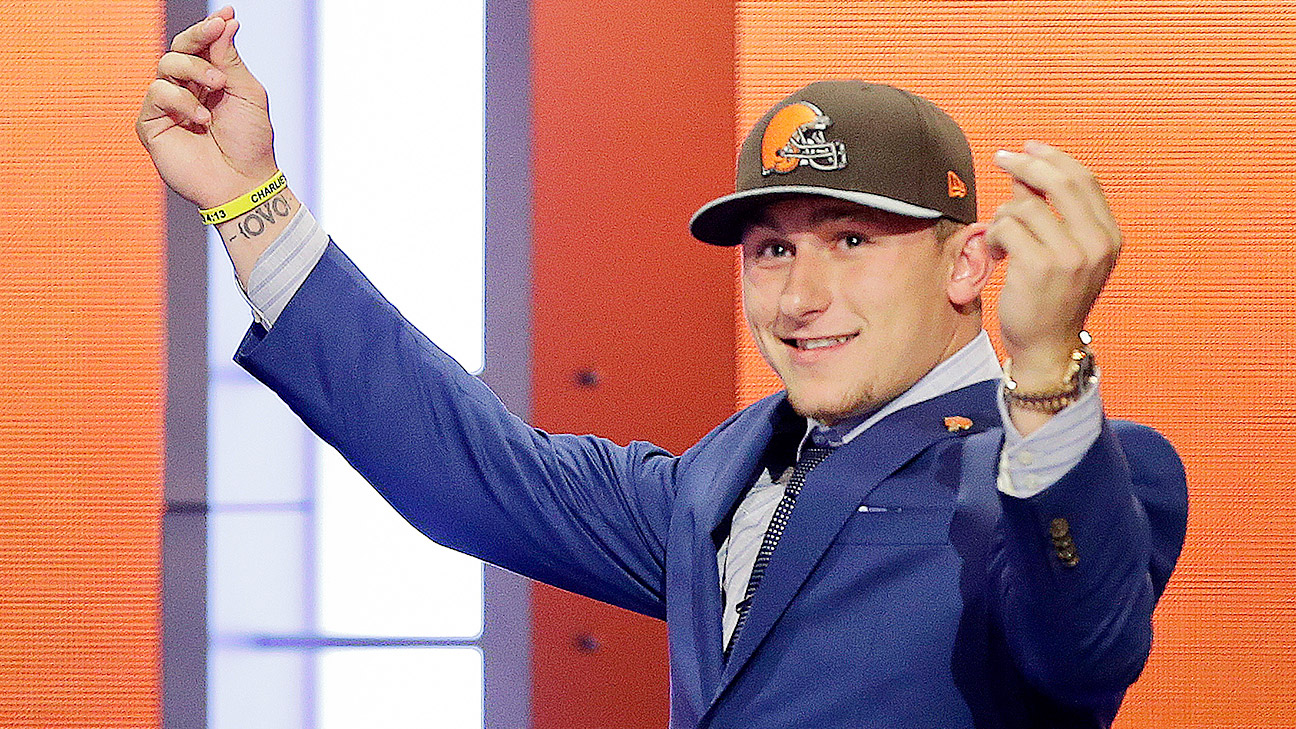 Yes. In his fantasy/Jerry Poppins/marketing mind. But in reality, there was never going to be a Manziel-to-the-Cowboys in the minds of the football people. Jerry knows this. Jokes about this. And now, because of the way the organization is structured, can polish his trophy and frame his cornerstone contracts and allow what he's building be based on real accomplishments instead of mythical memes.
Blame Game
The Cowboys have effectively put "The Overturn'' behind them. Heck, they don't even want an apology, Jerry Jones noting, "There's no consolation. … That's just a little bit like throwing dirt in your face, or salt on your wound.''
No dirt. No salt. No blaming of the refs for the Dez non-catch call. Blame the Cowboys, because that's who they blame for the 26-21 loss in Ice Bowl II. ... and
the Cowboys franchise will be better, stronger, for having done so. We explain here.
Cowboys and DeMarco
"I'm not worried about my future,' DeMarco Murray said on Monday. "I just lost a big game, the biggest game of my life.''
Understood. Shortly, though, the future will be here. And Cowboys standout Murray quite likely will not be. Our
in-depth breakdown of the Cowboys and DeMarco and A Future Outside Of Dallas.
Dez vs. DeMarco?!
By the way, if you are falling for
this "Dez vs. DeMarco thing'' in terms of the Cowboys having to choose one or the other, you've got it all wrong. We explain that here.
Fish's Cowboys Cap Primer
"Fish's Cowboys Cap Primer'' makes it clear the Cowboys can do ANYTHING they want - even carve out $49 million worth of room. Dez. DeMarco. Suh. Anybody. Anything.
"Yes, yes we can (be players in free agency),'' Jerry confirmed. ""We're in a lot better shape under the cap than we've been at any time over the last two or three years. That's good."
That doesn't mean they will spend; it means they can, and if you want an education on it all, dig in to this link.
"Fish's Cowboys Cap Primer'' ... already duplicated and "borrowed-from,'' but we do it on CowboysHQ.com Boards without "slideshows'' and with updated contributions from you, the reader, and with the guidance of the Cowboys front office itself.
Tips, Tendencies and Tells
Do we know what the Cowboys will do in the draft about 100 days from now? Yes, we do, in a sense, based on what
we've discovered in "The Cowboys Draft: 6 Tendencies And Tells.''
Fascinating work by KD here.
Onside kicks
Don't confuse the importance of the running GAME with the importance of the running BACK. ... Paper suggests "Callahan, now with the Redskins, might've been best coach on Cowboys staff.'' How, exactly, does one measure that? How does one know? And even if one could "measure'' and "know,'' what if the writer is unaware than Callahan was in conflict with his boss for the last 12 months and didn't wish to be here anymore, thereby making "measuring'' and "knowing'' immaterial? ... The phrase "deflated balls'' sounds so silly. And the Patriots know that. And they are using that silliness in their favor in their non-defense of having broken the rules. Allegedly. Alert me, please, when Belichick actually denies the Patriots were using deflated footballs during the AFC title game against the Colts. ... Don't get too feather-ruffled over Jerry's promise regarding Mo Claiborne's future here. Dallas has until May 3 to decide whether to pick up his option. Stay tuned.
Romo Recap
"I just believe it so much in my heart that Tony Romo's greatest traits are his physical and mental toughness," coach Jason Garrett said. "All the great players in this league have those traits. Tony certainly exhibits them week-in and week-out. ... he's just a helluva football player.''
Review
Tony Romo's milestones in 2014 - living up to his "best version of myself'' prediction -- here on CowboysHQ.com.
The Final Word
If you're going to borrow an idea, why not borrow from the best?
KD's look at Dallas' future as a "running-back-by-committee team'' - and now it works for the Patriots. ... and tons of other RB concepts here, too.