The Big Lead: Gameday!
As we ready for the noon kickoff (with
me joining Brad Sham and Babe Laufenberg on the pregame, which starts at 9 a.m., on 105.3 The Fan)
, we ready you here with CowboysHQ.com GameDay Huddle-Up ... and rely on the help of our Jordan Ross to build a case for Dallas' four-step chances here ...
The Cowboys arrived in Green Bay on Saturday and before going to the hotel checked out Lambeau Field. It's a smart move by coach Jason Garrett designed to remove some of the "mystique'' of the place a day in advance. (Photo courtesey FOX11). ... and I'm told the entire visit lasted nine minutes.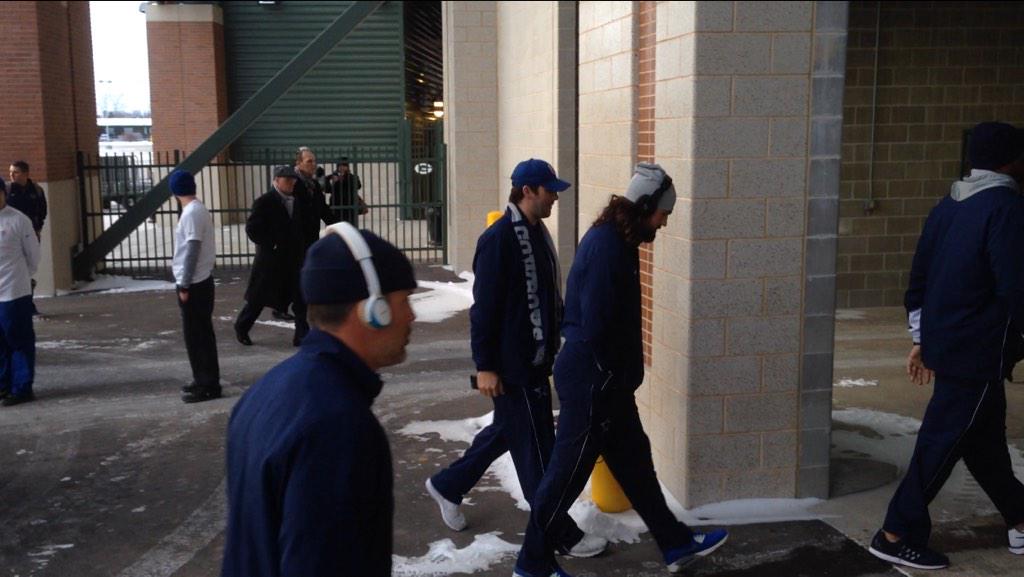 But, says Jeremy Mincey, the Cowboys already understand the nature of this playoff-game business trip.
"We're not going there for a history lesson," Mincey said. "We're going there to play some football.''
Indeed, Dallas' trips this year have already made this a special season for a 13-4 team most experts thought would win half that many games. And those trips are among the Four Trends that suggest an opportunity for a Cowboys upset of the Packers on Sunday.
1. The Cowboys are just the sixth team in NFL history to go 8-0 on the road.
Green Bay is 8-0 at home.
Which matters more?
There have been six teams since 2012 alone that have gone 8-0 at home. When you are a road power, history smiles on you. Five of the previous teams who were undefeated on the road ended up making it to the Conference Championship Game, while four of them made it to the Super Bowl.
2. The Cowboys believe in momentum
... and though it's counter-intuitive, recent history favors teams that win a playoff game while their upcoming foe sits.
Dallas performed throughout December as if all four of those games were of playoff-level importance, and went 4-0, outscoring opponents by an average of 18 points and averaging more point in that month than any team in NFL history. Dallas landed a berth in the Wild-Card Round and beat Detroit while the Packers rested and watched and waited, and get this: Six of the last nine Super Bowl champs played in the Wild-Card Round of the playoffs.
In short, maybe you don't need rest ... to be the best.
3. The Cowboys have the NFL's leading rusher
in DeMarco Murray and this year averaged 147 rushing yards per game, second-best in the league. They will unleash this edge behind an offensive line featuring a trio of All-Pro blockers who have combined to lessen the demands on QB
In the end,
Tony Romo
to be Houdini.
Meanwhile, while the Packers' run defense has improved in recent weeks, it spent the year as a bottom-10-ranked group for the season. When Murray has faced a bottom-10 run D, he's rushed for 100 yards each time ... And Dallas has won each time.
4. But what about the weather here in Green Bay, expected to hover just under 20 degrees at gametime? Surely that represents a home-team advantage.
You would think so. Yet when Murray plays a cold-weather game (sub-32 degrees) he's got 32 carries for 232 yards, a yards-per-carry average of 7.25. The Cowboys have wins in the chilly climes of New York, Philadelphia, Chicago and Washington this year ...
And shockingly, in the coach Mike McCarthy era, the Packers aren't especially good in cold weather, anyway.
When McCarthy's Packers play at Lambeau in sub-20-degree weather, their record is a stunningly mediocre 5-4-1.
There is no way to discount the overall excellence of quarterback Aaron Rodgers and his Packers; in their seven games against defensive coordinator Rod Marinelli when the now-Dallas coach ran the Bears D, Rodgers had a 6-1 record and a 101.5 passer rating.
The MVP candidate Rodgers has a calf injury and yet the Packers are a justifiable 6.5-point favorites on Sunday.
But when
Dallas Cowboys
coach Jason Garrett says, 'I believe we're built for this kind of game. No question about that" ... There are reasons -- at least four of them -- to not discount that sentiment as well.
Gameplan items
*Dallas' defense can't, won't, go exotic against Aaron Rodgers with blitzes. The Cowboys need to test his bad calf with pressure ... but he'll carve up your blitz and Dallas doesn't do much blitzing, anyway. The Cowboys need to get pressure with their front four.
*Related to that: Rodgers health is another of the many reasons for this to be a game in which Eddie Lacy is the Green Bay focal point. And again, can Dallas clog him up without devoting too many extra bodies to doing so? The presence (and health) of Rolando McClain is pivotal here.
*Is this a two-tight end day for Dallas? Green Bay's base defense is its least effective group, and the Cowboys have confidence in their 12 Personnel. ... especially because while they can obviously throw out of it, that extra tight end adds muscle to the DeMarco Murray-led running game.
*Scott Linehan will move Dez Bryant around on offense and there might be something else up Dallas' passing-game sleeve: The bubble screen, with a mini-package featuring Lance Dunbar and another featuring Cole Beasley.
*Rodgers hasn't thrown an interception in his last 477 passes at home, dating to 2012. Green Bay turned the ball over just 13 times this year, tied for tops in the league. Meanwhile, he Cowboys defense has 15 takeaways in the last five games, has recorded a takeaway in 16 straight games, was second in the NFL with 31, and was first in the NFL in percentage of drives halted with the takeaway, at 17 percent.
"That's what we've stressed maybe more than anything else," coach Jason Garrett says. "The opportunities an offense gets when you're taking the football away, it's unbelievable. You've changed field position. You've given them chances to score points. This one statistic — taking the ball away, turnover ratio — correlates to scoring points and winning ballgames more than any other."
And the conflict between the two aforementioned trends -- Green Bay's ball protection vs. Dallas' ball-hawking -- figures to be the difference today.
Orange sweaters
Gov. Chris Christie has Jerry Jones convinced that his orange-sweatered presence at Cowboys game provides "mojo.'' But this week, the governor will do so by providing his own transportation to the game.
"Not wanting to risk breaking the team's 5-0 streak by messing with karma, Governor Christie, his orange sweater and his son Andrew will all travel to Lambeau Field this weekend to attend the game against the Green Bay Packers," Christie's spokesman, Michael Drewniak, said in a statement, via the Associated Press. "The Governor will be paying for travel and tickets for himself, his sweater and his son to make sure we keep silliness out of the football season."
It's really not all that silly to wonder whether influencial politicians should accept expensive gifts from powerful billionaires. But that's a problem for the good people of New Jersey, not for the good fans of the Cowboys.
Onside Kicks
Keep it here on CowboysHQ as we will keep you posted in a variety of ways from inside your team ... Here on the HOME page, and here on CowboysHQ Discussion Boards Thanks for joining us! ... We've got Jerry Jones a-talkin' and the very latest on Cowboys injuries here ... You want Cowboys podcasts? We've got Cowboys podcasts, this week featuring Sports Illustrated's Aaron Nagler. Go to CowboysHQ.com News Archives and type in "podcast'' in the search box and dig in! a Cowboys Insider with Premium coverage? Click here to take our free 7-day trial and then for 10 cents a day, you are among the most informed Cowboys followers on the planet! ... Take our 7-day free trial and come inside! ...


much, much more in Mark Lane's "Cowboys 100.''

KD's Advanced Stats Notebook

Coming down the stretch of the season, both the Dallas Cowboys and the Green Bay Packers had plenty to play for. The Packers entered December 9-3, with a one-game NFC North lead over the Detroit Lions, however had lost the first matchup between the teams and would have to face them again in the final four games.

Dallas on the other hand, entered the month 8-4 and a game behind the Philadelphia Eagles. They, too, had lost the first matchup with the rematch coming in the final four games of the season. Dallas was on the outside of the playoffs looking in. The sixth best team, by virtue of tiebreakers, fighting for five playoff berths (with the NFC South winner destined to be below .500 but still getting an automatic bid).

With the screws tightening on both teams, and having something to play for through the final game of the season, comparing the performances of the two foes from this Sunday's Divisional Round makes perfect sense. Weighting the performances from later in the year gives a much better glimpse into the potential matchup then worrying about how Dallas did against San Francisco, or the Packers against Seattle way back in Week One.

For this week, the Advanced Stats Notebook will focus on the teams' accomplishments during roughly the last quarter of the season. We know that both teams sit atop the rankings for EPA, Passer Rating Differential, ANY/A Differential… we've been tracking those all season. For a recap, check out last week's Notebook that closed the book on the regular season.

The schedule of both teams match up rather well. Both teams played home games against the Detroit Lions, and both played home games against an AFC division winner (New England and Indianapolis). Both teams also faced one very good opponent that just missed the playoffs (Buffalo and Philadelphia) and both teams faced two bottom-tier teams (Chicago and Washington for Dallas, Tampa Bay and Atlanta for Green Bay). In essence, the two schedules were as identical as one could hope for, giving us the perfect opportunity to compare performances down the stretch.
Drive Alives
Instead of using the standard measurement of third down conversions, shouldn't fourth down conversions be included? If you choose to go for it on fourth, after failing to convert a third down, the drive still continues. Isn't that ability what we try to capture with the third down conversion percentage stat? A team is given four downs to gain 10 yards before they have to give the ball back to the other team. IF that opportunity is converted on third or fourth down, that is still one opportunity converted. As such, all converted fourth downs have been added to converted third downs, on the same number of attempts, to better represent a team's ability to keep drives alive. The number of attempts is not added.
Games
Cowboys
Packers
Made
Attempt
4D Conversions
Made
Attempt
4D Conversions
Bears
9
14
2/2
Patriots
7
12
0/0
Eagles
5
13
0/0
Falcons
4
14
0/0
Colts
5
10
0/0
Bills
6
13
0/0
Washington
4
12
0/0
Bucs
8
13
0/0
Lions
8
14
2/2
Lions
n/a
n/a
n/a
Made
Attempt
Percentage
MADE
Attempt
Percentage
Total
31
63
49%
25
52
48%
In their last five games, both teams are hovering around the 50% mark in keeping Drives Alive. The Packers have the slightest of edges, 51% - 49%.
Drives Deaded
On the flip side of Drive Alives, there are Drives Deaded… the ability to shut down an opponent's drive on those crucial downs. After giving up three for three fourth down conversions to Chicago in their blowout victory, Dallas has clamped down, leaving opponents 0/4, for a total of 3 for 7 over the last five games. Meanwhile, the Packers are giving up fourth down conversions on a steady basis, 6 out of 8 attempts were successful over the last five contests.
Games
Cowboys
Packers
Made
Attempt
4D Conversions
Made
Attempt
4D Conversions
Bears
5
10
3/3
Patriots
5
10
1/1
Eagles
5
11
0/0
Falcons
8
11
3/3
Colts
5
13
0/1
Bills
4
16
0/0
Washington
4
12
0/2
Bucs
5
14
1/1
Lions
4
11
0/1
Lions
5
11
1/3
Made
Attempt
Percentage
Made
Attempt
Percentage
Total
23
57
40%
27
62
44%
Toxic Differentials
Toxic Differential is a metric that started with Super Bowl winning head coach Brian Billick when he was the offensive coordinator during the Randy Moss era in Minnesota. It's used to measure a team's ability to create and prevent both turnovers and explosive plays. Toxic Differential is calculated by adding together a team's turnover differential (takeaways - giveaways) and its big play differential (big plays for - big plays against). Various sites have various definitions for what constitutes a big play. Our standard of measurement will be runs over 12 yards, and pass plays over 20 yards. As SportingCharts says, "Over the last 10+ seasons, a majority of teams that have won the Super Bowl finished the regular season in the Top 10 for Toxic Differential."
TURNOVER DIFFERENTIAL
Games
Cowboys
Packers
FOR
AGAINST
MARGIN
FOR
AGAINST
MARGIN
Bears
2
0
2
Pats
0
0
0
Eagles
3
1
2
Falcons
1
0
1
Colts
3
1
2
Bills
1
2
-1
Washington
4
1
3
Bucs
1
1
0
Lions
3
1
2
Lions
1
2
-1
Total
15
4
11
4
5
-1
BIG PLAYS – PASSING GAME
Games
Cowboys
Packers
FOR
AGAINST
MARGIN
FOR
AGAINST
MARGIN
Bears
2
4
-2
Pats
6
3
3
Eagles
5
3
2
Falcons
5
5
0
Colts
5
2
3
Bills
2
3
-1
Washington
3
2
1
Bucs
4
5
-1
Lions
3
3
0
Lions
3
4
-1
Total
18
14
4
20
20
0
BIG PLAYS – RUNNING GAME
Games
Cowboys
Packers
FOR
AGAINST
MARGIN
FOR
AGAINST
MARGIN
Bears
4
1
3
Pats
5
4
1
Eagles
3
1
2
Falcons
6
3
3
Colts
4
0
4
Bills
7
3
4
Washington
2
3
-1
Bucs
4
0
4
Lions
2
2
0
Lions
4
5
-1
Total
15
7
8
26
15
11
The common narrative on why Dallas has a very good chance of pulling the upset in Green Bay is that their running game is built for the cold weather. However, the Big Play metrics from the last 5 games tells a different story. The team with the league's leading rusher is far behind their opponent in explosive running plays. Eddie Lacy has been on a tear, and in cold weather, tackling is often times questionable. On the other hand, Dallas' Big Play Differential, when looking at both passing and rushing, for and against, is better than the Packers. The Packers Defense gives up a fair share of big plays to their opponents. More than a fair share, actually.
When combined with Dallas' dominating turnover differential strength over the last 5 games, the picture for the Toxic Differential advantage comes clear into focus.
In the regular season as a whole, Green Bay was third in the league in Toxic Differential with +37, well ahead of Dallas' +23 which was good for 8th. But over the last 5 games including the Wild Card, Dallas is +23, while the Pack are only +10. Advantage, Dallas.
Green Zone Productivity
Everyone is familiar with the Red Zone; the portion of the field that lies inside the opponent's 20 yard line. Barring a turnover (interception, fumble or downs) or a botched field goal, a team is guaranteed to come away with points if they enter an opponent's Red Zone. The key is how often those points are the result of a touchdown or a field goal. The Green Zone extends that portion of the field out to the opponent's 40 yard line. The 40 is generally the marker where coaches have to make the decision to go for it on fourth down, as it is right outside of "comfortable" field goal range. As such, it is a much better indicator of the congregation of several factors that come into play when defining an offense. The field is still open enough to be stretched, the cajona-levels of a coaching staff come into play and of course, player execution. Here's a look at how each team has done in the Green Zone over their last 5 games.
Dallas' Green Zone Conversion percentage has been outstanding over the last five contests. They score a touchdown 63% of the time, and put points on the board nearly 9 of every 10 trips. That's amazing efficiency. On the other side of the ball, they've been just as outstanding in keeping points off the board. Dallas, 2nd in the league in turnovers on the season, has forced a turnover 27% of the time they've allowed an opponent inside the 40. They've only given up a touchdown on 48% of those drives.
Cowboys Offense
Game
Times Entered
Touchdowns
Field Made/Att
4th Downs
Turnovers
Punt
Bears
8
5
2/2
2/2
0
1
Eagles
6
5
1/1
0/0
0
0
Colts
6
5
0/0
1
0
Washington
6
2
3/3
0/0
0
1
Lions
4
2
1/2
1/1
0
0
Totals
30
19
7/8
3
1
2
By contrast, Green Bay's offense in the Green Zone hasn't been anywhere near Dallas'. They've only scored 10 touchdowns on the same number of trips, and missed four field goals. They've also turned the ball over four times.
Packers Offense
Game
Times Entered
Touchdowns
Field Made/Att
4th Downs
Turnovers
Punt
Patriots
6
1
4/5
0/0
0
0
Falcons
7
4
3/3
0/0
0
0
Bills
5
1
2/3
0/0
1
0
Bucs
6
1
2/3
0/1
1
0
Lions
6
3
0/1
0/1
2
0
Totals
30
10
11/15
0/2
4
0
Defensively, the turnovers created by Dallas and the ones given up by Green Bay give a lot of hope. For a bend but don't break defense, these numbers are paramount. If Dallas can avoid giving up the big play to Green Bay, they have shown a propensity to force a turnover once the field shrinks. Better yet, the Packers have shown the propensity to give up the ball after crossing midfield.
Cowboys Defense
Game
Times Entered
Touchdowns
Field Made/Att
4th Downs
Turnovers
Punt
End of Half/Game
Bears
5
4
0/0
3/3
1
0
Eagles
5
3
2/2
0/0
0
0
Colts
2
1
0/0
0/1
1
0
1
Washington
6
1
1/1
0/2
4
0
Lions
3
1
2/2
0/0
0
0
Totals
21
10
5
3/6
6
0
On the flip side, the Packers have show a similar ability to keep opponent's out of the end zone once they've breached the 40. The one advantage Dallas shows is the ability to turnover the opponent at a higher rate.
Packers Defense
Game
Times Entered
Touchdowns
Field Made/Att
4th Downs
Turnovers
Punt
End of Half/Game
Patriots
4
3
0/1
0/0
0
0
Falcons
7
5
1/2
2/2
0
0
Bills
4
4/4
0/0
0
0
Bucs
1
0
1/1
0/0
0
0
Lions
6
3
0/0
0/2
2
1
Totals
22
11
6/8
2/4
2
1
DVOA is Football Outsiders proprietary metric that stands for Defense-Adjusted Value Over Average. It basically measures how much better a team (or player) is than the average team (or player) against the same opponent in the same game situations. Weighted DVOA puts more weight on the team's recent performance, rather than weighing all games equally.
Dallas' W-DVOA surged down the stretch. As the season moved along, Week 1 became less and less influential in describing the team that is playing now. That game's DVOA is now "weighted" at only 9%, While Weeks 14-17 are weighted at a full 100%.
Heading into December, Green Bay's Weighted DVOA was dominating Dallas' 25.9% to just 5.9%. The Mean Wins expected out of the two teams had Green Bay a game and a half better with just four to play, 11.6 to 10.0. As they finished with the same final record, and with weighted DVOA's in the same neighborhood, the contest looks much more competitive than it did back then.
Standard Statistics
Dallas Cowboys
| | Off Yds / G | Off Pts / G | Def Yds / G | Def Pts / G |
| --- | --- | --- | --- | --- |
| Total | 383.6 | 29.2 | 355.1 | 22 |
| Rank | 7th | 5th | 19th | 15th |
Green Bay Packers
| | Off Yds / G | Off Pts / G | Def Yds / G | Def Pts / G |
| --- | --- | --- | --- | --- |
| Total | 386.1 | 30.4 | 346.4 | 21.8 |
| Rank | 6th | 1st | 15th | 13th |
Summary
Numbers never lie, but stats should never be looked at as an surefire predictor of how a game will play out. They simply provide a likely narrative for its outcome. Many times, a game could go in an entirely different direction, but when grouped into a season-long, or even periodic metric, the one game is seen as an outlier.
Overall though, these metrics seem to show that Dallas is playing at a higher level than Green Bay over the last five games for each team. While Green Bay is doing a slightly better job keeping their offensive drives alive, Dallas is slightly better at getting off the field on defense. The differences are miniscule. While Dallas has the advantage in Big Passing Play Differential, Green Bay owns it in Big Rushing Play. The key to the Toxic Differential is Dallas' dominating Turnover advantage. That's thanks to both holding onto the ball better and forcing the opponent to give up the rock. Finally, Dallas has performed much better than Green Bay once they cross into the Green Zone, or once their opponent has. They score touchdowns at almost a two-to-one ratio more than Green Bay, and do a better job at keeping points off the board once their opponent's have breached.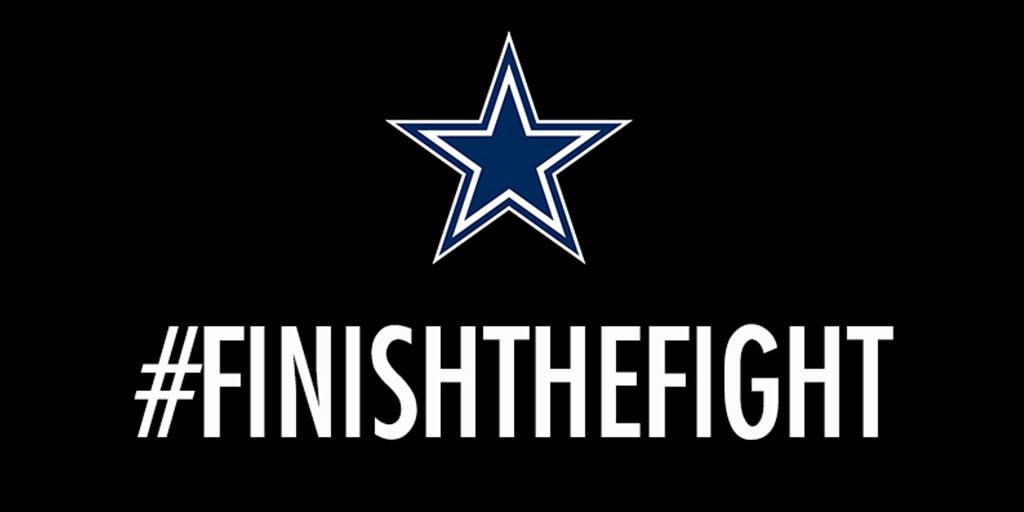 Do these things guarantee a win? Of course not. They do, however, lay out the groundwork for what could be an upset in Lambeau Field. ... a chance, certainly, to Finish The Fight.


The Final Word
"I'll tell you, right now, from what I've seen this year – just talking about this year – I'd probably take Romo. I've seen him make too many plays when he's had to make them this year and he's made them." - Troy Aikman, to USAToday, on which of this weekend's QB he prefers.