SERIES FACTS
The
Dallas Cowboys
are 3-0 against the Titans franchise in the month of September. Where Dallas earned those wins – Texas Stadium (two) and the Astrodome (one) – are no longer active NFL venues.
The Cowboys are 60-63-1 since 1964 in their road blues, including playoffs. 1964 is the year Tex Schramm made Dallas wear white at home and gave us the color scheme still used today.
This is only the third time in the series that the Oilers/Titans have forced Dallas to wear their "cursed blues" on the road ('74, '82). Dallas is 2-0.
Since 2010, the
Tennessee Titans
are 5-2 when wearing their white uniforms at home.
The Cowboys are 1-1 at LP Field. The Cowboys were 3-1 at the Astrodome, one of the Titans franchise's previous home venues.
The Titans are 1-1 against the Cowboys at LP Field. Here is their record against the rest of the NFC East at home:
New York Giants
: 2-0
Philadelphia Eagles
: 2-0
Washington Redskins
: 0-2
Since Week 16 of last season, the Titans have forced eight turnovers. Comparatively, Dallas has forced only two in the same span.
Also since last year's penultimate game, Tennessee has been +6 in the turnover differential while the Cowboys have been -7.
As the Tennessee Titans, the franchise yet to have a two-game winning streak against the Dallas Cowboys. As the Houston Oilers, the franchise had a two-game winning streak against the Cowboys from 1988-91.
The Titans are 5-3 against the NFC East at LP Field. In opening games against the NFC East, when that division in on their schedule, Tennessee is 3-1. That lone loss is to the Dallas Cowboys.
Dallas, despite being located in the Central Time zone, is 7-13 when playing on the road in their home time zone.
Since 1960, the Cowboys have qualified for the playoffs 5/17 of the years they have lost on Opening Day. Only one of those five losses – 2003 – occurred at home.
Since 1960, the Titans have qualified for the postseason 11/28 times after winning on Opening Day.
Last week's 28-17 loss to the 49ers saw Dallas commit four turnovers, tied for second-most turnovers in franchise Opening Day history.
Against the
Kansas City Chiefs
last week, the Titans won 26-10. The 16-point victory margin was eight-best in franchise history for Opening Day.
Tony Romo FACTS
The last Cowboys quarterback to throw for three interceptions on Opening Day was 34-year-old Drew Bledose in Jacksonville in 2006.
Last week's three interceptions puts Romo into a category with Drew Bledsoe, Troy Aikman, and Eddie LeBaron as the only Dallas quarterbacks to throw for three picks on Opening Day.
Coming off of 3-INT games, Romo has a 92.1 passer rating and a 4-5 record. His average stats are 25/36 for 254 yards, two touchdowns, and one interception.
The highest passer rating Romo has had coming off of a 3-INT game is 113.7, which he achieved on 12/14/08 in a 20-8 victory over the New York Giants.
Tony Romo is 8-4 when wearing the blue jerseys with a 104.2 passer rating. His average stats are 21/31 for 285.5 yards, two touchdowns, and one interception.
Romo's 8-4 record in blue jerseys is the highest winning percentage among Cowboys quarterbacks since the jersey's inception in 1964. Here is how other Cowboys QB's rank:
Tony Romo: 8-4
Roger Staubach: 9-7
Danny White: 12-10
Don Meredith: 6-5-1
Steve Pelluer: 3-3
Craig Morton: 3-4
Troy Aikman: 10-14
Steve Pelluer: 3-3
Drew Bledsoe: 1-3
Quincy Carter: 1-5
Steve Walsh: 1-0
Jason Garrett
: 1-0
Glenn Carano: 1-0
Kevin Sweeney: 1-0
Vinny Testaverde
: 1-0
Randall Cunningham: 1-1
Gary Hogeboom: 0-3
John Roach: 0-1
Anthony Wright: 0-1
Chad Hutchinson: 0-1
Brad Johnson
: 0-1
Romo is 2-1 against the AFC South, having beaten the Colts ('06), Texans ('10) yet lost to the Titans ('10). The Jaguars are the only team he has yet face.
This is the 25th active NFL venue Tony Romo will play in. He has yet to play in EverBank Field, Edward Jones Dome, Lucas Oil Stadium, O.co Coliseum, TCF Bank Stadium, and Levi Stadium.
Since 2006, the Dallas Cowboys have had six different starting quarterbacks. In the same span, the Tennessee Titans have only had five different starting quarterbacks.
Jake Locker FACTS
Jake Locker is only the fifth quarterback the Oilers/Titans have taken in the first round since the team's 1960 inception. Overall, the Oilers/Titans have selected 28 QB's in the draft.
Locker has a 9-10 record. This is the best record for a 2011 first round quarterback through their first 19 games. Only
Colin Kaepernick
's 13-6 record is the best among quarterbacks from the 2011 draft class.
Locker's 9-10 record ties Steve McNair for third-best 19-game start for a drafted Oilers/Titans quarterback. Only Cody Carlson and Vince Young had better records:
Vince Young: 12-7
Cody Carlson: 11-8
Steve McNair: 10-9
Jake Locker: 10-9
Locker is the 15th quarterback taken from the University of Washington. Interestingly, the Cowboys have drafted two of them (Steve Pelluer, '84;
Isaiah Stanback
, '07) and had another one play for them (Don Heinrich, 1960).
Locker has a 2-2 record against the NFC as a starter.
Locker has faced 4-3 fronts eight times and started against them only five times, compiling a 3-2 record and an 84.8 passer rating. On average, he goes 13/24 for 191 yards, one touchdown, and one touchdown per game against 4-3 fronts.
It took Locker 10 games to finally throw three interceptions in a game. Tony Romo did it before his first official start in 2006 when being inserted for Drew Bledsoe against the Giants.
TITANS OFFENSIVE FACTS
The Titans offense has a three-game streak of rushing for more than 100 yards going back to Week 16 of last season. In 2013, the Titans had two other streaks of three consecutive 100-yard rushing games.
The Titans had 243 passing yards last week. In 2013, the Titans only had two 300-yard passing games.
Tennessee running back Shonn Green hasn't had a 100-yard rushing day since 12/02/12 when he was with the
New York Jets
playing against the Arizona Cardinals with Ken Whisenhunt still as the head coach.
Since entering the league in 2012, wide receiver
Kendall Wright
has only had two 100-yard receiving games, both of which occurred last season.
As a rookie, wide receiver
Justin Hunter
compiled two 100-yard receiving games last season.
COWBOYS OFFENSIVE FACTS
Last week,
DeMarco Murray
became the first Cowboys running back to rush for 100 yards on Opening Day at home in a loss.
Murray had 5.36 yards per carry against the
San Francisco 49ers
last week. Dallas is 8-8 when Murray has a yards per carry of 5.00 or greater.
Last week, DeMarco Murray was the only running back in the NFL to have had all of his team's carries.
Against San Francisco,
Dez Bryant
had six targets. When he receives six targets or less, the Cowboys are 14-12.
Last week,
Terrance Williams
was targeted seven times, the third-most targets of his career. Additionally, he caught four of those passes, which is the third-most catches of his career.
Terrance Williams has six touchdown catches on his career, which is second-most behind San Diego's
Keenan Allen
's eight.
Jason Witten
has seven catches for 103 yards and a touchdown in two games against the Tennessee Titans.
KEN WHISENHUNT FACTS
Ken Whisenhunt is 3-0 against the Cowboys from his time as the Arizona Cardinals' head coach. Here is how other Titans franchise coaches have done against Dallas:
Wally Lemm: 0-1
Sid Gillman: 0-1
Bum Phillips: 1-0
Ed Biles: 0-1
Hugh Campbell: 0-1
Jerry Glanville: 1-0
Jack Pardee: 1-1
Jeff Fisher
: 3-2
Whisenhunt is 3-0 against the Dallas Cowboys. The only other NFL coaches to have started their careers at 3-0 or greater against the Cowboys were Wally Lemm (Cardinals), Joe Kuharich (Eagles), Tony Dungy (Bucs-Colts), George Allen (Rams-Redskins), Paul Brown (Browns), Vince Lombardi (Packers) and Blanton Collier (Browns). Collier amassed seven wins against Dallas before suffering his first defeat.
As a coach, at any level, Whisenhunt is 5-0 against the Dallas Cowboys. His two other wins were as offensive coordinator of the Pittsburgh Steelers (2004-06) and San Diego Chargers (2013).
Whisenhunt is the third head coach of the Tennessee Titans. Since 1999, when the Oilers became the Titans, the Cowboys have had five different head coaches.
Ken Whisenhunt was in Arizona for six seasons. The average coaching tenure with the Titans/Oilers franchise is 3.3 seasons.
As a tight end for the Atlanta Falcons from 1985-88, Ken Whisenhunt was 1-1 playing against the Dallas Cowboys.
Whisenhunt is the second straight player-turned-coach the Cowboys will face.
JASON GARRETT FACTS
The Titans are one of two teams that Jason Garrett has not yet faced. Nonetheless, here is a list of how other Cowboys coaches have fared against the Titans franchise:
Tom Landry: 4-2
Jimmy Johnson: 0-1
Barry Switzer: 1-1
Dave Campo: 1-1
Bill Parcells: 1-0
Wade Phillips: 0-1
Garrett is 2-2 as a coach when his team wears their road blues. Garrett is 1-0 as a starter in the road blues, having defeated the Washington Redskins 31-10 on 10/04/98.
Garrett's 2-2 record when his team is wearing the "cursed blues" ranks him middle of pack with other Cowboys coaches:
Tom Landry: 37-33-1
Jimmy Johnson: 6-8
Barry Switzer: 3-5
Chan Gailey: 2-2
Dave Campo: 2-5
Bill Parcells: 3-7
Wade Phillips: 6-2
Jason Garrett: 2-2
Since 2011, Garrett is 1-2 in Week 2 games. All of them have been on the road.
Garrett's teams are 0-3 on the road in the Central Time zone, the same time zone Dallas is located.
Jason Garrett has yet to coach against the Tennessee Titans. In initial encounters, Garrett is 16-12 with a 6-7 record on the road.
Garrett has a 7-6 against the AFC.
BROADCAST FACTS
The Cowboys are 107-102 on FOX.
Joe Buck and Troy Aikman will again call a Cowboys game this week. Dallas is now 28-27 when this duo announces their games.
This will be the first time since Weeks 13-14 of 2010 that Buck and Aikman will have called a Cowboys game in back-to-back weeks. Dallas split that series, losing first to the Saints on Thanksgiving and then following up the next week with an overtime win in Indianapolis.
Buck and Aikman have only called one Titans game: a 12/11/11 contest where New Orleans defeated Tennessee 22-17.
The Oilers/Titans franchise is 24-15 on FOX.
Oilers/Titans-Cowboys has been broadcast on four networks: NBC ('70, '79, '88, '94, '97) CBS ('74, '85, '91, '02, '10), ABC ('82, '00), and FOX ('06).
FOX Sports' Dick Stockton is the only announcer to have called a Cowboys-Oilers contest (1974) and a Cowboys-Titans game (2006).
Dick Enberg has called the most Oilers/Titans-Cowboys games at four ('79, '88, '94, '97). He and Merlin Olsen were the only broadcast team to appear twice in the series ('79, '88).
Dallas is 12-15 in their road blues on FOX.
The Cowboys are 2-6 in their "cursed blues" when Joe Buck and Troy Aikman call the action.
WALT COLEMAN FACTS




Walt Coleman will be the referee for Sunday's game between Dallas and Tennessee. The Cowboys are 5-10 when Coleman officiates their games:

1999 – @WAS, 41-35 – W-OT
1999 – @MIN, 17-27 – L
2002 – @DET, 7-9 – L
2002 – @NYG, 7-37 – L
2003 – @CAR, 10-29 – L
2004 – @PHI, 7-12 – L
2006 – @NYG, 23-20 – W
2007 – MIN, 24-14 – W
2009 – @PHI, 20-16 – W
2010 – @GB, 7-45 – L
2011 – @NE, 16-20 – L
2011 – @Cardinals, 13-19 – L-OT
2012 – @PHI, 38-23 – W
2012 – NO, 34-31 – L
2013 – GB, 36-37 – L

Dallas has won the penalty battle 6/15 times under Coleman since 1999:

1999 – WAS: 8/45; DAL: 9/99
1999 – MIN: 12/95; DAL: 8/55
2002 – DET: 6/50; DAL: 7/70
2002 – NYG: 6/57; DAL: 7/55
2003 – CAR: 0/0; DAL: 2/11
2004 – PHI: 5/36; DAL: 6/35
2006 – NYG: 9/94; DAL: 7/58
2007 – MIN: 4/36; DAL: 4/22
2009 – PHI: 8/82; DAL: 11/70
2010 – GB: 2/20; DAL: 5/40
2011 – NE: 5/35; DAL: 10/77
2011 – AZ: 6/41; DAL: 7/49
2012 – PHI: 6/50; DAL: 13/75
2012 – NO: 6/42; DAL: 5/32
2013 – GB: 7/59; DAL: 7/79

Coleman has officiated 16 Tennessee Titans games since 1999 with the Titans having a 13-3 record. Here are the results:

1999 – JAX, 41-14 – W
2000 – @PIT, 23-20 – W
2000 – @PHI, 15-13 – W
2001 – GB, 26-20 – W
2002 – @CIN, 30-24 – W
2002 – @HTX, 13-3 – W
2003 – @CAR, 37-17 – W
2003 – TB, 33-13 – W
2005 – Ravens, 25-10 – W
2006 – @PHI, 31-13 – W
2007 – Colts – 17-22 – L
2008 – @JAX, 24-14 – W
2009 – HTX, 31-34 – L
2011 – @CAR, 30-3 – W
2012 – NYJ, 14-10 – W
2013 – @Colts, 14-22 – L

The Titans have won the penalty battle 10/16 times under Coleman:

1999 – JAX: 4/29; TEN: 4/33
2000 – PIT: 5/35; TEN: 3/25
2000 – PHI: 6/34; TEN: 1/5
2001 – GB: 4/30; TEN: 3/24
2002 – CIN: 9/81; TEN: 7/40
2002 – HTX: 7/53; TEN: 6/52
2003 – CAR: 5/45; TEN: 5/40
2003 – TB: 4/31; TEN: 4/50
2005 – Ravens: 10/73; TEN: 5/47
2006 – PHI: 8/64; TEN: 2/15
2007 – Colts: 5/44; TEN: 4/40
2008 – JAX: 9/61; TEN: 10/63
2009 – HTX: 6/40; TEN: 8/64
2011 – CAR: 12/99; TEN: 9/92
2012 – NYJ: 4/23; TEN: 14/111
2013 – Colts: 7/50; TEN: 6/74

Last week, Walt Coleman refereed the Patriots-Dolphins game, and Miami won 33-20. Here is how Coleman compared to the rest of his peers last season:

Tony Corrente: .813
Clete Blakeman: .688
Pete Morelli: .688
Jerome Boger: .733
Ed Hochuli: .625
Walt Anderson: .625
Gene Steratore: .625
Jeff Triplette: .625
Walt Coleman: .600
Bill Vinovich: .563
John Parry: .533
Scott Green: .533
Terry McAulay: .529
Bill Leavy: .438
Ron Winter: .400
Carl Cheffers: .375

Here is how Coleman fared in how many times the home team won the penalty battle:

Walt Anderson: .750
Scott Green: .633
Bill Vinovich: .625
Pete Morelli: .625
Gene Steratore: .563
Clete Blakeman: .563
Ed Hochuli: .563
Jerome Boger: .533
Bill Leavy: .500
Tony Corrente: .500
Jeff Triplette: .500
Walt Coleman: .467
Ron Winter: .467
Terry McAulay: .375
Carl Cheffers: .375
John Parry: .267

Since the formation of the AFC South in 2002, Coleman has only refereed two games inter-conference games between the NFC East and the AFC South:

2006 – Tennessee at Philadelphia – 31-13 Tennesseee
2010 – NY Giants at Houston – 34-10 NY Giants
Here are the penalty battle results:
2006 – TEN: 2/15; PHI: 8/64
2010 – NYG: 9/84; HTX: 8/67

Last week, Coleman had no booth reviews or coaches challenges. Last year, Coleman overturned 6/13 coaches challenges and 9/18 replay assistant challenges. In his 15 Dallas Cowboys games officiated, he has overturned 5/21 challenges: 2/10 on coaches challenges and 3/11 on replay assistant challenges. Dallas has been the beneficiary of 10/21 of those decisions.

Dallas is 0-3 since 1999 in blue jersey games that Walt Coleman has refereed.

The Tennessee Titans are 0-2 when wearing their white jerseys at home in games Walt Coleman has officiated.

MISCELLANOUS FACTS

Among the NFL's 32 teams, only the Buffalo Bills, Cincinnati Bengals, Baltimore Ravens, Kansas City Chiefs, Oakland Raiders, Minnesota Vikings, Chicago Bears, Detroit Lions, Green Bay Packers, and Seattle Seahawks have avoided making Dallas wear their road blues.

Since the blue jerseys inception in 1964, the Cowboys have only worn white the entire season on three occasions: 1972, 1975, and 2010.

In the past five games, the Dallas defense has only forced three turnovers. This is the lowest total over a five-game span since Weeks 13-17 of 2012 when Dallas only had four takeaways.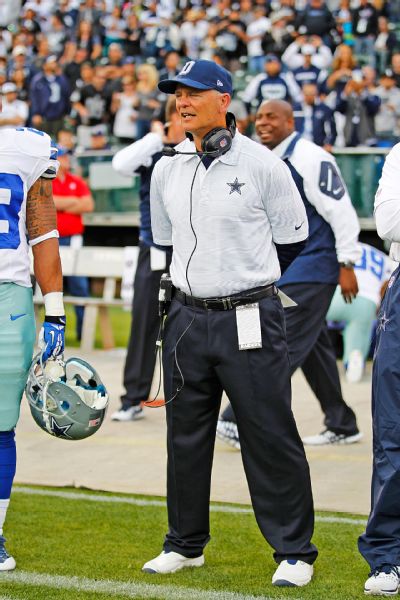 Out of his 50 games as Chicago's defensive coordinator, Rod Marinelli only had seven games where his defense didn't force a turnover. Only once did he have consecutive games without a turnover: Weeks 13-14 of 2010.

Bruce Carter recorded his first sack of the season last week. In 2013, he also recorded a sack on Opening Day and closed out with two for the whole year.

The last time cornerback Orlando Scandrick missed time was in 2012 during the final five games of the season. Dallas went 3-2 down the stretch, giving up 256 passing yards and a touchdown per game.

Dan Bailey is 11/15 (73.3%) on natural grass compared to 79/84 (94.0%) on artificial turf.

Bailey is 8/9 while wearing a road blue uniform.

Titans kicker Ryan Succop is 100/125 (80.0%) on natural grass compared to 23/26 (88.5%) on artificial turf. Succop is a career 8/8 at LP Field.

Tennessee punter Brett Kern has a 2-0 record against the Dallas Cowboys. In 2009, he was with the Broncos who defeated Dallas 16-10. The next season, he joined the Titans and took part of their 34-27 win at AT&T Stadium.

Titans backup quarterback Zach Mettenberger is just the 17th passer taken from LSU since 1940.

Tennessee cornerback Coty Sensabaugh is the cousin of former Cowboys safety Gerald Sensabaugh (2009-12).

Titans assistant offensive line coach Mike Sullivan was the Dallas Cowboys' 1991 sixth round draft choice. He never played a down for the Cowboys.

Ray Horton, Titans defensive coordinator, played for the Dallas Cowboys from 1989-92.

Titans strength and conditioning coach Steve Watterson has been with the franchise since 1986 when they were the Houston Oilers. His connection to the Cowboys is runningbacks coach Gary Brown, who played in Houston from 1991-95.

The Cowboys and the Titans are the only teams in the past two seasons to have taken offensive linemen in the first round in consecutive drafts.

Dallas took Texas defensive tackle Scott Appleton with their first round pick in the 1964 NFL Draft, as did the Houston Oilers in the AFL Draft. Appleton chose the Oilers over the Cowboys and went on to play five seasons in the AFL for Houston (1964-66) and San Diego (1967-68).

Since 1989, the Tennessee Titans/Houston Oilers have taken four offensive linemen in the first round. In the same span, the Cowboys have taken three.

Since 1995, the Oilers/Titans franchise has taken three quarterbacks in the first round. In the same span, the Cowboys have taken three quarterbacks overall (Quincy Carter, '02; Isaiah Stanback, '07, Stephen McGee, '09).

Undrafted free agent cornerback Tyler Patmon wears #20, the same jersey number that Ray Horton, now Titans defensive coordinator, used to wear while with the Cowboys.

The Dallas Cowboys are 1-2 on 9/14. Here are the results:

1963 – Cardinals, 7-34 – L
1980 – @DEN, 20-41 – L
1986 – @DET, 31-7 – W

The Dallas Cowboys will have three birthdays to celebrate on 9/14:
Dicky Moegle, DB, 1961 – 9/14/1934
Norm Granger, RB, 1984 – 9/14/1961
Lousaka Polite, FB, 2004-2006 – 9/14/1981