THE BIG LEAD: PRO BOWLIN'
This is not the biggest issue of the moment, of course; that would be Tony Romo's improving health on the field and Jerry Jones' charming tales in the press room. But it's still time, sample-size-wise, to wonder about
Dallas Cowboys
and their chances of going to the Pro Bowl? Our so-far top 10:
HONORABLE MENTION
Orlando Scandrick - He continues to show that he's one of the best slot CB's in the NFL and doesn't back down against anyone. No. 32 has only allowed one receiving TD all season and is second on the team with five passes defended. His "We Dem Boyz'' attitude is a big part of the D's success.
Tyrone Crawford/Jeremy Mincey - These two players only have one sack between them, but both are among the NFL leaders in QB pressures and QB hits, which can be just as impactful as sacks.
Justin Durant - Durant was playing at the highest level of his career this year before suffering a season-ending injury. If he had remained healthy, Durant would be a serious contender for the Pro Bowl.
10. Barry Church
Church burst onto the scene last season by leading not only the Cowboys in tackles, but all DB's in the NFL. This year, he's been even better now that he's getting more help from the guys in front of him. Church has 39 solo tackles, an interception and a forced fumble this season.
9. Terrance Williams
Williams had a very solid rookie season, recording six TD's and 736 yards. This season he already has six TD's and is taking full advantage of 1-on-1 matchups with 88 being doubled on the other side of the field. While his yards and receptions aren't eye-popping, he's made several incredibly clutch catches at key moments in games and has proven to be a reliable target for Tony Romo.
8. Tony Romo
No. 9 is playing as well as ever this season. Romo is on pace to throw for 30+ TD's while posting the highest QB rating of his career and his 2nd highest completion percentage. One reason I don't have him ranked higher is because he missed a game, which allowed other QB's to pull ahead of him stat-wise. Also, he's been overlooked in past Pro Bowls despite having better numbers than other QB's who have made the cut. Romo Hate is real. Fair or not, the Pro Bowl is largely a popularity contest and as we all know, Tony rarely gets the love he deserves.
7. Travis Frederick
Toward the second half of 2013, Frederick was already showing signs of becoming one of the top centers in the league. Now, he's undeniably among the elite at the position. Frederick has given up just one sack this season and has only allowed two QB hits. Teams are learning to "Fear The Beard."
6. Zack Martin
Some fans were disappointed when the Cowboys selected yet another O-lineman in the first round of the draft, but it's paying off big-time. Martin hasn't allowed a single sack this season and is off to a better start than both Frederick and Smith were through eight games in their rookie seasons. His presence has also helped turn this offensive line into one of the best in the game.
5. Dan Bailey
The fact that Dan Bailey has yet to make a Pro Bowl yet is baffling to me. He's been one of the most consistent and reliable kickers in the NFL since his rookie season in 2011. Bailey has been better than ever this year. He's missed just two FG's this season - one was a 53-yarder and the other was blocked. Bailey also set a new franchise record for consecutive FG's made (30), has made an NFL-high 10 FG's of 40+ yards (including a career-long 56 yarder) and officially became the most accurate kicker in NFL history.
4. Tyron Smith
The Cowboys gave Tyron Smith a monster contract extension during the offseason and while he hasn't played at his very best, he is still superior to most. Smith has given up two sacks this season after giving up only one in 2013. However, Smith has helped opened up huge holes for DeMarco Murray, the NFL's leading rusher, as he runs into the history books. Fans should get used to seeing No. 77 in the Pro Bowl for many years to come.
3. Rolando McClain
If there's a better comeback story in the NFL than Rolando McClain's, I don't know what it is. After the Cowboys convinced McClain to come out of retirement and give football another shot, many fans were left scratching their heads. This former first-round pick was the definition of a bust. However, McClain has shocked the NFL by playing at the level we all expected of him when he was drafted by the Raiders with the eighth-overall pick in the 2010 draft. McClain has four tackles for a loss, two interceptions, eight QB hurries, a sack and a forced fumble this season. Not only should he make the Pro Bowl, but he's in the running for the Comeback Player of the Year.
2. Dez Bryant
The X Factor. The Cowboys had high hopes for Dez when they drafted him in 2010, but he's exceeded anything we could have expected, both on and off the field. Dez routinely makes ridiculous catches that make Madden look like child's play, but he doesn't have the diva attitude that many WR's have. In fact, Dez is one of the biggest team-first players out there. Whether he's drawing double-coverage and creating opportunities for guys like Terrance Williams, or he's blocking downfield for his running backs, Dez does it with a smile on his face - As long as the team is winning. The fact that he's on pace for over 10 TD's and 1,200+ yards doesn't hurt his Pro Bowl chances, either.
1.
DeMarco Murray
Murray is off to the best start by a running back in franchise history. Yes, even better than the great Emmitt Smith. Not only that, but Murray is having one of the best starts to a season by a player in NFL history. DeMarco became the only runner ever to rush for 100+ yards in each of the first eight games of a season, and the numbers continue to grow. In fact, Murray already has over 1,000 rushing yards this season (1,133 to be exact). The next closest is Arian Foster with 822 (311 yards less than Murray). DeMarco is on pace to rush for over 2,000 yards this season and have the second most total yards from scrimmage in a single season in NFL history. If there's one player on this team who is a lock to make it to the Pro Bowl, DeMarco Murray is that player.
ONSIDE KICKS
Dez Bryant
is among the few Cowboys opting to not bundle up in London every day against the chilly weather ... Fish reports that Dallas is practicing a lot of middle-screen and bubble-screen stuff ... In addition to Tony Romo practicing on Wednesday, offensive linemen Doug Free and Ron Leary seem back in the groove. ... On Wednesday, defensive starters Crawford, Hayden and McClain did not practice ... Props to Fish and 105.3 The Fan and CowboysHQ for the Dez/CAA story, revealed on those outlets on Sunday but somehow a front-page "breaking story'' in the local papers on Wednesday ... Want to be
a Cowboys Insider with Premium coverage? Click here
to take our free 7-day trial and then for 10 cents a day, you are among the most informed Cowboys followers on the planet! ... Said Romo of his back: "It's sore. It loosened up a little bit as we moved through it, I think. Then, it just gets sore. The normal stuff.''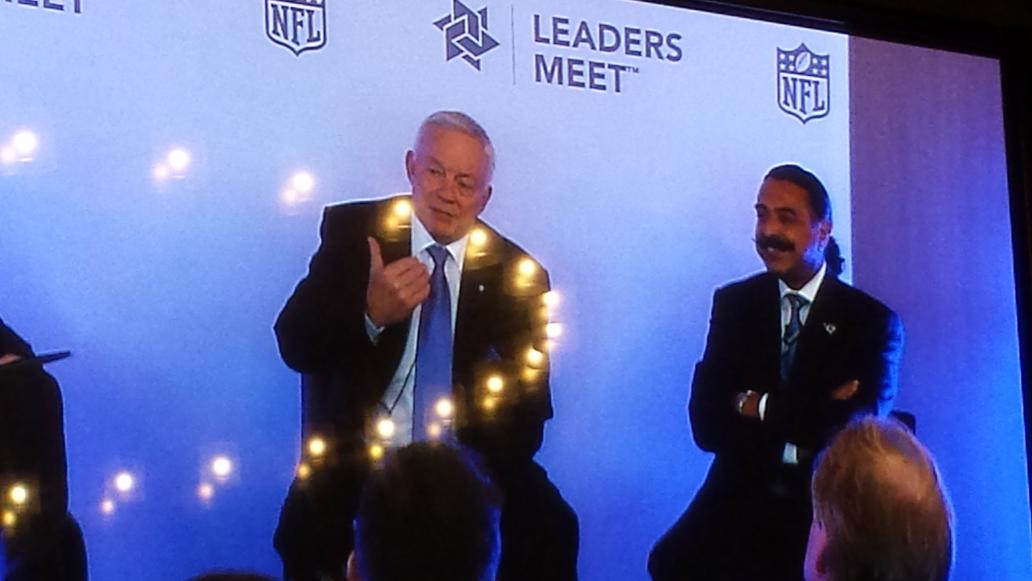 THE FINAL WORD
"We're here to show this is a good idea.'' -- Jerry Jones, on this London visit and the NFL's plan for, we suppose, world domination.