DALLAS COWBOYS NEWS
At Thursday's practice, where Fish is hanging out: Tony Romo (ankle, ribs), Anthony Spencer (foot), DeMarco Murray (illness) and Tyron Smith (ankle) are all back at practice. Smith's MRI "came back as a positive for us," coach Jason Garrett said.
Romo's left ankle is taped up for extra support.
Bruce Carter (quad), Doug Free (foot) and Rolando McClain (absent for family business) are not working.
*KD Drummond sits down with co-hosts Keith Mullins, Patrik Walker and Mike Fisher to discuss several facets of the Cowboys hot start and whether it's sustainable. Is Garrett employing the Long Con? Did jettisoning Ware kickstart this lean, mean defense? How did they outmuscle Seattle, and will it continue? Why doesn't KD have a Whataburger? Why is 1/4th of the team participating in Romo Wednesday?
We've got it all covered in
our Cowboys Crunchtime Podcast!
- The Evolution of Dallas.
*The latest on
Romo's milestones ... some of them Roger-like.
*The "biggest mistake of my life,'' says
Joseph Randle, who tries to put the underwear and the cologne behind him.
*Defendant
Jerry Jones has himself a dismissed lawsuit.
NEW YORK GIANTS FACTS
Since 1990, when playoff formats were last tinkered with, 31.5% of the postseason qualifiers have started 5-1
40% of playoff teams since 1990 have started 3-3.
Dallas has been 5-1 12 other times in franchise history: '67, '75, '76, '79, '80, '82, '85, '92, '94, '95, '03, and '07.
When the Cowboys have started off 5-1, 7/12 of those teams improved to 6-1.
Since 1940, the Giants have started the season 3-3. Only 5/17 times have they made the playoffs.
The Giants' 4-1 record in AT&T Stadium is their best record in a new divisional venue since 1960-64 when the G-Men went 4-0-1 in the relocated Cardinals' Busch Stadium home in St. Louis.
The Cowboys own the NFC East's longest streak without being shutout. The last time Dallas was shutout was on 11/16/03 in New England to the tune of 12-0.
Dallas hasn't been 2-0 to start October since 2003. Interestingly, 2003 and 2014 share the same calendar days and dates.
Since 2003, the Cowboys are 8-3 in their third game of October.
The Cowboys are 12-2 since 1990 when coming back from West Coast road trips.
Last time the NFC East had two 5-1 teams was 1986 with the Redskins and Giants. New York ended up hosting Washington in the NFC Championship Game and beating them 17-0.
The last time the Giants played NFC East foes in back-to-back weeks were Weeks 10-11 of 2010. They lost to Dallas 33-20 (in Garrett's first game), and then lost on the road in Philadelphia 27-17.
Last time the Cowboys had to wait until October to start their complement of NFC East games was 1994. They defeated the Washington Redskins 34-7 in RFK Stadium.
Last year, Dallas went 5-1 in the division, their best mark since 2003 when they also went 5-1. In 2004, Dallas opened up their divisional schedule with a 21-18 win in Washington in Week 3.
The Dallas Cowboys are 12-11-1 against the New York Giants in October.
The Dallas Cowboys are 32-20-1 against the New York Giants at home. Here is the breakdown by venue:
Cotton Bowl: 6-4-1
Texas Stadium: 26-12
AT&T Stadium: 1-4
TONY ROMO FACTS
In his past nine games, Romo has only earned one roughing the passer call.
This is the first time since 2009 that Romo has made it through the first six games of the season taking all of the team's snaps aside from special teams.
Here is a breakdown of the passer rating of Romo's 10 receivers this season:
Williams: 139.4
Harris: 118.8
Escobar: 111.1
Dunbar: 106.4
Beasley: 95.1
Murray: 92.5
Witten: 82.8
Bryant: 81.0
Clutts: 79.2
Street: 62.5
Romo has thrown 32 touchdowns against the New York Giants, which is the most touchdowns anyone has thrown on New York since 2000.
The Giants have picked off Romo 19 times, which is the most interceptions Romo has thrown to one opponent. It is also the most interceptions New York has had against one player since 2000.
Romo has been sacked by the Giants 32 times, not only the most of his career against one opponent, but also the most the Giants have against one particular passer since 2000.
Romo's 5.1% turnover percentage against the Giants ranks as his highest against a divisional opponent.
Romo's three rushing touchdowns are the third-most a Cowboy player has had against the Giants since 2000. First place is Emmitt Smith with eight, and second place is Marion Barber with six.
With 3,930 yards against the Giants in his career, Romo needs only a 200-yard game to surpass Donovan McNabb as having the most yards against the G-Men since 2000.
This is the second time Romo has started 5-1 in his career. With three apiece, Roger Staubach, Danny White, and Troy Aikman are all tied for having started the season at 5-1 the most times.
Romo has thrown exactly 999 yards to Terrance Williams, surpassing that of Roy Williams.
The longest pass Romo had against the Giants came on 12/11/11 in AT&T Stadium when Romo hit receiver Laurent Robinson for a 74-yard touchdown.
Jason Pierre-Paul is tied with Jason Babin and Cullen Jenkins for having sacked Romo the most times with five apiece.
Tony Romo has thrown 34 or more touchdown passes to two different receivers: Dez Bryant and Terrell Owens. Eli Manning has only thrown 34 touchdowns to one receiver: Plaxico Burress.
ELI MANNING FACTS
Manning was shutout for the fifth time in his career last week against the Eagles, including playoffs.
Manning has earned two roughing the passer penalties this year, tied for seventh-most in the NFL.
The Cowboys have sacked Eli Manning 39 times, the second-most of his career.
Dallas has 22 interceptions against Eli, the most he's thrown to any one team.
Manning has thrown 38 touchdown passes against the Cowboys, the most he's thrown against any particular team. In the same span, those are the most touchdowns Dallas has surrendered to any particular quarterback.
Manning gains 6.72 yards per throw against the Cowboys, his best against any division rival.
The only active player on the Cowboys roster that has intercepted Eli is Brandon Carr with his game-sealing picksix in Week 1 of last year.
Manning's first win, a 28-24 victory and also his first fourth quarter comeback, came against the Dallas Cowboys on 1/2/05 on ESPN Sunday Night Football.
The longest pass Manning has thrown against the Cowboys came on 01/01/12 when he threw a 74-yard touchdown to Victor Cruz.
Though tied with Ben Roethlisberger for most Super Bowls won as an '04 draft class QB, and second to the Steelers signal caller in wins, Manning is in first place in completions, attempts, yards, touchdowns, and interceptions.
TOM COUGHLIN FACTS
Coughlin and Jason Garrett are the two longest tenured head coaches in the NFC East.
Coughlin and Bill Belichick are the only current coaches in the NFL who have multiple Super Bowl wins.
Tom Coughlin has had more shutouts with Eli Manning under center (4) than he did with Mark Brunell, Steve Beuerlein, Rob Johnson, Jonathan Quinn, Jay Fiedler, and David Garrard (1) under center in Jacksonville (1995-02).
Tom Coughlin has a 13-11 record against the Dallas Cowboys with a 12-9 record as the Giants' head coach. Here is how he compares to other New York Giants head coaches:
Jim Lee Howell: 1-0
Allie Sherman: 6-8-1
Alex Webster: 2-7
Bill Arnsparger: 1-4
John McVay: 0-5
Ray Perkins: 2-4
Bill Parcells: 9-7
Ray Handley: 1-3
Dan Reeves: 2-6
Jim Fassel: 8-6
Tom Coughlin: 12-9
Coughlin has never started 3-3 with the Giants, but has started 3-3 one other time in his career: 2002, his final year to coach the Jacksonville Jaguars.
Coughlin shares the distinction with Tom Landry and Hank Stram as being the only coaches in NFL history to be the inaugural coach of a team and later win a Super Bowl in their career.
Coughlin is 7-8 in late afternoon games against the NFC East with a 3-4 record against Dallas.
JASON GARRETT FACTS
Garrett's first win came against Tom Coughlin on 11/14/2010. Here is a list of whom other Cowboys head coaches' first wins came against:
Landry: Buddy Park ('61 Steelers)
Johnson: Joe Gibbs ('89 Redskins)
Switzer: Bill Cowher ('94 Steelers)
Gailey: Vince Tobin ('98 Cardinals)
Campo: Norv Turner ('00 Redskins)
Parcells: Jim Fassel ('03 Giants)
Phillips: Tom Coughlin ('07 Giants)
Through his first seven games against the New York Giants, Jason Garrett is 4-3. Here is how he compares to other Cowboys head coaches through their first seven games against the Giants (where applicable):
Tom Landry: 1-5-1
Jimmy Johnson: 2-5
Barry Switzer: 4-3
Bill Parcells: 3-4
Wade Phillips: 3-4
Garrett has an 18-13 home record, which matches the exact home record of the 31 games prior to the Garrett era in 2010.
Garrett's 4-3 record against the Coughlin-led Giants is the best seven-game record since Andy Reid's 4-3 mark from 2004-07.
Garrett's October record is 6-8.
Garrett is 4-3 against NFC East teams in late afternoon games.
When Garrett has been able to open a division series at home, he is 3-3.
DEMARCO MURRAY FACTS
Through six games, Murray has 785 yards on 159 carries. In 1984 – Eric Dickerson's season where he set the NFL record for most rushing yards in a season – he had 605 on 134 carries.
Compared to Jim Brown's historic start in 1958, Murray's 785 yards pales next to Brown's 928 yards on 131 carries. Only in games two and six has Murray even had more rushing yards than Brown.
DeMarco Murray has a 5.56 YPC against the Giants, his best against any NFC East foe.
Murray has 328 rushing yards against the Giants. With 11 more yards Sunday, he will surpass Emmitt Smith as having the most yards against the Giants since 2000.
The Giants are the only NFC East team against whom Murray has not scored a touchdown.
BROADCAST FACTS
The last time the Cowboys defeated the Giants on FOX at home was 2005 in a 16-13 overtime thriller.
The Cowboys have never had Thom Brenneman in consecutive weeks.
John Madden has commentated on the most Cowboys-Giants games at 22.
Since 1994, the Cowboys are 7-5 when hosting the Giants on FOX.
The last time a Cowboys-Giants game drew anything other than FOX's A-team was 10/16/05 in Texas Stadium when Dick Stockton, Daryl Johnston, and Tony Siragusa called a 16-13 Cowboys overtime victory.
Dallas has not started with a 4-1 record on FOX since 2009, the last time they made the playoffs.
The Cowboys have had five ex-players serve as commentators in the series: Eddie LeBaron (CBS), Roger Staubach (CBS), Troy Aikman (FOX), Daryl Johnston (FOX), and Brian Baldinger (FOX).
JEROME BOGER FACTS
This week's referee is Jerome Boger, whose last officiated Cowboys game was the Cowboys-Saints game last season. Dallas is 4-4 when Boger referees. Here are the results:
2006 — @Titans, 45-14 — W
2006 — @ATL, 38-28 — W
2008 — @NYG, 14-35 — L
2009 — SEA, 38-17 — W
2010 — NO, 27-30 — L
2011 — BUF, 44-7 — W
2013 – @KC, 16-17 – L
2013 – @NO, 17-49 – L
The Dallas Cowboys have only ever had fewer penalties than their opponent 5/8 times under Jerome Boger:
2006 — Titans: 5/55; DAL: 5/61
2006 — ATL: 8/68; DAL: 4/32
2008 — NYG: 8/65; DAL: 9/55
2009 — SEA: 6/53; DAL: 5/43
2010 — NO: 4/30; DAL: 4/19
2011 — BUF: 3/12; DAL: 8/74
2013 – KC: 10/45; DAL: 5/27
2013 – NO: 6/44; DAL: 11/82
Boger is tied for fifth-best home team winning percentage in the league. Here is how he ranks with the rest of his peers:
Bill Vinovich: .833
Clete Blakeman: .800
Pete Morelli: .800
Ed Hochuli: .800
Jerome Boger: .667
Craig Wrolstad: .667
Walt Anderson: .667
Gene Steratore: .600
Tony Corrente: .600
John Parry: .500
Carl Cheffers: .417
Bill Leavy: .400
Brad Allen: .400
Jeff Triplette: .400
Walt Coleman: .200
Terry McAulay: .200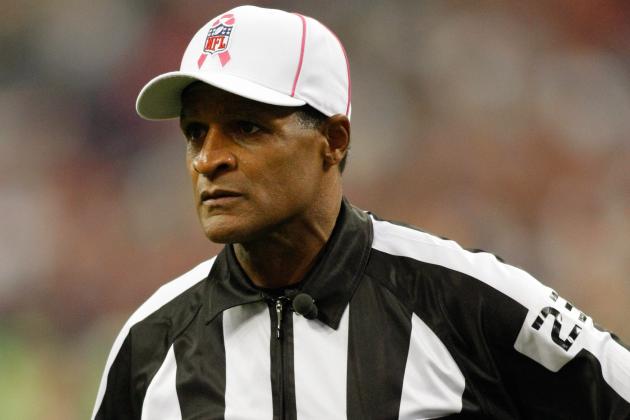 Boger's home team penalty battle percentage is the third-best in the NFL:
Brad Allen: 1.000
Terry McAulay: 1.000
Jerome Boger: .833
Craig Wrolstad: .667
Gene Steratore: .600
Tony Corrente: .600
Jeff Triplette: .600
Bill Vinovich: .500
Walt Anderson: .500
Walt Coleman: .400
Pete Morelli: .400
Ed Hochuli: .400
John Parry: .250
Clete Blakeman: .200
Carl Cheffers: .167
Bill Leavy: .000
Boger has refereed six New York Giants games with Big Blue going 5-1. Here are the results:
2008 – DAL, 35-14 – W
2009 – @KC, 27-16 – W
2010 – CAR, 31-18 – W
2011 – @Cardinals, 31-27 – W
2012 – @WAS, 16-17 – L
2013 – @DET, 23-20 – W-OT
Additionally, New York has won the penalty battle 3/6 times under Boger:
2008 – DAL: 9/55; NYG: 8/65
2009 – KC: 7/55; NYG: 8/54
2010 – CAR: 7/63; NYG: 9/95
2011 – Cardinals: 11/118; NYG: 7/55
2012 – WAS: 4/56; NYG: 9/73
2013 – DET: 7/60; NYG: 5/30
Both of Jerome Boger's NFC East games have featured the New York Giants:
2008 – Dallas at NY Giants – 35-14 NY Giants
2012 – NY Giants at Washington – 17-16 Washington
Also, each time the Giants have managed to lose the penalty battle:
2008 – DAL: 9/55; NYG: 8/65
2012 – NYG: 9/73; WAS: 4/56
Dallas has yet to lose a challenge when Boger goes under the hood (3/3). Additionally, opponents are 0/3 on challenges, and the only Replay Assistant verdict (0/1) benefited the Cowboys.
In Boger-officiated games, the Giants are 1/3 on challenges, while the opposition is 2/4. Though Boger has overturned 3/7 calls based on Replay Assistant, four of those decisions benefited the Giants.
Boger has called two roughing the passer penalties in favor of Dallas, but none of them have been for Tony Romo ('06 Titans, '08 Giants).
In his six Giants games refereed, Boger has called three roughing the passer penalties against the G-Men.
Jerome Boger has a son, Tra Boger, who tried out for the Green Bay Packers in 2006 and the Tampa Bay Buccaneers in 2007 at the defensive back position.
MISCELLANEOUS FACTS
With Victor Cruz done for the season, there is not one skill position player that has rushed or caught a touchdown against the Dallas Cowboys.
Brandon Jacobs' seven rushing touchdowns against the Cowboys were the most the team had given up to any one player since 2006.
Sean Lee has the second-most interception return yards against the Giants with 305.
DeMarcus Ware's 14 sacks against Eli Manning are the most by one defender. Dallas' current lead sacker-of-Eli is Anthony Spencer with 1.5.
Jason Witten's 10 touchdowns against the Giants are the third-most since 2000 and the most a tight end has caught against the Giants in the same span. Washington's Chris Cooley's five touchdowns place second-mos.
Witten's 120 catches against the Giants are the most they have given up to one receiver since 2000. Second place goes to Washington's Santana Moss and his 73 receptions.
Witten also bests Moss for top spot with 1,288 receiving yards against the G-Men.
Dez has four touchdowns against each of the NFC East rivals. However, this ties for second-place all-time. Bryant has actually caught more touchdowns against the Detroit Lions (five) than any other team.
On Sunday, Terrance Williams has a chance to tie Laurent Robinson for most touchdown passes caught from Romo (11) and tie Roy Williams (12).
The only division rival Terrance Williams has not caught a touchdown against are the New York Giants.
Last week, fullback Tyler Clutts caught a one-yard pass from Tony Romo. His previous pass from Romo was on 12/22/13 when he caught a four-yard reception and promptly fumbled it in Washington.
James Hanna is the only one of Tony Romo's targets that has not caught a pass.
Dan Bailey is 6/7 against the Giants in AT&T Stadium. His lone miss came from Jason Pierre-Paul's block of his game-tying 47-yarder on 12/11/11.
The only NFC East rival Dan Bailey has missed a field goal against are the New York Giants. All of Bailey's misses against the Giants (two) came in 2011.
Dallas and New York have each only had one pass interference call go against their defense. Dallas lost seven yards while New York lost 11.
The Cowboys and Giants each have three defensive holding calls going against them.
Dallas has had two illegal contact calls while the Giants have had four, the second-most in the league.
Not only was Giants strength and conditioning coach Markus Paul a player under Cowboys strength and conditioning coach Mike Woicik at Syracuse from 1984-88, but the two ended up working together in New Orleans (1998-99) and New England (2000-04).
The New Orleans connection also connects Paul to Cowboys assistant strength and conditioning coach Brett Bech, who played wide receiver for the Saints from 1996-99.
The last game the Dallas Cowboys played at the Cotton Bowl was a Monday night game against the New York Giants. Roger Staubach led Dallas to a 20-13 victory.
The Dallas Cowboys are 4-4 on 10/19. Here are the results:
1969 – PHI, 49-14 – W
1975 – GB, 17-19 – L
1980 – @PHI, 10-17 – L
1986 – @PHI, 17-14 – W
1987 – WAS, 7-13 – L
1997 – JAX, 26-22 – W
2003 – @DET, 38-7 – W
2008 – @Rams, 14-34 – L
The Dallas Cowboys have two birthdays to celebrate on 10/19:
Dick Daniels, DB, 1966-1968 – 10/19/1944
Greg Briggs, S, 1995 – 10/19/1968