JERRY TALK
From his weekly visit with "G-Bag Nation'' on !05.3 The Fan:
Are the Dallas Cowboys good enough to beat .500 teams consistently?
Well, I think that, you know, we're playing better. On the other hand, you saw that if we hadn't been able to put a stop on the Giants in that fourth quarter -- I'm not trying to dampen anyone's enthusiasm, but that last possession of the Giants', had we not had the turnover, then you could have, under one set of speculation, had a different consequence. It's close. It's close this weekend. We're what -- five-and-a-half, six points? When you think about that, that's less than a touchdown. So, I really mean this. Every one of these games have to be looked as though they're small Super Bowl against a top opponent. I keep saying this, but in what we consider our greatest year, 13 wins, when we won a Super Bowl, we won nine of those by a touchdown or less. So, this thing is close in the NFL.
Are you proud of the defense not giving up big plays?
Yes, and what really was the most significant thing, not to not answer your question, last Sunday was the big plays that we made. That was a significant number of big plays. And we talk about turnovers, but big plays can rival turnovers when it comes to a major statistic. So, those can obviously work for the other team as well. We give up the turnovers, have a bad ratio, then it's advantage Washington. We give them big plays. What are they? Third-ranked or fifth-ranked in the NFL right now on offense? They're formidable, so we've got our work cut out for us there. Certainly, I like the way our defense is playing relative to our expectations were.
Would you take back DeMarcus Ware?
Well, I would -- DeMarcus Ware is an outstanding player. This time last year, he was right about right here with us. And then of course the injuries hit at the end of -- in the last half of the season last year. But the first part of the season, when we left training camp, he was a demon. And I would hope, and really hoped when he left, for him, that that was an aberation and those just a part of a career and that he was going to get those injuries behind him and have the kinds of years that, if you look at it, and if you look at the shape he's in, you'd think he could have several more years of high production. If that's the case, then you'd like to have DeMarcus Ware. On the other hand, he really comes quite a price, but he should. He could be a difference-maker out there for them. Let's just hope that through hook or crook, obviously, we'd like to have [DeMarcus] Lawrence, our equivalent of a first-round pick. I think he's 34th, but we had to give up a two and a three to get him. So, again, I'm answering your question kind of meely-mouthed here. DeMarcus Ware, as I saw last night, as when he left here, is a heck of a ballplayer when he's healthy.
How has Lawrence looked this week?
Outstanding. Outstanding. Now, don't get me wrong: I don't think that he is today DeMarcus Ware. I don't know that he will be DeMarcus Ware. DeMarcus has some unique athletic ability and quickness. On the other hand, this guy has some bend. And he has some size. And he has the ability to be down in a stance that DeMarcus makes up for in other ways. One of the things we got to remember is we were asking DeMarcus to get down, and would have been asking him, to get down in a three-point stance this year, all the time. He's not doing that in Denver and that's probably the best place and the best way for him to play.
How is Dallas preparing for Washington's QB?
Well, we certainly have prepared as though for anything that comes at us at quarterback. I know you have to give some sort of measured estimate as to who you're going to be facing. My experience though with the Redskins and with Robert Griffin is that they will be very ambitious regarding playing him. He makes such a difference in their minds. And he's a difference maker. It's not just in their mind. And so, it would surprise me if he's able to go then for them to take the conservative approach and not try to beat us. Their season, they certainly have in no way put a lid on this season. So, this game is a critical game for them. And that's why I believe we'll see everything they've got. Consequently, if he's ready to go, it wouldn't surprise me at all to see them use him.
Would you give up a home game for a Super Bowl?
We will -- that will put a difficult caveat to our bid. And we probably will make a bid. You know, you bid -- they tell you what you want in a bid, but you can make a bid without what they want in a bid. And so, you say, "Well, if they're not going to give it..." the owners still get to vote. And that's pretty limiting and our home games are so important to us that, at this time, I'm not for sure how we will handle the bid. We'll make a bid for a Super Bowl certainly in the future. But I would have -- that's a head-scratcher as to whether or not I'd do it at the cost of a home game.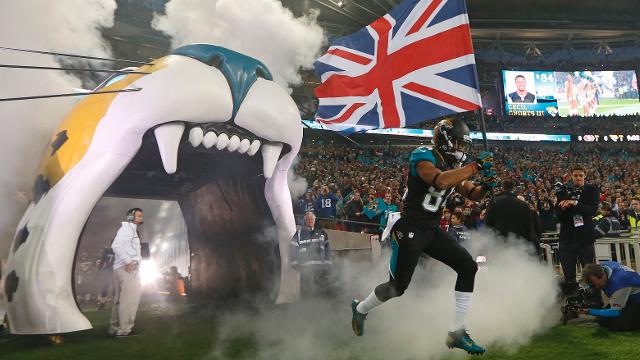 Would you have played in London this year if it cost a home game?
We're playing Jacksonville this year in London, and we would not have played there if it cost a home game. And there's -- we just wouldn't do it and haven't done it. And that's being any way -- that's not not being a team player; it's just that we made too big a commitment to our fans and to our organization to play ten games here.
The Amobi Okoye Story
Well, he's exceptionally quick. I was trying to compare him to someone that we have. He's got a little longer arms. I had this conversation for the umpteenth time with Rod Marinelli, who has coached him, out here at the early part of this week. Amobi has the capability of stepping in and being one of these Rod Marinelli rushmen. He has the capability of breaking into the lineup. So, you start there. Have you seen that in him? Can he do that? Yes. We're completely confident that any issues regarding that immune system problem that he had. By the way, that was an immune system problem. It involved the brain, but it was not anything to do with contact. And so, we all know how inordinate that was. But still, that's not an issue with him as far as he's concerned, and he's gotten all clearances there. The real issue is a year-and-a-half off from football. He's got a little bit of the same challenge Josh Brent has. And they've had time off from football. And we're dealing with the same thing with Spencer. It's ironic, but that's how we're getting these opportunities is that we've put the time in, we've put the money in, and we've got guys sitting here that are going to give us a look, and maybe an important look for us at the right time as we get on in to the last half of the season. I'm excited about it. [Amobi] is probably, as far as ready to play, the longest shot that we have that we've trying to -- that hasn't played a lot, that may have a chance to help us. On the other hand, he's really played at an outstanding level. He's a first round pick. That says a lot right there. He's been a "blue," as we call them. So, he's got a chance to play "blue." But it's certainly worth it. Boy, is he a heck of an athlete and he's a heck of a young man too.
What goes into opening up the roof?
That's the key: if the weather's nice, we don't need to create a situation where you create 90-something-degree heat in there. There's no need in doing that. If the temperature outside allows us to have a nice 80, low-80's, then we ought to look at that. If there's no rain in the forecast, then we ought to look at that and open it all up. And I agree: that's one of the unique things about our building is it can become with as much open space as we got, including the glass doors in the end zone plus the roof, we can make that an open-air stadium, and will do it every chance we get.
You can hear
the rest of the interview here
, including Jerry's explanation as to why the Cowboys waived rookie DE Michael Sam.
FISH'S FRIDAY SIDELINE REPORT
Injury Report:
[Romo] is working. It's a Friday that's like a Thursday, which means Tony Romo's back in business. Jakar Hamilton had a personal day yesterday. He's back. Bruce Carter and Rolando McClain both working with the linebackers. One of the decisions, and I don't know where they're going at on this, but which one of those linebackers plays where and when, this will be one of the rare times that those guys and [Justin] Durant are all healthy at the same time. So, which two guys play in the nickel and all of that -- Durant came into this year with a reputation of somebody that "he's not a nickel guy; he's not a cover guy." But he's had a good -- his drops are way deeper than than I thought anybody could expect of him. And so, he's been involved in playmaking as a coverage guy. I would think it would be McClain and Carter, but we will monitor that.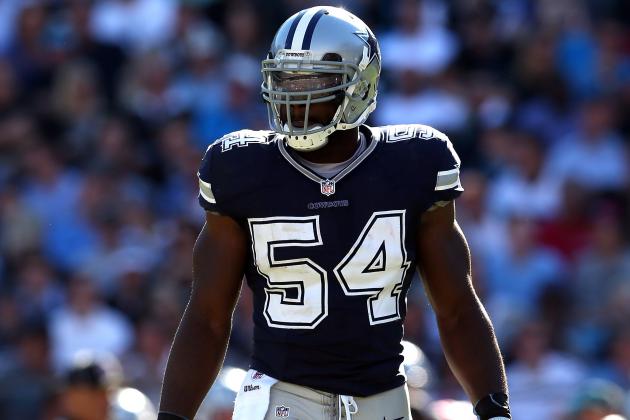 Does Dallas need to worry about Colt?
You heard Jerry a moment ago, and he said this to you guys before, hey, just in case, you've got to be ready for RG3, but in reality, the Cowboys are pretty certain it's going to be Colt McCoy. Now, Colt McCoy versus RG3 in terms of mobility: there's some similarities there, when RG3 isn't at his greatest. So, there's part of the preparation there. But I bet you Colt McCoy in Washington does a lot of what you saw Eli Manning do last week, which is three-step drops, get it out of there quickly, don't get hit, and try to continue frustrating the Cowboys defensive front -- effective in some many ways, but not putting up sack numbers. Just a minute ago, I was talking to the great Charles Haley, and he says, "I went back there yesterday and I gave some instructions to some defensive linemen about how to get a sack." And I'm fascinated. I'm like, "Oh, what did you tell them?" He goes, "When you see the guy back there and he's holding the ball up like he's going to throw it, tackle him." Okay, Charles, thanks! But, again, as we've discussed, this defensive front is not putting up sack numbers, but in terms of hurries and in terms hits and in terms of wins, they're doing all right.
Any unique challenges about Jay Gruden being the Redskins coach?
Well, and Garrett was asked, because, of course, you know, they'll meet with
Jon
Gruden, the team will, the staff will, and stuff. And Jon Gruden of
Monday Night Football
, and you're supposed to give him some special tidbits. So, he can look like he has some insight when he's on TV. Obviously, the fact is all modesty aside, there's not much that somebody's going to roll in here this weekend and interview Jason Garrett about that you're not already hearing on
The Fan
. But in the case of Gruden, because his brother coaches the Redskins, that's one more reason to not tell him anything.
You can hear the
rest of the interview here
, including how the Cowboys-Redskins rivalry even runs back into the old Dallas Desperadoes Arena Football League days. ... when it was Gruden vs. Will McClay.
ONSIDE KICKS
The Cowboys have won seven straight regular season games five times in franchise history, reaching the playoffs all five times and winning three Super Bowls, notes Jordan Ross of CowboysHQ.com. ... Here's
Fish's premium column on The Cowboys and the Trade Deadline.
No hype. Just straight truths from inside Valley Ranch ... Proud to say our
"Cowboys 100'' is one of our most popular features -- fun for me to research, too! ...
Here,
KD Welcomes you to "Washington Week.''
What does Washington coach Jay Gruden see from Dallas' defense? ""Their effort is No. 1. (Rod Marinelli) gets after his guys and those guys all run to the ball. They pursue to the ball consistently for four quarters. They fly off the tape at you with their effort."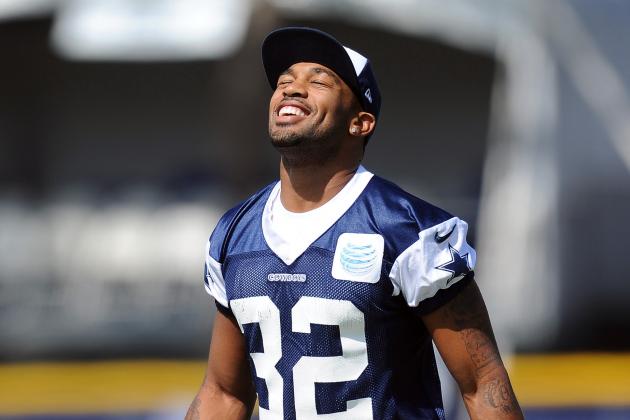 THE FINAL WORD
"It's a divisional opponent. We need this W. We're still in the first half of the season. What better way to close out the first half of the season than with a W at home against a division opponent?'' - Orlando Scandrick.