Dallas Cowboys
spent all offseason speculating just how bad this defense would be this year. I mean, they were the last-ranked defense in 2013 and they lost Demarcus Ware and Jason Hatcher to free agency and Sean Lee to injury. There was no possible way that this unit would be able to improve in those circumstances, right? Not so fast ...
Now, 10 games into the 2014 season, the Cowboys defense ranks 10th in scoring and 15th in yards allowed. At first glance, those rankings don't seem that great, but when you consider the fact that they were the 26th-scoring defense and the 32nd-ranked defense in terms of yards allowed in 2013, those are some major improvements. Here's something else to consider: in 2013, the Cowboys gave up 30+ points in seven games (40+ points in three games) and they only held opponents to 20 points or less four times. This season, the Cowboys have given up 30+ points just once (31 to St. Louis) and have held opponents to 20 points or fewer five times.
At the Cowboys Salvation Army Thanksgiving event on Monday, I got a chance to ask some Cowboys defenders why this group has been able to make such big strides from where they were a year ago. This is what they had to say ...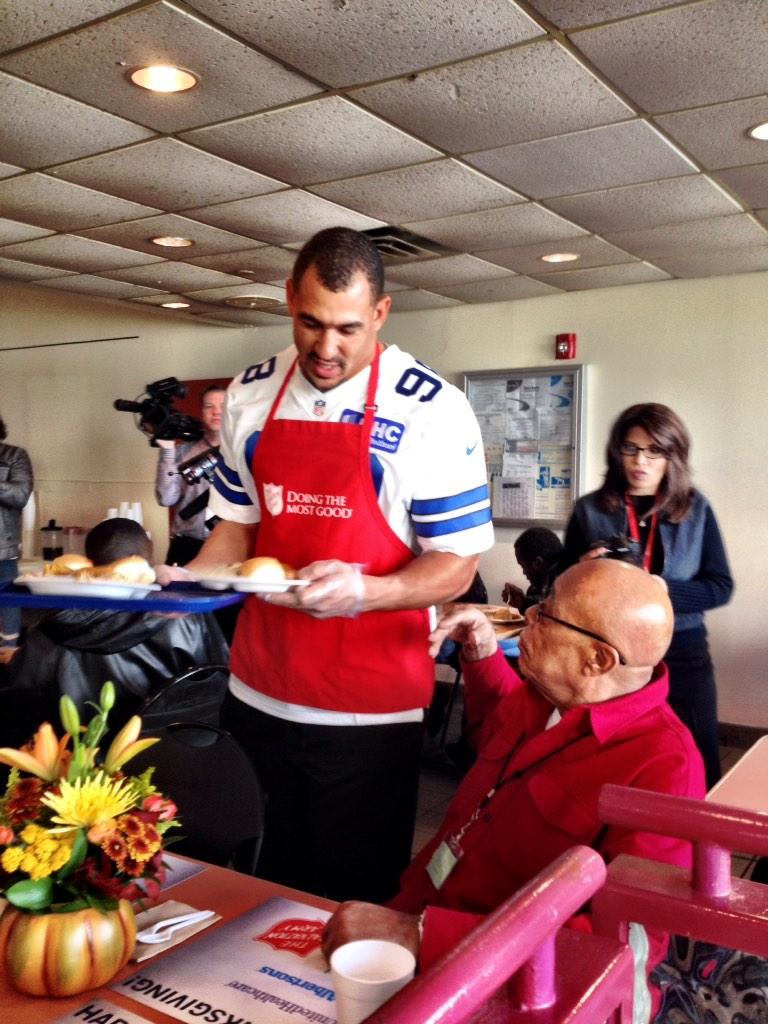 "The way we were coached during training camp, like I said before the season, we wanted to be fast and get to the ball. I think we've done that. I feel really good about it, but we have to keep it up." - DT Tyrone Crawford
"We're just playing as one, as a family, as a team. We were a team last year, but now we have a tighter bond and have grown together. We wanted to change and to not be known as the worst defense in the NFL." - LB Kyle Wilber
"We're just going out there and wanting to make a play, wanting to run around, wanting to contribute. We're all in on this defense and this team. I think the mentality has contributed to our improvement on defense." - DE George Selvie
Whether it's the coaching, the chemistry, the mentality or a combination of all three, this underrated defense has exceeded everyone's expectations as part of a 7-3 team that is tied for the NFC East lead. A unit that was expected to be "historically bad" has turned out to be pretty decent - and Crawford, himself planning to work his way back from injury for Sunday night's game at the
New York Giants
, thinks they are about to get even better now that his fellow Boise State alum, rookie DE DeMarcus Lawrence, is back in action.
"As a rookie, it takes games to actually get the experience you need in order to feel comfortable," Crawford told me. "I feel like he's been doing that and I think he's going to explode here real soon."
If there's one area this defense has been lacking, it's been sacks. If Lawrence does indeed "explode" as Crawford predicts, this defense could go from being decent to pretty darn good, which is something Cowboys observers certainly never predicted.
See what Cowboys fans are saying here!
Related Story: Cowboys self-evaluation, Part 1: Player Rankings

Related Story: Huddle-Up Notebook: Dez's deal, Brent's back, 'The Star' in Frisco

Related Story: Fish's Premium Column from London: Putting the Curfew to Bed

Related Story: Cowboys self-evaluation, Part 2: Confidence Ratings, Offense

Related Story: Mark Lane's 'Cowboy 100': Bye-Week Facts and Figures

Related Story: Jerry On: Dez, Contracts, Loyalty and the Super Bowl