THE EXORCISTS
Maybe it starts with the QB.
"I'm different so I'm excited about that aspect," Tony Romo said after Sunday's 44-17 thumping of the Washington Redskins to end the regular season. "I'm a different player than I was. Now you've got to go out and do it."
But he is not alone. The Cowboys are 12-4 with a perfect 8-0 road record and are preparing to host the Detroit Lions next weekend in the wildcard round of the playoffs. Who'da thunk Dallas would be
this different
?
After an offseason filled with "worst-defense-in-NFL-history" talk, very few predicted that the Cowboys would have even a remotely successful season. But 16 games later, the Cowboys are one of the hottest teams in the NFL - riding a four-game winning streak (in which they've averaged 41 points) into the playoffs. For the first time in quite a while, Cowboys fans have something to get excited about - but that's not to say there aren't some nervous members of Cowboys Nation.
The Cowboys have been on a roll as of late, especially offensively. Defensively, while they've improved greatly from last season (especially in the area of ending opponents' drives with takeaways, where Dallas is No. 1 in the NFL), there is still plenty to work on. One thing that has hurt this defense at times is the number of big plays they've given up. Too often an opposing wide receiver or running back will turn what should be a short gain into a 50-yard-plus pick up. Now, with Calvin "Megatron" Johnson and the Lions coming to town this weekend for the Wild Card round, some fans are a bit concerned. After all, it was just last year that Megatron burned the Cowboys for an NFL record 329 receiving yards in a 31-30 Cowboys loss in Detroit. How will
Dez Bryant
match him? Will Dallas using more man coverage be able to keep him in check this time around?
Well, if you haven't noticed already, the 2014 Cowboys have proven all year that they are not the same as the Cowboys of recent years. We have seen a foe-by-foe flipping of the script.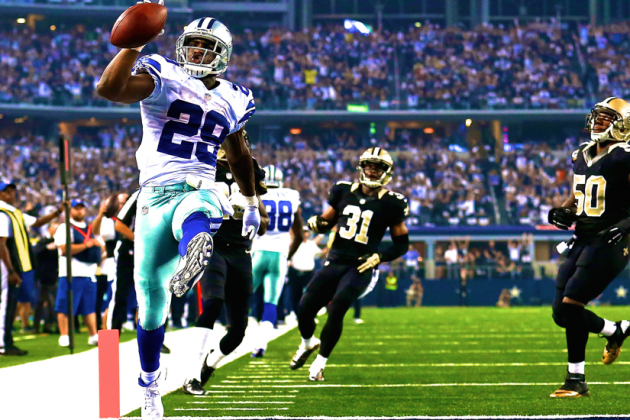 In 2013, the Cowboys traveled to New Orleans to take on the Saints. Dallas lost 49-17 while allowing the Saints to set an NFL record of 1st downs in a game (40) and a franchise record of total yards in a game (625). But it's not like losing to the Saints was anything new to the Cowboys. In fact, before this season Dallas had lost eight of the last nine games vs New Orleans. So, when the Saints traveled to Arlington to take on the Cowboys in Week 4 of this season it wasn't surprising that Cowboys fans weren't feeling overly confident. Even though the Saints had a worse record, they still had Drew Brees and Jimmy Graham. However, those concerns quickly disappeared when the Cowboys jumped out to a 31-3 lead over the Saints - finishing the game with a 38-17 victory.
Tony Romo
and the Cowboys dominated a team that almost always beats them. They had exorcised their demons.
Fast-forward two weeks when the Cowboys flew to Seattle to face the defending Super Bowl champion Seahawks in the loudest stadium in the NFL. ... The same place where the Cowboys had lost 27-7 two years earlier. Now, the Cowboys were playing better than usual but there was no way they'd come of Seattle with a win. It just wasn't going to happen. Cowboys fans were even saying "I'll be happy if the 'Boys can just make it close." Well, to the surprise of Cowboys Nation (and the rest of the world) the Cowboys handed the Seahawks just their second home loss in the last three seasons. It's not like the Seahawks just had an "off day" either. In fact, the Seahawks led 10-0 in the 1st quarter and after falling behind 17-10, they fought back and regained the lead 20-17 with a few minutes left in the third quarter. Still, the Seahawks succumbed to the resilience of these 2014 Cowboys. Once again, the Cowboys had exorcised their demons.
Still not sold? Let's jump ahead to Week 14 of the 2013 season when the Cowboys faced the Bears in Chicago. The Cowboys had lost two straight games to the Bears coming into that game and were hoping that the third time would be the charm. Long story short, it wasn't. The Bears destroyed the Cowboys 45-28 in the freezing Illinois temperatures. This season the Cowboys traveled to Chicago in week 14, yet again. Coming off of a 33-10 loss to the Eagles on Thanksgiving, it wasn't looking good for the Cowboys. Like the Saints, the Bears had underperformed all season but they still had dangerous skill players (Brandon Marshall/Alshon Jeffery/Matt Forte) who had killed Dallas in the past. Well, the Cowboys completely turned the tables on the Bears this time around, defeating them 41-28. For the third time this year, the Cowboys had exorcised their demons. Are you starting to sense a pattern here?
These 2014
Dallas Cowboys
are different. They've shown physical and mental toughness. They've shown resilience. They've shown determination. All things that have lacked from Cowboys teams in recent years. Now, the Lions game won't be an easy one. They are in the playoffs for a reason. Having said that, the Cowboys and their fans have plenty of reasons to be confident heading into their first playoff game since 2009. This team has exorcised a lot of demons this season and they'll get another chance to do so on Sunday. "Same ol' Cowboys'' There is evidence that suggests otherwise.
"We stayed together," Bryant said. "We've done a damn good job of that all year. We never fold. We love each other. We pull for each other. We're one."
COWBOYS PRACTICE REPORT
Cowboys linebackers shuffling headline the Wednesday workout, along, of course, with yet another "Romo Wednesday.''
Rolando McClain was back at practice after not traveling to Washington due to illness. Rookie Anthony Hitchens was unable to work as he twisted his ankle in against Washington. New linebacker signee James Anderson, who has a history with this staff and defense, participated in his first practice with the Cowboys on Wednesday (replacing out-for-the-year Henry Melton on the roster).
"He's a veteran who has played a lot in this league and we have some issues at linebacker with injuries -- Anthony's status, Dekoda (Watson's status) and whether or not those guys are going to be available," said coach Jason Garrett. "So we just felt like he worked out well, we wanted to bring him in here and see if he could get acclimated as quickly as possible.
Nick Hayden and CJ Spillman did not practice. Doug Free, we are told, has bone spurs in his foot and did not work. He's also got a bum ankle but is not giving up on trying to play.
"We just have to see what Doug's health is,'' Garrett said before the team engaged in a workout in 33-degree temperatures at Valley Ranch. "We'll see. We're not going to put him in there before he's ready to play.''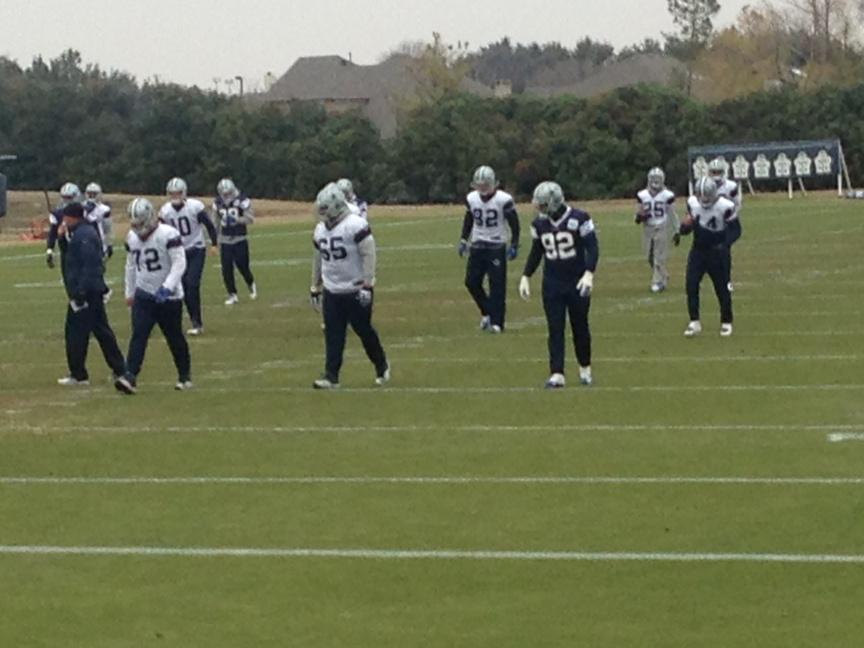 THE FINAL WORD
"I've always thought he was a great quarterback. He just has better players around him. "He'll carve you up." - Lions coach Jim Caldwell on Tony Romo, who is the NFC Offensive Player of the Month for December with his 12 touchdowns, one interception and a QB rating of 133.7 that is the highest among any quarterback in NFL history in December.