THE CASE FOR MVP ROMO
With the end of the regular season just a week away, talk and speculation of who the NFL MVP might be is starting to heat up.
Some of the most common names you'll hear in MVP discussions are Aaron Rodgers, Tom Brady, Peyton Manning, JJ Watt or even a certain
Dallas Cowboys
running back who has surpassed 2,000 yards from scrimmage this season. DeMarco Murray has undoubtedly had a phenomenal season but there's another Cowboy whose name should be included at least as high on the list of MVP candidates.
Tony Romo
.
"Murray has certainly carried his share,'' Cowboys owner Jerry Jones says, "but Tony's quarterbacking this year was indispensable. We couldn't have had the team, and we have a team that probably right now is in the top four or five teams in the league. That's pretty good qualification of the vote."
He is arguably the most scrutinized quarterback (and possibly player) in the NFL. However, to the surprise and frustration of his critics, Romo is having the best season of his career - which is really saying something (just take a look at his phenomenal lifetime numbers). In fact, Romo himself says that he's playing the best football of his career right now.
But, Romo chokes in December, right? Think again. Romo has 10 touchdowns, zero interceptions and an 80.3 completion percentage this December. He was also one completion away against the Colts from setting the new NFL record for highest completion percention a game with a minimum of 20 attempts. Also, you know Rodgers and Brady - two of the acknowledged favorites to win MVP?
Romo has more TD's in the concluding month of the regular season than both of those players combined.
"He's the MVP," says receiver Dez Bryant. "Look at the performance. He's giving 'em hell in December. Icing on the cake. Give it to him.''
Of course, the Cowboys are biased toward their own guy. To me, when judging, impartially if possible, hen breaking down potential MVP candidates, there are four important categories to look at: Individual Statistics, Value to Team, Records/Milestones and Team's Success. Let's take a glance at how Romo fares in each of those categories.
INDIVIDUAL STATISTICS
Since becoming a starter in 2006, Romo has consistently put up top-10 numbers; this year is no different with 32 touchdowns compared to just eight interceptions. Those are impressive numbers, but I've got some even more notable stats for you:
Tony Romo's Passer Rating: 114.4 - 1st in NFL
Next Closest Player: Aaron Rodgers - 111.0
Tony Romo's QB Rating: 82.3 - 1st in NFL
Next Closest: Aaron Rodgers - 81.2
Tony Romo's Completion %: 70.3 - 1st in NFL
Next Closest: Drew Brees - 69.6
Tony Romo's 1st Down %: 43.9 - 1st in NFL
Next Closest: Aaron Rodgers - 41.2
Tony Romo's YPA: 8.5 - 1st in NFL
Next Closest: Aaron Rodgers - 8.3
Tony Romo's TD %: 8.0 - 1st in NFL
Next Closest: Aaron Rodgers - 7.2
Tony Romo's 3rd Down Conversion %: 56.4 - 1st in NFL
Next Closest: Philip Rivers - 49.3
Tony Romo has, by the numbers, been the most efficient quarterback in the NFL this year. Rodgers, Brady and Manning get the majority of praise from the media but Romo has performed at an equally high level and is every bit as valuable to his team as those other quarterbacks.
Speaking of value ...
VALUE TO TEAM
This is more subjective than the first category, to be sure. But this is a quarterback game. And on a team with superstars like Dez Bryant and Murray, Romo is still the most valuable player. Losing Dez and DeMarco would without a doubt hurt this team, but losing Tony Romo would be absolutely catastrophic. Just look at the four Cowboys losses this season.
Week 1 vs San Francisco 49ers - Romo was not yet fully healthy, had not yet developed his now regular practice routine (Romo Wednesday's) and was clearly not himself.
Week 8 vs Washington Redskins - Romo suffered a transverse process fracture, an extremely painful injury, and had to leave the game for a while. Returned for overtime but was unable to overcome the injury to lead the Cowboys to a win.
Week 9 vs Arizona Cardinals - A week removed from his transverse process fracture, Romo sat out this game. Brandon Weeden started in his place and had an absolutely horrible performance, clearly lacking Romo's accuracy, poise and chemistry with his receivers.
Week 13 vs Philadelphia Eagles - After playing Sunday night in New York, the Cowboys faced the Eagles on Thanksgiving (just four days later). Romo was unable to go through his weekly practice routine and altered his pain-management routine as well, which Romo says was a mistake in hindsight.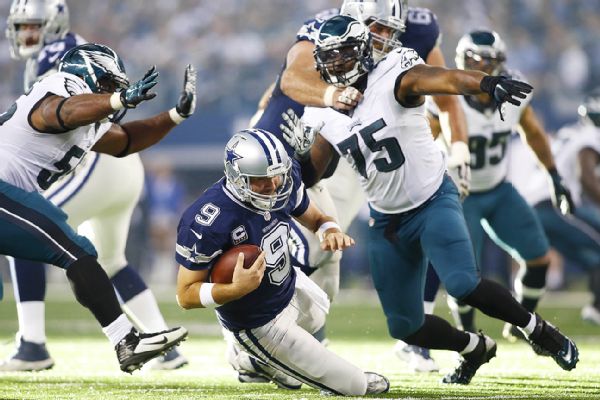 Don't get me wrong, I'm not making any excuses for this team's four losses. However, in games that Romo has had a full week of practice and is (for the most part) healthy, the Cowboys are 11-0.
Some may point to the Cowboys running game as the main reason for this team's success, but I beg to differ. Without Romo (or with an non-healthy Romo) defenses can crowd up and focus on stopping the run because they don't fear the passing game - as seen vs the Cardinals with Weeden or on Thanksgiving vs. the Eagles.
On a team with three first-round picks on the offensive line, the league's leading rusher and one of the best receivers in the game, Tony Romo is still needed in order for the offense to function properly. That's value.
MAJOR RECORDS + MILESTONES
Romo now owns just about every Cowboys passing record. In fact, he became the Cowboys all-time leader in passing yards vs the Colts on Sunday. That is impressive in itself considering the franchise greats that played before him (Troy Aikman, Roger Staubach), but Romo isn't only setting franchise records - he's setting NFL records. Here are some notable records/milestones that Romo has achieved this year:
1st QB in NFL history with four straight road games with 3 TD's and 0 INT's
1st QB in NFL history with 4 straight seasons with at least 4 GWD's
1st QB in NFL history with a 135.0+ passer rating in 6 games in a season. Steve Young and Peyton Manning are the only other QB's with 5 in a season.
Moved into 5th place all-time in consecutive games with a TD pass (38). Only Johnny Unitas, Peyton Manning, Tom Brady and Drew Brees have longer streaks.
Extended his NFL record of consecutive road games with a TD pass to 40. Brett Favre is 2nd with 32.
Tony Romo can also tie the NFL record for most games in a season with a completion % over 60.0 at 15.
Romo's 114.4 passer rating is the sixth highest single-season passer rating in NFL history. Rodgers has a 111.0 passer rating this season, which puts him in the 10th spot all-time. Out of the other eight players in history's top 10, seven of them won the NFL MVP that year.
Tony Romo's 70.3 completion percentage is the fourth highest single-season number in NFL history. He's one of only five QB's with a 70.0+ completion percentage in a season.
Ask yourself: If any other QB was breaking records like this, wouldn't the "experts" be talking about these numbers? Or at least aware of them? This shouldn't be a popularity contest; these numbers -- these all-time numbers -- need to matter to smart football people.
TEAM'S SUCCESS
Before the season most analysts and reporters picked the Cowboys to win five or six or seven games. Their 34-year-old quarterback was coming off his second back surgery and their 32-ranked defense had only gotten worse. How could this team win?
Fast-forward to Week 17 and the Cowboys have won three straight games (in December) and are sitting at 11-4 with the NFC East already in the bag. The Cowboys are also arguably the hottest team in the NFC, having beaten two winning teams in a row and scoring 35+ points in three straight games for the 1st time since 1983.
The Cowboys are also 7-0 on the road this year, including coming back from 21 points down to win in St. Louis and beating the Seahawks in Seattle, one of the toughest places to play in the NFL. One of the biggest reasons that the Cowboys are undefeated in road games is Tony Romo's nearly flawless play. In away games, Romo has thrown 18 touchdowns and one interception with a 71.6 completion percentage and a 125.7 passer rating.
The Cowboys have a chance to improve to 8-0 on the road this week in Washington. Fun fact: Four of the last five NFL teams to go 8-0 on the road ended up in the Super Bowl. So ... Romo has a legit shot at taking what was thought to be a six-win club to true title contention. Rodgers, Manning and Brady can't say that.
THE FINAL VERDICT
When you look at each category that I listed (Individual Stats, Value to Team, Records/Milestones and Team's Success) Tony Romo should clearly be one of the favorites to win NFL MVP.
"He's got to be up for it," tight end Jason Witten says. "I know there's other quarterbacks that have played well. ... I definitely think it's his best season. His name needs to be mentioned.''
Will that happen? Maybe. Either way, there's no denying that this beleaguered-by-memes quarterback with a broken back is having a historic season and he should be acknowledged for that with MVP candidacy ... at the very least.
COWBOYS LATEST NEWS
*Here's
Fish taking us inside the Cowboys room for the story of the gameplan for the playoff-clincher - and Romo's "stolen'' jersey. Premium stuff!
*Reflections on that big day ...
Cowboys Chronology of The Clinch.
*Should
Dallas rest in Washington? KD leads a Cowboys Crunchtime Podcast on the subject.
*The Cowboys get
talked about on CowboysHQ Discussion Boards. Get your free membership along with almost 25,000 Cowboys fans!