CowboysHQ.com has been all over
Dallas Cowboys
pass-rush candidates, especially first-three-round guys. But we (and they) look everywhere for prospects. I recently did an interview with Darius Allen, the talented but widely unknown pass-rusher out of CSU Pueblo. Allen is already on the Cowboys radar. (Want
tons of Cowboys Draft Profiles? Click here!)
However, there's another pass-rusher the Cowboys should take a look at that the average fan may not have heard of:
Lynden Trail
- the 6-7, 269-pound pass rusher out of Norfolk State.
"I get a lot of comparisons to guys like Julius Peppers and I've heard a bigger Jason Taylor," Trail told CowboysHQ in an exclusive 1-on-1 interview. "I've also heard a bigger, taller Bruce Irvin. As far as guys I try to model my mindset after is Ed Reed. We play two different positions but he prides himself on always being around the ball and that's how I want to be. I want be a ballhawk and make plays."
Making plays is definitely something that Trail has a knack for. In his 3 years at Norfolk State, Trail recorded 255 tackles, 41 tackles for a loss, 19.5 sacks, 8 forced fumbles, 5 fumble recoveries, 4 blocked kicks, 2 interceptions and 18 passes batted down at the line of scrimmage (thanks to those 34 7/8 inch arms). Despite putting up such impressive numbers, Trail knows he still has room for improvement and is working hard to get ready for the NFL. In fact, he's been training with Hall-of-Famer and Cowboys legend Randy White this offseason.
"I didn't know how big of a deal Randy White was in Dallas," Trail told CowboysHQ. "We went out to eat with my agent and people kept walking up to him so I did some research and watched clips from back in the day. He was a mean guy on the field but probably one of the nicest guys off the field. Everything we worked on was Martial Arts-based, which is kind of my background. We worked on my hand-eye coordination, which I feel like was one of my weakness last year. I'm so long and rangy and my arms have a couple inches on opposing tackles. I'd lock out and get to looking instead of shedding violently and then going to find the ball. So we worked on getting linemen's hands off me and then finding the ball after I escape."
Lynden certainly picked a great person to learn from. (As he notes above, he's also worked with another ex-Cowboy, Kevin "Pup'' Smith.) Getting tips from an all-time great like White is priceless. As good a teacher as Randy is, Trail was apparently an equally good student.
"He's a big, tall, lean guy," White told us. "He's very athletic-looking. When I worked with him, I was really impressed with his skills and how quick he could pick up and apply the things I was showing him."
Trail arrived at Florida as a top high-school recruit, but after coach Urban Meyer left, he also chose to leave, winding up at Norfolk State where he played the last three years, the past two seasons as the full-time starter.
One of the only question marks that teams face when evaluating Trail is, "Where do we play him?" Lynden has played WR, TE, DE and LB in his high school and college careers. While some think this will hurt his stock, Trail -- projected by some to be a "third-day sleeper'' -- thinks his versatility will actually help him find a home in the NFL.
"Whoever drafts me can expect versatility," Trail said. "I pride myself on being able to play multiple positions and doing what the team needs me to do. It sounds cliche but it's true. When you actually turn on film, you see my playing defensive end on one play and then linebacker on the next play. I was a gunner on punts in my sophomore and junior years. I play wherever they need me to play. I even played tight end. In my junior year I led the team in touchdowns. It wasn't that big of deal to me though. I'm more of a team guy than an individual guy."
Trail isn't the only one with this opinion, either.
"I think he's the kind of guy that'll make an impact right away, no matter where they play him." White said. However, Randy believes that DE is the best fit for Trail in the NFL.
"I think he can be a guy that can consistently put pressure on the QB from that end spot. He's big, tall, athletic, smart. He can learn the system quickly. I think he's an excellent prospect in the draft. If I was a team looking for a player that could have an immediate impact, he'd definitely be on my list."
Dallas Draft Watch Party
The gang will assemble at 6:30 Thursday at
The Maverick Bar (1616 Hebron) for our CHQ Draft Watch Party
sponsored by
Jim Ross & Associates, Attorneys at Law...
...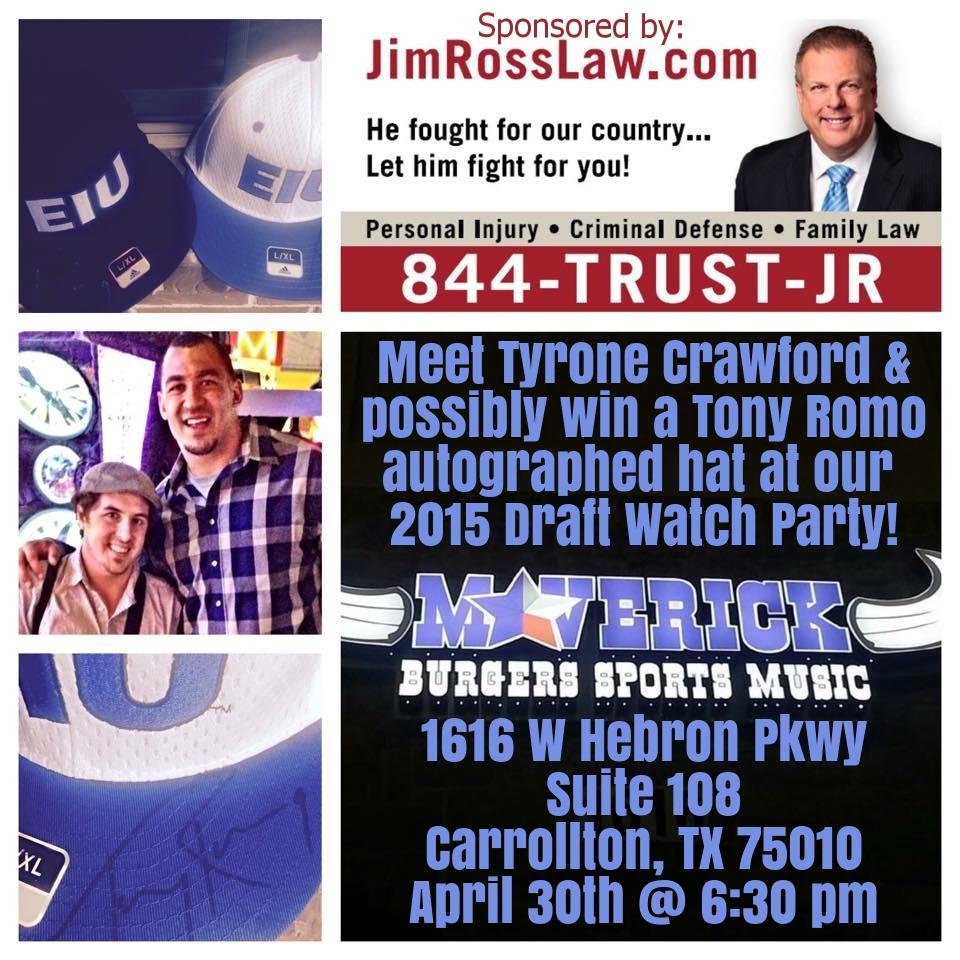 Jordan Ross and Mark Lane will be your hosts ... Special guests include Tyrone Crawford ... goodies include autographed stuff from guys like Tony Romo ... and Fish and Jeff Cavanaugh will swing in late, too. Come join us!
Onside Kicks
Those
pre-draft visitors and private workouts? That Cowboys list is here
... Fish reports on 105.3 The Fan that the Cowboys' position on Adrian Peterson is unchanged from months ago. No movement -- not even phone calls between the parties. Jerry's lieutenants continue to rule here ... Our
Cowboys Crunchtime Podcast series is here,
featuring Fish, KD Drummond, Bob Sturm and more ... Catch
Fish and Dez playing Twitter footsie with the "official'' news of the non-existence of the Unicorn Video
... We have
the inside story on Hardy vs. Coleman during conditioning drills.