THE SWOON
The
Dallas Cowboys
have a reputation for December swoons. This is especially cemented in because each of the last three seasons have seen an 8-8 finish with a Week 17 loss that meant no playoffs.
But it goes back longer than that. Dating to 1997, Dallas has a 27-43 record in December. Dating to the 2006 beginning of the Tony Romo Era are 12-17 in December ... and now you know why they are so often home for the holidays.
Said Romo: "Each season is a new football team. I've said a long time, if you're team is good enough you're going to get stops and you're going to be able to move the ball and go score, you're going to be a good team in December.''
He's right. At 8-4, the Cowboys have an overall look of "good enough.'' Unfortunately, so do the Seahawks and the Lions, who win the tiebreak over Dallas right now due to conference records.
So there is business to take care of in Chicago, and ideally, a focus on that, and not anything else on the calendar.
"It really is about this day, practicing well, regardless of what the calendar says,'' coach Jason Garrett said. "My experience has been, when you do that, you do it again and again and again, you typically play your best. So that's where our focus is."
So focus on Chicago. Dallas has been doing so for a week, will board its charter flight midday on Wednesday and bundle up for The Windy City with the knowledge that the Bears are vulnerable, especially in one key area: Chicago's defense allows a score on 45 percent of the other teams' possessions. That is the worst such number in the NFL and, we think, Thursday's key to avoiding a December swoon. This game isn't on Dallas' defense, which has elevated itsef from last season's "world's worst'' to this year's middle-of-the-pack status. That's going to have to be good enough, especially against Forte as a runner and Chicago's group of oversized pass-catchers. This game is on Dallas offense, most of all, because of Chicago's vulnerability.
And that can mark a beginning to the end of the season-end swoons.
COWBOYS VS BEARS MILESTONES
Tony Romo
needs just 61 passing yards to move ahead of Kurt Warner for the 33rd most in NFL history.
Romo needs three touchdowns to pass Steve Young for the 26th most in NFL history. He needs four touchdowns to tie former Eagles QB Donovan McNabb for 25th most in NFL history.
Romo can extend his streak of consecutive games with 60+ completion % to 14. The longest streak of his career is 17.
DeMarco Murray needs two rushing TD's to tie Dan Reeves for 10th most in franchise history.
Murray needs just one rushing TD to tie his career high (nine).
Dez Bryant needs one TD to tie Tony Hill for the fourth most receiving touchdowns in franchise history.
Bryant needs 48 yards to become the just second Cowboys WR to have three consecutive seasons with 1,000+ yards and 10+ TD's. The other was Terrell Owens from 2006-2008.
Bryant needs six catches to pass Bob Hayes for the seventh most receptions in franchise history.
THE PRACTICE REPORT
The temperature is expected to be near freezing by kickoff in Chicago on Thursday. Dez Bryant's counter: Mind over matter.
"The cold don't affect me at all,'' said Bryant, who wore shorts and no sleeves at Tuesday's Valley Ranch practice, which was itself chilly. "I just go out there and play ball."
Safety Jeff Heath (thumb), cornerback Tyler Patmon (knee) and linebacker Dekoda Watson (hamstring) did not practice. Expect them to be scratches on Thursday. Defensive end George Selvie (thumb) is practicing and is expected to play against the Bears.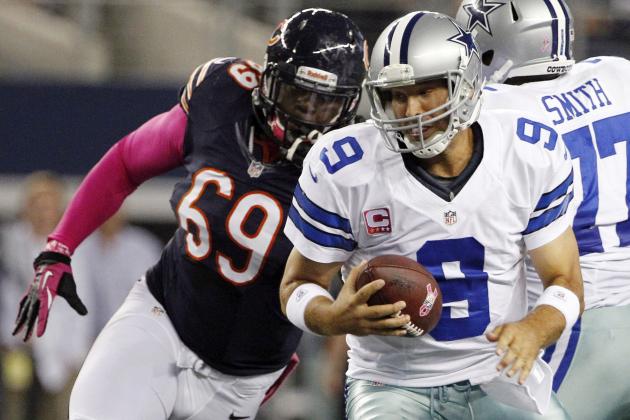 THE FINAL WORD
"Last year was 'shut-the-city-down' cold. This year will be a manageable 30 degrees.' -- Bear-turned-Cowboy Henry Melton, who needs two sacks to tie his single-season career high of seven.