Dallas Cowboys
owner Jerry Jones wasted no time, in the aftermath of Green Bay 26, Dallas 21, to address the elephant in the room ... or, more accurately, the elephants just down the hall in Lambeau Field.
"I know it's certainly one of the orders of the day, beginning right this minute," Jones said of head coach Jason Garrett's expiring contract. "We're through playing. That's usually when that steps up and gets at the top of your list."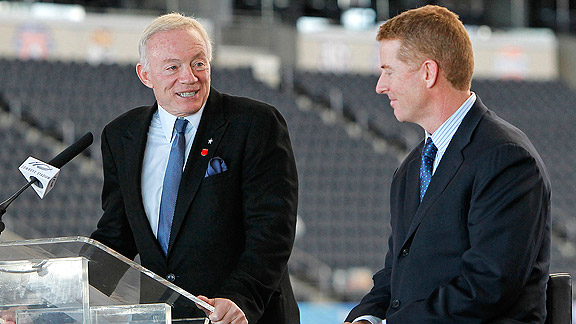 As CowboysHQ has noted before, in the cases of Parcells, Phillips and Garrett before, the Cowboys provided their head coaches extensions following the ends of seasons. In that sense, this circumstance is nothing unique, and I'm told the Joneses will now move quickly to work with Garrett agent David Dunn on a new five-year deal that pays the coach in excess of $5 million annually. (Stephen Jones spend much of Monday working to forge an agreement here, and there's an 11 a.m. Garrett presser on Tuesday. It would be oh-so convenient if ...)
That, as Garrett himself would say, is "Line 1.''
Garrett's overall record is suddenly 42-32. His owner (who could've extended Garrett last year but didn't) is suddenly so pleased that he's labeled Garrett "my Coach of the Year" in the immediate wake of Sunday's 26-21 playoff loss at Green Bay.
Now, money meets mouth. The Cowboys will in moments sign Garrett to a five-year contract extension in excess of $5 mil annually.
"I think we're building it the right way,'' Garrett said on Tuesday morning. "Absolutely I want to be here.''
What's next?
"In general, this staff is one that you'd like to keep going,'' Jones said before acknowledging there are "a lot of other things influencing your ability to keep a staff together.''
Let's start with defensive coordinator Rod Marinelli.
"We have every intent of keeping Rod Marinelli as our defensive coordinator,'' Garrett said on Monday morning.
He came to Dallas almost as a favor to pal Monte Kiffin, and this year he rescued Kiffin's bunch. But all along, he's maintained a best-friendship with Lovie Smith, the head coach in Tampa Bay. Marinelli's contract is up. Lovie needs help. Throwing money at Marinelli isn't the issue; loyalty - and to whom Marinelli feels loyalty - is the issue.
Pro Football Talk has reported that Marinelli is already gone and that is premature because Rod is still under contract for a few more days in Dallas. But PFT's Mike Florio quite likely typed that report while sitting in the NBC Green Room alongside Tony Dungy, Lovie's mentor.
The report is premature. But the smoke has been there for 12 months. The fire (in one form or another) is coming.
And speaking of fire, to that dirty little secret: Jones could've gone to some of these coaches at the beginning of the year and re-upped them then. Why didn't he? For one, he never assumed they'd go 12-4. ... but if they did, he knew he'd get his shot at them after the year ... now.
Additionally, it can justifiably be argued that working for a contract is WHY Dallas' staff was so productive on the way to 12-4.
But that doesn't mean all the members of the in-limbo staff liked it out there.
The Cowboys will transition from Marinelli to top aide Matt Eberflus (he's been Rod's guy and Rob Ryan's guy before that; he's ready) ... though it's probably worth me exploring what Garrett thinks of Jim Schwartz, hanging around just outside of Buffalo right now.
Offensive boss Scott Linehan? I think his reps made sure to float his name in association with the vacant Raiders job. And I know the Raiders want to interview anyone with a heartbeat, and that they don't pay. But is Linehan going to out-interview/out-credential the likes of Mike Shanahan? (Or, I add in an update, the likes of old friend Jack Del Rio, an Oakland-area native?)
I bet Linehan -- who bet on himself a year ago by signing a one-year deal with the Cowboys -- gets his reward in Dallas. Big raise. Fancy title. Brotherhood with Garrett and
Tony Romo
. ... though ESPN is reporting that Cleveland would like to interview him for a coordinator's spot.
Bill Callahan, the run-game boss and O-line coach? He's been professional in every way while serving out the last year of his deal, but he wants out. Heck, he wanted out a year ago but wasn't allowed to interview with the Browns. (He will get to do so this time around.) Coordinator jobs may dry up quickly, and I don't know where he gets one. But I bet he'd rather be an O-line coach only somewhere else than stay here. (Update: Callahan's connection with Browns coach Mike Pettine is tight. There's your match.) Staffer Frank Pollack can be the move-up here as the O-line coach, with ex-Raiders boss Tony Sparano also available. Marc Colombo is also on-staff in the scouting department.
Rich Bissachia's name is very much under the radar, but I've talked extensively with the special-teams coordinator and he'd love the chance to someday be a head coach at the college level. And as good as he is in his present role, he'd be a terrific fit for that.
And then one more name in the front office, Will McClay: I've also visited on this with him. This isn't his year. He's a viable GM candidate someday, but there are too many other qualified guys and too few openings. Remember, Will's only been doing this -- is present role as personnel boss -- for one season, having just been elevated above Tom Ciskowski, a good soldier at Valley Ranch who, by the way, Jerry should convince out of possible retirement plans.
The other day, Jerry Jones noted that with success, "All boats rise.'' Some of the Cowboys' coaching "boats,'' especially those of Garrett and Linehan, are about to rise in salary and stature. Others "boats'' are poised to sail on.