THE ODDS IN DALLAS
Last Thursday the
Dallas Cowboys
did something they haven't been able to do in the last four years - win nine games in a season. In each of the last three seasons, nine wins would've been good enough to win the NFC East and make it to the playoffs, but that's not the case in 2014.
Both the Cowboys and the Eagles have 9-4 records with three games left in the regular season. The Cowboys are coming off a big win over the Bears (something they hadn't been able to do since 2007) while the Eagles are coming off their first home loss of the season to the 9-4 Seahawks. Both teams are in complete control of their destinies but the Cowboys path to the playoffs is a bit more difficult than the Eagles.
If the Cowboys and Eagles finish with the same record, the Eagles will win the division because of their superior conference and division record. The fact that all four of the Cowboys losses have come at the hands of NFC teams makes their odds of winning a wildcard spot slim as well. That means the Cowboys must win out and finish with a 12-4 record to completely secure a playoff spot. If not, the Cowboys must beat the Eagles and then win one of their final two games while the Eagles lose one of their final two. Either way, the Cowboys can't really afford to lose to their winged foes in Philadelphia this Sunday.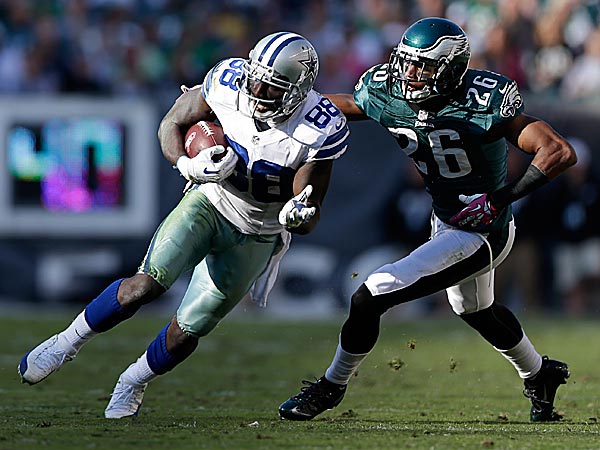 Not that it will have any affect on the 2014 Cowboys, but let's take a look at how this team has fared in the past when they've had a 10-4 or 9-5 record.
The Cowboys have gone 10-4 seven times in franchise history.
1970 - Lost Super Bowl
1972 - Lost Conference Championship
1973 - Lost Conference Championship
1975 - Lost Super Bowl
1978 - Lost Super Bowl
1993 - Won Super Bowl
1995 - Won Super Bowl
Cowboys teams that have started 10-4 have reached the playoffs seven out of seven times, won 14 playoff games (at least one in each season), reached seven Conference Championships, reached five Super Bowls and won two Super Bowls. Those are pretty awesome odds.
The Cowboys have gone 9-5 a total of 10 times in franchise history.
1967 - Lost Conference Championship
1979 - Lost Division Round
1984 - Did Not Make Playoffs
1985 - Lost Division Round
1991 - Lost Division Round
1996 - Lost Division Round
2003 - Lost Wildcard Round
2006 - Lost Wildcard Round
2008 - Did Not Make Playoffs
2009 - Lost Division Round
Cowboys teams who have gone 9-5 have reached the playoffs eight out of 10 times (80 percent), won four playoff games (no more than one in any season) and reached one Conference Championship.
No team has ever had four straight seasons with an 8-8 record, so the odds were pretty good that the Cowboys would either do better or worse than the previous three years ... Most people, fans and experts alike, weren't very optimistic. Now, this team is having one of its best seasons in quite some time and is on pace for double-digit wins. Usually, when a team is able to get to 10+ wins it's a good sign that they'll still be playing in January. In fact, the Cowboys have never missed the playoffs when they've won 10 or more games. They are a perfect 27-for-27. Hard to believe they could potentially be on the outside looking in with an 11-5 record this season. But, as I said earlier, this team's fate is in their own hands - and Sunday's game vs the Eagles will go a long way in determining that fate.
QUOTEBOARD
"It's Grasshopper pie. It's really good. You should try it.'' -- Coach Jason Garrett on his favorite recipe in the Cowboys Cookbook.
ROMO 'FIRING'
When talking of his health, Tony Romo likes to use the word "firing" - as in, "firing on all cylinders.'' Which he is apparently doing today after a "Romo Wednesday'' in which took part in the morning walkthrough but did not practice fully in the regular workout.
But it's not just the QB who figures to feel better with a 10-day break between games. Romo says that goes for all the Cowboys.
"I think just having a few more days off and the ability to take the week like we've normally been doing, I expect me and our team to be at our best come Sunday," Romo said.
ONSIDE KICKS
Fish examines:
Are the Cowboys 'overachievers'?
... Jeremy Mincey took a personal day Wednesday to deal with family business. Tyler Patmon and Jeff Heath did practice. ...
CowboysHQ does Christmas with DeMarco
... Speaking of Christmas, the Happy Hill Farm kids were in the locker room on Wednesday singing carols while the players ate lunch ... Joey Ickles with
a look at what Seattle did right against Philly - and how Dallas can copycat it.
... Micah Pellerin has been re-signed to the practice squad. Lavar Edwards, another p-squad guy, has been placed on IR. ... Discuss all of this
and everything that's cookin' with the Cowboys right now on CowboysHQ Discussion Boards!
THE FINAL WORD
"The playoffs have started. It's here now." - Orlando Scandrick.