A busy weekend begins at Valley Ranch ...
THE ROMO PLAN
Fish reported on 105.3 The Fan that
Tony Romo
's efforts to play Sunday against the visiting Cardinals has the
Dallas Cowboys
QB wishing he might be part of today's walk-through, along with preparing to wear what Fish calls a "double-flak jacket'' in the game and, in a week-long process, undergoing 12 hours of daily treatment beginning at 6:30 a.m. at his home and at the team's headquarters, according to sources.
Fish said Friday morning that he'd been given indications that if the QB is listed as high as "questionable'' on Friday afternoon, that it should be taken as a sign of progress. ... and indeed, Romo is now listed as "questionable,'' preferable over "doubtful.''
"If it turns out to be just a pain tolerance I will play," said Romo. "That part has never been an issue. It will be about your ability to be productive in some fashion. That part of it we will continue to evaluate."
And CowboysHQ will stay on top of it throughout the weekend, of course.
HOW TO HANDLE A RANDLE SCANDAL
Then Friday's practice began, and Fish was on the spot to see
Dez Bryant
and Joseph Randle, two ol' Oklahoma State pals, engaged in a verbal conflict.
As
Fish tells the story on 105.3 The Fan,
that shoplifting thing continues to haunt Randle found, who found himself being undressed by team leader Jason Witten.
"Alright, don't say another (expletive) word!" Witten yelled at Randle during stretching (as shown in the above photo, courtesy WFAA-TV). "Alright? Don't say nothin' from here on out. ... Don't talk about it."
So what's the deal? We're told the Frisco Jail video that shows Randle trying to downplay his crime by comparing it to teammates' troubles is the problem here. Randle was foolish enough to say to officers that teammate Josh Brent is "still up in the locker room. He was driving drunk. That's stupid." ... and that teammate Dez Bryant "didn't miss no games for smacking his momma."
Witten shut it down. Fish then talked to Witten, who said, "That's all handled. ... We're going places and trying to move on from last week's game and move forward.'' And then Fish and Bryan Broaddus saw Randle trudge into the coaches wing for what was likely another undressing.
"It's all good,'' Dez said. "That ain't no big deal. We gotta get on these Arizona Cardinals.''
"Ignorance and impudence,'' Fish called it on the radio, and for Joseph Randle's sake, you hope that's as bad as it gets.
COWBOYS MILESTONES
*Tony Romo can extend his streak of consecutive games with a TD pass to 37, moving into sole possession of 5th place in NFL history. ... Romo can extend his streak of consecutive games with 60+ completion % to 11. The longest streak of his career is 17. ... Romo can extend his streak of consecutive games with a QB rating over 90.0 to 8, matching the longest streak of his career. ... If Tony Romo doesn't throw an INT vs the Cardinals, they will become the only team that he's faced 4+ times without throwing an INT. ... All of this, of course, based on him playing. And when he does play November games, he's a best-of-the-best 24-5.
DeMarco Murray can extend his NFL record of most consecutive 100+ yard rushing games to start a season to 9. ... Murray needs 151 rushing yards to pass Walt Garrison for the 7th most in franchise history.
Romo and Ronald Leary are officially listed as questionable vs the Cardinals. Doug Free has been ruled out.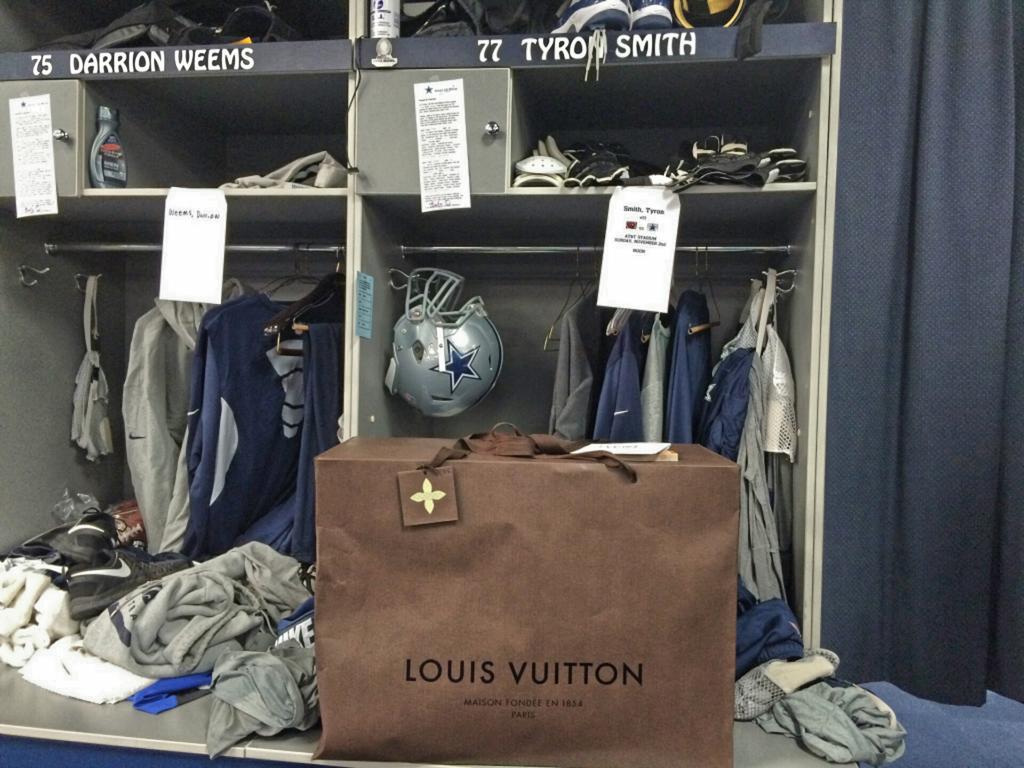 THE FINAL WORD
Romo bought all five starting O-linemen, plus Witten, Parnell and Bernadeau, Louis Vuitton travel bags. Likely cost? Between $16,000 - $24,000. "Merry Christmas from No. 9,'' Witten told Fish, "and just in time for London.''