The Big Lead: Cowboys 31, Giants 21
The precocious Dez Bryant Jr. was in the Cowboys locker room the other day, fielding rapid-fire quiz questions from Daddy. Bryant would mention a Cowboys player's jersey number, and the adorable little one would fire back the appropriate player.
Who is No. 9? "Tony Romo,'' the kid replied.
Who is No. 83? "Terrance Williams,'' Junior replied.
Who is No. 29? "DeMarco Murray,'' Little Dez replied.
How about No. 82? "That's Jason Witten,'' the 4-year-old replied.
On and on the drill went, numbers and names, names and numbers, a "Baby Geniuses'' scene come to life.
But the next time Dallas Cowboys star receiver Dez Bryant plays the game with his baby boy? He might feel it necessary to test him on ... No. 98. And No. 89. And No. 78.
"We don't just have 11 guys flying to the ball,'' said defensive lineman Tyrone Crawford after Sunday's 31-21 win over the Giants at AT&T Stadium that vaults Dallas to 6-1. "It's, like, 22 guys flying to the ball.''
Like Crawford, No. 98, the Canadian native who missed all of last year with an Achilles injury but who is now putting up DeMarcus Ware-level numbers in QB hurries and QB hits (but not sacks) as part of a Dallas defense that forced two fumbled to help control
Eli Manning
's offense.
Or like tight end
Gavin Escobar
, No. 89, the second-round pick from a year ago considered by some impatient observers as a bust, who took advantage of New York's long-standing problems with guys like him by grabbing three passes for 65 yards, including TD strikes of 15 and 26 yards.
"We saw we could attack them up the seam,'' said Escobar, who may be unaware of the fact that mate Jason Witten has since 2000 caught 10 TDs vs. New York (the most by any tight end) and 120 balls (the most by any receiver against the Giants). "We definitely took advantage of that.''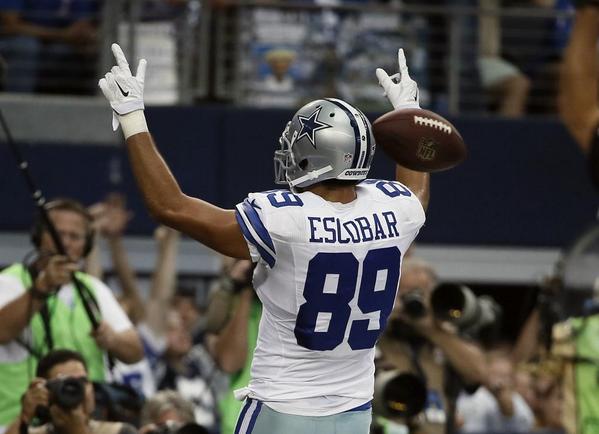 Or like right tackle Jermey Parnell, No. 78, the anonymous backup blocker who Dallas privbately believed would not only hold up at right tackle, but might even run-block better than Doug Free (sidelined with a foot injury).
"I think I proved something,'' Parnell told us following a win in which Dallas held a time-of-possession edge of 33:49 to 26:11, including a fourth-quarter advantage of 9:25 to 5:35. "I proved I can play in this league. I gave (the team) reason to have confidence in me. That feels good.''
Assorted Cowboys did it in the clutch all day long. With less than two minutes in the first half, Romo scrambled, not to avoid pressure, but to buy time behind his stout offensive line. When coverage inevitably broke down, he found Terrance Williams for an 18-yard touchdown to tie the game at 14-14. With a little over 11:00 left in the fourth quarter, Cowboys safety
Barry Church
stripped Giants tight end
Larry Donnell
just in the split second he was heading to the ground. Linebacker
Justin Durant
fell on the football to give Dallas possession. In four plays, Dallas went up 28-14 with a one-yard Murray touchdown, preceded by a 25-yard Bryant catch. Late in the game, Manning was able to hit Odell Beckham again for his second touchdown, but ultimately, Dallas ran down enough clock after getting the ball back for
Dan Bailey
to hit a 49-yard field goal and set the game's final score.
"I sure am proud of those guys in there,'' Cowboys owner Jerry Jones said from outside the Dallas locker room. "The whole team really answered the bell. ... I think our record is above what we could have expected. But we have it.''
The most identifiable evidence of the success, is, as it's been all year, the rushing numbers of
DeMarco Murray
. This time: 128-yard rushing day on 28 carries. But
Dez Bryant
caught nine passes for 151 yards, too, causing Tony Romo to note, "DeMarco is at the highest level at his position. Dez is at the highest level at his position … It's hard for teams to figure out what to take away.''
Dez, trying to stay mellow as Dallas moves to 6-1 -- in history, when the Cowboys achieve that record to they are nine-for-nine in making the playoffs, with six NFC title game appearances and two Super Bowl titles -- couldn't help but answer in the affirmative when ask if the NFL has a better run/catch tandem that DeMarco and Dez.
"I don't think so,'' Dez said.
DeMarco and Dez? Those guys are about to be household names. The No. 98's and No. 89's and No. 78's? After this one, they deserve to be household names, too -- in Dez Bryant Jr.'s house, and maybe beyond.
Onside kicks
*As
our man Jordan noted on Twitter,
this was only this third time that DeMarco had 100 yards on the ground and Dez had 100 yards receiving. DeMarco did it despite hurting an ankle. Dez did half-jokingly credited his explosion to a change of cleat and a return to his facemask visor.
*Bailey's 49-yard field goal put Dallas up 31-21 with less than a minute to play. The last time Bailey missed against New York was 01/01/12, his rookie season.
*Curious about the longest stretch of 100-yard games?
It's
Barry Sanders
with 14, spanning two seasons.
* Prince Amukamara recorded his first career interception against
Tony Romo
.
*What happens after Dallas foes 6-1? In eight of the nine instances, Cowboys' previous 6-1 teams have improved to 7-1 the following week.
*In the Garrett era, when Dallas begins a series with an NFC East team with a win, a sweep has occurred four of six times.
The Final Word
"I don't know that anybody has ever had a better or brighter vision of Jason (Garrett's) vision than I do. I've always thought he had the potential to be a serious and consistent winning coach in the NFL. ... I'm glad to see him having this kind of success.'' - Jerry Jones.