Same-old Same-old?
After years of frustratingly up-and-down seasons that were over by New Year's Day, the
Dallas Cowboys
finally broke through the monotony and posted a 12-4 record while winning an NFC East title. The Cowboys lost a close one in the divisional playoffs, but they are in great position to keep dominating in 2015.
Wait. Haven't you, as a Cowboys fan, heard that before? Wasn't that the same nostrum Jerry Poppins sold you after Dallas went 13-3 and lost to the Giants in the '07 NFC Divisional Playoffs?
There are a myriad of comparisons between the team of first-year head coach Wade Phillips and fourth-year Jason Garrett's squad.
Like the 2014 Cowboys, the 2007 team came out of nowhere. NFL "insiders" were mailing it in with predictions of the Eagles winning the division and the Cowboys sneaking into the playoffs at best. Very few predicted the Cowboys to jump out to a 12-1 record and then wrap up home-field advantage throughout the NFC playoffs.
Dallas earned its NFC East crown that year with Tony Romo having a career year. The Cowboys offense, led by first-time offensive coordinator Jason Garrett, relied on a big-play offense to storm through their schedule. In 2014, yes, Romo to Bryant was better than Romo to Owens in terms of touchdowns (16 to 15), but the offensive line and the league's leading rusher in DeMarco Murray were the offense's identity in 2014. Garrett the Head Coach made it a point to establish the run as opposed to Garrett the Coordinator. This approach made Cowboys wins seem more convincing and less reliant on spectacular catches or missed tackles.
Probably the biggest difference between the 2007 and 2014 teams can be seen when playoff time rolled around. Aside from Romo, Witten, and Bobby Carpenter going to Cabo during the first round bye, another disruptive element was the fact other teams were poaching Cowboys assistants.
During Wildcard Weekend, assistant head coach and offensive line coach Tony Sparano
interviewed with Bill Parcells in Miami for the head coaching job.
Garrett was also entertaining offers from the
Ravens
and the
Falcons.
In these past playoffs, yes, passing game coordinator Scott Linehan was rumored to be a target for the Raiders, and defensive coordinator Rod Marinelli was allegedly packing his bags to be with Lovie Smith in Tampa Bay. However, these instrumental coaches never left the Metroplex during the Cowboys' postseason campaign.
Let us not get tunnel vision with just the assistant coaches. Even though our Cowboys Insider Mike Fisher slowed down the "Jets-interested-in-Will-McClay" canard, let's assume that story was true and not just filler for the telethon-ish Sunday pregame shows. Pretend the Jets wanted McClay to replace John Idzik as general manager.
In 2008, just days after the season finale, Cowboys Vice President of Pro and College Scouting Jeff Ireland, a front-office guy Parcells liked in his Dallas tenure and a key component in building the competitive roster, left Irving for Davie.
Even in the aftermath, a lot can be gleaned. Though Garrett stayed at Valley Ranch with help of Jerry Jones' negotiating checkbook, Sparano departed for South Beach. Along with him went defensive line coach Kacy Rodgers, linebackers coach Paul Pasqualoni, and secondary coach Todd Bowles. The Dolphins improved from 1-15 to 11-5 and won the AFC East while Dallas floundered to 9-7 in 2008 with two of the worst losses emotionally and statistically in franchise history.
Linehan and Marinelli stayed. McClay stayed.
Bill Callahan leaving to rebuild "the Hogs" in Washington is comparable to Sparano's departure, but even in that, it's an entirely different situation. When Sparano left, the coaching staff brought back ex-offensive line coach Hudson Houck, one of the bricklayers for the Great Wall of Dallas in the 1990's.
With Callahan gone, the coaching staff immediately promoted assistant offensive-line coach Frank Pollack, who was Callahan's assistant from the moment the two arrived in 2012. The only old "new blood" the Cowboys are looking to bring in is Marc Colombo, if you can call him that. Colombo has been a special assistant for the past year in Dallas. Read that as "being groomed."
The same core of coaches and front-office wizards from the 12-4 run are still in place, ready to draft, sign, and coach 'em up, while four of 10 of the '07 staff and the personnel guys pursued other opportunities.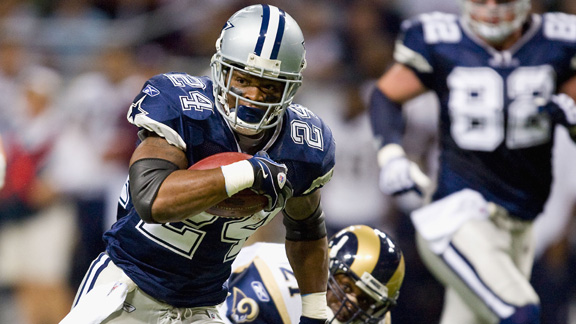 Interestingly, the Cowboys now, as in the '08 off-season, are having to decide on what to do with an overachieving running back coming off a contract year. In late winter and early spring, the consensus was Jerry Jones would give Marion Barber the big contract. Now? We know Murray will likely have to go elsewhere for that biggest of paydays, which he rightfully earned.
Mark Twain said "history doesn't repeat itself, but it does rhyme.'' Jerry, McClay, Garrett, and the staff are looking to write a whole different verse for the 2015 Cowboys and avoid that deflating postseason whiff. On another day, we'll examine how much more difficult that is than it appears as the Cowboys are "building towards something'' ... but good luck which such assumptions as no one has repeated as NFC East champs since 2004 when Philadelphia owned the division.
Onside Kicks
Jason Garrett joins Tom Landry as the only other Cowboys head coach to win a Pro Bowl game. ... Here,
our story on the Cowboys "win'' the Pro Bowl and Romo wins some pizza
... Get educated:
What's about to happen has nothing to do with "Dez vs. DeMarco''
... Getting ready for the draft? Please read
"The Cowboys' Six Tells and Tendencies in the Draft''
... During ESPN's Pro Bowl telecast, Jon Gruden said it was great to see Romo "injury-free" this year. Guess the offseason back surgery, broken back and bruised ribs don't count as "injuries.'' ... Be sure to stay tuned to
105.3 The Fan
for all your radio insights and keep it right here at
CowboysHQ
for hard-hitting commentary and outstanding analysis. We also try to get the breaking news to you as quickly as possible. Example? In the papers today comes the story of why Dallas signed Ryan Williams to a "Futures'' contract that is a bit different than normal. It's a good story - but
one CowboysHQ readers interested in Ryan Williams' value to Dallas knew about two weeks ago.
The Final Word
"Top-five worst feeling is pulling up to a Chic-Fil-A drive-thru on a Sunday and nobody greets you.'' -- Justin Durant on Twitter.