THE BIG LEAD
The
Dallas Cowboys
will have a new headquarters in 2016. The new headquarters has a name today.
"It's something that we think is certainly classy, timeless and special," Cowboys COO Stephen Jones said during a press conference at AT&T Stadium announcing the naming of 'The Star in Frisco,' a 12,000-seat multi-use facility sitting on 91 acres that will include a luxury hotel and retail shops.
The Cowboys have partnered with the city of Frisco and Frisco ISD to make possible the new facility and the team's eventual move away from Valley Ranch.
BRENT'S ELEVATION
Defensive tackle Josh Brent long and controversial climb back into the NFL is almost complete. He's been activated to the roster (Dallas waiving linebacker Tim Dobbins to make room) and the team is hoping he's ready to contribute when the Cowboys play at the New York Giants on Nov. 23.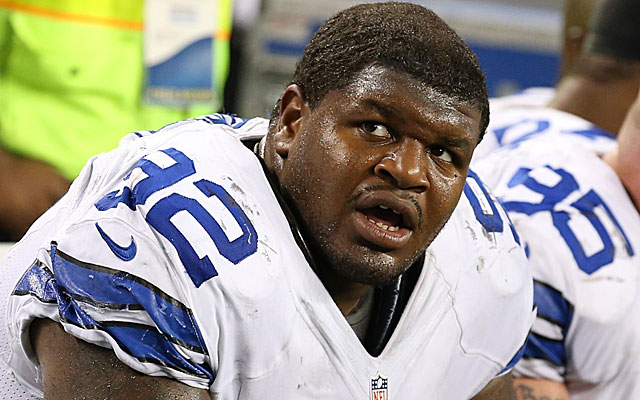 "It's strictly football," Stephen Jones said. "If we didn't think he could help us, we wouldn't have (made the move). That's a tough way of saying it, but it's business, and your best 53 players make the team. We obviously feel like he's one of our best 53. … We think over the course of his work here the last few weeks, we think he deserves to have a spot."
There are moralists who disagree in light of the fact Brent was convicted of vehicular manslaughter in the Dec. 12, 2012, death of close friend and teammate Jerry Brown Jr. But Brent did his time and then served a 10-game suspension before his return, which included a week of practice in London. I can tell you this: I've seen Brent a dozen times in recent days. His mood reflects someone who is taking a literal "second chance at life'' very seriously.
We shall see. But as a run-clogging 1-tech who adds depth inside (and now playing through next season on a vet's-minimum deal worth $750,000 but "split'' so the salary is cut in half should he not be active), it is unquestionably the right business decision.
DEZ FRAMEWORK?
On the record, the Cowboys say they have not yet started negotiations with CAA's Tom Condon, who will be rolling up his sleeves on behalf of
Dez Bryant
and Jay-Z's Roc Nation group. And Dez himself on Wednesday said the same thing.
But I'm told the wheels are turning. ... that the silliness of DeSoto Police log incidents that don't even actually involve Bryant are not a real factor here ... and that at least some of the people involved think the bye week is an opportune time to touch base on a contract extension for Dallas' standout receiver.
I think one of those people is Jerry Jones.
"What we want to do is have an agreement for the rest of Dez's career," Jones said. "To me that says a lot about off-the-field concerns if we want him on the Dallas Cowboys for the rest of his career. There is more to consider than just how good a player. There's more to consider than performance. He represents the star. I'm real impressed with how he's evolved over the last several years, or we wouldn't be in serious contract negotiations with him. ... I do look for us to get something done with Dez."
I believe the parties will meet in the coming days. And that Job 1 will be to clear up the baloney that threatens an accord, baloney about curfews and distrust and somebody in DeSoto calling the fire department. ... all of which must be designed to give Dez the thing he wants most, first.
"It's all about respect,'' Dez said. "I am a very loyal person. But just don't test my loyalty."
There is no indication Cowboys management has done that to Bryant, especially as he increases his understanding of the business side of negotiation. (If every player, or even every terrific player, got everything they wanted, there wouldn't be much need to "negotiate,'' would there?) At the same time, Dez's words weren't mean to sound as ominous as they look in print. Still, the Joneses would be wise to stress "family'' and "trust'' and "loyalty'' here while staying away from negativity.
"I have a lot of confidence we will (get a long-term deal done)," Stephen Jones said. "I think Dez wants to be here, and I know we want him here."
I've talked to Dez about this at great length. I believe the $10-mil-a-year number that has existed since July is insulting to him. I believe the franchise tag (which would pay him $12.8 million next season) is financially attractive but emotionally a step backwards from the relationship he wants with his team.
And I know for a fact that despite the rumors being floated out there, Jerry doesn't "negotiate negatively.'' He never has. And -- given the relationship he has and wishes to have with Dez Bryant -- has no reason to start now.
ONSIDE KICKS
Tyler Patmon will miss at least two weeks with knee and ankle problems ... J.J. Wilcox (shoulder) practiced on Wednesday. So did Rolando McClain, who showed his hand-eye coordination in an interception drill during which he kept his hands in his pockets to avoid the frigid weather and then, at the last second, snatched the ball ... Tyrone Crawford (knee) did not practice ... Dallas should be feeling pretty good about the rookie Anthony Hitchens. Every time he goes and plays MIKE in McClain's place, he gets himself 11 tackles. ... You know your offense did OK when both Romo and Murray are nominated For FedEx Air and Ground Player Of The Week ... Speaking of Romo: I don't think any of us who were on the London trip have adjusted our body clocks yet, and as proof: Here is was Romo Wednesday and yet, there was Romo, participating in Wednesday's practice. ... What Jerry does do, when thinking and speaking about Dez's deal and other contracts, is rely on a "shared sacrifice'' concept. "It's got to fit,'' he said. "I spend all the money and I'm as imaginative spending it as you're allowed to spend in the NFL. So what one player gets another one doesn't. We have the job of putting it in place so that everybody can play on a team that is competitive and in the long run, that's in the best interest of the player.'' Is that Jerry negotiating in the media? Kind of, except it's exactly the sort of thing he's already said to Bryant -- and is prepared to say to Bryant's reps.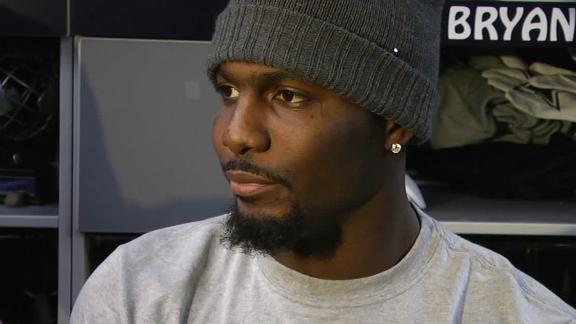 THE FINAL WORD
"They'll do what they have to do, we'll do what we have to do. And at the end of the day, Im sure we'll come up with a pretty nice agreement.'' - Dez Bryant.