Did the
Dallas Cowboys
plan on a 35-point win? That would be a stretch, though it's worth noting that if you throw out the short-week garbage Thanksgiving loss to the Eagles, Dallas has in the last five games scored 183 points (37 points per) while at the same time twisting this No. 32-ranked defense from a year ago into a unit that has over the course of a shocking 2014 season thrown five shutout halves at NFL foes.
So they planned on winning. As they have now done 11 times in 15 outings, not only clinching a playoff berth and NFC East championship for the first time since 2009, but also allowing themselves some Week 17 breathing room ... and even the hope for a first-round bye, should the Cardinals and Seahawks both lose in Week 17.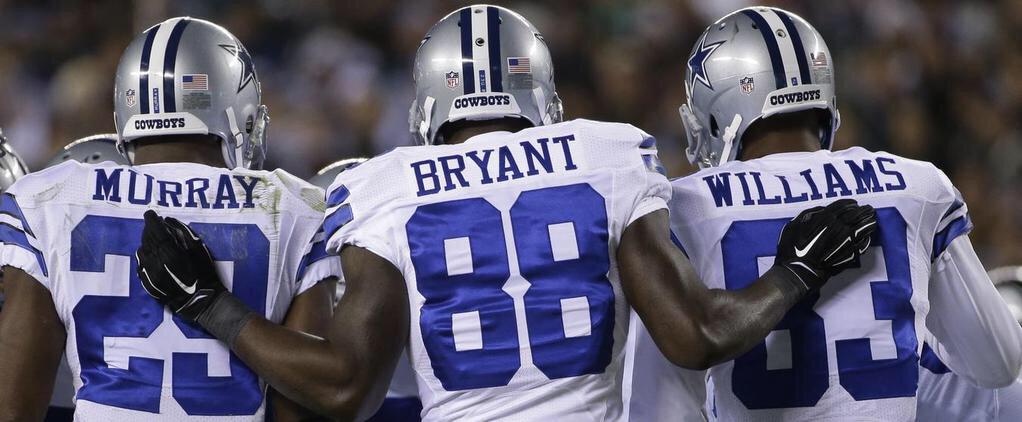 Now to the plan ... and what I occupy myself with during the week at Valley Ranch in preparation for revelation on 105.3 The Fan's official Cowboys pregame show: "FishTips.'' A handful of items gathered from players and coaches that might lead us to some clues toward the outcome. To wit:
FISHTIP 1:
I said they'd close the roof at AT&T Stadium. America doesn't quite get this yet, but you should: As aesthetically pleasing as it might be to have the roof open -- sunsets and night-time skies and shooting stars and blimp shots or whatever -- you're trying to win a football game here. So you close the roof, capture the sound, make it a 91,000-person echo chamber ... and leave the aesthetics to Mrs. Jones and Sky Mirror.
RESULT:
Earlier in the year, when the Niners fans and the Saints fans "traveled'' well, the reason they traveled well is because some Cowboys season-ticket holders -- not anticipation what monumental events might be in store for AT&T Stadium -- sold their tickets. There is no shame in this; tickets are expensive and I have one buddy who goes to most of the games but pockets $20,000 a year by selling to out-of-town other-team fans who want to "travel well.''
But they don't "travel well'' any more. Because 91,000 people wish to be on the scene, experiencing something special, and making 91,000-people noise that the roof stores in a way that makes it tough on the other team. That was true against the Colts -- "Our fans were great again,'' Tony Romo said -- and it will be true for a home game in the playoffs.
FISHTIP 2:
I said DeMarco planned to be full DeMarco. His intention was to make as few concessions to his broken hand as possible. We reported that on Tuesday morning -- less than 24 hours after his surgery -- and the Cowboys wavered little here. Dallas would use scatback Lance Dunbar as a third-down back on occasion, but that's something this team probably should've been doing all year anyway.
RESULT:
Oh, there were the usual Sunday morning network "updates'' (breathless status announcements when there was nothing new to announce) but we nailed this. Joseph Randle was slightly more involved in the gameplan and Dunbar was indeed the game-opening third-down back -- and good thing, as his failure to gain yardage resulted in Indy's bone-headed taunting call, keeping alive a drive that ended in a TD.
But Murray was Murray, maybe being careful to shield that left hand while at the same time demonstrating a toughness that belies questions about his durability and will help him get his big 2015 payday ... somewhere. question. The 58 yards is a a season-low. But the 20 carries were all important, and he was able to score a touchdown in his fourth straight game -- and when DeMarco scores TDs in December, Dallas almost always wins in December.
He needs 29 yards to surpass Emmitt Smith's team record for yards in a season. We'll see what Dallas does in Week 17 ... but there's no reason to worry about franchise records when a week of healing can do so much more.
FISHTIP 3:
I said the Cowboys would bust from their usual M.O. -- and Rod Marinelli's pet style -- and play more man-to-man in the secondary. This, I theorized, fit Dallas' talents better and it also fit the matchup with Andrew Luck, the brilliant talent who leads the NFL in pass attempts but also had 14 interceptions.
RESULT:
Marinelli is a stubborn old goat who loves his Tampa-2 and his zones, but ... Orlando Scandrick is a man-to-man guy. Brandon Carr is better when he gets to fight you at the line of scrimmage, a man function. And again, Dallas saw something in Luck and the Colts than made man worth trying.
So Luck experiences one of his worst days as a pro. J.J. Wilcox gets an interception. So does Anthony Hitchens, who was terrific at linebacker. Carr experiences a rare day of success. And Marinelli is right ... as usual.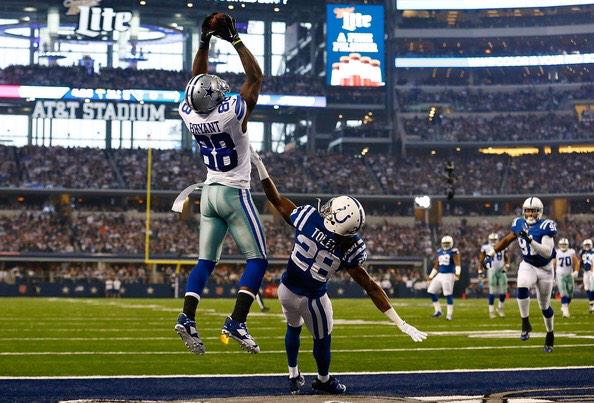 FISHTIP 4:
I said the Colts would focus on stopping the run and leave themselves with a pick-your-poison problem with Jason Witten and with Dez Bryant, especially as the great wide receiver would get to line up against a Colts defense that uses the limping Vontae Davis at right corner exclusively -- meaning Dallas could either attack his limp or line Dez on the other side against Toler and avoid Davis completely.
RESULT:
Witten had seven catches for 90 yards and a TD. Bryant was one of three wideouts who caught the other four TDs, and his work against the Indy secondary was so dominant it was as if he was playing against Dez Jr. in the backyard.
FISHTIP 5:
Tony Romo
would prove he deserves to be in the MVP conversation.
RESULT:
This seems to be complicated to some. It's very simple to me: When Romo is healthy, Dallas wins. Every game. Every time. He's had no more "bad games'' than Rodgers, Peyton or Brady have experienced, and his numbers -- not to mention his amazing backstory (and "back'' story) -- equal anyone's.
"I'm confident as we go into the tournament that we're going to have as good of quarterback play as any other team in the NFL," Jerry Jones said after the game. "I think Romo is there. I'm going to say it one more time – somehow, some way he needs to have a Super Bowl by his name. He's that good."
With a 25-yard touchdown pass to Witten in the third quarter -- one of his four on the day and one of his 31 on the year -- Romo surpassed Troy Aikman as the franchise's leader in passing yards. Romo completed 18 of 20 passes for 218 yards with no interceptions. He ran cleverly. He avoided the Favresque gunslinger silliness of his younger days. He set a team record for completion percentage (90 percent) and now leads the NFL in completion percentage, yards per attempt, touchdown percentage and passer rating.
"He's the MVP to me,''
Dez Bryant
told me. "Or, make it co-MVPs with him and DeMarco. They're both beasts.''
They are both also bound for the playoffs thanks to this historic day, which a few of Romo's pals recognized.
As Dez and Mincey were leading a locker-room dance-off while Witten marched through the closed-door room to issue tearful "thank you's'' to each and every player,
some of Romo's buddies found a way to snag his No. 9 jersey.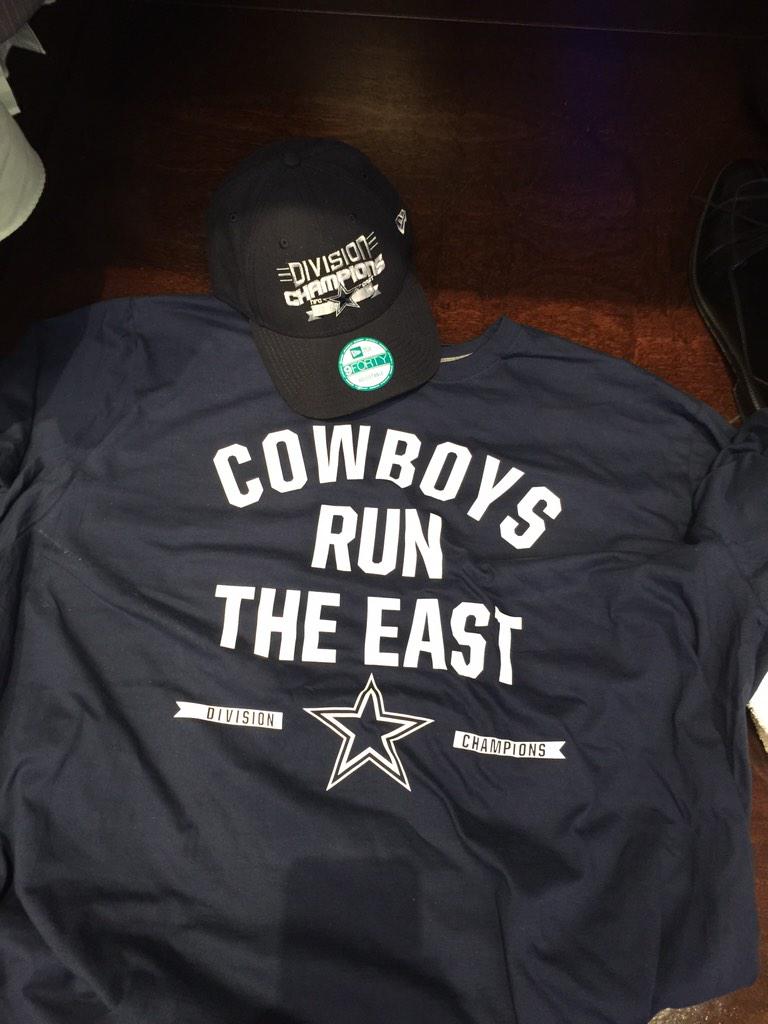 So for now, all he gets is the T-shirt shown above. Romo doesn't know they stole his jersey. Romo doesn't know that they plan to get it framed for him. Romo doesn't know this ... but now that you're a CowboysHQ insider ... you do.