HELLO, DECEMBER
You will remember last year's Dec. 9 night affair in Chicago, and you will remember it without fondness. Dallas lost 45-28. ... the last time the Cowboys have lost an away game. So here came the near-anniversary of that unhappy outing, and just like last year, Thursday marked the Cowboys' first December game of the season.
Unlike last year, the Cowboys came away with a victory on the road in the cold (if 33 degrees is at all considered cold next to last year's wind-chilly 10 degrees below zero), with a 41-28 pounding, a march to 6-0 on the road this season and a move to 9-4 overall.
"We are right in the hunt,'' coach Jason Garrett said. "We have challenges ahead. We have to clean this game up and then get ready for that next challenge in Philadelphia.''
But first: How it unfolded with results that end Dallas' three-year 8-8 treadmill and vault the Cowboys nearer the top of the playoff-chase heap:
After a scoreless first quarter,
DeMarco Murray
got the Cowboys on the board 7-0 with a one-yard touchdown run on a drive that featured two fourth-down conversions. Both, of course, were hand-offs to the NFL's leading rusher.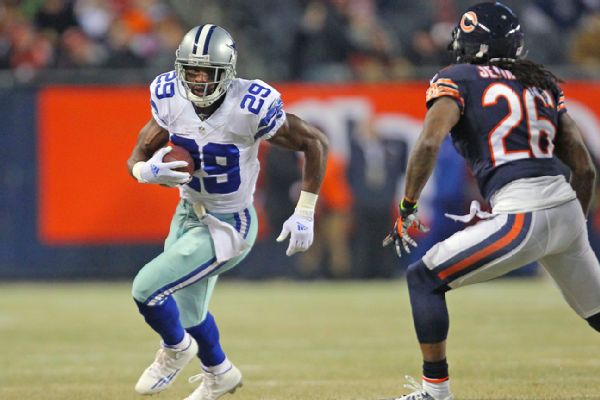 The Bears responded immediately with ex-Cowboy tight end
Martellus Bennett
catching a 12-yard touchdown while apparently existing as virtually invisible in the Cowboys zone. Up 7-7, the former Aggie threw up the X to (playfully?) mock Dez Bryant's signature touchdown celebration.
With 6:13 left in the first half, the Cowboys offense had a nice grind-'em-out drive of 14 plays, and capped it off with a 13-yard
Cole Beasley
touchdown from
Tony Romo
. With just eight seconds remaining, the Bears took a knee and went into the halftime locker room down 14-7.
Chicago got the ball to start the second half, but quickly gave it up on their third play when defensive end Anthony Spencer stripped Bears running back
Matt Forte
. Church juggled the ball to cornerback
Sterling Moore
, and the former
SMU
Mustang galloped 17 yards to set up shop for Romo and the offense at the Chicago 31.
Another three plays later, Romo magically bought even more time than his O-line had provided and hit Beasley again for a 24-yard touchdown strike to put the game at 21-7 Dallas.
The Bears went three-and-out, and again, the Cowboys scored within three plays. This time, Romo found second-year tight end
Gavin Escobar
in the back of the end zone for a six-yard touchdown grab to make it 28-7.
Escobar wasn't the only member of the 2013 draft class to hit pay dirt. Backup running back
Joseph Randle
knifed his way through defenders for a 17-yard touchdown to give Dallas a commanding 35-7 lead.
Never mind that going back to 1971, teams with a 28-point lead were 500-0; jittery fans of Garrett's Cowboys might've worried about blowing insurmountable fourth-quarter leads. Chicago did score another TD but
Barry Church
blocked the extra point. ... so maybe Dallas wasn't resting on its laurels here.
And then Dallas responded with a 35-yard
Dan Bailey
field goal -- a series that featured some justifiably "protective'' playcalling ... drawing Dez's sideline fire ... to extend the lead to 38-13.
The Bears, to their credit, stormed back with a one-yard Forte touchdown run. Forte even scored the two-point conversion after a Cowboys defensive holding penalty to cut the once-gaping lead to 38-21 with 7:22 left. And now Dez' sideline fire was joined by Orlando Scandrick's sideline ire.
Said Bryant of the TV cameras capturing him somewhere between "tantrum-throwing'' and "passion-showing'': "I don't give a f-- who films it. As long as we get the W, that's all that matters. Put that s-- down. ... "F--- no, I do not care. Because I know I'm not doing anything wrong."
After Chicago recovered an onside kick that sailed right through the outstretched hands of Escobar, the Bears scored four plays later on a 10-yard Cutler keeper. All of a sudden, with just over six minutes to play, it was 38-28 Cowboys. Was the lead vanishing?
The Cowboys responded again with a Bailey field goal to make it 41-28. An imperfect drive. But a step-up one.
Cutler led the Bears on what appeared to be another scoring push, but he threw his first career pick against the Cowboys at the perfect time. Cornerback
Orlando Scandrick
, who again was earlier berating teammates and coaches for letting Chicago back into the game, made the clutch interception. Imperfect to allow Chicago in the red zone, but again, a step-up stop.
The Cowboys handed the ball off to Murray, and then went into the Landry Shift victory formation.
At 9-4, you can't call them losers anymore. In fact, they've now put pressure on the Phillys and the Seattles to keep pace with them.
And more immediately? Hello, December and Goodbye, 8-8.
"It's the first time I've been over .500 since I've been here,'' Church said, "so it means everything to me.''
ONSIDE KICKS
*Romo finished the game going 21-of-26 for 205 yards, three touchdowns, and a 138.0 passer rating. That passer rating is the highest of his career in a December game on the road. He did all this with the healing broken back and some crumbly ribs and needing a shot and facing adversity ... "Romo Wednesday'' matters.
*Murray rushed 32 times for 171 yards and a touchdown. The Cowboys now improve to 5-1 in December when Murray scores a rushing touchdown. Murray's 32 carries were a career high, surpassing his 31 against the Texans on 10/5/14. His 171 yards were also a season-high, surpassing his 9/14/14 output of 167 yards in Tennessee.
*Gavin Escobar's touchdown gives him four on the season, which ties the most by a tight end not named Witten since 2008 when rookie Martellus Bennett caught four.
*With field goals of 35 and 27 yards, Dan Bailey is now 19-of-22 in December.
*Barry Church's block of Jay Feely's extra point now makes it three straight seasons a Cowboys opponent has botched an extra point. (Bruce Carter also deflected a punt in this game.)
We've got more from Chicago with Fish writing from the team plane, his Premium column (just a dime a day gets you inside the Cowboys and all your other favorite teams in sports) on
"When A Gameplan Goes Exactly Right.''
Enjoy!
THE FINAL WORD
"Anytime you win, it solves a lot of problems." - Tony Romo.