The Big Lead
As an NFL fan, referee Gene Steratore is the last ref you want looking at game-deciding catches.
As we've noted before here at CowboysHQ
, Steratore was the same official who overturned Calvin Johnson's would-be touchdown catch in 2010 in Chicago.
When Green Bay coach Mike McCarthy, who was 0/4 on challenges that year and even 0/1 on the day, threw the challenge flag after Dez Bryant's spectacular 31-yard grab on fourth-and-2 late in the fourth quarter of Sunday's playoff game at Lambeau Field, it gave Steratore a chance to apply his interpretation of the NFL's convoluted catch rule to a momentous play.
If you ask us, the problem isn't so much how the rules are worded, but more that the referees aren't on the same page. Cincinnati tight end Jermaine Gresham
made a similar catch in a postseason game last year.
Referee Jeff Triplette ruled it a touchdown (and NFL VP of Officiating Dean Blandino agreed with it).
Hey, even Dez made an identical catch to "The Overturn"
back in Week 7 against the New York Giants
(1:15 mark). Yes, the play did go to review, but only because the ruling on the field was that Dez scored a touchdown. After review, referee Jerome Boger determined Bryant was down at the one -- not that he was unable to "complete the process."
Now, that makes sense as to why Dez told us after the game that "He couldn't believe it'' and he'd "never seen nothing that like that in my life."
It seems Steratore is like that lone juror who holds up a jury deliberation clinging to his "not guilty" verdict because, if the defendant wasn't guilty, the police wouldn't have arrested the defendant. Steratore is not on the same page with his colleagues and has his own interpretation of the rule. His interpretation helped cost Dallas a chance to play Seattle for the conference crown.
Lions fans and
Dallas Cowboys
haters have been dancing like Billy "White Shoes" Johnson since "The Overturn," saying that Dallas is getting what comes around after wildcard referee Pete Morelli overturned a pass interference ruling that would have extended a pivotal Detroit drive midway through the fourth quarter.
While all of that may or may not be true, the Dallas Cowboys are not willing to blame the referees for their playoff failure at Lambeau Field.
"Let me make it really clear," Garrett said. "This game wasn't about officiating. We had 60 minutes to come up here and win a ballgame and at the end of the day we didn't get a chance to do that. Excuse me. We didn't get that job done.
"And that play was big in the game, but there were plenty other plays in the ballgame. And unfortunately we didn't do the things necessary to win the ballgame in the end."
The Cowboys were facing a one-legged Aaron Rodgers, who somehow managed to throw for over 300 yards on the Dallas defense. It's pretty easy when the defensive line doesn't generate any pressure aside from two sacks in the first half and none thereafter.
"I mean, I think that they found a way to tempo us," Jeremy Mincey told "Ben & Skin" on 105.3 The Fan. "They ran-pass, ran-pass, ran-pass at us. They mixed it up throughout the game. We actually adjusted early to it; did a great job of it. Then they spread us out. We could have made some solid tackles. I think if we could have tackled better, this game could have gone different way earlier. I think we just didn't tackle as well as we usual do. And that's what really hurt us."
Like everybody, Mincey was befuddled when Steratore overturned Dez's amazingly athletic catch.
"Well, at first, I was amazed at how high he hung in the air, like Michael Jordan or something. No, but it was definitely shocking. I was really optimistic about the game and then we fell short. We fell short. It's tough.
"It's something you can't change. It's one of those things. It's frustrating, but we still had a lot of football to play in that game. And those four minutes shouldn't be the determining factor. I mean, we could have beat them across the board. We just didn't play up to our potential in this game."
On the offensive side of the ball, the Cowboys helped even the turnover differential with running back DeMarco Murray losing the football after Packers linebacker Julius Peppers made an incredible play to swipe Murray from behind. The play was what Cowboys play-by-play man Brad Sham would call a "four-point play" because Murray might have scored a touchdown had he made it past Peppers. Then, the Packers were able to get three points off the prime field position.
Amid the lost fumble and Steratore's ruling, Tony Romo saw Dallas had their chances but didn't capitalize.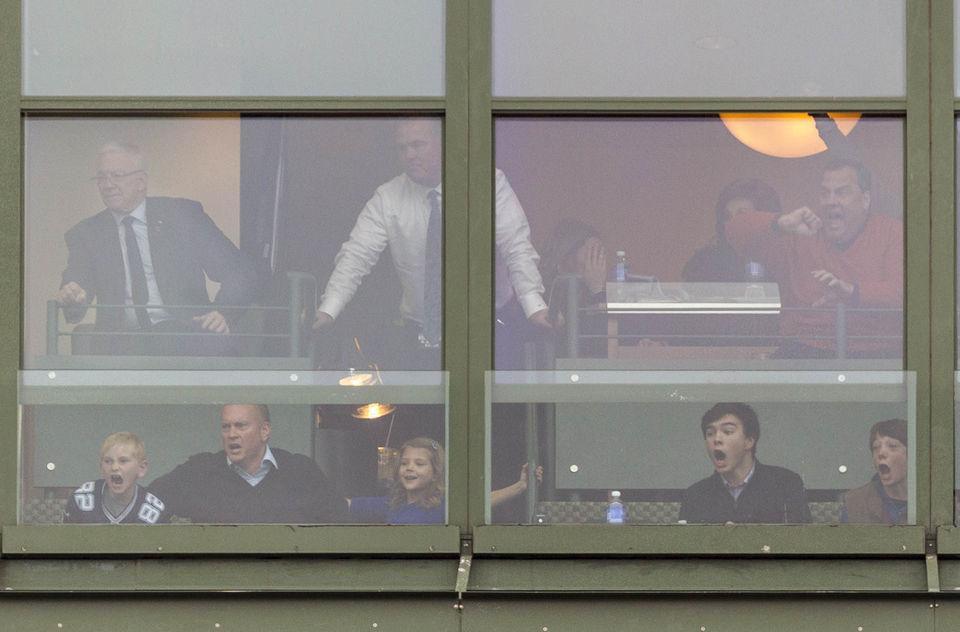 "There was many swings in the game," Romo said. "We always want to protect the ball. Turnovers matter in a football game. We didn't get as many as we normally get. I think that's part. We gave, I think, one. That matters. At the same time, we had our opportunities, even with that stuff, and we didn't take advantage."
An interesting thing about "The Overturn" is the Cowboys have a front-office member who is a regular on the NFL's competition committee. Executive Vice President Stephen Jones has been a member of the competition committee for a number of years, and you can bet your bottom dollar the catch rules will be examined now that his team was negatively impacted by them.
"We're obviously trying to get it to where it's easy job for the officials in terms of making their job easy on something that's very difficult all the way around, which is officiating a football game with 22 men on the field," Stephen told "The G-Bag Nation" on The Fan on Monday.
"But, you know, I know there's a lot of work put into it because of the controversy, I know it will probably come under a bigger magnifying glass. But it's something we go over every year and I know we'll do it extensively again."
The competition committee will have a couple of chances to look at this during owners' meetings in Phoenix and San Francisco this off-season. And we'll have the breaking news and analysis here at
as change is examined.

Still, Stephen wouldn't blame Steratore for his decision, or
"Party Bus Blandino''
for upholding the call (even if the NFL VP of Officiating is contradicting himself).
"I want to be sure I'm clear here,'' Stephen said. "Whether they called a catch or a no-catch, there's still a lot of football left to be played, and we certainly had a chance to win that game regardless of how that catch was ruled."
During the
Groundhog Day
years of 8-8, fans and media alike would snicker at or trivialize the little things and the behind-the-scenes practices that helped build the Cowboys into the 12-4 NFC East Champions they are. Part of it was Garrett's "corny'' message of accountability. Even after the refs hosed Dallas, Garrett won't blame the refs, his players won't blame the refs, and his bosses won't blame the refs. It's a collective realization that there were 56 minutes to do something about the Packers before Steratore's call (and then Dean Blandino's ensuing bumbling and stumbling about) and four minutes to do something after "The Overturn."
Going forward, that should give Cowboys fans a reason to be hopeful. The organization isn't in entitlement mode allowing it to blame others. Instead, it's busy locking up "cornerstones'' (see below) and working to try to control what they can control, which any prosperous leader will tell you is the recipe for success.
Heck, they don't even want an apology, Jerry Jones noting, "There's no consolation. … That's just a little bit like throwing dirt in your face, or salt on your wound.''
No dirt. No salt. No blaming of the refs. Blame the Cowboys, because that's who they blame for the 26-21 loss in Ice Bowl II. ... and they'll be better, stronger, for having done so.
Cowboys and DeMarco
"I'm not worried about my future,' DeMarco Murray said on Monday. "I just lost a big game, the biggest game of my life.''
Understood. Shortly, though, the future will be here. And Cowboys standout Murray quite likely will not be. Our
in-depth breakdown of the Cowboys and DeMarco and A Future Outside Of Dallas.
By the way, if you are falling for this "Dez vs. DeMarco thing'' in terms of the Cowboys having to choose one or the other, you've got it all wrong. Why?
Fish's Cowboys Cap Primer
Because of what you'll read and discuss here, is why.
"Fish's Cowboys Cap Primer'' makes it clear the Cowboys can do ANYTHING they want - even carve out $49 million worth of room. Dez. DeMarco. Suh. Anybody. Anything.
"Yes, yes we can (be players in free agency),'' Jerry confirmed. ""We're in a lot better shape under the cap than we've been at any time over the last two or three years. That's good."
That doesn't mean they will spend; it means they can, and if you want an education on it all, dig in to that link.
1-on-1 with Dez
"I am walking down a cinder-block corridor inside Lambeau Field alongside Dez Bryant, who is still in uniform but for his stocking feet. And the Dallas Cowboys receiver is politely, solemnly, mechanically retracing in slow-motion his on-field steps as he counts them down.''
Read
Dez and "Gimme Three Steps'' here, exclusively on CowboysHQ.com.
Cowboys Coaching Carousel
The Joneses have batted 1.000 on their first three offseason priorities with the late-Wednesday agreement reached with offensive boss Scott Linehan, who joins coach Jason Garrett and defensive coordinator Rod Marinelli with new deals.
We've got the goods here in Cowboys Coaching Carousel.
Onside Kicks
If you read CowboysHQ.com daily, you already know this stuff, but here goes, a quick recap: Marinelli and Linehan have new three-year deals that make them among the highst-paid coordinators in the NFL, to work under Garrett with his new five-year, $30-mil deal. ... Callahan didn't want to stay here. Under any circumstances. He makes a downward move to Washington. Frank Pollack, as we wrote Monday, will be the OL coach. And as we suggested Monday, Marc Colombo makes sense as his aide. Rich Bisaccia is staying. Monte Kiffin wishes to; we'll see there ... We're working on a major "Jerry as Exec of the Year'' project. Stay tuned ...
Tips, Tendencies and Tells
Do we know what the Cowboys will do in the draft about 100 days from now? Yes, we do, in a sense, based on what
we've discovered in "The Cowboys Draft: 6 Tendencies And Tells.''
Fascinating work by KD here.
The Final Word
"The pace is fast and the pedal is down. His desire for winning is special.'' - Jason Garrett on working for Jerry Jones.