The Big Lead
The 2014
Dallas Cowboys
are achieving something few dared dream, grandly exceeding expectations by dominating a good Colts team 42-7, thus leaving nothing to chance for Week 17 by wrapping up the NFC East title a week early.
"This is such a long journey," said Jason Garrett said, who suddenly deserves to be thrust into the Coach of the Year conversation, just as Tony Romo and DeMarco Murray should be in the MVP conversation and yes, just as Jerry Jones should get Exec-of-the-Year attention. "And to get to a point to achieve your first goal of winning the division title, a lot goes into that."
A lot went into this win, too, the 11-4 Cowboys riding Romo's near-perfect work (18 of 20 passes for 218 yards, the surpassing of Troy Aikman as the franchise's career leader in passing yards, and four TD throws).
"It's just great to see the guys go out and play a really good football game when we needed it," said Romo, who didn't feel any pain in his broken back when he hoisted a Gatorade tub above Garrett's head to give the coach a blue bath.
Dallas started off the game with a 15-play drive that Colts linebacker Jerrell Freeman aided with a taunting penalty after a successful third-down stop. The Cowboys march continued, and Terrance Williams capped off the drive with a nine-yard touchdown pass from Romo to take a 7-0 lead.
After holding the Colts to a three-and-out, Pat McAfee took a chance to hit his uncovered gunner for a quick first down, but Dewey McDonald dropped the ball. Dallas now had prime field position at the Indy 19, and on the drive's first play, Romo hit Dez to give him 14 touchdown catches in '14 and allowed Dallas to lead 14-0.
Another Colts three-and-out, Dallas drove 75 yards in seven plays to go up 21-0 thanks to Cole Beasley's 24-yard catch-and-scamper.
For the second consecutive week, Dallas held the opponent to three-straight three-and-outs. For the fourth consecutive week, DeMarco (playing with a broken left hand) rushed for a touchdown to give Dallas a 28-0 lead after a 10-play, 67-yard drive.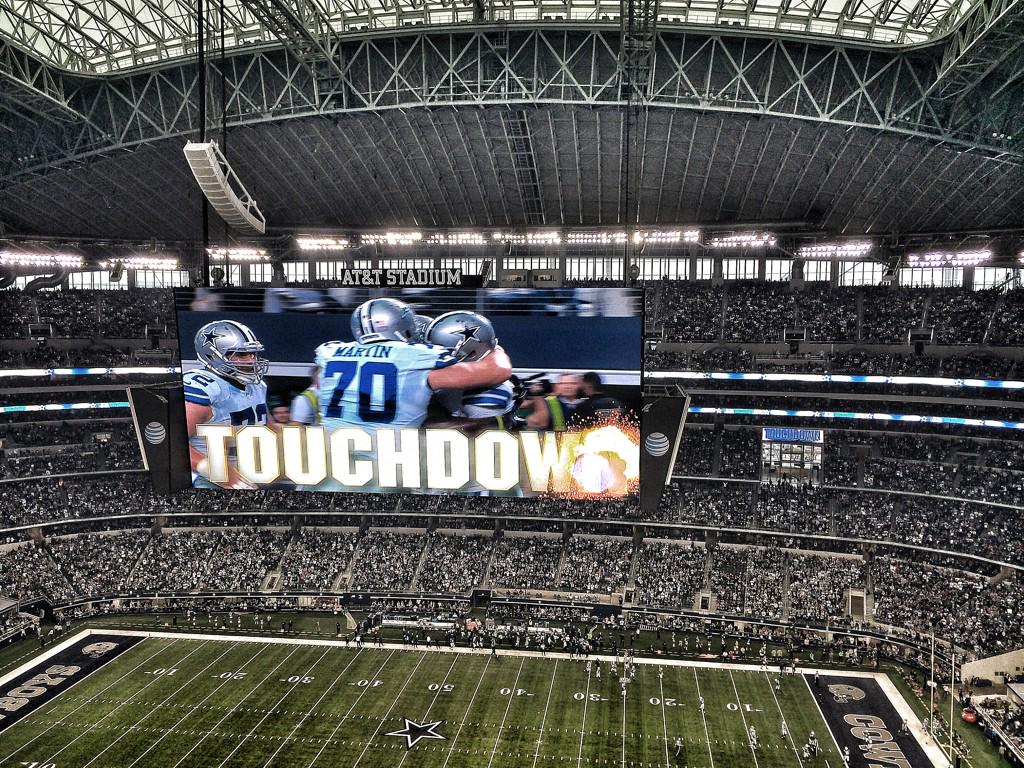 Late in the third quarter, Romo mounted a 10-play, 75-yard drive that set a couple of records, both that involved Jason Witten. The first was the extension of Romo's completion streak to 14, which was a 10-yard pass to Witten. The next was the surpassing of Aikman for the franchise record in passing yards, which Romo did on a 25-yard touchdown throw to Witten to extend Dallas' lead 35-0.
Garrett pulled Romo early in the fourth quarter, much to the relief of Cowboys fans. But the scoring didn't stop. Backup quarterback Brandon Weeden hit Terrance Williams on a 43-yard touchdown to extend the Cowboys lead to 42-0.
The Colts avoided a shutout when backup quarterback Matt Hasselbeck hit running back Zurlon Tipton for a one-yard touchdown pass to cut Dallas' immense lead to just 42-7, the game's final score.
"There are 53 beasts (on this roster), ready to go at it, anywhere, any place, anytime,'' Dez said, celebrating the NFC East title in the postgame locker room. "We worked so damn hard. We deserved it.''
Onside kicks
Since 1940, teams that have led 28-0 at halftime were 72-0. Make that 73-0. This is the fourth time in franchise history the Cowboys have lead 28-0 at halftime. Garrett now owns two of those games.
This is the first time since 1995 the Cowboys have swept their complement of AFC games. The other times were 1981, 1992, and 1995.
The Cowboys, who were 4-4 at home this year, will get a home playoff game. Since 2000, there have been nine teams that had 4-4 or worse home records and then hosted a playoff game. 6/9 of those teams won their home playoff game.
This is the 10th time Romo has thrown for four or more touchdowns in a game.
Murray's streak of having less than 100 yards against a 3-4 defense continues to four games.
Jason Garrett now becomes the sixth head coach in team history to win the division, though his first title was second-latest to Tom Landry's, which took seven seasons.
Quoteboard
"We've been through hell and back together, to get a little bit of success ... it was emotional." -- Jason Witten on catching the record pass from Romo.
And by the way, Witten's emotion carried on through the evening as sources tell CowboysHQ that behind closed doors, he located every man associated with the team in the locker room to issue them a ... personal "thank you.''
The Final Word
"I'm not a sitter, especially under these circumstances. I'm going to act like an amateur and play it all. I want to win every first down." - Jerry Jones, on the Cowboys' approach to next week in Washington.