THE BIG LEAD: MEET THE PUPS
This is a Romo win and a Witten win, to be sure. They are the two starters who have endured the failures and who experienced the joy of a
Dallas Cowboys
24-20 playoff win over Detroit.
But this was a win for the kids, too.
For any franchise to excel and then maintain excellence, there must be a second wave of talent, the sort that follows up Tony Romo and Jason Witten joining the Dallas Cowboys in 2006 and then pounding the shore of success after them.
There must be tiers.
There must be heirs.
Romo-to-Witten provided what the tight end called "the biggest play of my life'' on that fourth-and-6 pass for 21 yards to set up the winning TD in Dallas' first playoff victory since 2009.
But none of that happens without the kids.
As team owner Jerry Jones said, "We had some pups grow up in there today.''
Third-year tackle Tyron Smith. Second-year center Travis Frederick. Rookie guard Zack Martin. They are all Pro Bowlers but they are all, hovering around age 23, getting on-the-job training, too. Their challenge against Detroit are represented by failures in blitz pickup that allowed Romo to be sacked for six times, tying an NFL postseason record.
But their successes? Late in the game, when the Cowboys needed to move the football on critical third- and even fourth-down plays, Frederick and Martin, along with the rest of the line, kept Romo upright to deliver the converting strikes. Oh, and there was a fourth-and-short goal-line TD, too, that meant everything at the time … and another young O-line starter, Ron Leary, age 25, got the job done there, too.
The game-winning catch? That came from receiver Terrance Williams, who gets criticized for being a "body-catcher'' and a guy with less-than-perfect hands … but the 2013 third-rounder does make plays. He provided the spark the team needed down 14-0 late in the first half as he caught-and-ran for a 76-yard slant TD.
And then, in the late-going, on third-and-8 in the red zone, Romo found the ex-Baylor Bear in the middle of the end zone for the go-ahead touchdown to take a 24-20 lead. Williams finished the game with three catches for 92 yards and two touchdowns.
"I really do just take it to heart and have the pride in it to where I will never let (Romo) down," Williams said. "Whenever Tony does give me a chance to make a play, I will make that play.''
On defense?
Rookie linebacker Anthony Hitchens was a controversial selection in the fourth round, and his participation Sunday was controversial, tool. On third-and-1 from the Dallas 46, Stafford's fourth-quarter pass nailed Hitchens right in the back with the defender never seeming to turn around and look for the ball headed for tight end Brandon Pettigrew. Referee Pete Morelli picked up the flag for pass interference, because face-guarding is not illegal in the NFL.
That story is a national one. Inside Valley Ranch, the focus is on the toughness, maturity and versatility of the compactly-built Hitchens, who battled through an ankle sprain to participate and did so at a level that would make Rolando McClain and Justin Durant — two veterans who, without injuries, would be keeping him on the bench — proud.
"What (Hitchens) did was pretty darn special," coach Jason Garrett said. "He just kept playing and playing through it. We planned to have him in a role where he wasn't going to have to play that much. Before you know it, Rolando can't play and now he's out there probably playing double the snaps we had planned to have him play, and he showed up. He kind of led the unit, communicated well. I thought it was a heck of an effort by him."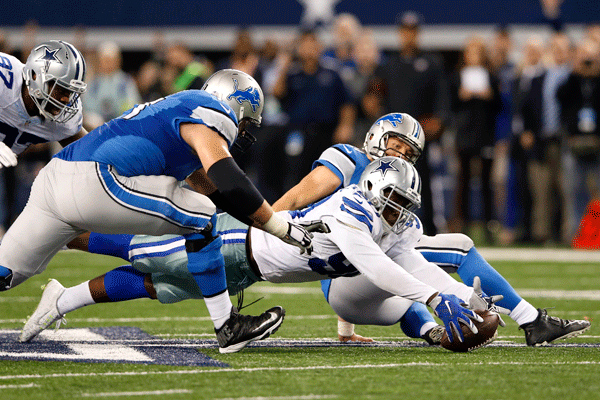 Rookie defensive end DeMarcus Lawrence was another 2014 draft pick that earned criticism for the Cowboys, as in the wake of deciding to not overpay the iconic DeMarcus Ware they sent their second- and third-round picks to Washington to slide up to the 34th overall spot to select Lawrence … identified in the war room on draft day by table-pounding personnel boss Will McClay a "quarterback hunter.''
Lawrence battled injuries all season and failed to record a sack. But on the second play of the Lions' final drive, the Boise State product scooped up a Stafford fumble forced by Anthony Spencer. He's a playmaker! Ah, but rather than fall on the ground, Lawrence danced around looking for a lane, then lost the ball to foolishly give Detroit another shot.
Lawrence redeemed himself eight plays later on a crucial fourth-and-3 from the Dallas 3. Not only did Lawrence knife through the offensive line to strip-sack Stafford, but he fell on the loose ball to give the Cowboys possession to run out the clock.
"It's just me as a rookie,'' Lawrence said. "It's just a big lesson learned. Two minutes on the clock and you have to stay down."
On the redemptive play, Lawrence became the first Cowboys rookie defensive lineman since Russell Maryland in the 1991 wildcard in Chicago to record a sack in the playoffs. … and put a capper on a day when safety JJ Wilcox, receiver Cole Beasley, cornerback Tyler Patmon and other assorted kids made the Dallas front office and coaching look like it knows what it's doing when it comes to finding and developing that second wave.
The Cowboys have one of the youngest rosters in the NFL with an average age of 25 years old. (Amateur referee Dez Bryant needs to be in this conversation as well; he's 26.) The 2009 draft was a football disaster, with the Cowboys coming away with nothing to show for it. But now? Younger players contributing. A brighter future that pushed the myth of the "window for winning'' way down the road. A second tier. A group of heirs. A bunch of pups.
COWBOYS CRUNCHTIME PODCAST
My man KD says Dallas is on a mission, and it's not a small time thing. Facing a 14-0 1Q deficit and bad play on both sides of the ball, Dallas righted the ship and was able to pull out a 24-20 victory over the Lions, paying them back for their come-from-behind wins in '11 and '13.
Patrik Walker joins KD to discuss the ins and outs as Dallas prepares to turn the page to the divisional round and the Packers. Listen in!
ONSIDE KICKS
*The Cowboys hope Rolando McClain can work through the concussion testing and a neck injury to possibly practice by Thursday. Terrell McClain has an ankle sprain. Doug Free (foot and ankle) remains unlikely to participate.
*The best and most inside coverage of your Cowboys and that win?
It's here in "Cowboys Gameplan: 10 Steps to a Storybook Win.''
*There is
a science to Cowboys wins. So we give you "Big Plays, Toxics and Conversions.''
*Want details from Dallas 24, Detroit 20, including the ref controversy?
It's here in "Cowboys Chronology'' as we walk you through it all.
*Once to plow through all the national-media baloney about Cowboys staffers leaving for jobs ...
come inside Valley Ranch for the truth: "The Ambition of Will McClay,'' our Premium piece, is here.
*You will be amused to learn that we've talked to the Romo family and yes, they know what #Romoing is. And they are ... amused, too.
THE FINAL WORD
"I'm not proud OF you. I'm proud to be a PART of you.' - Garrett to his team in the post-Lions-game locker room, via DallasCowboys.com.