The Big Lead
We have seen the Cowboys win their division for the 22nd time. That's the most in NFL history. (The Steelers are second with 20 despite being 27 years older as a franchise.) So Dallas "running the East'' is a common site over the course of the long-term ...
But today the Cowboys want more.
Fish reported on Wednesday that Dallas' practices were "full-steam ahead,'' with the starters taking reps as if the game was a "meaningful one.'' Coach Jason Garrett spoke openly about how there is no such thing as "meaningless.'' And on Saturday night at the team hotel, Fish reiterated the team's position, reporting the vibe from Cowboys team meetings: Everybody's playing.
We still believe this can be "fluid''; the Colts were trying to win, too, last week ... up until the time when they weren't. But "Finish The Fight'' is part of this approach, debatable though it may be. And the ever-so-slight chance of gaining an edge when the playoffs begin is in play, too.
The Cowboys (11-4 will earn a first-round bye with losses by Seattle and Arizona (seemingly unlikely) - regardless of what they do against their division rival.
But they also become the No. 1 seed in the conference with a win, combined with a non-win by Arizona and a Detroit-Green Bay tie. Again, unlikely, but ...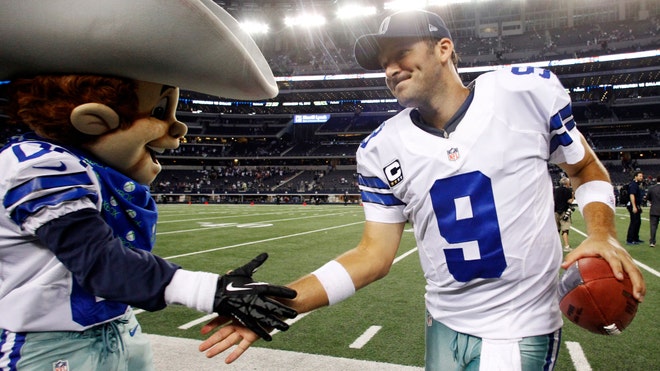 "It really comes down to just being the best version of yourself regardless of circumstance," said Tony Romo said. "These are great games to go show that. In the playoffs, not in the playoffs, it doesn't matter."
Popularity at Pro Bowl
It's a popularity contest. Yes, we get it. Still though, is it all that bad to be popular?
Popularity stems from someplace. It isn't always earned simply on merit, but at some point, the popular had to do something entertaining and worthwhile to earn that reputation. The Pro Bowl is intended to be a measure of which players are performing at the highest level on a year-by-year basis. Of course, this is as subjective a measurement as there can be. Fans stuff ballot boxes for players of their favorite teams and coaches and players tend to lean towards opponents they've faced.
Many of the advanced statistical measures and grading metrics that attempt to put opponent, game situation and team interaction on even playing fields are hardly common knowledge and even less so, commonly accepted. Still though, they offer us another glimpse into who at each position was deserving of being singled out for their individual accomplishments.
The website Pro Football Focus has a mission to grade each individual player on every single NFL snap. They have a team of evaluators who give each game an initial look, and then a second and third look as the week goes by. Each play is judged on a scale of -2.0 to +2.0. Game grades are calculated by adding up individual play grades, and season grades are calculated by adding up individual game grades.
At the end of the day, even though the grade given is numerical, it is not at all a "statistic"; it is purely subjective. Different observers weight the significance and accuracy of PFF's grading system. The website collects much more useful statistical measures that have helped them grow in importance in the NFL landscape, but the grades are normally what people like to talk about.
As such, they have formed their own version of the 2015 Pro Bowl rosters, based on game grades. Each of their nominees ranks at the top of their position for cumulative scores accrued over the course of the entire season. For the complete list, check out this link. Here's a comparison between the official Pro Bowl roster and Pro Football Focus'.
| Position | NFL Pro Bowl | ProFootballFocus |
| --- | --- | --- |
| Quarterback | Tony Romo | |
| Running Back | DeMarco Murray | Murray |
| Wide Receiver | Dez Bryant | Bryant |
| Tight End | | Jason Witten |
| Offensive Line | Tyron Smith, Travis Frederick, Zack Martin® | Martin®, Frederick |
| Defensive Line | | |
| Linebacker | | |
| Cornerback | | Orlando Scandrick |
| Safety | | |
| Special Teams | | Dan Bailey |
The notable differences?
Tony Romo
is out,
Tyron Smith
is out,
Jason Witten
,
Orlando Scandrick
and
Dan Bailey
is in. Most Cowboys fans will immediately dismiss any exercise that doesn't include Romo, who most feel is a legitimate MVP candidate.
Certainly, the inclusion of Matt Ryan and Drew Brees, quarterbacks on sub-.500 teams will irk some, but using PFF's grading system, Romo was 7th when the "balloting" was closed. If it's any consolation, Tony's +5.8 game grade against Indianapolis last week moved him into 6th place ahead of Andrew Luck.
Meanwhile, Smith gets accolades, but it would be hard pressed not to notice that he hasn't been up to his usual self in 2014. Jason Witten's stats might be down, but he's done another phenomenal job blocking and his receiving numbers have skyrocketed as the Cowboys have made a push for the NFC's best record down the stretch.
Orlando Scandrick was left off of the Pro Bowl ballot because he was suspended to start the season. He has played as one of the best corners in the league and it is great to see him get some recognition. Dan Bailey is simply the league's most accurate kicker ever, in percentage and in where he places the football between the uprights. Kickers are fairly accurate league-wide, but Bailey is the best of them all.
Onside kicks
Our
"Cowboys 100'' -- a most popular feature -- is here for the Washington game
... Rolando McClain did not make the trip to D.C. According to Fish, McClain is more "ill'' than DeMarco Murray was when he missed a practice this week, the suggestion being that while Ro is really running a fever, DeMarco had some personal relationship business to take care of ...
Here's the Cowboys Crunchtime Podcast
.... Doug Free is out for today, with Parnell in his spot. Zack Martin is playing .... With McClain out, look for rookie Hitchens to start in the middle ... Dallas is expecting a load of "exotic'' blitzes from D.C. coordinator Jim Haslett and needs to handle that better than it did in the team's earlier loss to Washington ... Jeremy Mincey is the Cowboys' "Good Guy'' Award winner, selected by the Pro Football Writers ... When you want to talk it out? The Cowboys get
talked about on CowboysHQ Discussion Boards. Get your free membership along with almost 25,000 Cowboys fans here!
Romo's MVP case
We'll make this short:
Here's the best-researched, least biased case for Tony Romo as an MVP candidate. Period.
Cowboys Milestones
Jordan Ross with the latest list:
Tony Romo needs 3 TD's to pass Donovan McNabb for the most career TD passes vs the Washington Redskins in NFL history. He needs 4 TD's to tie his own franchise record for most passing TD's in a single season (36). Romo can extend his NFL record of consecutive road games with a TD pass to 41. He can tie the NFL record of games in a season with a completion % of 60.0+ at 15. Can also become the 2nd player in NFL history to have 15 CONSECUTIVE games in a season with a 60.0 completion %.
Romo can extend his streak of consecutive games with a 60.0+ completion % to 17, which would tie a career high. He needs just 2 TD's to pass Y.A. Tittle for the 21st most in NFL history and he needs 100 passing yards to pass Y.A. Tittle for the 30th most passing yards in NFL history. Romo needs one 300-yard game to pass Joe Montana for the 9th most 300+ yard games in NFL history and needs one more game with 2+ touchdowns and 0 interceptions to set a new career high at 8 in a season.
DeMarco Murray just needs 29 rushing yards to set a new Cowboys record for rushing yards in a single season. Murray needs another 100-yard game to set a new Cowboys record for 100-yard rushing games in a single season at 12. Murray needs 1 rushing TD to tie Ron Springs for 8th most in franchise history. He needs 5 rushes to set a new single-season franchise record for rushing attempts.
Dez Bryant needs 6 catches to pass Tony Dorsett for 6th most in franchise history. Bryant needs 1 TD catch to tie the franchise record for TD receptions in a season at 15. ... Dan Bailey needs to make one more 40-49 yard FG to tie Raphael Septien for most in franchise history at 36. It took Septien 73 attempts from that distance to get there. Bailey has attempted just 39. ... Jason Witten needs 2 catches to pass Art Monk for 14th most in NFL history. Needs 5 to pass Derrick Mason for 13th most. ... Henry Melton needs 2 sacks to tie his career-high at 7. ... Barry Church needs 1 PBU to tie his career-high at 7. ... Orlando Scandrick needs 1 INT to set a new career-high at 3. ...The Cowboys can extend their road game winning streak to 9 (8 this season) - just one road win away from the franchise regular season record.
The Final Word
"I think really you think about momentum. This game is a crazy game. You want to play well every opportunity you get. For one, there's still stuff out there for us. And then, two, you want to be playing well going into the playoffs. You never want to back-door your way into it." -- Jason Witten.