Jerry on The Fan
It's always Radio Gold. Here goes, Jerry Jones' Friday appearance with "G-Bag Nation'':
WHAT'S THE KEY TO OVERCOMING THE COLD? –
Well, it can get pretty cold in Fayetteville in late Novembers and I played in some pretty weather there in the mountains of
Arkansas
when I played for the Razorbacks. But I can vividly remember you didn't pay a lot of attention to what that temperature was as you were getting out of your car or getting dressed because it's a different ballgame once you get out there on the field and you get warmed up and your body gets warmed up. The only thing is you got to stay warm in between your times on the field.
WHAT WAS YOUR IMPRESSION AT THE TIME OF THE ICE BOWL? –
All that sounds like the history of the Civil War. Still, I do remember of it. I didn't watch it, but I remember of it and commenting at the time those guys didn't get a break. Obviously, the field was the thing that I find the most challenging and just how you were able to function on the field when you were dealing in something so slippery yet so hard. And you don't have that today. They don't have it today.
HOW SIGNIFICANT DO YOU THINK RODGERS' INJURY IS HEADING INTO THIS GAME? –
Well, we have to play as though he's going to be able to function and function in the pocket-passer way, which, as you know, requires movement but it's kind of subtle, move-around kind of movement. The thing that he does though that he does so well is he'll break out of that pocket and he's dangerous with his legs. Always has been in running. So to the extent that limits him, we'll see. But I don't think that we ought to go in there thinking that it's going to be from keeping him from making extended bursts at all. And I know we're not practicing that way. There's no need to practice that way. If he takes off and can run good, we just got to run him down.
IS THERE ANYONE OUTSIDE OF RODGERS THAT'S A DIFFERENCE MAKER? –
Well, I think you've got to look at that entire offensive plan and structure. They've been doing it, or a form of it, for years. They've practiced in it for years. They're just real good at what they do with their offense. We've evolved on defense and that's going to be challenge. We need to turnovers. That's trite. Everybody says that, but if we can, which has nothing to do with Rodgers, it has everything to do with Rodgers, but someone's got to be holding those balls other than Rodgers. We've got to figure out a way to get our share of a takeover if it's possible for us.
HOW IMPORTANT IS IT THAT MCCLAIN AND MINCEY ARE GETTING IN A DAY OF PRACTICE? –
Well, I would say that that's good, but mainly from the standpoint that that's an indicator of their condition – I mean, their status. And that's the most important thing. I sometimes think that Rolando can step out there and just call his number up any time, any day, any time of the year. We know that's wrong. Every athlete benefits from repetition. And of course Mincey has been a stalwart for us and has really established himself as that, as the leader on the field, both physically and energy-wise. And so we need him on the field. That's good news.
HOW IMPORTANT IS IT TYRON BEATS Clay Matthews? –
The thing that comes to my mind is their work ethic, both of them.
Tyron Smith
, he's really one of the best that we've ever had a part of as far as a player is concerned. We know that he's got inordinate ability, inordinate physical ability. And then Clay Matthews is relentless. He's out there. It's a family thing. It's been there for a couple generations. So, he knows how to play to win a football game. So, that is a matchup. And I'm just really from the prospects of where we are, I'm glad to have our best on their best there. And he is arguably their best player on defense.
HOW BIG IS THIS GAME ON THE NFL STAGE? –
Well, you got me on the edge of my seat. I'm ready to go in, coach. I'm hot. Let's go. You got it all right there, and rightfully so. When you look at the great tradition that Green Bay represents, the lineage, the long term franchise, what it means to the NFL to have that small town up there in Wisconsin that absolutely is iconic when it comes to our game. And we all know and enjoy being a fan, being a participant, anything about the NFL, your mind wanders up to Green Bay from time to time. I'd like to think the Cowboys enjoy a unique place here in this lineage or in this tradition of the Cowboys. I know Tagliabue our commissioner once said, 'Look. This game is about tradition. But it's not just tradition. It's the competitions today. It's about business, but it's not Exxon business. This has nothing to do with the bottom line. It has to do with being able to have entertainment, but it can't be orchestrated entertainment like wrestling. Now, that's the thing about the NFL. Anytime you get out of bounds on any of them, you'll get in trouble. But if you stay within the bounds, that's our game today. This game has it all.
WHAT DO YOU HAVE TO DO KEEP YOUR STAFF THIS OFF-SEASON? –
Well, Chris, this is a great opportunity for everyone involved in the organization. All boats rise when you have success. And individuals that were great, great talents, great workers, they cannot have opportunities to advance, if the team itself doesn't have success. You know, it just reminds me of the natural incentive that you have to be involved in the game and be involved with the Cowboys and what happens if everybody does their job and everybody does good. There's no reason for anyone to ever think, 'Well, are people trying hard enough. Are they trying to come up with new ideas? Are they trying to be different? Are they trying to get an edge?' Obviously when you feel success, then you know why you were trying to do all of that. So, the long and short of that is it's going to mean a lot of opportunities, success. It already has. It's going to mean a lot of opportunities for coaches, players, certainly any one of those that don't do any one of those duties will get opportunities because they're with a winning situation. That's the way it works.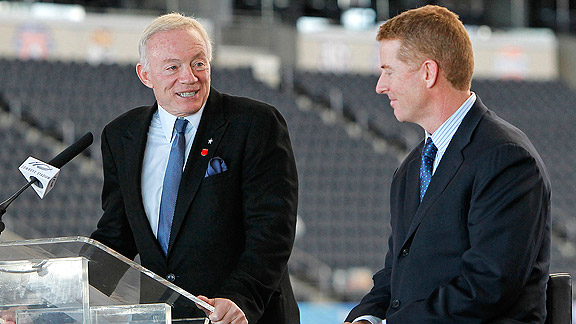 HOW MUCH BETTER OF A COACH IS GARRETT NOW COMPARED TO WHEN HE TOOK OVER? –
I think without any way demeaning or being critical, it just speaks for itself. First of all, I was looking at his agreement the other day, and we're actually operating with the same agreement, same piece of paper that we were operating with about seven years ago. So, to think of all the things and the ups and downs and the expenses and think of all the experiences he's had from a coaching perspective with players that have been learning experiences for him. It's daylight and dark. And so, there's no question. I'm just glad it works so that you could have success to validate with that experience you have a guy that can coach football. And I think that's happening with some more games to play.
DID YOU KNOW HOW BIG OF CLIMB IT WAS FOR GARRETT? –
Well, I knew that I had never seen anyone that didn't have a learning curve. And I don't need to remind anybody, but my first year in the NFL with Jimmy Johnson, he won one football game. And when we played New Orleans, the coach of New Orleans said, 'Those guys, it was like playing a high school team. They've got a lot to learn over there.' And that's Jim Mora. And so, the point is we had a lot to learn. And those were college coaches that did have a lot to learn. They were bringing some things to the table though that showed the NFL a new way to do it too. I think that's what you get when you get people who are doing it different or they're learning on the way. They're also maybe bringing a different way to do it, and that's when it gets fun right there.
WHAT DID JASON BRING THAT'S DIFFERENT FOR YOU GUYS? –
I don't know that. Detail-wise, I would say that Jason [Garrett] certainly has an appreciation, a real appreciation, for motivational nuances. He has invested a lot of his time in basically seeing how other coaches in other sports motivate and communicate with their players. And I've noticed him invest a lot of time, a lot of away-from-Dallas time going out and visiting with many of the great coaches in basketball and in baseball. He comes by that natural. That's the inquisitive instinct that he got naturally from his dad Jim. But the point is that he's invested a lot of his time, apart from his own actual experience, in being around people, seeing how they do it, how they motivate. And he doesn't just do it with just coaches too. It's amazing. I can be sitting there visiting with him a lot of times and I can tell he's really analyzing, not only listening to what I'm saying, but he's analyzing what I'm saying from the standpoint of, 'Is there something there that I could use in coaching?'"
ANY THOUGHTS ON JIMMY AND HALEY BEING HALL-OF-FAME FINALISTS? –
Yeah. Both of them are certainly deserving for that consideration. I get a chance to serve as the chairman of the NFL's Hall of Fame committee. And so, I'm very involved, spend a quite of bit of time with what we're doing. How did you like how we announced last night the 15 finalists? And if you notice last year, we brought in, right on our awards show at the Super Bowl, we brought that in to Radio City Music Hall to announce those things. And one of the things that we're really doing is having the process be more visible. And the men and women who make those votes, have how they deliberated and how they've studied these players and how they arrived at these players. Well, that's going to be a part of a year-long process that goes on that we're all going to get to share in when we're watching that on our NFL Network or possibly ESPN. But that's part of the things we're doing different with the Hall of Fame.
You can hear the rest of the interview here, including Jerry Jones getting his one piece of advice from Sam Walton. Remember to keep it right here at
CowboysHQ.com
for the latest and best in Cowboys news and knowledge!
Cowboys and Packers injury updates
The
Dallas Cowboys
are convinced
Green Bay Packers
quarterback
Aaron Rodgers
is listed as "probable'' with a calf injury for Sunday as Green Bay hosts Dallas in a playoff game at Lambeau Field.
Rodgers has a "slight tear" in his calf in addition to the strain, according to ESPN, the result of an injury sustained the Dec. 28 regular-season finale against the Lions. His mobility in that win was clearly limited. Sources tell CowboysHQ that Rodgers is undergoing treatment featuring PRP and possibly hyperbaric chamber time to heal the injury as quickly as possible.
Meanwhile, as the Cowboys prepare to board their charter to Green Bay, the official injury report: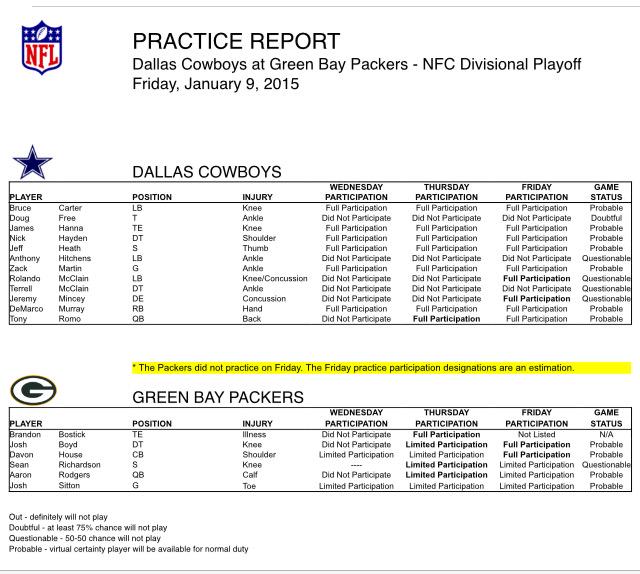 As you can see, Rolando McClain and Jeremy Mincey should be good to go. Anthony Hitchens' ankle problem will be, according to Fish, a game-time decision. Fish is also reporting that Terrell McClain's ankle is bad enough that would should anticipate a practice-squad call-up of rookie Ken Bishop.
Cowboys Crunchtime
KD Drummond gets you set with
Cowboys Crunchtime as he talks with Sports Illustrated's Aaron Nagler about why he thinks Dallas can win, and then CowboysHQ's own Mike Fisher catches you up on all the latest from Valley Ranch.
The Final Word
The Cowboys will arrive in Green Bay today and before going to the hotel will check into Lambeau Field. It's a smart move by Garrett that should remove some of the "mystique'' of the place a day in advance. But, says Jeremy Mincey:
"We're not going there for a history lesson. We're going there to play some football.''