Betting the Super Bowl
The
Dallas Cowboys
It's Super Bowl time, and with that comes all the analysis and number crunching that most people could, well, use a few more clues about. Over at
weekendwagers.com
(Statistically powered by
Procomputergambler.com
) we've hit the past 3 Super Bowls in a row with Seattle being our version of a "Big Play" last year. Marquee games like this tend to have almost NO value to bet, or LOTS of value to bet, depending on the public's perception and what it does to the line for the 2 (agonizingly long) weeks to the "Big Game."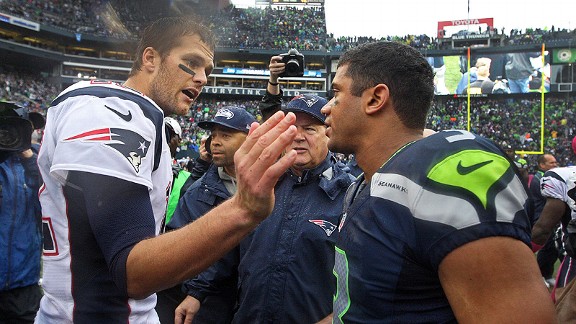 Over at weekendwagers.com we make slow and steady moves through the year on ALL sports, and our results have shown in the fact that in five years, we're pretty freaking good, particularly come football time. We find value where most people find confusion.
NFL 2010 – 100-74 +33.7 Units
NFL 2011 – 113-87 +31.8 Units
NFL 2012 – 39-39 +18.3 Units
NFL 2013 – 54-24 +41.2 Units
NFL 2014 – 42-25 +11.5 Units Total (5 years) 348 – 249 (58.3%) – 136.5 Units
NE (PK to -2) Vs Seattle total
First things first, if you like the Pats, find them at a PK, if you like the Hawks, find the +2 which is available in some sportsbooks. It sounds so simple, yet people who don't shop around for the best number are giving themselves a HUGE disadvantage over the long run. On paper this game seems close, so why WOULDN'T you want to get the extra 2 points if they are giving them to you for nothing. Things like Multiple field-goals, Safety's, 2-point conversions, and even the rare blocked PAT happen, more often then most people think - why not help yourself out where you can?
If you like the Pats
You "LOVE" Deflate-gate – Us against the world once again for Billy B and the Brady Bunch. Nothing like getting the Pats pissed off when all the marbles are at stake.
You probably also love the fact that the Patriots are 11-4 ATS though with +2 to -2 spread on the road since 2001. That's sort of interesting.
And well, if you love being with the consensus, you'll be pleased to know that about 58%-62% of the people betting on the game LOVE the Patriots. So you're probably the follower type, and that's OK too, because every once in a while, even Vegas gets it wrong... Right?
If you like the Hawks
Well, then you're probably on the right side of this debate.
To start off, the public ISN'T always right. You know those very LARGE buildings in Vegas, the Fake Eiffel Tower and stuff? They were made with the money of the people that go THROW their money away in the name of "entertainment." This year in fact, in the first three months of the football season, more than $1.1 billion was wagered on the games (NCAA included) in Nevada's 186 sports books, with bookies keeping about $82 million of that in profits. Yup.. 82 Million... Buys you a LOT of fake grass in the desert.
Fact: Since 2001, the Favorite has been just 6-6 and 3-9 ATS in the SB.
Translation – the Public doesn't always get it right, in fact, they mostly don't.
Our Raw Data projections by "The Computer" give us:
SEAHAWKS 23.2 PATRIOTS 22.7
ADJUSTED TO KEY FOOTBALL NUMBERS:
SEAHAWKS 24 PATRIOTS 20 or 21.
  Our "raw" indicators make this look like a close game. Where we feel the edge is, and in our 58.3% of picking winners in the past five years, is the "rest" of the picture.
Fact: Pete Carroll is 16-5-1 ATS (76.2%) and 15-7 (+11.86 ppg) SU with the Seahawks against bad passing defenses (allowing more than 227 passing yards per game) in the second half of seasons (including playoffs).
Translation - Seahawks in the current era BEAT UP teams that can't stop the pass.
Fact: Since 2002, the Seahawks are 9-2 SU (+19.82 ppg) and 9-2-0 ATS (81.8%) after a game in overtime. 9-1 SU and -9-1 ATS as long as it wasn't a loss by more than a field goal.
Translation – No matter the era – Hawks mentality is that "overtime" was too close, and bounce back next game with overwhelming performances.
Fact: The Patriots are 9-5 ATS 13-1 SU on artificial this season, but this year the SB is on a  natural surface where the Pats are only 1-3 ATS 1-3 SU.
Translation – Pats love their "own" field and fields that are "like" their field. It seems in their offensive schemes, familiar footing means EVERYTHING.
Oh but wait, The Pats just beat up the Colts. That's GOT to amount for something right? Of course it does:
Fact: Since 2001, Teams off of a playoff win (playoff game now) where they put up an whopping 39 of more points are just 7-13 SU (-9.05 ppg) AND 3-17-0 (-8.95 ppg) ATS!
The Pats are actually 0-4 ATS (2-2 SU) on this trend losing the past 2 years in this exact spot - Last season it was the Broncos getting them after New England beat up the Colts, the previous seasons it was the Ravens after beating up on the Texans. Is 3 a charm, or another goat on the farm (what?)
Translation: No team is THAT great, and NO team is THAT bad. When a team over-performs, in a tightly-matched competitive professional league – they "generally" regress to the middle. The Pats overachieved, while the Hawks Underachieved (for 53 minutes). This is a classic bounce-back for both teams. The Hawks got away with one and are going uphill.
Initially, I wondered why the Hawks weren't favorites in this game. Most of the people I talked to figured "on merit alone" that the Hawks would likely be the favorite by a point or two. Of course, "On merit" isn't how you make money betting the NFL. The bookmakers make a profit by telling you all that the Patriots are actually the team of choice, and thus you should bet them.
Then our friends in the media buy into it.
"Tom Brady can't be stopped on third downs" - Wrong.
"Wilson can't run. Jamie Collins will spy and stop him." Uhhh....what? Wilson ran for almost 900 yards this year – Wrong.
"Wilson isn't a top 15-QB" – 3:1 TD's to INT in his short career. As mentioned a great scrambler. You're kidding me?
"Marshawn Lynch can't do anything against the New England front seven" – Maybe scratch his crotch in the endzone?.. I digress.
"The Seahawks have limited depth on defense" - Wrong.
"The Seahawks' secondary isn't good enough." - Wrong.
"Bill Belichick has the edge vs. Pete Carroll without any doubt" – what planet are you on?
"New England is better than Seattle with takeaways" – Turnovers are a result in dumb luck for the most part so who cares.
And possibly the icing:
Fact: Eight out of 10 teams that made it back to a Super Bowl after winning the year before – WON. The Cowboys of '79, and the '98 Packers were the only ones to fall short in their repeat attempt.
Translation – Good teams, are uh... Good. They tend to continue to do ...well...good things.
Hawks win the Super Bowl.
Don't bet stupid, as we're only betting light here ourselves. Too many things can go wrong in a tight game to make us eat our words, and much of the times does. However, we feel we're on the "right" side of the edge and we expect a Seattle win and a repeat of SuperDuper Bowl Champs in 2015.
Want more?
Come play our "SuperDuper Prop Contest" – 25 Questions on all the SuperDuper Bowl Propositions.
Onside Kicks
CowboysHQ.com's
"Offseason Manifesto'' continues with Part 2: "Cap Hell and Restructuring'' ...
The
Cowboys' "Super Schedule in 2015 - the Four Levels of Difficulty'' is here
... Keep up
with all the latest Cowboys news and hot talk from fans just like you on CowboysHQ.com Boards!
The Final Word
"Just as we have drafted and have some cornerstones to this team, I think we've put in place the cornerstones with our staff.'' -
Jerry Jones, the Exec of the Year - inside this tale of his coordinators and Johnny Manziel.